Navigating 'Stop and Frisk: Revisit or Resist' content
Here's a look at the episodes and ancillary content behind the WHYY News and Temple Logan Center podcast.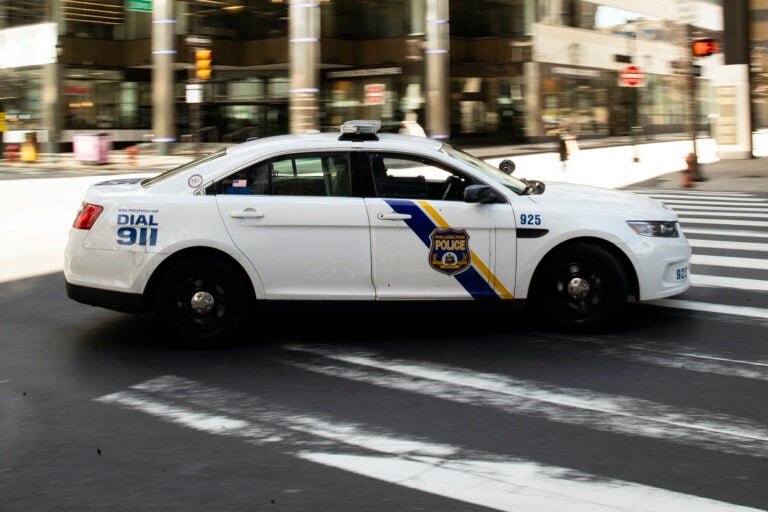 DOWNLOAD: "Stop and Frisk: Revisit or Resist," a WHYY News and Temple University Logan Center for Urban Investigative Reporting podcast
---
WHYY News and Temple University's Logan Center for Urban Investigative Reporting recently launched "Stop and Frisk: Revisit or Resist," a five-episode podcast about the search for solutions to Philadelphia's rising gun violence.
Yvonne Latty, director of the Logan Center, and Sammy Caiola, WHYY's gun violence prevention reporter, spent months reporting throughout the city and spoke with residents, politicians, law enforcement officers, and legal experts about stop and frisk's fraught history and why politicians and community leaders got to the point of considering it again.
Here's a look at the episodes and ancillary content behind the podcast.
Episode 1: How did we get here?
A more visible stop and frisk reemerged in public conversations in July 2022, when city council president Darrell Clarke surfaced the idea days after a Fourth of July shooting on the Benjamin Franklin Parkway. Some council members voiced support, while others called it a desperate attempt to resurrect a failed policy. We examine how Philadelphians feel about gun violence in their neighborhoods and what they think about revisiting stop and frisk as a solution.
Episode 2: The targets
Some Philadelphians are calling for an increase in stop and frisks as a way to restore a sense of lawfulness and safety. Meanwhile, some young Black men who are most likely to be targeted by the practice are concerned that stops will escalate to police brutality. We unpack the fear and trauma that young Black men in Philadelphia may experience during police encounters, and how gun violence contributes to the cycle of violence.
While reporting for the podcast, Caiola and Latty spoke with Gloria Davis, the stepmother of David Jones, a 30-year-old Black man who was shot and killed in 2017 by Officer Ryan Pownall after being stopped for illegally riding an ATV vehicle on a city street. "Sometimes I believe stopping is good, but not for the wrong reasons. Just because that person was black or whatever… don't justify just how they look, that they are a bad person," Davis said.
Episode 3: The police
Central to the question of solving Philadelphia's gun violence crisis is the role that law enforcement plays in the most affected neighborhoods. The city allocates more funding toward policing every year, but the homicide numbers haven't budged. Some politicians advocate for community policing, a strategy that emphasizes officers partnering with neighborhood organizations to improve safety and encourage people to cooperate with criminal investigations. However, some feel the relationship between residents and cops is too broken to repair.
Episode 4: Political will
Stop and frisk is a polarizing topic and sparks debate in Philadelphia. Gun violence is bound to be a central issue in the upcoming 2023 mayoral election, and candidates will be pressured to take a stance on the policing practice. Meanwhile, residents continue to take to the streets to decry the lack of coordination between the police department, City Hall, the district attorney's office, and community organizations tackling the crisis.
Episode 5: What happens next
Even as the debate over policing continues, many residents are calling for gun violence solutions outside of law enforcement. This episode gathers community leaders, clinicians, and young people to discuss how combating poverty, teaching conflict resolution, and providing jobs, as well as improving education, mental health assistance, and neighborhood conditions, could help reduce shootings in Philadelphia.
Instagram Live
Co-hosts Sammy Caiola and Yvonne Latty discuss the making of "Stop and Frisk," and answer viewer questions.
Understanding stop and frisk: A timeline
WHYY is your source for fact-based, in-depth journalism and information. As a nonprofit organization, we rely on financial support from readers like you. Please give today.