WHYY History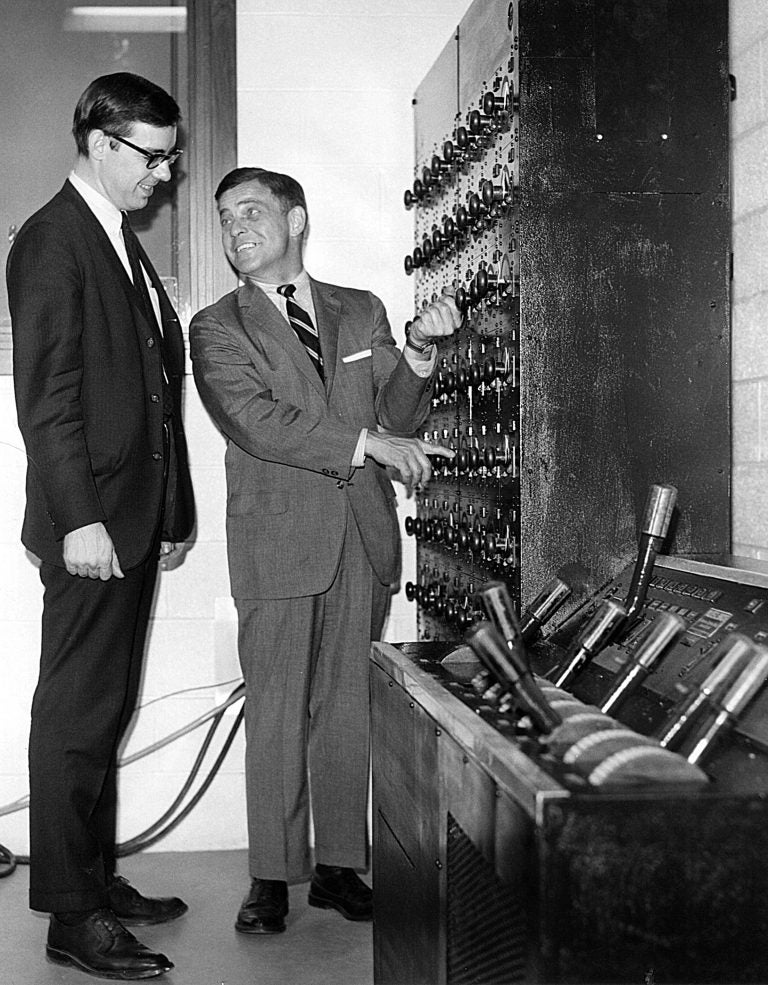 The roots of WHYY, which serves southeastern Pennsylvania, southern New Jersey and all of Delaware, are grounded in community cooperation — a binding of spirited public citizens, corporations and foundations that nurtured the station then as now. In the beginning, the vision of what was to become WHYY rested with a group of dedicated citizens, spearheaded by Dr. W. Laurence LePage, president of The Franklin Institute. The Metropolitan Philadelphia Educational Radio and Television Corporation was established in the early 1950s to provide educational and cultural programming to Philadelphia citizens. It was a vision that was to retain its insistence on offering quality programming but would soon burst through its political boundaries to serve the entire Philadelphia Region as geographical areas yielded to electronic opportunities.

With the generous help of Westinghouse Radio Stations Inc., which donated an operational FM station at 17th and Sansom streets in Philadelphia, WHYY-FM began broadcasting December 14, 1954.

Three years later, WHYY-TV was born in leased, renovated studios at 1622 Chestnut Street in Philadelphia. Known then as Channel 35, WHYY-TV became the 23rd public television station in the country. It was hailed by Philadelphia Mayor Richardson Dilworth as "an example of the spiritual awakening of the city." He praised "what citizens can do when they work together."

The new Channel 35, a UHF station, was licensed in Philadelphia under the leadership of the Board of Education and about 100 local cultural institutions. Few television sets in the 1950s, however, could receive UHF signals. Channel 35's experiments in evening entertainment and cultural programming had limited success.

An opportunity for improvement and growth presented itself in 1963 when Channel 12 in Delaware, a defunct VHF commercial station, was awarded to WHYY. WHYY TV12 signed on the air as a regional public broadcasting station September 12, 1963, with studios in a renovated schoolhouse at Fifth and Scott streets in Wilmington, Del. The first local news program for Delawareans was broadcast from the studios four days later.

WHYY again moved its Philadelphia studios and offices in 1964. Its new home at 46th and Market streets was generously donated by Ambassador Walter Annenberg. Originally built for WPVI-TV before Channel 6 moved to its present studios on City Line Avenue, the building was the first in the country designed specifically for television.

In Philadelphia, WHYY was in for another move. Through a special arrangement with the city, WHYY moved its headquarters and Channel 12 administration to the former Living History Center Museum on Independence Mall in February 1979. WHYY-FM moved its headquarters to the Mall in August 1980. By April 1983, television and radio production and broadcasting — and all the corporation's Philadelphia activities — were headquartered on Independence Mall. In continuing to serve Delaware, WHYY opened a facility housing studios and offices in January 1990 at 625 Orange Street in Wilmington.

WHYY's geographic coverage area expanded in 1986, when WHYY took stewardship of WDPB-TV, Channel 64, in Seaford, Del. With the help of a microwave link, Channel 64 carried the WHYY-TV signal, relaying programs to the southern part of the First State. The link provided complete coverage for all of Delaware.

WHYY improved its facilities once again in 2000, opening its Technology Center in a reconstructed building on Independence Mall. The building, which features a striking glass front wall, is designed to facilitate multimedia content delivery and audience engagement, the latter through the multipurpose Independence Foundation Civic Space. Key concepts of the building's design have inspired other public media providers' facilities across the country.

The original site plan for the Technology Center envisioned the connected Dorrance H. Hamilton Public Media Commons. The creative space incorporates the Lincoln Financial Digital Education Studio, production classrooms and meeting areas. WHYY's Public Media Commons serves as a hub of media literacy for Greater Philadelphians, gathering place for educators, hands-on learning environment for students and venue for performers and lecturers.

In 2011, WHYY purchased five former New Jersey Network radio stations to extend the reach of its FM signal across the state.

WHYY, of course, is much more than a collection of buildings and transmitters. Staff today creates and distributes content that informs, inspires and engages through three television channels, two radio outlets, WHYY.org, on-demand TV services, mobile devices and other emerging technologies. WHYY engages its audience on-air, online and in person, extending the reach of its traditional Pennsylvania, New Jersey and Delaware service area to citizens everywhere.