Imagine This Day At WHYY
It's 9 a.m. on a weekday morning at WHYY. Jennifer Lynn has already been on the air for several hours, weaving together national and local news reports. In the newsroom, reporters gather for the morning meeting to decide what stories to pursue. WHYY-TV's kids programs are helping young viewers learn their ABCs and 1-2-3's. Radio Times producers are making calls to find the best guest to talk about issues affecting our region and nation. On Stage At Curtis producer Lillian Paulmier and her photographer gather the tools of their craft to shoot performances and interviews with the region's promising young classical musicians for an upcoming episode. Behind the scenes, dozens of WHYY staffers are doing the important support work that makes possible all of our content production.
There is a common thread that runs through all this activity:
The news we cover, the arts programs we produce, the events we hold all exist to inform, engage and educate an audience that stretches not only through a three-state region but, in fact, around the globe. It is also thanks to YOU that this service is possible. More than half of WHYY's operating funds come from your generous donations.
Here Is A Brief Look At The Scope Of WHYY's Services And How We Invest Your Support
WHYY is the region's leading public media provider and NPR/PBS member station serving the nation's fourth largest media market. We broadcast national favorites in addition to presenting locally produced radio and television programs. WHYY.org is the home for news and civic dialogue.
WHYY-FM produces Fresh Air with Terry Gross, NewsWorks Tonight, The Pulse, Radio Times, Voices in the Family and You Bet Your Garden and a growing list of podcasts including The Remix, Grapple, Commonspace and The Radio Adventures of Eleanor Amplified.
WHYY-TV, which operates three digital channels, produces First, Friday Arts, On Tour, On Stage at Curtis, Flicks and periodic national specials such as the upcoming documentary on the life and work of former US Vice President Joe Biden.
NewsWorks.org is home to WHYY's news and information, featuring participatory content and a network of content partners.
WHYY's news staff has nearly tripled since 2009.
WHYY is the new home of PlanPhilly, Philadelphia's planning, design and development news platform.
With WHYY's podcasts, you can take your favorite programs with you — on the train, in the car, on the bus, while jogging, biking or anywhere your portable media device can go.
Hundreds of local and national programs are available to stream at WHYY.org/video.
State Impact reports on fiscal and environmental outcomes of Pennsylvania's booming energy economy.
The percentage of WHYY's budget invested in programming has grown from 58% to 70% in the last 10 years.
Keystone Crossroads covers urgent challenges pressing Pennsylvania's cities, such as state funding of school districts.
Additional suburban reporters are expanding news coverage in Montgomery, Bucks, Delaware and Chester counties.
WHYY's New Jersey desk adds perspective from the Garden State.
WHYY engages citizens as full partners in the conception and execution of content and advances civic life through storytelling, arts, education and civic dialogue. We connect to thousands in the community through a variety of events centered around discussions on public policy, advancing communities and solving social problems.
WHYY has always had a strong connection to Delaware. From teaching young students about Delaware's electoral process and hosting a primary debate for the First State's U.S. House of Representative candidates to interviewing environmental leaders about the health of area rivers and streams, WHYY is dedicated to providing leading multimedia news and specials for the state.
We take pride in our educational program offerings. Our annual reading contest, WHYY I Like This Book, encourages children to read and share their favorite stories. Educational events for children are held at partner organizations throughout the region and provided family-friendly activities, such as meet-and-greet opportunities with costumed characters.
WHYY offers students in our region homework help through a partnership with PBS LearningMedia, a vital resource for teachers that provides thousands of free, digital classroom resources.
We offer PBS Kids programming on WHYY-TV Monday through Friday and 24-hours a day on YInfo. PBS Kids programming is the safest on-air destination for children and the top provider of content that helps children learn reading, math and essential skills, according to a national survey. Through additional partners and funder support, WHYY brings media arts and important STEM academic skills to underserved students across the Delaware Valley.
Our long-running after-school programs continue to serve teens through video and audio production training. The students, largely from the School District of Philadelphia, learn a variety of digital storytelling skills through the creation of documentaries, studio productions and audio pieces.
WHYY helps increase student engagement by providing "Media Labs" at select middle and high schools in The Philadelphia School District. The on-site instructors direct news and documentary programs and train teachers to incorporate media production in their classrooms.
WHYY frequently provides opportunities for viewers and listeners to meet and engage with our most influential and well-known radio hosts, including Jennifer Lynn, Dr. Dan Gottlieb, Terry Gross, Dave Heller, Mike McGrath and Marty Moss-Coane. Held at various locations throughout the region, a wide variety of events provide members the rare opportunity to meet WHYY-FM hosts in-person and ask pressing questions.
These programs represent only a small portion the range of informative programs and services which are possible throughout the year thanks to your commitment and generous support. Taken together WHYY's on air, online and off air programs and services uniquely serve to strengthen our community. While we all come from differing walks of life, truly the one thing we all have in common is our appreciation for the imperative of a public media service that respects you, your family and your friends.
All That We Offer Would Not Be Possible Without Support From Our Community. Thank You!
WHYY By The Numbers
930,000 television viewers per week
350,000 radio listeners per week
119,983 users a month on WHYY.org
WHYY programming has served over 4,100 children and 500 teachers
75 community events per year
Check out some WHYY highlights:
WHYY has increased the percent of our budget invested in programming, from 58% to 70% over the last 10 years. Here is a breakout of program expenses.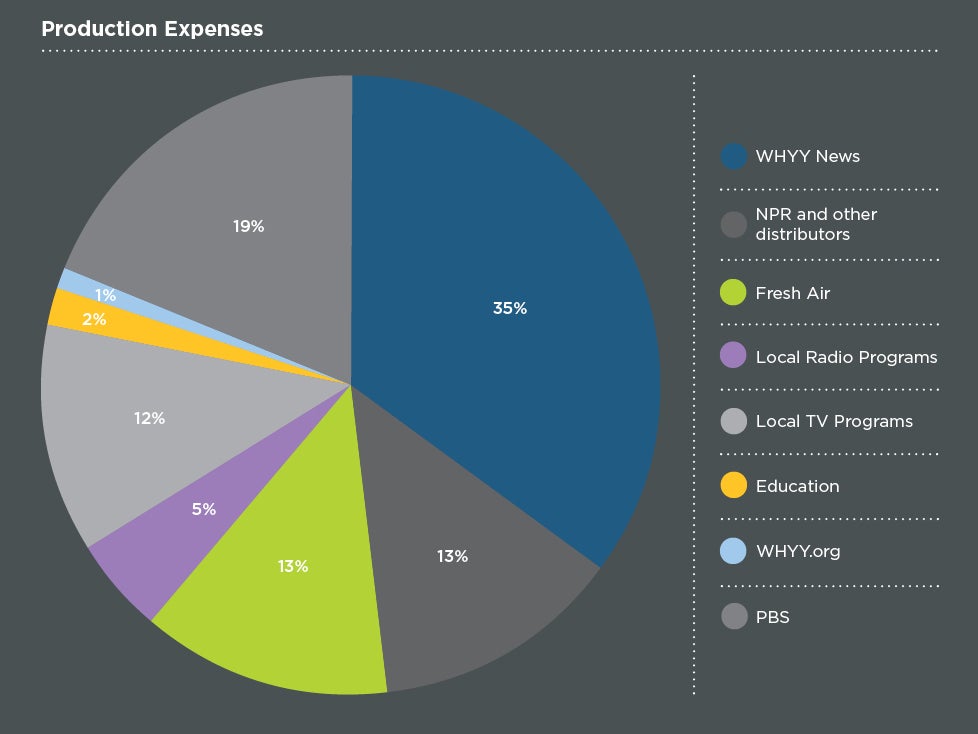 WHYY has grown assets each year from the low point of the recession while contributed revenue has steadily increased.