Thousands of people could live at the flood-prone Navy Yard. Will they be safe?
A new plan for the Navy Yard includes thousands of residential units, along with tools to mitigate flooding that include elevating structures and digging a canal.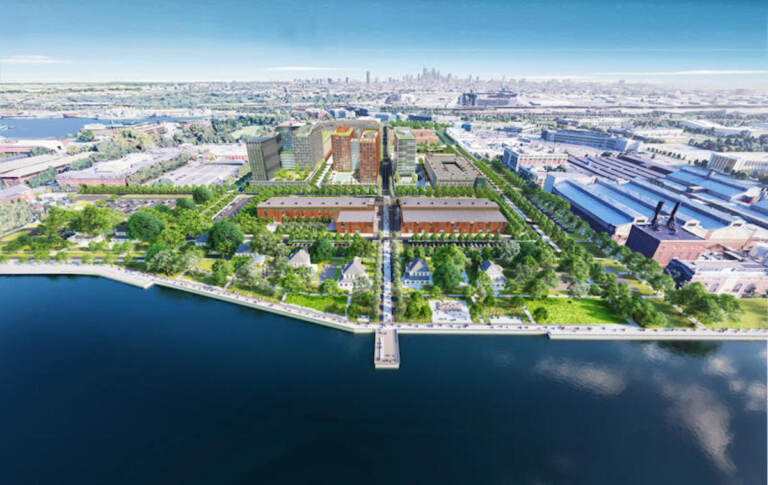 Got a question about Philly's neighborhoods or the systems that shape them? PlanPhilly reporters want to hear from you! Ask us a question or send us a story idea you think we should cover.
The Navy Yard in South Philadelphia is among the areas of the city most vulnerable to flooding. But in the next few decades, it could see thousands of households moving in.
An updated master plan released late last month for the former military site offers developers a range of tools to beat back flood risk — from digging a canal to elevating buildings.
"In a place like Philadelphia … we are subject to different kinds of flood risk," said Franco Montalto, a professor in the Department of Civil, Architectural, and Environmental Engineering at Drexel University.  "So what do we do? Do we retreat from these flood-prone [areas]? Or do we try to retrofit and redesign these flood-prone areas?"
The latest plan for the Navy Yard takes the second approach.
The public-private Philadelphia Industrial Development Corporation (PIDC) acquired the 1,200-acre site from the federal government in 2000, and since then, much of it has been redeveloped with office space, manufacturing, and research and development. The site's first residential development, the more than 600-unit Chapel Block, is expected to break ground later this year.
The latest plan, the first since 2013, envisions extensive future development over the next 20 years: tens of thousands of parking spaces, hundreds of thousands of square feet of retail and  hospitality space, and several million square feet of office, research and development, or manufacturing space. It also includes close to 4,000 units of multifamily housing, several times the amount proposed in 2013.
But keeping this development above water won't be easy.
Most of the Navy Yard is already in the Federal Emergency Management Agency's high-risk flood zone, although PIDC officials say this does not take into account already redeveloped parcels that were raised up.
Human-caused climate change promises to make the problem much worse. Under a high carbon emissions scenario, sea level rise combined with spring tides, nor'easters, or storm surges could put parts of the site underwater by the year 2100, said Chris Linn, manager of the Office of Climate and Environment with the Delaware Valley Regional Planning Commission (DVRPC). Climate change is also driving more extreme rain. 
This year's Navy Yard plan update, prepared by James Corner Field Operations for PIDC and Navy Yard developers Ensemble and Mosaic, is the first that uses flood resiliency as one of its guiding principles, said Brian Cohen, senior vice president at Ensemble Real Estate Investments.
"It was a huge part in thinking about the future of the Navy Yard," he said.
A canal, green roofs, and lots of fill
The plan prescribes absorptive elements like green roofs, ambitious drainage features, and elevation of new construction.
Several experts not involved with the plan said it employs best or standard practices to deal with the site's different types of flood risk — from inland rainfall to storm surge moving up the Delaware River.
"They're recognizing that water is definitely a threat at this location, and they're trying to use the entire toolbox of interventions that are available to try and reduce that risk," said Miles Owen, an environmental planner with DVRPC. "I don't know if you can ever say [flood risk] would be completely reduced, but they're doing what they can."
Just over half of the multifamily residential units are planned for the Navy Yard's "historic core," where the plan recommends expanding surfaces that runoff can soak into, as well as elevating new construction and new roadways "where feasible" in the context of existing development.
The rest of the housing would be in the site's future Waterfront District on the east end of the site. There, a series of swales would hold stormwater, and pipes would carry it to the river or a vegetated area. A new canal would serve a similar purpose. Mixed-use buildings would be set above basement parking, with first floors elevated several feet higher than current ground levels. A notification system would alert residents during flood events to move their cars and get out.
A "loop road" on the eastern and northern part of the site would be raised to an elevation meant to keep it passable through the end of the century — the current level a 100-year flood is expected to reach, plus four feet of sea level rise.
Cohen, with Navy Yard developer Ensemble, said the plan protects residential development by containing it to mid- and high-rise buildings, and keeping it largely above the ground floor.
DVRPC planners said the proposed first floor elevations in the Waterfront and Greenway District, earmarked for life sciences, seem protective against both sea level rise and some storm events, although it's hard to say precisely what intensity of flooding the development could handle, because the plan does not include enough technical details.
"There's a good margin of safety built into the plan, from what we can glean," DVRPC's Linn said.
Montalto, of Drexel, said the plan uses an appropriate future sea level rise projection. But he said more detailed hydrologic studies are needed — for example, to determine how the planned swales and canal would drain in a flood event, or how sea level rise could affect groundwater tables, foundations, and underground infrastructure.
More detailed engineering studies would also need to happen as individual buildings move through the development process, said Virginia Smith, a professor in Villanova University's Department of Civil and Environmental Engineering who studies how rivers and floodplains change through time. Her biggest concern about the Navy Yard's proposed residential development is whether off-site road infrastructure is prepared to withstand floods.
"I feel like the framework's there, to try to keep everyone safe," she said.
The site's developers also have a financial interest in protecting their buildings from climate change.
"As a developer and owner at the Navy Yard, we're thinking about these buildings as kind of hundred-year buildings, from an investment standpoint, that need to be able to be financed and maintain and hold their value and hopefully increase in value over time," Ensemble's Cohen said.
The PIDC and its development partners have only been allowed to build housing on the site in the last few years. In 2019, the Navy agreed to selectively lift some residential deed restrictions, which prohibited residential development, for parts of the site.
"Up to 4,000 lives at risk"
Not everyone is confident the flood-proofing features outlined in the plan can keep employees and future residents of the Navy Yard safe.
Josh Lippert, the city's former floodplain manager, said the plan is disjointed and superficial when it comes to addressing flood risk.
"There's not enough specificity here to have any of the planners, during zoning reviews, really hold [the developers] to anything," he said.
Lippert said the proposed canal, meant to store water during storm events, could actually make flooding worse by introducing an open body of water to the site. And he said the proposed green infrastructure would help reduce runoff during small storms, but would not protect the site during a hurricane.
The Greenway District, meant for life sciences tenants, could be the "last man standing," Lippert said, because of how high the plan would raise it up using fill. But Lippert is concerned by the idea of basement parking in the mixed-use Waterfront District, and worries residents could be "trapped" in their properties during a big flood.
Overall, Lippert thinks adding residents to the site is a bad idea. He thinks Philadelphia should "retreat" from the Navy Yard, rather than continue to invest in it.
"When it comes to residential at the Navy Yard, tremendous amounts of risk are going to be overlaid on the site," he said. "It's just going to put a huge stressor on everyone and ultimately potentially lead to fatalities, if there's a medical emergency or a fire that occurs because of flooded electrical systems. You're putting up to 4,000 lives at risk."
Kate McNamara, senior vice president at PIDC, rejects this. She said the Navy Yard's planning team first considered what elevations would be needed to alleviate flood risk, then decided what would be feasible for development.
"There was no scenario under which we would ever pursue development that was going to put people's lives in jeopardy," she said.
Balancing economic development in a flood-prone part of the city
There are two ways the city could approach its growing flood risk under climate change: stop building in flood-prone places and eventually move assets and people away from them, or pour investments into keeping these places safe.
"You can NOT do any development in flood-prone areas, which is the challenge in the city of Philadelphia and in this region," said PIDC's McNamara. "Or you can do really thoughtful, careful development."
"That's kind of the approach that we've taken here," she added.
While the Navy Yard plan does a good job of accommodating flood risk, its approach is not necessarily the one the city will take everywhere, said Saleem Chapman, chief resilience officer in the city's Office of Sustainability. As climate change worsens Philly's flood risk, the city could encourage retreat or relocation in some areas, depending on the circumstances.
"We have to look at a particular area, look at some of the environmental challenges as well as some of the economic and social challenges as well, and really try to balance all those different things," Chapman said.
In addition to the Navy Yard, South and Southwest Philadelphia contain several other flood-vulnerable sites slated for redevelopment, expansion, or renovations, including the Philadelphia International Airport, FDR park, and the Bellwether District at the former PES refinery site. The areas are also home to the low-lying residential community of Eastwick, which already endures devastating flooding, and the stadium district. 
The working class, majority Black neighborhood of Eastwick is bordered by the Cobbs and Darby creeks, and was prone to flooding even before climate change brought increased rain, intense storms, and sea-level rise.
Some residents there have called for people living in flood-prone homes to have the option to relocate to city-owned higher ground within the neighborhood. In this "land swap" proposal, residents have outlined similar flood mitigation strategies to those used in the latest Navy Yard plan, said Drexel's Montalto, who has helped develop the idea.
"It's just the identical approach," he said. "It's just that here [in the Navy Yard plan], it's being proposed for mostly high-income newcomers."
According to the plan, 15% of the residential units planned for the Navy Yard would be income-restricted — at 60 to 120% of area median income, or around $63,250 to $126,500 for a family of four.
"To prioritize this [Navy Yard plan] over that [Eastwick proposal] seems like a slap in the face to existing residents," Montalto said.
The city has not ruled out facilitating Eastwick residents' land swap proposal, but last fall, Christine Knapp, director of the city's Office of Sustainability, said relocation isn't something that the Kenney administration is "actively pursuing."
The city is launching a planning process to holistically assess transportation infrastructure needs, climate risks, and disproportionate negative impacts to "disadvantaged communities" in South and Southwest Philadelphia. This effort could position the city to take advantage of funding through the Infrastructure Investment and Jobs Act, Chapman said.

WHYY is one of over 20 news organizations producing Broke in Philly, a collaborative reporting project on solutions to poverty and the city's push towards economic justice. Follow us at @BrokeInPhilly.
WHYY is your source for fact-based, in-depth journalism and information. As a nonprofit organization, we rely on financial support from readers like you. Please give today.