A new neighborhood could rise at the Navy Yard if a plan comes together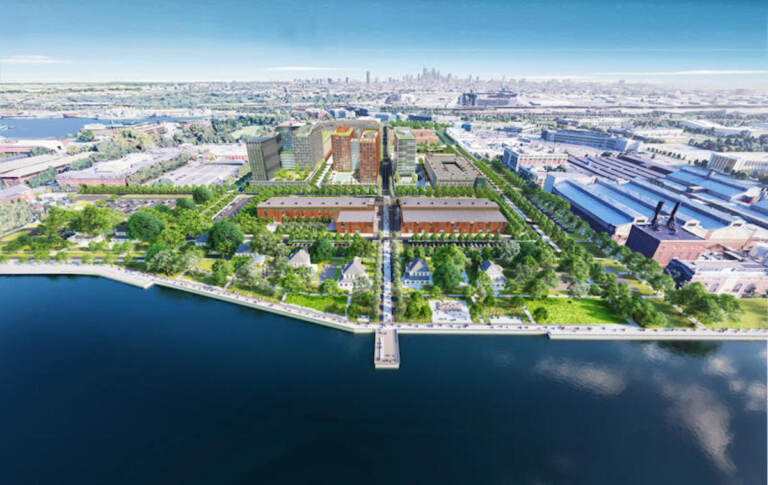 The next 20 years will bring lots of change to the Philadelphia Navy Yard. A blueprint for the next two decades unveiled on Tuesday calls for the creation of a 611-unit residential development, a new hotel, and more life sciences buildings.
It's an effort to build upon the current successes of the former military facility while making it more diverse and adding residential properties.
Kam Babaoff, of the partnership between Ensemble and Mosaic, two developers who have joined together on the project, said they are already working to expand the life sciences capabilities of the facility, with a 137,000-square-foot research and development facility, which should begin adding tenants next year.
The first residential project, called Chapel Block, will be the basis of a new neighborhood with 611 units, including furnished apartments, luxury spaces, and affordable units.
Under the proposal, there will also be 75,000 square feet of indoor and outdoor residential amenities and another 26,000 square feet of retail and restaurant space.
In addition to the residential units, a second hotel is planned for the property which will be located in the barracks building that already exists on the former naval grounds.
While the residential and hotel development is being built, the campus will continue to grow space for the life sciences industry and will include an effort to train and employ more people from the city.
James Corner of James Corner Field Operations said the plan is designed to be part of an effort to create "more equitable, livable, resilient cities." He said the goal is to build "a new community, a real Philadelphia neighborhood with density mix and a broadly appealing identity."
Over the next 20 years, Corner said the site will expand with 1.5 million sq. ft. of life science and manufacturing facilities, 2.8 million sq. ft. of office and lab space, 440,000 sq. ft. of hospitality facilities, 250,000 sq. ft. of retail and market space, 4,000 new residential units and 37 acres of public open space.
The blueprint aims to create "an inviting, vibrant, green, and dynamic public realm connecting the city all the way through to the Delaware River," Corner said.
The equality plan is also part of the expansion of the campus building on the current diverse base of businesses and supports inclusive and equitable employment of up to 12,000 new jobs.
The 20-year effort comes with a $4.8 billion price tag.