Carney team scraps proposed anti-bias policy for Delaware transgender students
Governor supports schools chief's decision, but says he remains committed to 'protect children from discrimination at school'' so they can focus on their education.
Listen
2:21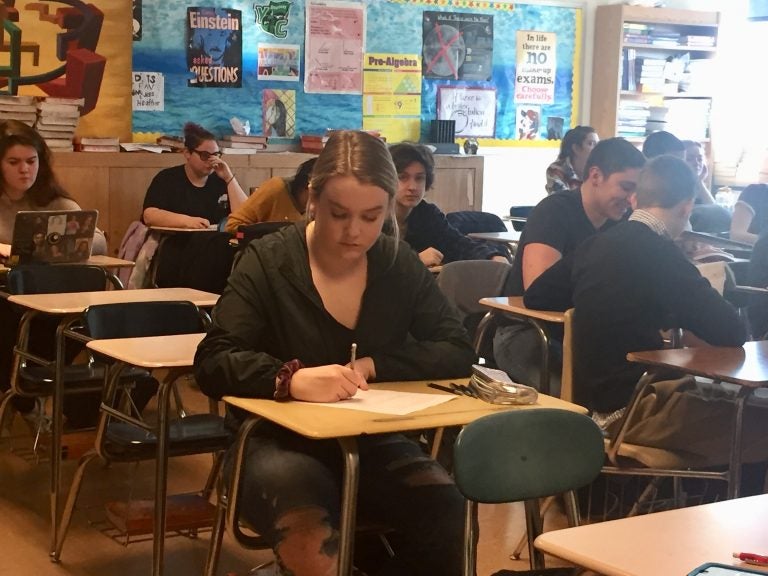 Andrea Rashbaum, the mother of a transgender child and member of a panel Delaware Gov. John Carney's administration formed last year to develop an anti-bias policy for schools, had predicted "they are going to just let it float away in the wind."
Rashbaum, a teacher, expressed those concerns during a February interview  amid controversy over a provision that would have, in special circumstances, allowed students to use a different name at school than at home without the school notifying their parents.
The goal of the proposal, known as Regulation 225, was to protect the few students who might fear retaliation from their parents if they revealed that they were transgender, according to attorney Mark Purpura, an LGBTQ advocate who was on the panel.
In June, though, one of Rashbaum's fears came true when state Education Secretary Susan Bunting removed that provision, as well as one that would allow student to choose to play on a sports team "consistent with their gender."
And on Thursday, Rashbaum's words proved prophetic when Carney and Bunting's office announced no policy would be adopted — contrary to what Carney had ordered in July 2017.
That was when Carney proclaimed that he wanted Delaware's 19 school districts and charter schools to use the "model policy" developed by the Department of Education to inform their own policies "to suit the needs of their students."
On Friday, Rashbaum said she was not surprised that Carney relented in the face of fierce opposition. The state, which had sought public input, received more than 11,000 emails about the proposal, most in opposition.
"They didn't want to go against the masses," Rashbaum said. "I really believe he wanted to move the ball forward. When the 11,000 emails came out, he realized that the ball was in a tornado somewhere, and he didn't know what do about that tornado."
State Rep. Rich Collins, a Sussex County Republican who fought the provision as first proposed, had said in June that failure to notify parents would have illegally elevated a student's rights over parents' rights.
Nicole Theis, who heads the Delaware Family Council that helped galvanize the opposition, is pleased the proposal is dead for now. But with Carney saying the administration is mulling its "next steps," Theis knows another fight could be looming.
"Regulation 225 caused the school system to be pitted against parental authority and a gender ideology against a right to privacy," Theis said. "So the only way to strike a balance is for the school administration to have the flexibility to seek reasonable accommodation that respects both the dignity and privacy of all students."
Rashbaum and other LGBTQ advocates are drawing hope, however, from a May ruling that Carney cited, from the 3rd U.S. Circuit of Appeals in Philadelphia. The court, which has jurisdiction over Delaware, upheld the right of a high school in Boyertown., Pennsylvania, to to let transgender students choose what bathroom and locker room to use.
"Now if the school districts are sued, and it goes all the way the circuit court, our circuit court, the transgender kids will win if their rights have not been protected," Rashbaum said.
Uncertainty abounds
But whether the administration will attempt again to create a policy to protect transgender student is uncertain.
Thursday's statement from Bunting's office said her department "will not be moving forward to finalize the current proposed version of Regulation 225,'' as the proposed policy was called.
Bunting's statement cited an additional 6,000 comments, many in opposition, to the revised policy she had proposed in June. That draft also removed the provision that districts would be encouraged to adopt the policy, instead saying it would be a document aimed at providing "guidance to assist school districts and charter schools in creating an anti-discrimination policy."
Under the change to the proposed policy that Bunting made in June, "a school shall request permission from the parent or legal guardian before accommodating a request by a minor student'' to use a different name … If the student does not permit the school to request permission from the parent or legal guardian, then the request to take action shall not be accepted."
Bunting's revised proposal in June did not change the provision that schools "shall work with students and families on providing access to locker rooms and bathrooms that correspond to students' gender identity or expression." That proposal also drew opposition from the public, with some foes saying it was unfair for their daughter or son to have to be in a bathroom or locker room with a transgender student.
Carney's statement Thursday said he supports Bunting's decision, but that he remains committed to "protect children from discrimination at school'' so they can focus on their education.
But his statement also noted that "parents are their children's first teachers, and they are our partners in this endeavor. The more engaged and involved families are in their children's education, the better off our students will be."
Carney added that while "we heard and understand concerns that have been raised by the LGBTQ community," his administration also heard "concerns from parents who wanted to ensure they had a say in the decisions schools make regarding their children."
Therefore, the governor's statement said, "we are considering our next steps on Regulation 225. We will remain committed to public engagement as we determine the path forward."
While Carney cited the Boyertown case, Bunting's statement noted that "recent court decisions have raised important legal questions regarding this issue.
Neither Carney nor Bunting elaborated on why that decision helped lead them to pull back, and neither would agree to an interview.
Purpura, president of the Equality Delaware Foundation, said he remains hopeful that the Carney administration will find a way to protect transgender students from discrimination at school. Though he was disappointed when Bunting removed the provision that would let school administrators decide not to notify parents in special cases, he was pleased that her June proposal was not adopted.
"We are hoping that under Gov. Carney and Secretary Bunting's leadership that we can develop a regulation that protects transgender students against discrimination based on gender identity and gender expression," Purpura said.
WHYY is your source for fact-based, in-depth journalism and information. As a nonprofit organization, we rely on financial support from readers like you. Please give today.