Delaware education secretary reverses course on school transgender policy
Listen
2:03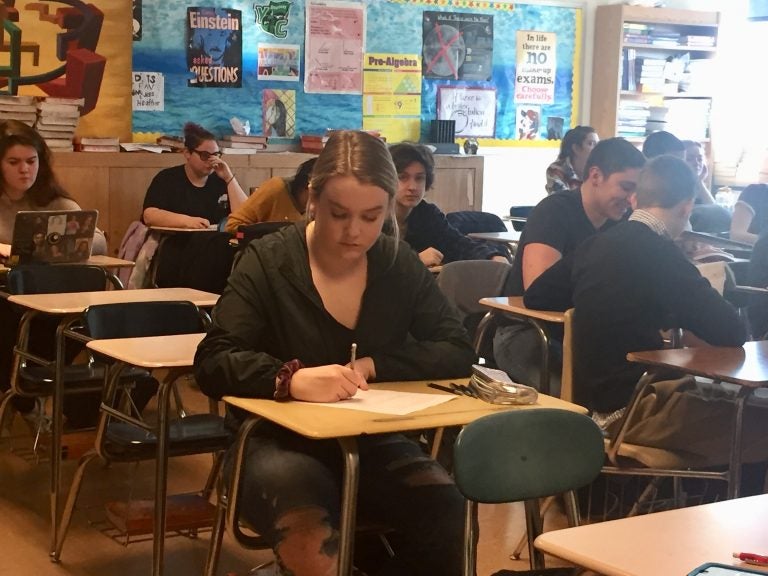 The Carney administration reversed course Friday on a proposed school anti-discrimination policy, removing a provision that would have allowed transgender students to use a different name than at home without notifying their parents.
Susan Bunting, secretary of the Department of Education, made that change and others after reviewing more than 11,000 comments – most in opposition about the parental notification provision of the proposed policy. Beyond changing the transgender provision that was drafted by a panel of educators, parents and advocates she appointed, Bunting also:
Removed a provision that allowed students to play on the sports teams that "is consistent" with their gender identity.
Changed the intent of the initiative from a model policy that all districts would be encouraged to adopt to a document aimed at providing "guidance to assist school districts and charter schools in creating an anti-discrimination policy."
Bunting's decision was announced Friday in a news release by spokeswoman Alison May. WHYY asked for an interview with Bunting, but May responded that she is "on vacation'' and the department "won't be providing any other comment anyway because we are in the formal comment period. Our press release is our only statement."
Gov. Carney, who appointed Bunting upon taking office in January 2017, also would not agree to an interview. Instead spokesman Jonathan Starkey released a statement from Carney.
"We understand that there are strong feelings on all sides of this issue," Carney's statement said. "There has been a significant amount of public feedback. Secretary Bunting and her team have carefully considered that feedback, and incorporated it into the updated regulation that was published today.
"We believe the final product will help local districts craft policies that protect students, and involve families every step of the way in these discussions."
Andrea Rashbaum, a teacher and member of the panel that Bunting had appointed to draft a policy, said she had expected Carney and Bunting to let the proposed protections vanish "in the wind" because of the opposition.
Rushbaum said she was disappointed in Bunting's decision and that the governor clearly consulted with his education secretary. The change will result in the removal of protections for vulnerable children who might not receive support at home for their gender identification, she said.
"They have created a policy now that in the end does not protect children,'' Rashbaum said. "The idea behind the policy was to protect children and it was to help children who may not have help in other ways. They may not have the social network, may be bullied in school and may not have parents' support."
Rashbaum has a transgender daughter named Maddie who will graduate tonight from Cab Calloway School of the Arts. WHYY profiled Maddie this spring for a segment on the television newsmagazine show "First" on the hotly contested issue.
Under the policy change instituted by Bunting, "a school shall request permission from the parent or legal guardian before accommodating a request by a minor student'' to use a different name … If the student does not permit the school to request permission from the parent or legal guardian, then the request to take action shall not be accepted."
But state Representative Rich Collins, a Sussex County Republican who fought the provision as it was first proposed, said it would have illegally elevated student's rights over parents' rights.
"I am cautiously optimistic that they have restored parental rights in education Regulation 225," Collins said Friday. "Assuming that it is exactly as they said, then certainly it is a good thing that parents have been informed."
Rashbaum said the decision is a small victory for the child whose parents support his or her gender choice "because now the school has to be on board. But it's a bigger loss for that kid that's been too scared to come out and finally comes out to somebody at the school, and now the school has to tell their family."
The public will get a month to comment again on the newly-revised policy. Rashbaum doubts Bunting will revert to the original language unless the state is inundated by a "landslide" of opposition to the change.
WHYY is your source for fact-based, in-depth journalism and information. As a nonprofit organization, we rely on financial support from readers like you. Please give today.