Pa. Supreme Court to hear arguments over whether Philly can enact its own, stricter gun laws
"This is a novel issue, but that doesn't mean it's not a winnable issue," said Shaundra Kellam Lewis.
Listen
1:10
Working on a solution to gun violence and want to share it? Get in touch with gun violence prevention reporters Sammy Caiola and Sam Searles.
Portraits of those lost to gun violence were on display outside City Hall Tuesday. Their loved ones talked about grief and called on the Supreme Court of Pennsylvania to allow local leaders to pass stronger gun laws.
"If we had the support of the General Assembly, these images would have been of my brother graduating or going to college, or my twin sister raising her kids and enjoying her grandkids," said activist Roz Pichardo, recalling her two siblings who died from gunshot wounds. "But instead this is all we have left, just images."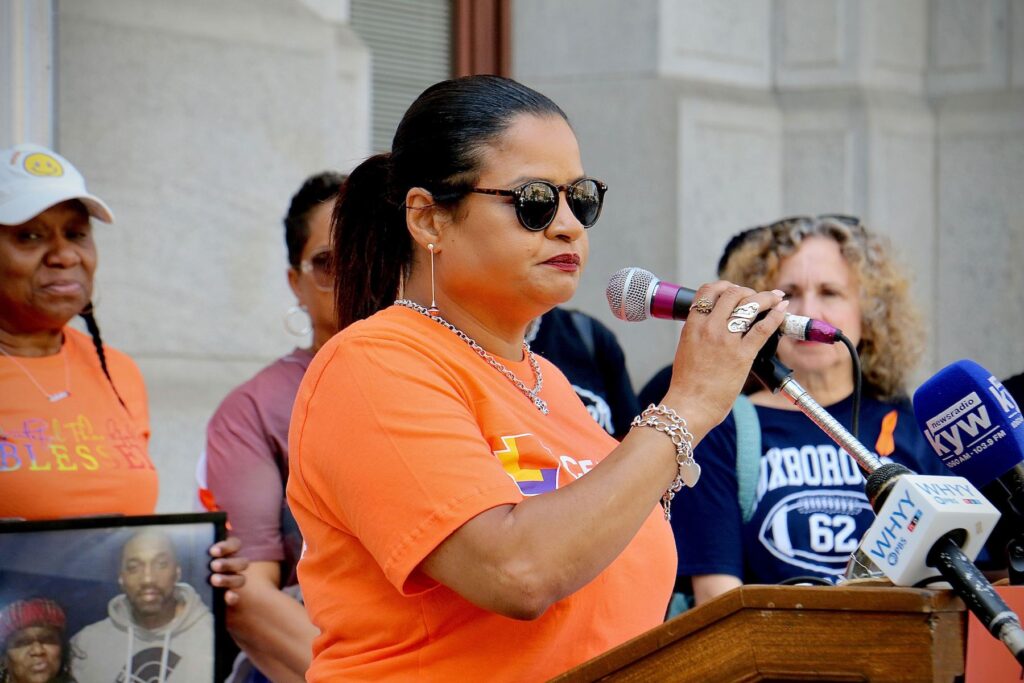 Pichardo is one of 10 co-victims, or loved ones of gun violence victims, serving as plaintiffs in the City of Philadelphia's lawsuit against the state over a 1974 firearms preemption law. The policy prohibits local jurisdictions from passing gun regulations that are stricter than those that exist on the state level.
On Wednesday, the Pa. The Supreme Court will determine whether the case should go to trial.
Eliminating preemption, or narrowing its application, would allow Philadelphia and other cities across the Keystone State to pass permit-to-purchase laws, extreme risk protection orders, monthly handgun purchasing limits, or other changes advocates say could help prevent homicides, mass shootings, and suicides.
Mimi McKenzie, legal director for the Public Interest Law Center which is representing the co-victims and nonprofit group Ceasefire PA on the case, likened it to the Commonwealth of Pennsylvania not allowing cities to enact traffic regulations such as stop signs, red lights, and speed limits.
"And at the same time the state itself doesn't enact them either, and people are dying," she said. "That's crazy, and that's what's happening."
What is preemption?
The City of Philadelphia, Ceasefire PA, and the co-victims filed Crawford v Commonwealth in October 2020. The plaintiffs are arguing that the state's preemption statute violates Philadelphians' fundamental right to life and liberty as provided by the state constitution.
In May 2022, the Commonwealth Court dismissed the case in a 3-2 decision. The decision was made based on precedent, according to a plurality opinion, because previous cases against the state's preemption laws did not find them to be unconstitutional. The plaintiffs appealed.
On Wednesday, the plaintiffs will present arguments about the lower court's decision with the Supreme Court of Pennsylvania.
Though more than 40 states have preemption laws, this is the first time a city has to try to get the statute repealed on a constitutional basis, according to legal experts.
"This is a novel issue, but that doesn't mean it's not a winnable issue," said Shaundra Kellam Lewis, associate dean of academic affairs and professor of law at the Thurgood Marshall School of Law at Texas Southern University. "[The plaintiffs] do present some compelling arguments that gun violence uniquely impacts those populations differently than in other areas of the state."
If the Supreme Court overturns the Commonwealth Court's decision, the case will move on to a trial in the Commonwealth Court. Possible outcomes include the court striking down the preemption law in total, or giving municipalities more flexibility to regulate firearms.
Philadelphia's homicide toll surpassed 500 in both 2021 and 2022. One of those killed was Nicolas Elizalde, a 14-year-old who died last fall after being shot at a Roxborough High School football game.
His grandmother, Marge LaRue, spoke at the City Hall vigil Tuesday.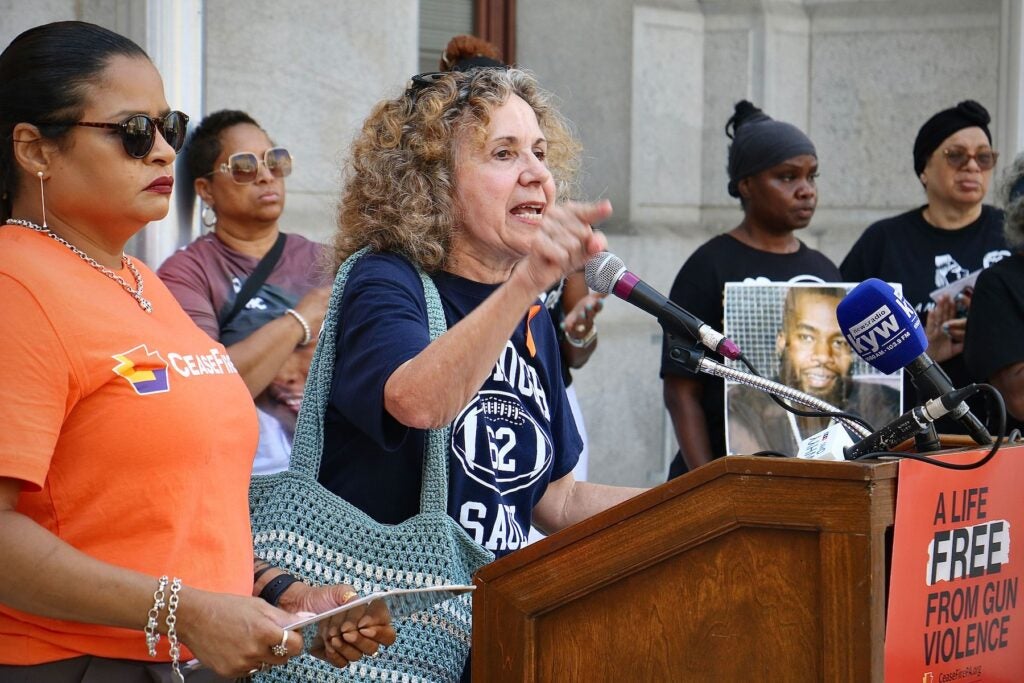 "I'll never see him again," she said. "He'll never drive, he didn't have a first kiss, he won't vote … [lawmakers] have to act. They work for us. They need to save our children."
A new era for gun laws
Changing the state's preemption law would make it possible for Philadelphia leaders to pass several firearms policies that the state had previously blocked.
In the fall of 2022, following the fatal shooting of Mill Creek Recreation Center employee Tiffany Fletcher, Mayor Jim Kenney attempted to ban firearms at recreation facilities, playgrounds, and pools. Gun Owners of America immediately sued the city, and a Philadelphia Common Pleas Court judge ruled that Kenney could not enforce the ban.
Also that year, Commonwealth Court judges struck down a Philadelphia ordinance requiring residents to report lost or stolen firearms within 24 hours or face a fine. The judges argued the policy was illegal under state preemption law.
Attorney Joshua Prince represented the man who sued the city after being fined for not reporting a missing firearm. He doesn't believe eliminating preemption will make a dent in the gun violence crisis.
"It's disingenuous to say that the ability to regulate at a local level is going to dissuade these criminals from committing criminal acts," he said. "This is all about dissuading law-abiding individuals from being able to use their second amendment rights."
In 1993 Philadelphia City Council passed a bill banning assault-style weapons, but the Pa. Supreme Court struck it down. In 2008 a policy limiting handgun purchasing was struck down by the Commonwealth Court.
The City of Pittsburgh tried to pass its own law prohibiting assault weapons after the 2018 mass shooting at the Tree of Life Synagogue, but an Allegheny County judge didn't let it stand.
In seven states, local officials who try to pass their own gun laws can face a fine. In Kentucky, a local official can face criminal penalties and in Arizona, they can be removed from office, according to the Giffords Law Center.
Pennsylvania Senators tried to strengthen preemption laws in 2022 with House Bill 979, which would have punished municipalities for attempting to pass stricter gun laws locally.
Then-governor Tom Wolf vetoed the bill, calling it "an attack on local governments who take action to find common sense solutions to gun violence."
Stanley Crawford, a plaintiff in Philly's preemption lawsuit whose son was murdered in 2018, said it's not fair for the state to make all of the gun regulations when they're not experiencing violence on a daily basis.
"If you're a decision-maker and you can prevent the loss of life and you don't know it, you now become a participant in the murdering indirectly," he said.
The Pa. Supreme Court will hear the arguments Wednesday at 9 a.m.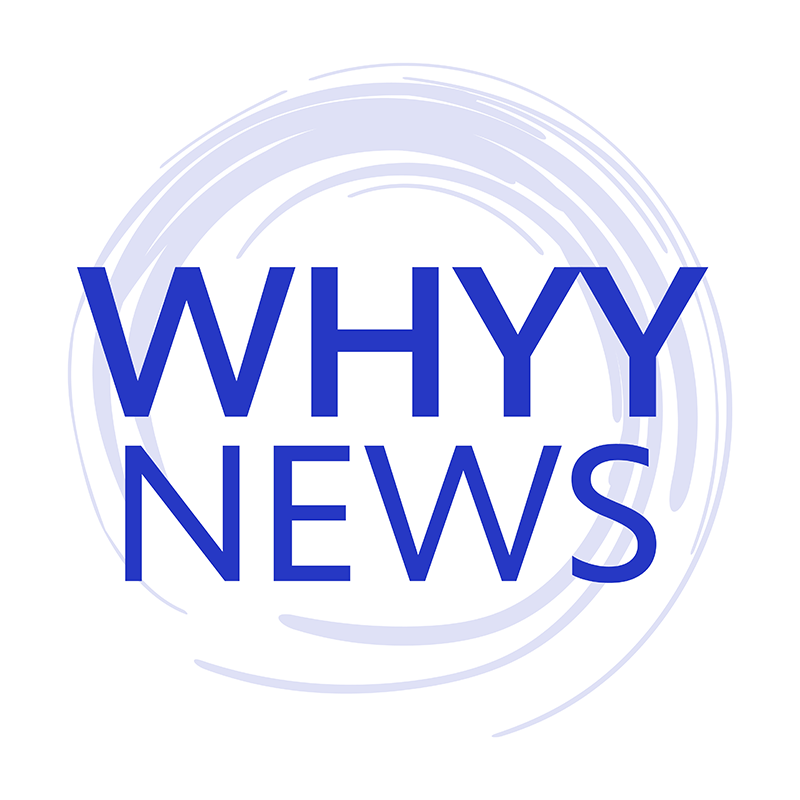 Get daily updates from WHYY News!
WHYY is your source for fact-based, in-depth journalism and information. As a nonprofit organization, we rely on financial support from readers like you. Please give today.