'Bo Bardi-mania': British artist Isaac Julien returns to Philly 'entangled' in a Brazilian architect
The British video artist returns to Philly with his second installation in a year, about the Brazilian modernist who transformed São Paulo.
Barely five months after closing a large-scale video installation at the Barnes Foundation, British artist Isaac Julien has returned to Philadelphia to install another large-scale video work at the Philadelphia Museum of Art.
"A Marvelous Entanglement" is a 40-minute, visually poetic documentary about the late Italian-Brazilian architect Lina Bo Bardi, and an artistic interpretation of the spaces she created. The piece consists of nine video channels projected onto screens arranged in the shape of a pyramid, installed inside the Art Museum's Williams Forum, the large underground hall recently designed by Frank Gehry with a dramatic 40-foot staircase.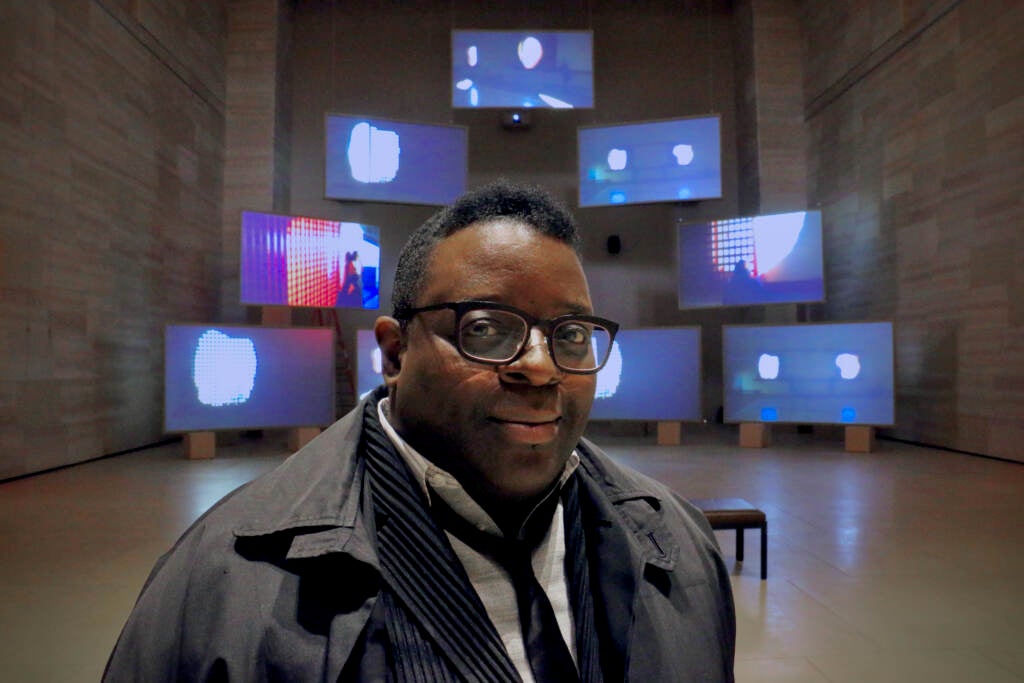 "This is a kind of architectural tour of Lina Bo Bardi's public buildings in São Paulo and in Salvador," Julien said while installing the piece before it opens to the public on Saturday.
"A Marvelous Entanglement" caps a year-long presence Julien is having in Philadelphia, beginning with "Once Again…(Statues Never Die)," a multiple-channel video installation made for the Barnes Foundation last summer, which closed in September. Other works by Julien can be seen until April 23 at the Fabric Workshop and Museum, where Julien was an artist in residence in 2002.
Julien filmed artists performing inside Bo Bardi's spaces, designed with both modernist flair — the São Paulo Museum of Art appears to be floating inside a gigantic, bright-red bracket — and touches of natural geographic features, such as the windows in the concrete towers of the SESC Pompeia, shaped like craggy openings of ancient sea caves.
Bo Bardi's grand spiraling staircase in Salvador's Solar do Unhão is choreographed with a dancer wearing a billowing, red costume. They appear to float up and down the wooden helicoidal shape.
The video of Bo Bardi's unique vision of a spiral staircase is seen on multiple screens directly across the staircase Frank Gehry designed for the Art Museum.
"What's really interesting about it is the direct conversation that you get between Gehry and Bo Bardi," Julien said. "There's a kind of, if you like, face-off."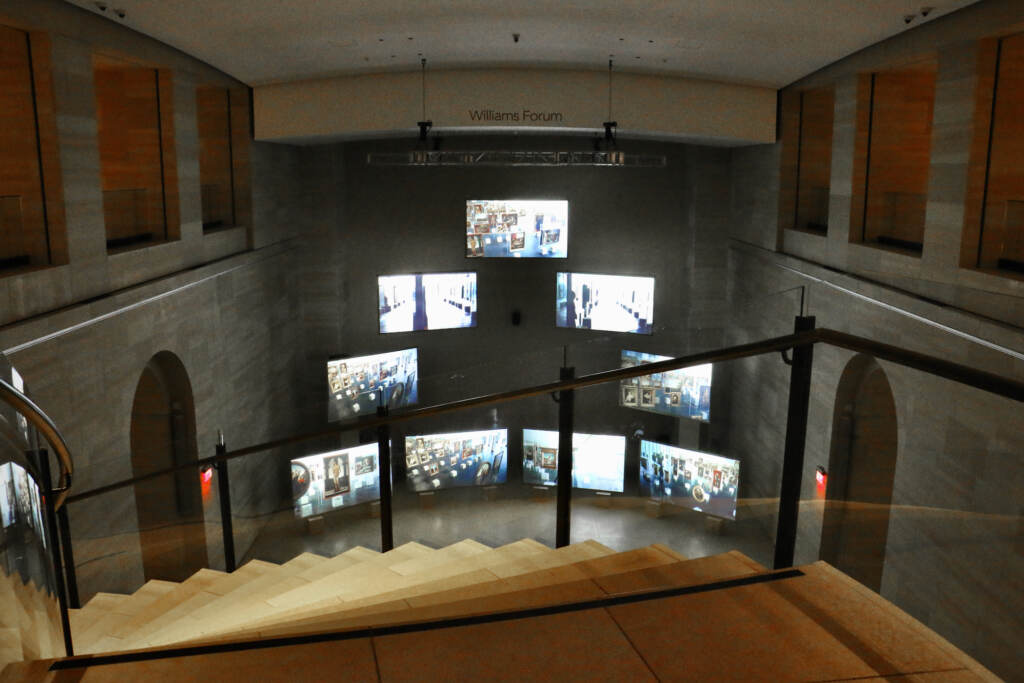 Bo Bardi was born Italian but her designs are deeply informed by Brazilian history and culture. Julien became interested in her in 2012 when he had an exhibition in SESC Pompeia, a former factory in São Paulo that Bo Bardi had radically redesigned into a recreation and cultural center.
"I was really struck by the building and her sensitivity towards creating what could be a progressive, new museum space," he said. "Then I entered into Bo Bardi-mania for about five or six years."
"A Marvelous Entanglement" was first exhibited in 2019 at the Victoria Miro Gallery in London. Since then it has been seen in several places around the world.
Its title comes from a quote by Bo Bardi: "Linear time is a western invention; time is not linear, it is a marvelous entanglement, where at any moment points can be chosen and solutions invented without beginning or end."
In an effort to bend and compress time, Julien hired a pair of actresses to portray Bo Bardi: one as a younger woman, another as a more mature woman. The two often occupy the video space at the same time, at one point on opposite sides of a vanity mirror, sometimes reciting the same lines simultaneously.
The two actresses are actually mother and daughter: Fernanda Montenegro, regarded as one of Brazil's finest actresses, and her daughter Fernanda Torres.
Bo Bardi, herself, appears in a brief video clip walking down a city street, likely in the 1980s.
"She was able to look at Brazilian culture as an Italian outsider, and reflect back to that culture something that the culture itself couldn't reflect," Julien said. "That was the way she was able to encapsulate within her work aspects of Afro-Brazilian culture, or Black Brazilian culture."
Bo Bardi's work often reveals social constructs and hierarchies. For example, she often preferred furniture with reclaimed wood construction and exposed joinery, and hated upholstered seating. The auditorium seating of the Teatro Oficina is made of plain wood where Montenegro, playing Bo Bardi, sits and explains that upholstery is a relic of upper-class aristocracy.
One of the spaces seen in the installation was an attempt by Bo Bardi in the 1980s to revitalize a largely abandoned historic section of Salvador, Ladeira da Misericordia, or the Slope of Mercy. The steep avenue connecting the lower and upper part of the city has roots in the 17th-century colonial occupation by the Portuguese, whose sugar industry at the time relied heavily on enslaved indigenous and African people.
Bo Bardi had large-scale redevelopment plans for the area, most of which were not realized with the exception of some derelict buildings converted into affordable housing, and the Coati Restaurant, a cafe designed to coexist within the native vegetation surrounding it. She had imagined it as a gathering place for artists.
Ultimately the redevelopment was not successful. The Coati Restaurant is the only structure that still survives, but it is largely abandoned.
The Coati Restaurant is now being watched by preservationists and urban revitalization groups for a possible rebirth.
"With the help of the Goethe Institut, we were able to gain access into the space and to return it back to its original use," Julien said. "Lina Bo Bardi wanted it to be a café for artists and performances. We were able to collaborate with a young, Black art collective and they were able to reenact these performances for us."
"A Marvelous Entanglement" will be on view at the Philadelphia Museum of Art until May 29.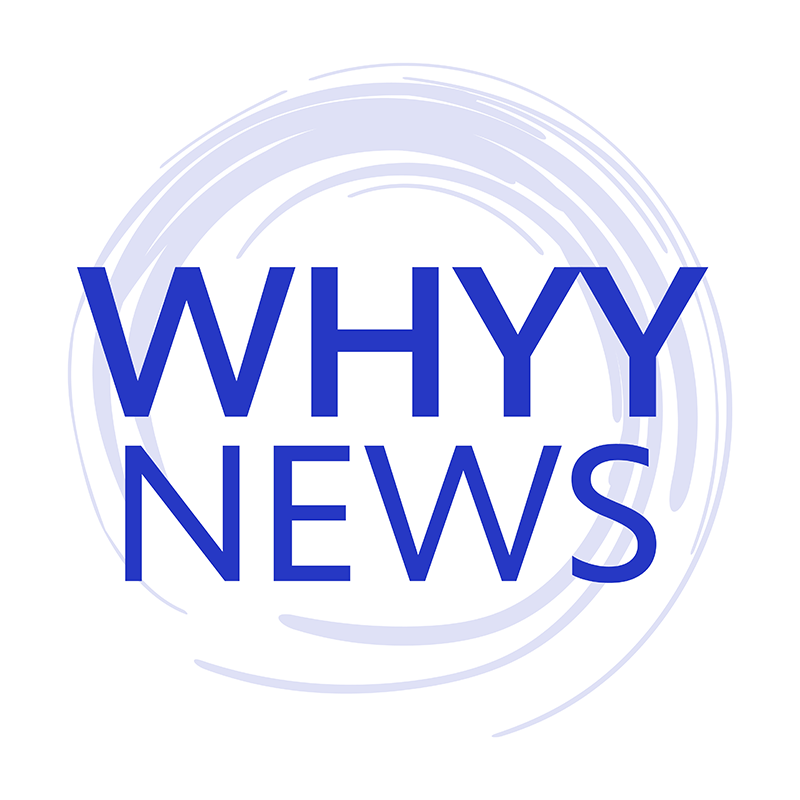 Get daily updates from WHYY News!
WHYY is your source for fact-based, in-depth journalism and information. As a nonprofit organization, we rely on financial support from readers like you. Please give today.