Easter egg or rabbit hole? Otherworld immersive experience opens in Philly
The new psychedelic immersive playground experience from Ohio has a menacing A.I. dystopia at its center.
In a room pulsating with light projections, sound, and electronic monitors, a network of artificial intelligence circuitry wrapped inside a cube of what looks like an organic fungus hums with what might become the end of the world.
This is ATAM, an entity which may or may not be at the heart of the new immersive environment attraction Otherworld, opening this weekend in Northeast Philadelphia.
"That's supposed to be this HAL 9000 sort of supercomputer A.I. god of this futuristic techno-utopian community," said Otherworld creator Jordan Renda. "You're becoming a subscriber to that community when you enter Otherworld."
The many elements inside the more than 50 unique scenes carved out of a 40,000-square-foot former retail space complicate, distract, confound, and ignore the supposed narrative backbone of Otherworld. Hundreds of artists and engineers contributed to the experience, which can come across as a kind of psychedelic Disneyland.
There's a giant mutant fish, through whose enlarged intestines visitors can tunnel to access the next space. Another room is a Renaissance-styled funeral with architecturally manipulated perspectives wherein the guests are wearing menacing white masks. Elsewhere, there's a zoo of dioramas displaying alien insects, like the fictional Phydra and the Cosmeauz Moth, described as a "psychically-inclined creature" that "moves languidly in a permanent state of poised stasis."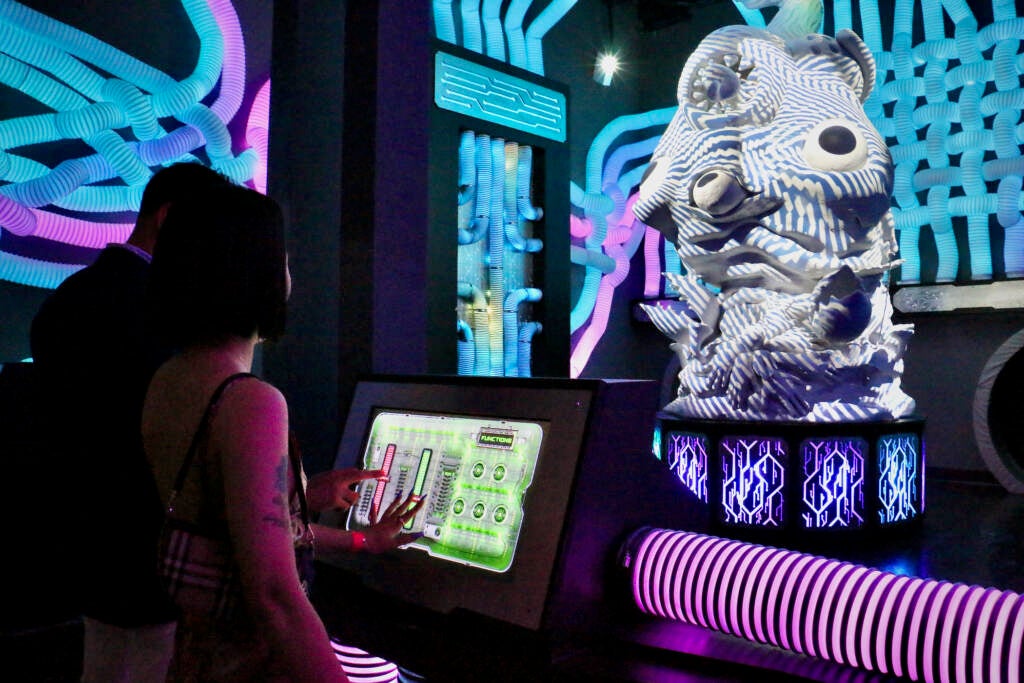 There is even the suggestion that a mayoral campaign is afoot: One room has a poster to elect Mayor Kartono, whose face is obscured by his top hat. The poster advises that voters will be vetted through song: "A short but entertaining song and/or ballad must be performed prior to office casting. Strength of exuberance will determine the value of your vote."
Most rooms have some sort of interactive technology which, for example, triggers your footsteps to cause ripples in what appears to be a light-projected toxic sludge.
"Each room has some sort of Easter egg that helps make the space tick," Renda said. "You can affect and change the environment around you. It's intertwined by an overarching narrative, like each room being a different song on a larger concept album."
The Philadelphia artists collective, MZ.ICAR, created this room at Otherworld. Otherworld CEO Jordan Renda says about 20 percent of the rooms in the exhibit were created by local artists. (Emma Lee/WHYY)

Otherworld in Northeast Philadelphia. (Emma Lee/WHYY)

Dash Curley, 3, of Philadelphia, climbs inside a hanging network of tunnels made from knotted ropes at Otherworld. (Emma Lee/WHYY)

Lights and reflections create a dazzling space at Otherworld in Northeast Philadelphia. (Emma Lee/WHYY)

Visitors to Otherworld explore a variety of immersive and interactive spaces. (Emma Lee/WHYY)
Renda has a background in designing haunted houses and escape rooms. He launched the Otherworld concept five years ago in Columbus, Ohio, where he is from. Renda wanted to expand that concept by opening a second version in Philadelphia.
"It's kind of a 2.0 version of it," he said.
While some of the rooms are aggressively mind-bending — like an infinity mirror effect showing a freshly constructed corridor of doors to the left, and the same corridor on the right that is aged and falling apart — other spaces act as a mental respite, like a chill-out room at a rave. There are at least a few small holes that visitors have to literally crawl through on their hands and knees to enter a large chamber filled with soft textures, calming music, and comfortable seating.
But don't get too comfy. Looming above a soft room with a jungle theme is a gigantic insect wearing a mask that would not be out of place at Mardi Gras.
Philadelphia audiences have shown to be amenable to immersive art spaces. Recent examples in line with a national trend include the Van Gogh experience last year in King of Prussia that was extended due to high demand, and the more recent Banksy show in the Fashion District downtown, both created by the company Exhibitions Hub. The Wonderspaces immersive art experience, also in the Fashion District, opened three years ago.
Renda said he brought Otherworld to Philadelphia because it's a major East Coast city, and it didn't yet have anything quite like it. While the other immersive attractions are either based on a single artist, or a collection of disparate concepts like Wonderspaces, the Otherworld experience is meant to be a bizarrely cohesive one.
The main thrust of the experience is to get lost, both physically — the layout of the interconnected rooms makes no spatial sense — and mentally, as many of the rooms suggest there is something to discover inside them but make no attempt to explain themselves.
During a preview event, several parties combed through the rooms looking for clues that would unlock the overarching mystery. But visitors beware: The Easter egg you thought you found may in fact be a rabbit hole.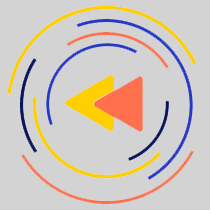 Saturdays just got more interesting.
WHYY is your source for fact-based, in-depth journalism and information. As a nonprofit organization, we rely on financial support from readers like you. Please give today.