The Bard goes glam in Clark Park's 'Twelfth Night'
Shakespeare in Philadelphia's Clark Park backs up "Twelfth Night" with a glam-rock band of kids from the neighborhood.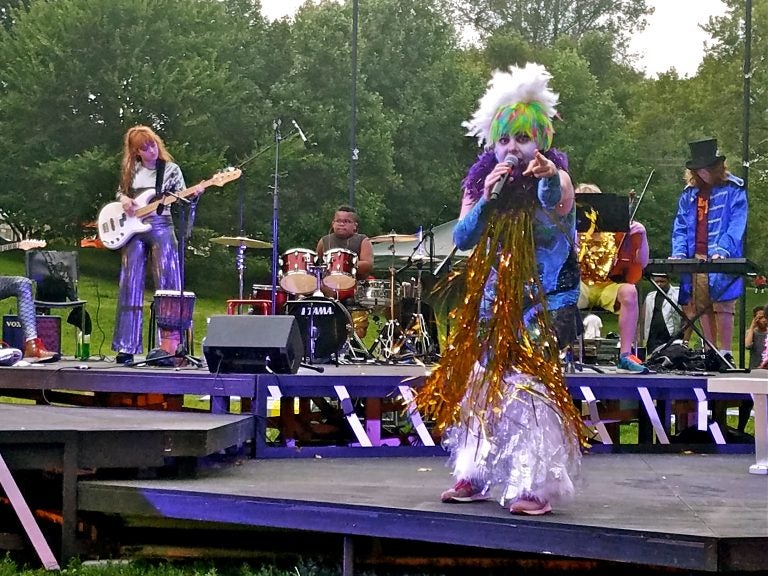 "Twelfth Night" opens with its most famous line: "If music be the food of love, play on."
And on and on and on.
Shakespeare wrote lyrics for several musical interludes in the play about courtly romance where the objects of love are not the gender they appear.
The 400-year-old play seems to anticipate the extravagances of rock 'n' roll.
"It's a world of courtly decadence, humor tinged with melancholy, and a world of gender confusion," said Jack Tamburri, who is directing Shakespeare in Clark Park's production of  the comedy. "Those elements swirled together and brought to my mind the conceptual music performance of David Bowie, early Roxy Music, Freddy Mercury and Queen, and Little Richard — the granddaddy of them all."
In this production, the character Viola – aka Cesario – crash-lands in Clark Park's natural depression amphitheater — aka "the dog bowl" — via spaceship. The casting is gender-blind, meaning the performers may not be the same sex as their characters. Costumes are a mishmash of Victorian, glam-punk, and glittery cabaret.
"I don't grab onto cultural specificity," said Tamburri. "It's a more or less bare stage, with more or less open scenography. The information you need about time and space is in the script. The information about gender is always in the script."
In recent years, Shakespeare in Clark Park has made it its mission to create production elements that encourage community participation. Memorably, it choreographed battle scenes for "Henry IV" with a hundred extras charging through the open park.
This time, the company created a glam-rock band after auditioning young people between the ages of 8 and 15. For the last three months, the eight-piece band — six kids anchored by two adults — worked up a handful of songs for the show. Before they became Midsummer Madness in April, they were unacquainted.
"It's been rewarding to see them get to know each other and form relationships," said music director Jackie Soro. "When they came, they were just kids of different ages who didn't know each other."
Part of the audition process was to weigh the kids' commitment to the project. Not all are virtuosos. The 9-year old trombonist, for example, has just started to learn the instrument.
Some are ringers. Drummer Cooper Fenton, 8, frequently sits in with the local funk R&B band Badd Kitti.
"Funk music," said Cooper. "They invite me to play. It's pretty fun."
Brady Santoro, 13, is primarily a guitar player, having performed for three years as part of West Philadelphia's Porch Fest. For "Twelfth Night," he opted to play keyboard.
He's not a fan of David Bowie and glam rock ("I prefer Jefferson Airplane"). Brady, however, is well read. He brought a paperback to keep him company during lulls in rehearsal for "Twelfth Night," and knows his way around Shakespeare.
"Even though his writing is antiquated and hard to relate to, it's still phenomenal in how it conveys emotion," he said. "It makes everything seem alive."
Onstage, Midsummer Madness provides the backing for Feste, the fool of the play. Cabaret performer Jess Conda plays Feste with "Ziggy Stardust" glitter, festooned with alien face paint, a tinsel boa, and furry plastic boots.
She also wrote the songs, along with composer Liz Atkinson. Conda's lyrics are inspired by, but not faithful to, the original Shakespeare text. Where the Bard's language is dense and complex, Conda traffics in the power of rock 'n' roll's simplicity and repetition.
"Hopefully, that will be palate cleanser," she said. "If there are pauses for a breath and simplicity — a rock 'n' roll interpretation of what you just saw — hopefully, those things will complement each other."
For Conda, glam rock's use of androgyny and theatrics is a natural fit for "Twelfth Night," where characters sometimes assume multiple layers of identity artifice.
"So much of glam was inspired by identity, to have an identity bigger than the self, to be your full self, your truest self, your most glittery self," she said. "In 2018, it's important because these are old stories so we have to figure out why we're still telling them."
"Twelfth Night" will be performed in Clark Park Wednesday through Sunday this week. If it rains – and it likely will — it will move indoors to the Annenberg Center at the University of Pennsylvania.
WHYY is your source for fact-based, in-depth journalism and information. As a nonprofit organization, we rely on financial support from readers like you. Please give today.