Painted Bride denied historic status, removing roadblock to iconic building's sale
The historical commission heard impassioned testimony from both sides of the fate of the storied Painted Bride.
Listen
2:14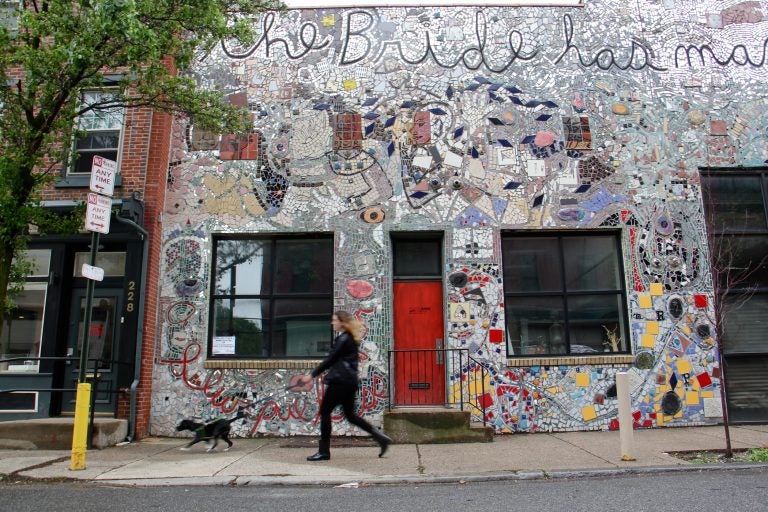 Philadelphia's Historical Commission heard hours of testimony Friday on the fate of the Painted Bride, an iconic art space in Old City that is covered in a distinctive mural celebrating its storied past.
The colorful mosaic covering the building is one of the most eye-catching pieces of artwork by famed artist Isaiah Zagar, who also created the city's quirky Magic Gardens.
The Painted Bride organization has been trying to sell its building in the hot market of Old City. It had hoped to use the cash infusion to support art scenes in outlying neighborhoods.
But Emily Smith, the executive director of the Painted Bride's sister art installation at the Magic Gardens, tried to intervene and win the building historic protections. Her goal was to protect Zagar's art.
"Places matter, buildings matter," said Smith. "There will never be another building like the Painted Bride. It is one of the more iconic pieces of art on Philadelphia."
The historical commission heard impassioned testimony from both sides. The owners of the Painted Bride say unwanted preservation protections would trap them in the building and stifle their mission.
Some of their supporters testified that Old City no longer seemed a safe space for some artists, who felt that newer, wealthier residents cast a suspicious eye upon them and might even call the police.
"The Philadelphia Magic Garden's historic application for the Painted Bride appropriates our rich 50-year legacy of nurturing thousands of emerging artists and conflates that legacy with the building," said Harriet Rubenstein, a member of the Painted Bride's board of directors
That argument seemed to sway some commissioners who voted 5-4 against Smith's petition to add the building to the local register of historic places, which would protect it from demolition.
The Painted Bride's supporters are pleased the institution can sell its building at full market value. But their celebrations were tempered.
"It's a bittersweet outcome for everybody involved," said Noah Smalls, a curator who just handled a show at the Bride a couple weeks ago. "We're all sad because of this decision. The mural may be lost, but it still leaves the opportunity that someone could come in and buy the building."
After the vote, Smith appeared shocked. The commission chairman, Robert Thomas, had supported her case that the Bride should be protected. But in that case, the 10-member  commission would have been evenly divided, resulting in a tie.
Thomas wanted to avoid such an outcome, so on the second vote he abstained, allowing the Painted Bride organization's supporters a victory.
Surrounded by sympathizers who tried to comfort her about the possible loss of the building, Smith said that she didn't know if she had any options going forward. Several speakers had said that community members and artists should raise the money to buy the building to keep it in its current state.
"Many people have voiced interest in that," said Smith. "From what I understand, I don't think the Bride has been open to that, and I don't anticipate this ruling will make them more open to that conversation."
What about challenging the historical commission's ruling in court?
"You'd have to demonstrate a flaw in the procedure," said Paul Steinke, head of the Preservation Alliance for Greater Philadelphia. "It was a duly taken vote after almost three hours of public testimony. So I don't see a flaw you could base an appeal on. I can't recall a case where a rejection of a nomination could be appealed. I wouldn't want to completely rule it out, but it doesn't look likely."
There is no guarantee that the Painted Bride will be demolished, of course, but the hot market in Old City makes it a real possibility.
WHYY is your source for fact-based, in-depth journalism and information. As a nonprofit organization, we rely on financial support from readers like you. Please give today.