Painted Bride says farewell to iconic building in Old City
The Painted Bride, an Old City icon in Philadelphia, plans to sell its building. Philadelphia arts leaders are crying foul.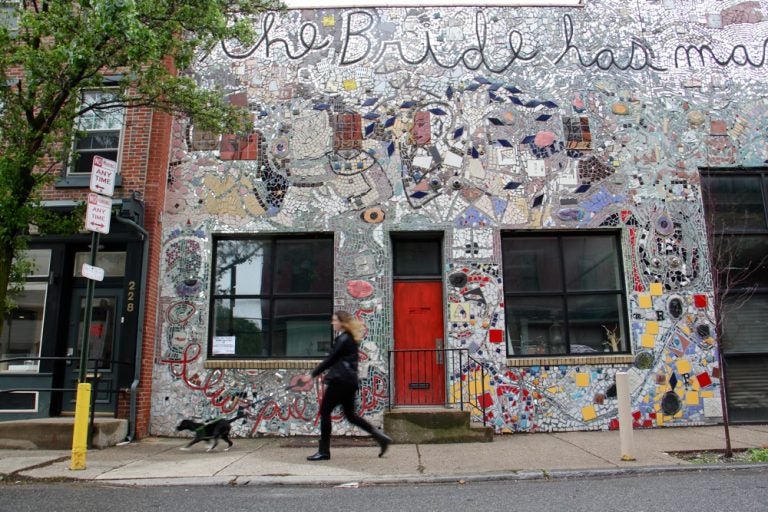 This weekend, the Painted Bride will hold its 49th anniversary party, and it's likely to be the organization's last hurrah in Old City.
The Painted Bride has been a cornerstone of the Philadelphia culture scene for almost a half-century, starting in a scrappy storefront on South Street and then in the 1980s, moving into a former elevator factory building in Old City. The building, covered in a mirror mosaic created by artist Isaiah Zagar, is iconic, and has housed numerous musical and theater performances, as well as visual arts exhibitions.
But executive director Laurel Raczka says it can't go on.
"Our business model has not been updated, it's not sustainable. We realized that four years ago," she said. "We thought about renovating and leasing out. We created a model around that, and got to the finish and realized that is not sustainable."
Raczka and her board made the decision to sell the building and turn the organization into a nomadic company, bringing arts into far-flung Philadelphia neighborhoods that are currently underserved.
"We feel our new vision is to be nimble and responsive," said Raczka. "The world has changed, we're changing, the way artists create work, the way audiences want to experience art. We're taking a leap forward."
Selling is not without regret. Raczka has been with the Bride for 25 years and considers the building a second home.
There has also been pushback.
A group of about 50 artists and cultural leaders in Philadelphia have condemned the Bride for its decision to jettison the building, saying it's too important to lose. Rick Snyderman, formerly of Snyderman-Works art gallery, doesn't believe the Bride's situation is so dire. He is the lead author of a letter asking that the leadership of the Bride to have a frank and public discussion about the current state of the organization.
As a revered cultural space in a fast-developing neighborhood like Old City, Snyderman says the Painted Bride should be treated as a public asset.
"We think that the Bride is a resource. We don't want to see it disappear," he said. "We think, however, that it needs to be repurposed and rethought. Maybe the existing board needs to retire. Maybe the director needs to retire. Some new thinking needs to be there. It's not the Bride's fault, it's the leadership's fault."
A coalition of local arts leaders has offered to consult with the Painted Bride on possible business models that would maintain the space, writing in the letter that the Bride "has an obligation to the public and to the arts community and artists in particular, to show it has truly exhausted all possible alternatives to this sale."
Snyderman says they have been met with polite dismissal.
Raczka, for her part, says she is listening to artists, community members, and funders, but the financing won't work in any scenario that keeps the building.
The building is now under consideration for historical designation, based on its extensive exterior design by Zagar, and it has been taken off the market until that decision is made, expected in July. The Painted Bride will continue to stage events in the space until October, when it then becomes an organization without a permanent home.
The 49th anniversary party on Saturday night, at Race and 3rd streets, will feature live music, drinking and dancing, original murals, food, and a silent auction to raise funds for the organization.
WHYY is your source for fact-based, in-depth journalism and information. As a nonprofit organization, we rely on financial support from readers like you. Please give today.