Wolf previews budget with 'billions' in workforce aid, says Philly vaccine woes 'not my job'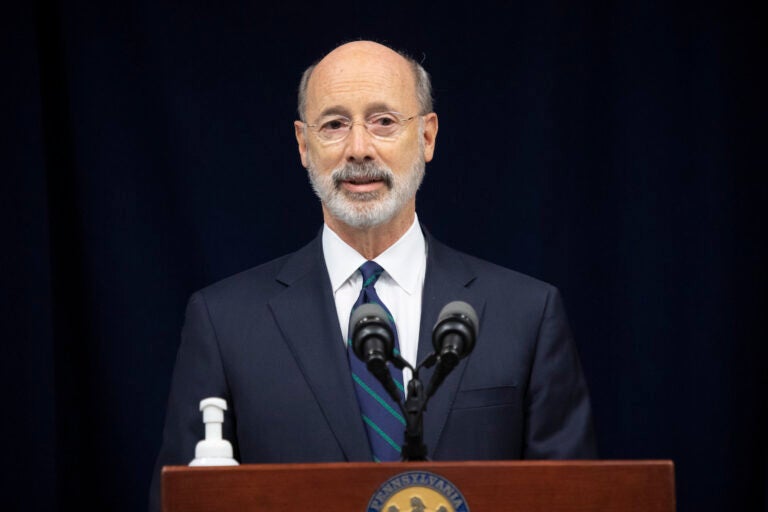 After a chaotic year, Democratic Gov. Tom Wolf is indicating that he's also preparing for a chaotic budget negotiation process with the Republican-controlled legislature.
Wolf will give his annual address Feb. 2 on priorities for managing Pennsylvania's finances in the 2021-2022 fiscal year. It will be pre-recorded for the first time in his tenure, in deference to the pandemic.
In a preview of the address Thursday, Wolf said despite the fact that negotiations will be at least partly remote, he's hoping lawmakers can find common ground.
"In every area, there's going to be disagreement," he said. "We'll be haggling and arguing and debating, but the goal is not just to sort of rigidly sit there, but to figure out how we can come together."
It has been a difficult year for unity in Harrisburg.
As lawmakers began a new session this month, Republicans were focused largely on revising Act 77, an election overhaul they passed with bipartisan support in 2019.
Following former President Donald Trump's baseless election fraud claims, sustained pressure from Trump's base, and their own frustrations at decisions by Pennsylvania's Democratic-controlled courts and administration, GOP leaders have prioritized hearings on election integrity. They are considering banning mail ballot drop boxes and tightening voting deadlines, among other ideas.
Wolf has largely rejected that approach, and said he'll veto most of their efforts.
He and other Democrats are sticking to longstanding priorities they've never succeeded in passing, like an increase to Pennsylvania's $7.25 minimum wage, a severance tax on the natural gas industry, and legalizing adult-use cannabis.
Those priorities cropped up again in Wolf's budget preview. The governor also alluded to wanting to borrow money against a proposed tax on the natural gas industry in a bond arrangement that would be paid back over two decades, in order to pay for a "workforce development" plan intended to mitigate some of the damage COVID-19 has done to Pennsylvania's economy.
It's a proposal he has been pitching, in various forms, for several years. Republicans have never agreed to tax the gas industry, however, and progressive Democrats have balked at entangling the commonwealth's finances in fracking for that length of time.
Wolf maintained that it's a good idea.
"This industry has been in Pennsylvania for now well over a decade, and Pennsylvanians, unlike pretty much every other state … has not really taken advantage of that wealth," he said. "So I understand the environmental concerns … but that is not, to me, a license to basically say we're not going to take advantage of this natural resource."
Wolf didn't give specifics on his workforce redevelopment plan, or on many of the other nuances of his proposal. He was also vague in his assessment of the commonwealth's finances, which have struggled under the pandemic — saying only that he's watching revenue closely.
In general, the annual budget address tends to be light on details, serving more as a roadmap of a governor's priorities than a concrete proposal.
In his preview, the governor alluded to a few areas where he thinks consensus might be possible between himself and the Republicans who control the legislature — namely, getting aid to struggling businesses.
The State Senate recently passed a coronavirus relief package that would allocate the nearly $1 billion Pennsylvania recently received in federal funding to several struggling sectors, including renters, restaurants, and schools.
Wolf said he applauds the Senate for approving the bill unanimously, and added that he largely likes the measure. But he also said he's waiting to see what the House does before committing to anything.
Republicans were quick to respond to Wolf's broad statement of values, with House Majority Leader Kerry Benninghoff criticizing the governor for "selecting winners and losers in Pennsylvania's economy and targeting critical industry during a pandemic."
Like Wolf, he didn't give many specifics, saying only that he was disappointed that Wolf wanted to tax "growth industries" — likely an allusion to the natural gas tax proposal. The gas industry has actually been struggling since before the pandemic.
But Benninghoff's main criticism was on vaccines, which Wolf has also heard from Democrats in recent days.
"The governor and his administration should have no other top priority than getting Pennsylvanians vaccinated," he wrote. "Pennsylvania ranks near the bottom of the country in terms of vaccine deployment efficiency, and the confusing and short-sighted guidance from the administration has caused significant public angst."
He added that he thinks mass vaccinations would solve many of the other problems Wolf highlighted.
During his press conference Thursday, Wolf repeatedly noted that while Pennsylvania has to improve its vaccine rollout, it is fundamentally limited by how many doses the federal government makes available.
He also said that Philadelphia's highly public vaccine boondoggle — in which the city contracted with a student-run company that reneged on COVID-19 testing commitments, left senior citizens without promised inoculations, and surreptitiously formed a for-profit arm — was a local problem.
"This is one of those cases where I can actually point the finger and say, 'It's not my job,'" he said, noting that Philly is one of a handful of big cities that got direct federal aid, separate from the state.
Lawmakers typically work on the budget for months, in fits and starts, after the governor gives his address.
Their deadline comes at the end of the fiscal year, on June 30.
Get more Pennsylvania stories that matter
WHYY is your source for fact-based, in-depth journalism and information. As a nonprofit organization, we rely on financial support from readers like you. Please give today.