Loss, healing, resistance, and hope: 5 recent grads reflect on a turbulent year
Along with the trauma and isolation of this past year, some students also found a new, and urgent, sense of community.
Listen
5:00
Middle school, high school, and college graduates are off to new schools, cities, and jobs. As they move forward, they carry with them all they learned from this turbulent year.
The obstacles that came with the COVID-19 pandemic, virtual school, and incidents of racism and police brutality around the country rippled through school communities across Philadelphia and Pennsylvania.
But with the trauma and isolation of this past year, some students also found a new, and urgent, sense of community. Some students are equipped with new sets of skills, new coping methods, and new ways to take care of others. Some students are energized with new visions for the world.
Keystone Crossroads spoke to five recent graduates about their reflections on what they've lost, what they've found, and what comes next for them.
Jacob Summer, 14
Jacob Summer, an eighth grader graduating from Welsh Valley Middle School in the Lower Merion School District, found a new relationship with his sister.
His parents are both doctors and worked full days. His father, Ross, is a pulmonologist at Jefferson Health in Center City. His mother Ashley is a doctor in Bala Cynwyd.
Sometimes Ross, who was taking care of COVID-19 patients, would go 14 days without a day off.
"That was tough for me," said Jacob. "I learned how to do a lot of things by myself."
Summer started making his lunch and figuring out computer problems on his own.
He also spent a lot of time with his dog. "He was like my only friend. I spent the most time with him."
He got closer to his 12-year-old sister, Ella, as they helped each other through online learning. Jacob would give her advice for making friends and navigating middle school.
"We did have fights, and even more probably than normal because I saw her more," said Jacob. "But we learned to resolve them better and understand each other more."
Isabella Ortiz, 18
Virtual learning led to many students feeling isolated. The School District of Philadelphia saw a surge in mental health issues among teens.
Isabella Ortiz, a senior at Central High School from Center City, spent the whole year learning online, as most Philadelphia students in higher grades did.
"It felt like I was pretty alone doing school," said Ortiz.
She's off to the University of Pittsburgh and hopes to have a more "normal" year in college, though she's feeling unprepared. After a year of going to school in her bedroom, she's concerned about her social skills.
"I haven't really had to talk to people, make new friends, work in groups, stuff like that," said Ortiz. "So I'm nervous, feeling like you don't really know how to interact in a social world again."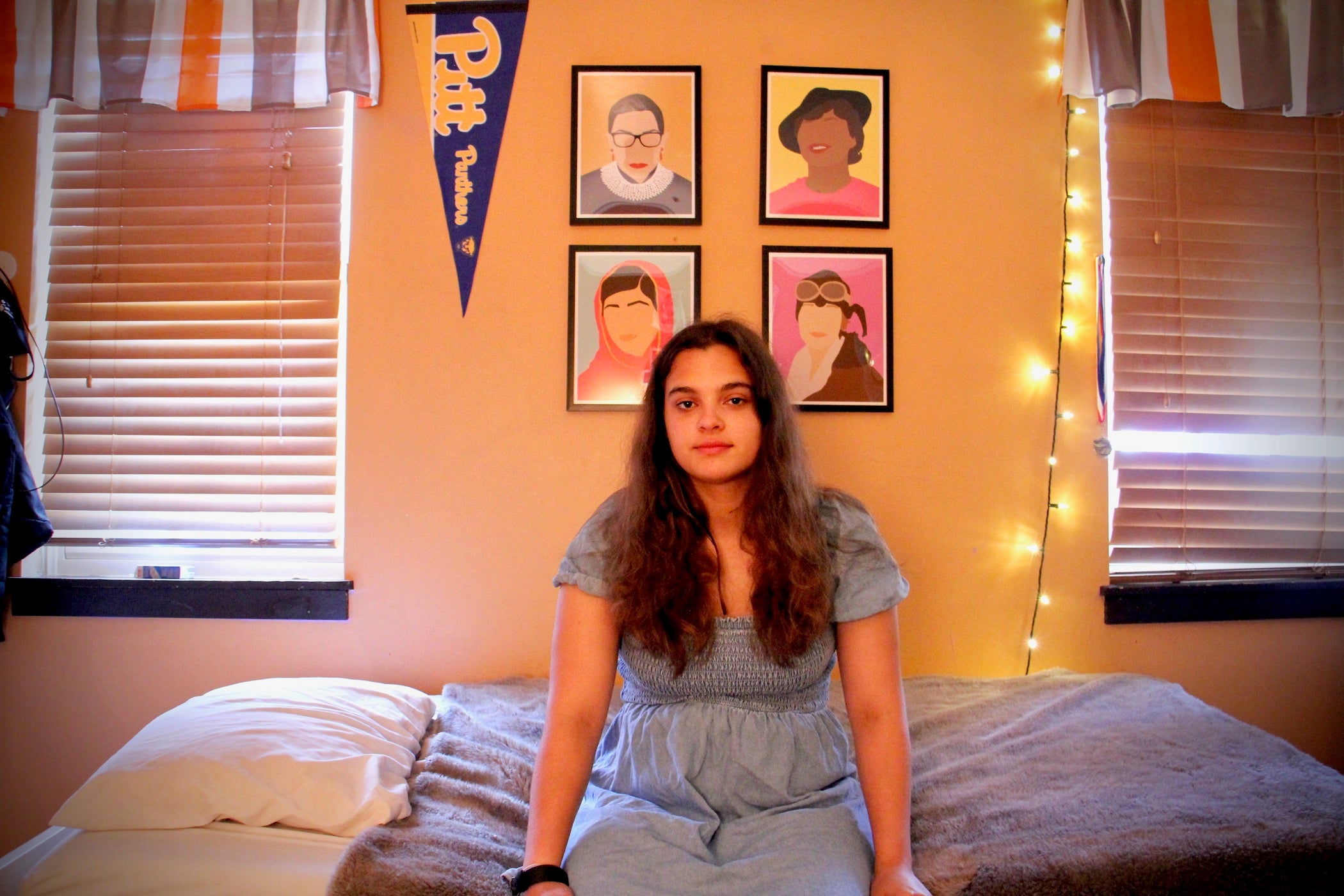 Many students participated in protests for racial justice. In Philadelphia, there were calls for schools to deal with racism head-on. Local organizations called for police-free schools and Juntos started a campaign to train teachers in handling encounters with Immigration and Customs Enforcement agents. 
Ortiz was in the streets, but she also found a space of reflection in the virtual classroom.
Ortiz, who is Hispanic and white, had conversations in class about racism in the United States. She felt like she had a solid foundation because of a class on African American history and the Black Lives Matter movement.
"It was really helpful to have that background," said Ortiz.
She also learned about her own family's experiences with racism. She heard stories that she hadn't heard before.
As she was preparing for college, her father, Luis, told her about his college experience. Luis immigrated from Puerto Rico when he was 18 to attend Franklin and Marshall College in Lancaster. At the time, it was a small and predominantly white school. He was one of very few students of color.
In his first year, a group of students targeted him, pushing him down the stairs because he is Latino, according to Isabella. Thankfully, her father didn't suffer from any major physical injuries, but the experience stuck with him, and he passed the story down to Isabella to offer advice. It's changed how Ortiz wants to move through the world.
"It showed me that these people are everywhere," she said, "and I need to be careful and I need to look out for people around me as well, who are minorities."
Sarah Zhang, 18
Sarah Zhang, a senior at Central Bucks East High School in Doylestown, has been an organizer for social justice ever since the 2018 mass shooting at a high school in Parkland, Florida. She organized her school's walk-out in solidarity with Parkland.
She felt a renewed sense of urgency after the murder of George Floyd, and after the killing of six Asian Americans in Atlanta in March.
After the Atlanta mass shooting, Zhang finally processed the anti-Asian microaggressions she faced in elementary school. She started to speak out at rallies about her experiences as a Chinese American student.
She even started her own organization called Youth 4 Unity. Much of the work involved holding "uncomfortable conversations," said Zhang, on racial inequality in her predominantly white town.
"So, ok, white supremacy is obviously deeply rooted. So what can we do as individuals to combat it?" said Zhang. "And a lot of that did come down to un-educating ourselves on a lot of what we've been taught."
Zhang campaigned for a more diverse school curriculum. She and the students she works with want English classes to teach more books written by and about people of color, and a less Eurocentric teaching of world history.
They received pushback from community members and their school board, and they didn't see much concrete change this year, she said.
"That was really frustrating to me as a student going through the district," said Zhang, "and knowing that this district had underrepresented me and other minorities."
As she prepares to leave the state for college, she hopes current students in Bucks County will continue the fight for racial justice.
"Each of their voices are so unique and so powerful," said Zhang. "We need them to fight against the injustice that we see in our own community."
Zhang is headed to University of North Carolina, Chapel Hill next year.
She's already in touch with other incoming first-year students, and has ideas for events at UNC.
Micaiah Levy, 22
When COVID-19 hit, the country saw more college students struggle to afford basic necessities, according to a survey from the Hope Center at Temple University.
More than one in two college students experienced basic needs insecurity this school year, the Hope Center found.
Micaiah Levy, who is graduating from Drexel University, knows the issue all too well.
In the middle of the semester, she learned her financial aid had run out. Luckily counselors at Drexel's Bridges Program helped her find a grant to fund her tuition.
Levy juggled a full-time school schedule with a part-time job at FedEx throughout her time in college so she could keep up with her bills.
Virtual school actually made it easier to multitask; she didn't have to rush and travel from one place to the other as much.
Balancing work and school had its tough moments, but Levy said she found new hobbies and ways to feel joy at home. She learned she loves to cook.
"Playing hard feeds your soul and keeps you alive," said Levy. "So I made time for fun stuff with my friends."
She also picked up her camera again. She organized shoots to build a new photography portfolio, which she hopes will contribute to her long-term career goals in marketing.
She's about to start a full-time position at Adidas as a digital manager.
Jayson Okanlawon, 21
College students across the country also played a major role in protests against police brutality this year. In Philadelphia, Temple students rose up after George Floyd's murder, and called for the school to cut ties with campus police.
During the campus protests, Jayson Okanlawon, who just graduated from Temple University in May, said his friends and family forged a renewed sense of community.
"It was a time that we needed each other. We would lean on each other, be there for each other," said Okanlawon. "We all just worked to keep each other sane."
Okanlawon lost an uncle to COVID-19. That event shaped how he now looks at life.
"You don't know your tomorrow … so enjoy your today," said Okanlawon.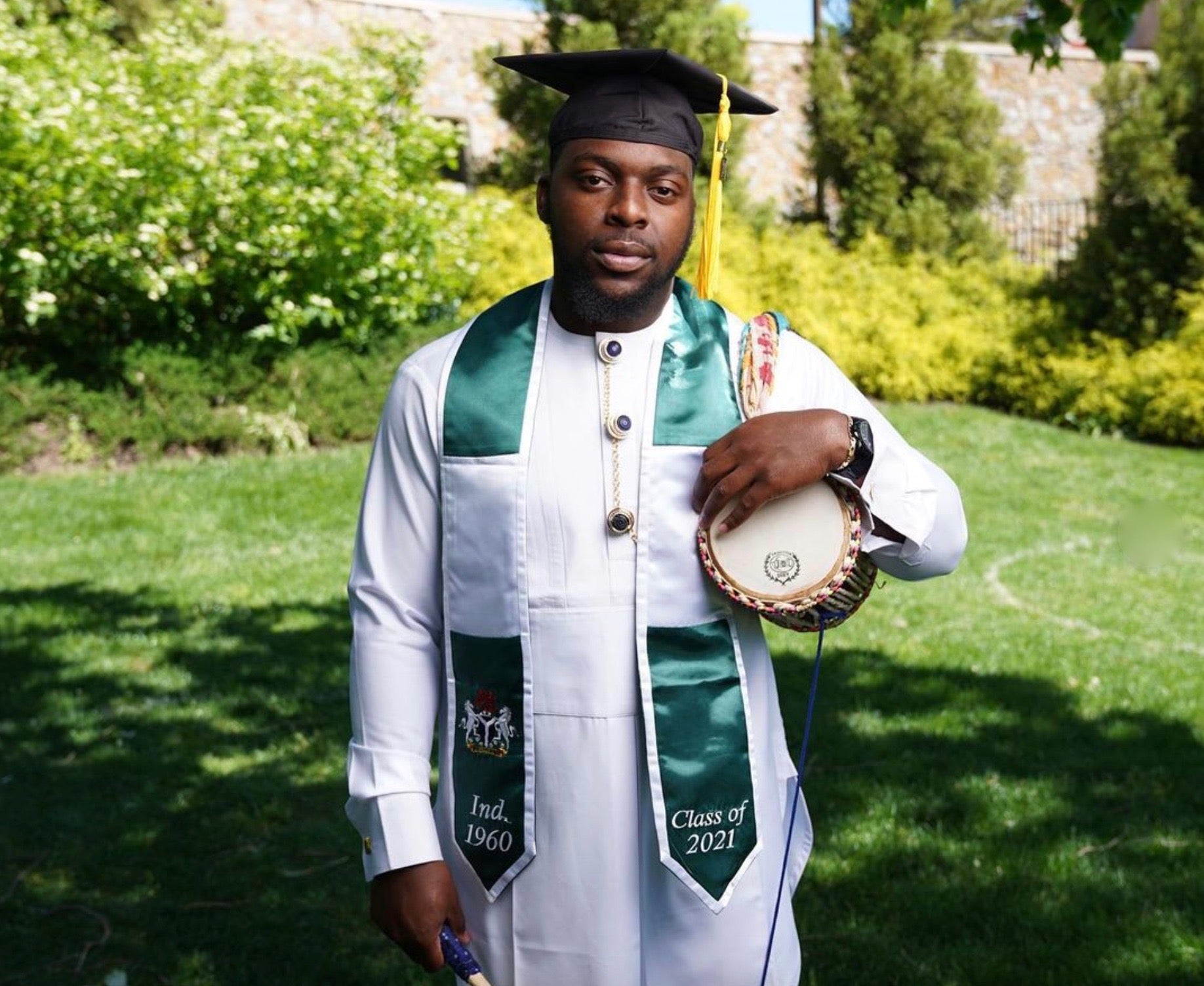 He found new ways to prioritize self-care. For him, that means spending more time on himself, whether that's getting a haircut, a massage, or buying a new candle.
These days, he's feeling overwhelmed with all the time on his hands. It's a "shock," going from having a tight class schedule to having the whole day in front of him.
"I just feel lost," said Okanlawon. Questions about the future are ringing in his brain.
"It's just been, 'Okay. What now, Jay? What now?'" said Okanlawon. "'What are you gonna do next?'"
Instead of forcing himself to have all the answers, he's trying to celebrate his graduation and, frankly, his survival. He wants to appreciate moving slow, for now.
"I think I deserve that break, given the pandemic and I just graduated," said Okanlawon.
"Let me breathe a little bit, bud."
Get more Pennsylvania stories that matter
WHYY is your source for fact-based, in-depth journalism and information. As a nonprofit organization, we rely on financial support from readers like you. Please give today.