Krasner, Philly Dems rally for Pa. school funding boost as way to curb gun violence
Listen
1:35
Philadelphia District Attorney Larry Krasner says Gov. Tom Wolf's latest education funding proposal amounts to "the kind of anti-crime legislation that works."
Krasner joined an array of state and local Democrats who rallied outside Martin Luther King High School in support of Wolf's plans for a massive education funding increase.
Wolf is calling for a $1.35 billion increase to the state's main pot of K-12 education funding. The increase would allow him to redistribute the entire basic education subsidy through a formula based on school and student needs without negatively affecting any school district in the state.  Currently, only 11% of Pennsylvania's $6.8 billion basic education subsidy is distributed via that formula.
The press conference landed on the day after the 53rd anniversary of Martin Luther King Jr.'s assisination. Krasner recalled some of King's messages to students: always feel that you have worth, that your life has ultimate significance.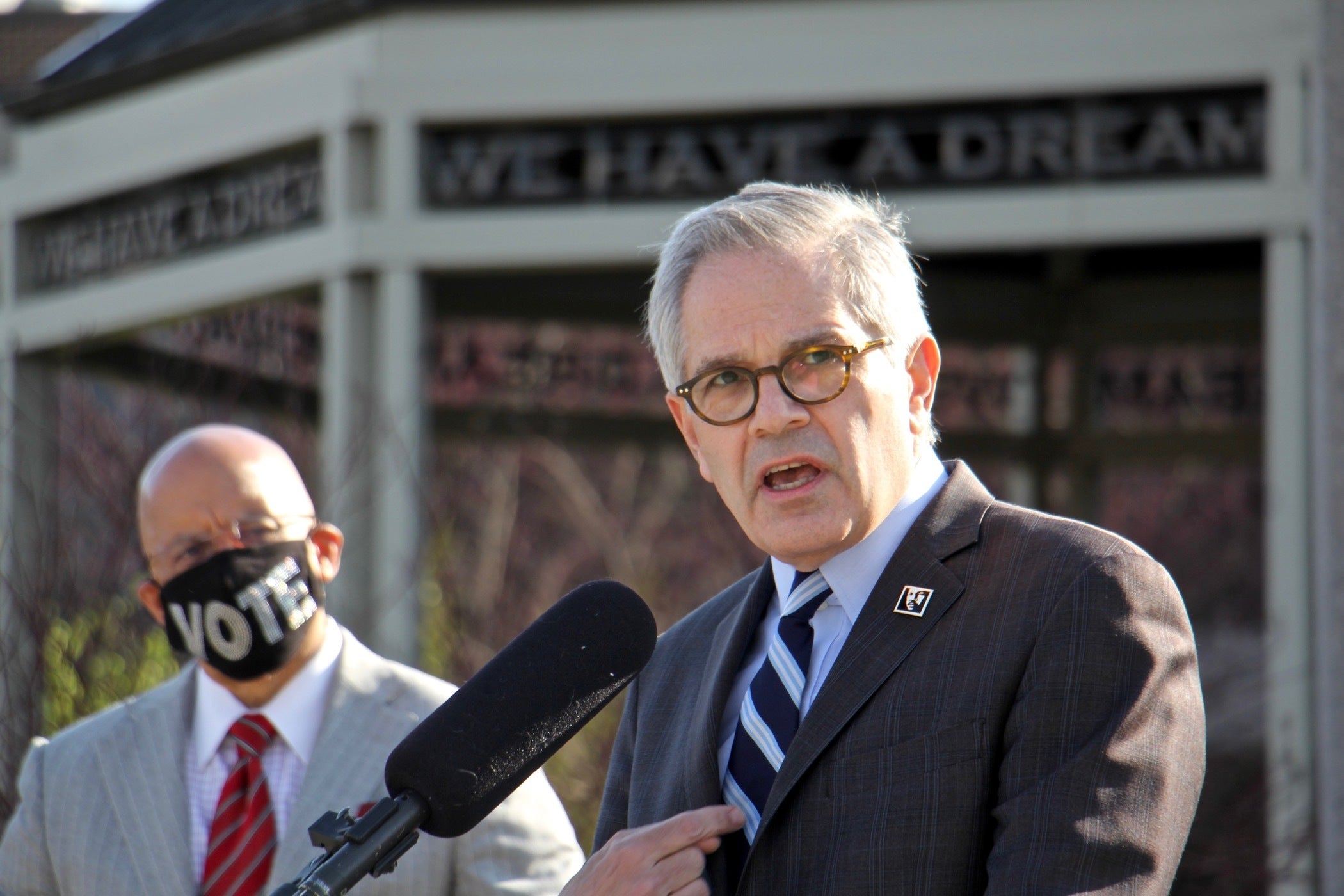 But to state lawmakers he sent a different message: "We need to put our money where our mouth is…Don't tell people to feel their own value and their own worth unless you're willing to put the money down. And I dont mean putting it down for another prison or another jail or another stupid mandatory minimum. I mean putting it down for stuff that works."
The plan, pitched by Wolf in February, is to increase the commonwealth's personal income tax from 3.07% to 4.49% in the next fiscal year, in an attempt to erode some of the education funding inequities in the state.
Wolf plans to exempt most Pennsylvanians from the tax hike, which he says would only fall on the wealthiest third of Pennsylvania's residents.
According to a study by the Public Interest Law Center on school funding nationally, Pennsylvania has the third greatest funding gaps in the nation between wealthy and low-income school districts.
The highest poverty districts in Pennsylvania receive about $2,500 less per student than districts with the lowest poverty. The report called the disparity "devastatingly large."
During Monday's press conference, State Sen. Vincent Hughes repeated the same words four times: "The funding of education in Pennsylvania is separate and unequal."
Hughes said the status quo "perpetuates the wealth and it's disparity," and that Wolf's proposal "attempts to get at equity and adequacy."
Multiple students spoke about their experiences in Philadelphia schools Monday. All the students recalled poor infrastructure, like falling ceilings, flooding, asbestos, mold, and lead in their buildings.
Amaiyah-Monet Parker, sophomore at Central High School, lamented cuts to foriegn language and extracurricular classes like music and art. She said her textbooks are damaged and the school lacks enough school counselors.
"Students should not have to daydream about a quality education when students just a few blocks away are receiving it because their schools are better funded," said Parker.
Cailin Stringer, senior at Martin Luther King high school, said the potential school funding, would "cause a systematic change" and a life-changing difference in students' lives.
"This money can change a whole mindset," said Stringer, "This money, these books, this education could be the money that is used to stop [a] young man from pulling that trigger."
Republican state lawmakers who control the legislature have historically been skeptical that increased education spending drives better academic results. They also have successfully prevented Wolf's prior attempts to raise either statewide sales or income taxes.
After Wolf's budget address in February, GOP leaders called it "dead on arrival."
Wolf revealed in March he is not hopeful that the GOP will budge, expressing concerns he won't deliver the major parts of his proposed budget.

WHYY is one of over 20 news organizations producing Broke in Philly, a collaborative reporting project on solutions to poverty and the city's push towards economic justice. Follow us at @BrokeInPhilly.