Hours after a cyclist dies, City Hall unveils a safety fix, promises more
North Broad's new medians aim to slow drivers and increase street safety. They came one day after a driver killed a cyclist on Roosevelt Boulevard.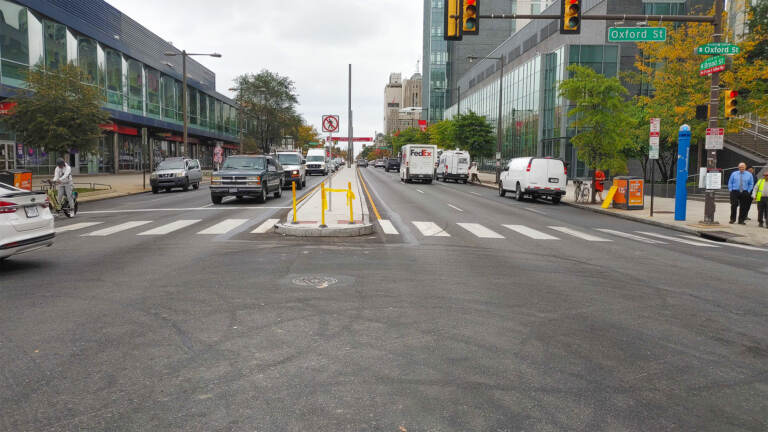 The day after a pickup truck driver killed a cyclist and fled the scene in Northeast Philadelphia, city officials said they remain committed to Mayor Jim Kenney's ambitious goal of eliminating traffic deaths, known as Vision Zero.
Kenney referred to the crash, which occurred Tuesday evening around 7:30 p.m. near Adams Avenue and Roosevelt Boulevard, at the unveiling of new medians designed to improve safety on North Broad Street between Cecil B. Moore Street and Poplar Avenue.
"We're asking everybody to reexamine their behavior and conscience to slow down, behave like a normal human being and drive their car normally," Kenney said.
The mayor said his administration was tackling the issue through infrastructure including the medians but also other interventions that slow traffic and provide "shelter and some ability to get across the street in time."  But all of that is happening on a "shoestring," said Randy LoBasso, policy director of the Bicycle Coalition of Greater Philadelphia. The city cut more than $2 million allocated to Vision Zero when the pandemic forced an emergency rewrite of the city's budget in 2020. This year, Kenney restored $1 million in funding, but a much larger cash infusion is needed to significantly reduce fatalities, advocates say.
The pandemic actually worsened Philadelphia's longtime traffic safety epidemic, a trend that played out in cities nationwide.
"This past year has been very challenging," Deputy Managing Director for Transportation, Infrastructure and Sustainability Mike Carroll said. "In 2020, 156 people were killed in crashes in Philadelphia."
Carroll described the loss of life as "devastating" and noted the figure reflected an 82% increase over the previous five-year average.
So far in 2021, the city's rate of traffic deaths remains high but Carroll said the trend shows some signs of abating.
"There is no simple answer to addressing the fatalities, the crashes," Carroll noted, adding that speed and aggressive driving are major factors and the infrastructure improvements underway aim to address those things.
'We have to double down'
Raceway-like Roosevelt Avenue, long known as the city's deadliest route, and where the cyclist was killed Tuesday, connects many African American and immigrant communities across North and Northeast Philadelphia.
Across Philadelphia, communities of color are disproportionately harmed in traffic with crashes concentrated in areas where Black and brown residents make up the majority of the population.  "That's unacceptable and that's preventable," Carroll said. "We have to double down on our efforts to save people's lives."
Raised medians, like those installed on North Broad, cut traffic crashes by up to 46%, according to Rich Montanez, the city's Deputy Streets Commissioner.
The medians, he said, "will make Broad Street safer and comfortable by slowing turning speeds down, improving driver visibility, creating a protective space for pedestrians, easing crossing for slower pedestrians, reducing risky behaviors such as U-turns and weaving and defining left turns at intersections to guide turning movement."
Ranked as part of the Vision Zero High Injury Network, this section of North Broad accounts for 50 percent of the people killed or seriously injured from traffic crashes in Philadelphia.
Philadelphia used federal grant dollars to finance the infrastructure improvements, which will come along with a more sweeping reinvention of North Broad into a highrise corridor of hotels and apartments.
"Resources to support overall pedestrian safety in partnership with other community revitalization efforts is an important area of focus to the North Broad community," said Executive Director for North Broad Renaissance, Shalimar Thomas. "That's why efforts like Vision Zero are important to the North Broad Renaissance, as it's helping support our goals towards a cleaner and safer North Broad Street for the many individuals who utilize this corridor to live, work and play."
Since the end of last year, the city has installed 5.3 miles of new protected bike lanes, 22 more Indego bike share stations, launched the Safe Routes Philly program to make the trip to school safer for Philadelphia students and completed three other safety improvement projects on dangerous intersections.
Another part of the Vision Zero effort, a speed enforcement camera program, cut speeding on Roosevelt Boulevard by 93%, according to the Philadelphia Parking Authority, which administers the program.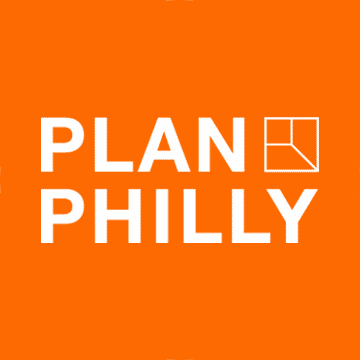 WHYY is your source for fact-based, in-depth journalism and information. As a nonprofit organization, we rely on financial support from readers like you. Please give today.