Do something good for Philly: Order #LatinoTakeout this weekend
Latinx workers and businesses are projected to be disproportionately impacted by COVID-19. A Philly group wants to help by helping you eat well.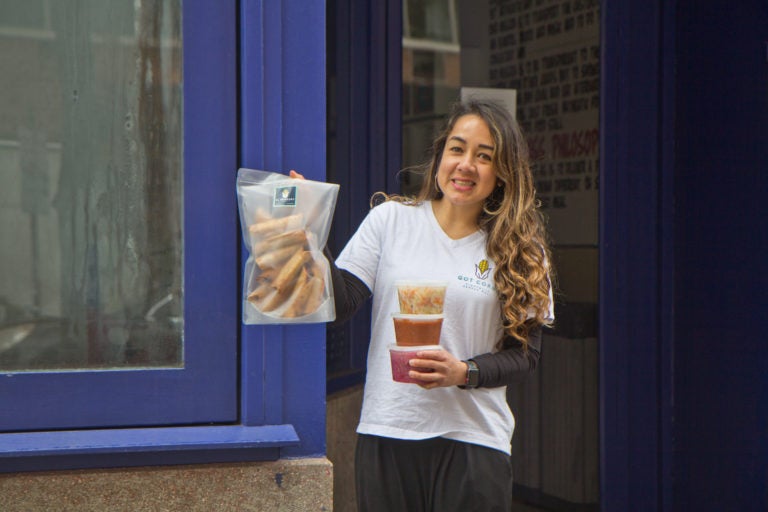 Ruthmira Giraldo always dreamt of opening up a restaurant in the United States.
"That was her American dream," said Angie Giraldo, Ruthmira's daughter. "For many, many years, she cleaned houses, but her dream was opening a restaurant and she achieved that, but now, in 2020, that dream is very scary."
El Bochinche, Giraldo's restaurant, has been serving up authentic and mouth-watering Colombian food on North 5th street in Olney for 18 years.
Think: delicious bandejas or platters of rice, red beans, pork loin, sweet plantains and doughy arepas. Big bowls of fresh seafood stews accompanied with crispy tostones. All fresh and homemade.
Before the COVID-19 pandemic struck Philadelphia, you could walk into the restaurant, catch a soccer game and enjoy the food. The restaurant was one of many contributing to the vibrancy of the bustling neighborhood corridor.
Now, the Giraldo family's delicious meals are only available for takeout, striking a major blow to the restaurant's bottom line.
"It's day-to-day," said Angie Giraldo, who manages the restaurant and does the marketing for it. "If nobody picks up the phone and makes the order then you're not surviving. We'll just continue pushing through and hopefully, stay open because the bills don't stop."
Eateries all across the Philadelphia region have had to scale back operations to slow the spread of the virus. For those that remain open, takeout and delivery are their only options, making the famously fragile restaurant business model even more vulnerable.
While the stakes are high for all small businesses, The Pew Hispanic Research Center reports that Latinx workers and businesses, in particular, are projected to be disproportionately impacted economically by the pandemic.
Meanwhile, Philadelphia's Latinx population is steadily growing, one of a few trends that have helped reverse the city's longstanding population loss and driven growth in parts of the city like Olney that have struggled to keep and attract residents.
Motivated by a drive to help the burgeoning Latinx businesses community weather the COVID-19 crisis, the Greater Philadelphia Hispanic Chamber of Commerce is rolling out a new initiative with a singular goal: to get you to support Latinx-owned restaurants and eateries this coming weekend.
Created in partnership with Finanta, Community First Fund, Widener University SBDC, and Aclamo, the Dine Latino Take-Out Weekend initiative encourages foodies to #DineLatino, April 3 – 5, with Delaware Valley takeout and delivery options.
"We must act now to provide immediate relief to these businesses and the most efficient way of doing this is by helping to boost their revenue," said Jennifer Rodriguez, President & CEO of the Hispanic Chamber.
Just like the team at El Bochinche, Sofia Deleon who owns El Merkury near Rittenhouse Square is feeling the pressure to generate revenue too. "We had been doing OK, and then this happened," Deleon said.
Deleon didn't let go of any of her staff, all five of her employees are still working, but fewer hours. "I didn't want to leave them out in the street," she said.
El Merkury serves fast-casual South American food — pupusas, taquitos, elotes and other foods from her home country Guatemala and others that surround it. The restaurant is known for its elaborate and sweet churros, which come served in large ice-cream sundaes, but unfortunately, they're not very deliverable.
So, Deleon had to make menu adjustments to account for the fact that meals won't be eaten in the restaurant but instead delivered in boxes and containers. "For the most part, we've been doing like a dozen fresh pupusas, that people can grill at home or frozen pupusas that you can defrost and cook, and then it lasts longer," she said. They're also packaging larger family-style meals separately.
El Merkury is communicating with its customers through Instagram, letting followers know what they're up to, whether it's menu changes or their operation hours.
But for many Latinx-owned businesses, marketing can be a challenge — that's why the Dine Latino initiative is focusing on marketing for these restaurants, to let people know that they're open for delivery and takeout.
That's what Angie Giraldo wants people to know: "We're still here — for takeout on the phone or on Ubereats, Grubhub and Doordash. We're ready to take orders and we're still happily serving the community."
For all Latinx-owned restaurants participating in #DineLatino, visit the Hispanic Chamber's website.
WHYY is your source for fact-based, in-depth journalism and information. As a nonprofit organization, we rely on financial support from readers like you. Please give today.