How Olney became one of Philly's fastest-growing communities — without gentrification
No one could argue that Olney, in upper North Philadelphia, is gentrifying. But that doesn't mean the neighborhood isn't revitalizing.
No one could argue that Olney, in upper North Philadelphia, is gentrifying. But that doesn't mean the neighborhood isn't revitalizing. In the afternoon when schools let out, kids weighed down with colorful backpacks fill the sidewalks of tidy rowhome blocks. The neighborhood's North 5th Street shopping district bustles with Colombian cafes, Jamaican bakeries, and Korean restaurants. Over the last 15 years, neighborhood's population growth has greatly outstripped city averages no matter how it is measured.
That's why three years ago the Amacias family chose Olney as the location for Panadería Mexicana El Trébol, their Mexican bakery, and restaurant. They didn't consider anywhere else, even though much of their family in the city lives in South Philadelphia. The Amacias' saw the opportunity in Olney, where the rents were more affordable, the demand high and the community welcoming.
"We chose to open it here for the strong Hispanic community up here," says Miguel Amacias, whose parents own the restaurant.  "It's very diverse. Colombians, Mexicans, Puerto Ricans, Guatemalans. And so there's a lot of business on Fifth Street. South Philly is just a different vibe."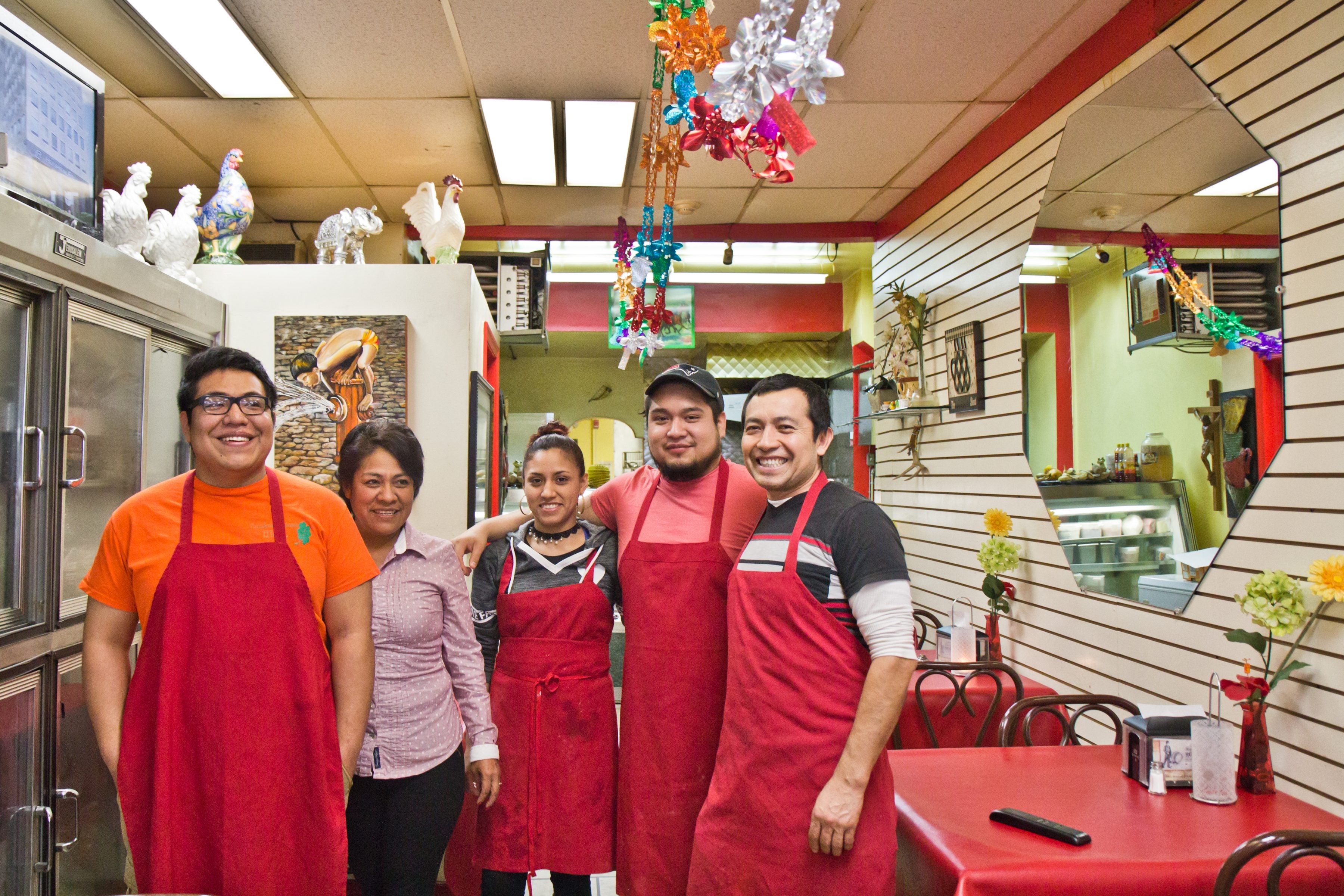 Some parts of South Philadelphia, especially east of Broad Street and south of Washington Avenue, enjoy a unique blend of both gentrification and immigrant-led revitalization. But Olney's resurgence is a result of only the latter.
In 2000, the Reinvestment Fund reports, 23 percent of the residents of a handful of neighborhoods including Olney were born outside the United States. By 2015, that number climbed to 36 percent, according to Reinvestment Fund.  Along with African-American and Puerto Rican residents, who moved up from older neighborhoods in lower North Philadelphia, new foreign-born residents helped the neighborhood's population remain stable,even as the number of white residents continues to fall, as it has since 1970. The zip code that encompasses Olney, 19120, is now the most linguistically diverse in all of Pennsylvania.
Domenic Vitiello teaches city planning at the University of Pennsylvania. He says the neighborhood embodies a model for community regeneration that is completely distinct from the kind of change seen in Center City and its surrounding neighborhoods. "Olney is very much a revitalized community, a place that has successfully weathered the economic transformations of the last few decades," says Vitiello. That term "revitalization," he says "may sound surprising to some people's ears" because the neighborhood doesn't look like the areas typically pointed to as examples of urban rebirth. But that doesn't mean it's not happening. "It's experienced as much out-migration as other neighborhoods in Philadelphia, and there certainly isn't gentrification. But Olney is nonetheless vital."
Toby and Elisa Bae work behind the counter at the T-House. (Kimberly Paynter/WHYY)

Concha at Panaderia Mexicana El Trebol. (Kimberly Paynter/WHYY)

Dolsot Bibimbap at Seorabol Korean Restaurant in Olney. (Kimberly Paynter/WHYY)

Davey Gasper socks the produce stand on 5th Street in Olney. (Kimberly Paynter/WHYY)

Students walk home after school on 5th Street in Olney. (Kimberly Paynter/WHYY)

Over 36 languages are spoken at J.R. Lowell School in the Olney neighborhood of Philadelphia. (Kimberly Paynter/WHYY)
Olney's immigrant-led reinvention took off in the 1980s when Koreans began moving into the area, opening shops and restaurants on 5th Avenue, a few blocks east of the bustling transit hub at the intersection of Broad Street and Olney.  An attempt to dub the area Koreatown, with street banners in their language, caused friction with incumbent white residents, some of whom actively tore down the signs.
But those tensions weren't necessarily the dominant sentiment, even as white residents continued to leave the neighborhood.
"I loved it because it looked like my hometown," says Justin Lee, owner of Fern Rock hardware, who moved to Olney from Seoul in the 1980s. "Seoul is a big metropolitan, 12 million people, but my hometown in Korea was a small city. When I was here I felt very comfortable like I came back to my hometown. This place has almost same temperature as my hometown, I didn't feel a big difference. And everyone was nice to me."
But Lee, like many other Korean residents of Olney, eventually moved to Montgomery County.  By the time the Korean population began suburbanizing in earnest, during the 2000s, other immigrant groups were moving in to replace them.
Families from the Caribbean, Southeast Asia, Latin America, and Africa moved in, maintaining the neighborhood's plentiful stock of brick rowhouses. Unlike other parts of North Philadelphia, vacancy levels remained low. Community organizations, too, have laid down deep roots in the area. The Cambodian Association of Greater Philadelphia, for instance, operates a humming office on North 5th Street. A few blocks away, the Korean Community Development Services Center keeps busy serving the neighborhood, even though many of the Korean families it initially worked with no longer live in the neighborhood. Aging churches have kept their sanctuaries alive, sometimes shifting denominations or faiths to keep up with the changing demographics.
"As long as I've lived here, Olney has been racially diverse and active and vibrant," says Stephanie Michel, director of the North 5th Street Revitalization Project. Michel and her family moved to Olney in 2000 to escape rising housing prices in her hometown of New York City.
Stephanie Michel (left) is the director of the North 5th Street Revitalization Project. Gabriella Nolan is the project's corridor manager. (Kimberly Paynter/WHYY)

The window of the North 5th Street Revitalization Project office shows love for the neighborhood and advertises their monthly open mic. (Kimberly Paynter/WHYY)

D'Classico Barbershop in Olney. (Kimberly Paynter/WHYY)

Alberto Carrasco is the owner of D'Classico Barbershop in Olney. (Kimberly Paynter/WHYY)

Olney's Fisher Park is one of the largest in Philadelphia. (Kimberly Paynter/WHYY

Olney's Shekina church serves the nation's Haitian-born population. (Kimberly Paynter/WHYY)
At 1.5 miles, North 5th Street is one of the city's longest commercial districts. Its vacancy hovers below 10 percent, unusually low for the city, says Michel. The turnover rate is high too, but that's not necessarily a bad thing.
"There's so much diversity around here, that's what makes it unique," says Alberto Carrasco, a barber originally from the Dominican Republic., who owns  D'Classico Barbershop. "You can find so many businesses around here from all over the place. Just barber shops alone there's got to be like 30."
That's a lot of competition, but Carrasco is staying in Olney. And so are his neighbors.
—
The series is a collaboration of PlanPhilly, Keystone Crossroads and WHYY News, supported by a grant from the John S. and James L. Knight Foundation.
WHYY is your source for fact-based, in-depth journalism and information. As a nonprofit organization, we rely on financial support from readers like you. Please give today.