Is Todd Simpson's musical talent a gift, or does science explain it?
Listen
12:35
Gip's Place is a live music spot in Bessamer, Alabama, a town about 20 minutes outside of Birmingham. It's not much more than a lean-to with a tiny stage and autographed pictures of just about every great blues musician ever to tour the south, from Robert Johnson to Muddy Waters.
I've traveled here to meet a blues man you probably haven't heard of.
Todd Simpson steps up to the mic. He's thin and rangy with a frizzy blonde ponytail and a piercing gaze. He's wearing a plaid rodeo-style shirt, cowboy boots, and torn jeans. Everything about him is raw, including his playing, which has the spontaneity of Jimmy Hendrix and the bluesy twang of B.B. King.
But there's a little more going on here than a blues performance. See, Todd has synesthesia. That's where two of your senses get crossed. So as he's playing the music, he's seeing colors at the same time. And somehow these colors tell him exactly what notes to play. He says playing music is like humming.
"I don't even have to worry am I going to hit that note," Simpson explains. "That note is inevitable. It's there. You're not thinking am I going to, when I'm doing 'Twinkle, Twinkle, Little Star' — hit the right thing. I think if you're thinking about it, you're not going to hit it."
His music evokes ecstatic joy and the deepest suffering. And when you learn about Todd's early life, you can understand where that pain comes from.
"It was an uneventful birth. It was a good birth. He was a pretty little blonde-headed baby," says Simpson's father Wes.
But just minutes later, doctors put Todd on oxygen. Eventually, a cardiologist came in and determined he had something called pulmonary atresia. The artery, which carries blood to the lungs, was blocked.
The doctor rushed Todd in for surgery and offered a sobering prognosis.
"He said, 'Well, to be very honest with you, your son has about a 5 percent chance of surviving this surgery,'" says Wes Simpson. "I mean, all of a sudden it hits you in the face, when you're kissing your baby on the forehead before they take him in and you think, you start thinking: '5 percent.'"
Todd's parents kissed him on the forehead and sent him off to surgery, resigned to the possibility that they may never see him again.
He did survive the surgery, but there were complications.
"He stayed on the ventilator for 7 weeks in there. He was virtually never awake when we saw him," Wes says. "They couldn't get a vein for an IV at his size, and all his veins were blue so they did cut downs."
A cut down is when doctors can't find a vein to put in an IV. They make a small incision, pull out the vein, and feed the IV into it. The surgeons had to make those slices into baby Todd's wrists and elbows. They did that many times.
Todd still has the scars.
It was a very slow recovery, but he did finally go home — at about 6-months-old — and he wasn't growing well. He was very small, which doctors attributed in part to the heart problems, but he also was unable to eat through his mouth.
"We were trying to give him bottles. And what we were getting with the bottle was coming right back up," says Wes of those early years. "He was continuously choking and throwing up."
Over the next couple of years, he was virtually always in the hospital. According to Wes, Todd had been in the hospital for 770 days by his third birthday. And even with the tube feeds, he was choking all the time.
The doctors tried many things to help. One suggestion was a neck surgery to cut off Todd's esophagus and reroute it out the side of his neck for drainage. Todd would not be able to eat like most children do. He'd probably never talk.
"And I remember me and my wife talking, right before it happened and saying, you do realize his life is never gonna be very normal," recalls Wes. "You do realize this is gonna be a child that's never gonna be invited to sleepovers, he's never gonna have a date, I mean you do realize the magnitude of what you're looking at. And we did, but we thought that was our only choice."
On the day of the surgery, there was a complication, and doctors ended up canceling the neck procedure. But the back and forth, the uncertainty and worry for Todd's future were a big part of the Simpsons' life for a long time. There was always some, new scary procedure ahead of them, but after one particular surgery, something miraculous happened.
"When I came out of the second heart surgery, I was eating ice cream," says Todd.
The family doesn't really know why Todd started eating. But even that surgery wasn't a cure-all.  Todd would get frequent fevers. It turned out his immune system didn't work well. And he had other issues, like a severe speech impediment and delays in crawling and walking.
The list went on and on and on. Todd's parents just knew it all had to be connected.
"My wife had always said: 'He has to have a syndrome,'" says Wes.
When Todd was 8, his parents took him in for genetic testing. They learned he has something called 22q. Donna McDonald-McGinn runs a center focused on 22q at the Children's Hospital of Philadelphia.
"22q is a tiny piece of chromosome missing that results in loss of genes. And genes determine everything about us: our hair color, our eye color, how tall we are. And in this instance, there are about 50 genes missing from the 22nd chromosome," says McDonald-McGinn.
Each of our chromosomes is composed of various genes. And we have two copies of those chromosomes in every cell in our body — one from our mother and one from our father. And what happens during conception is that our DNA splits apart. It unravels and then recombines with the DNA from the other parent to form a new chromosome. In the case of 22q, there's an error where one of those two chromosomes doesn't reassemble the way it's supposed to, and some of the genes that are supposed to be there on the chromosome get left out.
Our DNA is the blueprint for the body. So when genes are missing, it's like missing steps to the instructions of how the body is supposed to build itself. Doctors don't completely know what happens when these particular genes are missing, but they do know of some general areas of the body that can be affected.
"Associated features in individuals who have this piece of chromosome missing include congenital heart disease, differences in the palate or the roof of the mouth, problems with infection, immunodeficiency, some feeding differences, and then many people who have this tiny piece of chromosome missing have differences in learning style," says McDonald-McGinn.
Having a diagnosis didn't help Todd all that much.  He still had all these health problems, he was smaller than everyone in his class, he had this speech problem, and, it turned out, he had some learning differences.
"He was totally dyslexic," says Wes. "I mean as dyslexic as a person can be."
But there was one thing Todd excelled at — music.
"I had a nurse named Valerie," says Todd. "And she would play tons of blues albums and soul albums. And when you're confined in a room for a long period of time, that becomes your reality."
From an early age, Todd loved to sing. Music was an escape. And one day, Todd walked into a room where Wes and a friend were playing guitars. Todd reached into a box of toys and picked up a harmonica.
Wes was expecting the worst. But when he put it to his mouth, what came out was music. Good music.
"We were just blown away," says Wes.
At 8-years-old, having just gotten a difficult diagnosis and having gone through health problems in all the years before, Todd Simpson discovered a profound gift.
Wes took Todd to a local music festival, where they met a blues guitarist named Willie King.
"And he said, 'You got a harmonica with you?' And Todd said, 'Yes, sir.'  And he said, 'Play me a little bit. Hit me a lick,' is what he said. 'Hit me a lick.' And Todd pulled it out and played a little, and he said, 'Whoa!' And he told the guard, he said, 'I'll tell you what. Open that gate. He's playing with me today.'
So Todd got to play with the legendary blues man. He got written up in the paper. News of the 8-year-old kid playing harmonica like a pro spread. Pretty soon he was getting offers from other blues guys to play.
One of them, a guy named Big Bo McGee, started calling him the Mojo Child. That's a term with a lot of history in the blues community.
"A lot of blues songs refer to the mojo hand," Wes says. "And I've got my mojo working and stuff, and it's a good luck charm, just the good luck. And so Todd just sang all that old blues stuff. And Big Bo just always called him. He was so little and looked even younger than he was, and he called him the Mojo Child."
"Big Bo told me that day, he said, 'You know, he's got it inside,'" says Wes. "'I don't know what he's been through. I don't know his deal, but he's got it. He's been through something.' And you know, struggle is struggle. You know, it may be in the fields of the Mississippi Delta or it may be in a hospital, at UAB hospital, but struggle is struggle. And that's where that comes from. It comes out of struggle. It's the overcoming of the struggle."
So this goes on all through Todd's teen years. Wes tries to give him every opportunity to play with blues musicians and get experience. Then at 17, Todd picked up a guitar.
"And I mean, it's like he'd been playing all his life," says Wes.
Soon Todd started playing festivals. He and his dad formed a band: Todd Simpson and Mojo Child. Word about him eventually got around, and he started playing gigs all over the South. Then outside of the South.
"He had been playing three months, I guess maybe, when he opened a show for the Allman Brothers," says Wes. "And that hit a string. He opened for Huey Lewis and the News, Sister Hazel, Paul Thorn a few times."
And now, 12 years later, this is Todd's life. The band tours. They've got three albums. Todd still basically can't read except for some sight words.
Music is how he makes his living.
Todd's family thinks he has a gift from God. But science can offer some clues about the source of his talent.
During one of his procedures, Todd had a stroke. And a stroke can cause the brain to rewire itself according to Edward Moss, a neuropsychologist who works with kids who have 22q.
"The brain needs to reorganize itself in order to produce cognitive abilities. And because parts of the brain are damaged, you can get connections between areas of the brain that would normally not be connected," Moss says.
He says people with 22q do have brains that are just a little different.
"So it might be this incredible happenstance of Todd's having 22q and having a miswiring that somehow brings it all together uniquely for him."
To be clear, the stroke is really just one theory. It could explain Todd's ability, or maybe not. Todd's musical gift really could be just that — a gift. Todd doesn't really care — and neither does his audience of music fans.
—
Reporter's note
This story is personal for me. My son Amos, who is now nearly 17 months old, has 22q. He has a heart defect similar to Todd's but not exactly the same and not as severe. He's had one heart surgery, and a few other minor health problems, nothing even close to what Todd went through in the early years. Amos is a little small for his age, as Todd was, but he's pretty healthy and a very happy, smiley kid.
My wife and I learned of Amos's heart defect before he was born, and his specialists knew it could be a sign of 22q. He was diagnosed at two days old. It was a difficult news, but it's helped us get prepared and brace ourselves for health concerns that might be in the future for Amos.
Like Todd Simpson, many kids with 22q don't get diagnosed until much later in childhood or even adulthood. And that delayed diagnosis makes it hard to get a handle on just how many people have 22q. Estimates range from 1-in-1,000 to 1-in-6,000.
Simpson's story gives me hope for Amos's future — but not because I think my son will be a musical genius. It gives me hope, because Todd got through his health struggles.
Today he has a happy life doing something he loves.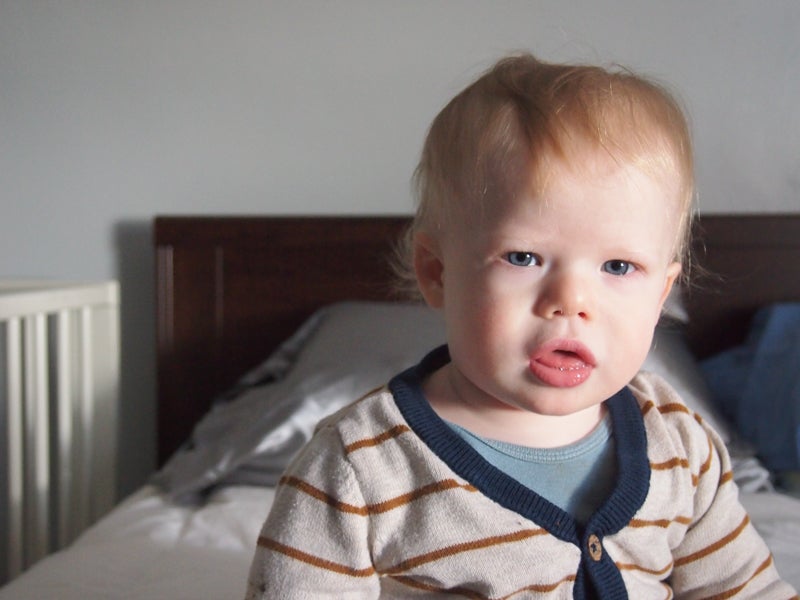 I think that's pretty much all any parent wants.
You can find out more about 22q at www.22q.org.
WHYY is your source for fact-based, in-depth journalism and information. As a nonprofit organization, we rely on financial support from readers like you. Please give today.