Surveying Pa.'s 11th congressional district, solidly Republican and regions apart
Voters in the northern end feel weirdly separated from their anchor cities, Scranton and Wilkes-Barre.
Listen
6:09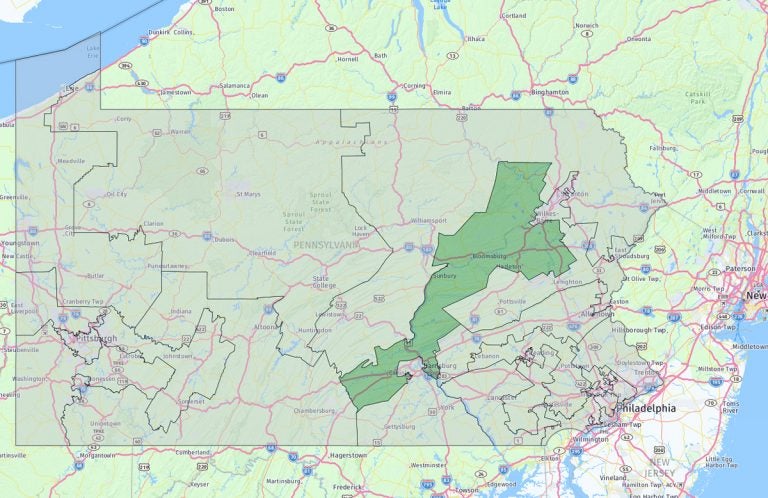 The 20-person crew responsible for the steady thrumming in the open pit before us is working in Atlantic Carbon Group's Stockton mine outside this city, the living embodiment of one of Luzerne County's cultural calling cards.
And since mines like this don't exist in Carlisle, Harrisburg or New Bloomfield, it's also a visible reminder that Pennsylvania's 11th Congressional District, in its current form, is the political equivalent of a shotgun marriage.
They mine coal; we quarry limestone. They're Wilkes-Barre / Scranton Penguins; We're Hershey Bears. They polka; we square dance. They're pierogies; we're chicken corn soup.
This is what gerrymandering has wrought in Pennsylvania.
Once known to political types as "the anthracite district," Republican map-makers in 2011 stripped the 11th of its traditional anchor cities, Scranton and Wilkes-Barre, and replaced them with GOP-Helper from portions of Dauphin, Cumberland and Perry counties.
This has left voters in the district feeling cheated in multiple ways:
Voters in the northern end feel weirdly separated from their anchor cities, Scranton and Wilkes-Barre, from whom they get their television news, travel to for shopping, sporting events and concerts, and share countless cultural links.
Bob Curry, president of the Hazleton Integration Project, a non-profit that works to knit Hazleton's newest immigrant population, Latinos, with the old guard, put it like this:
"For us, it seems so much more natural to be put into that geography with Wilkes-Barre and Scranton because we are a similar people," he said, describing the Irish, Italians, Poles, and eastern Europeans who settled the small mining towns that dot Luzerne.
"It just feels a little bit wrong to a lot of people that we're now thrust into a mix of people that we seem not to have that shared history with."
This story is part of our redistricting series "Over the Line", a collaboration with PennLive, WITF and other public media stations across the state.
Read Charles Thompson's full story of the 11th district.
WHYY is your source for fact-based, in-depth journalism and information. As a nonprofit organization, we rely on financial support from readers like you. Please give today.