Philly-area high schools upgrade helmets, but there's room for improvement
Listen
4:45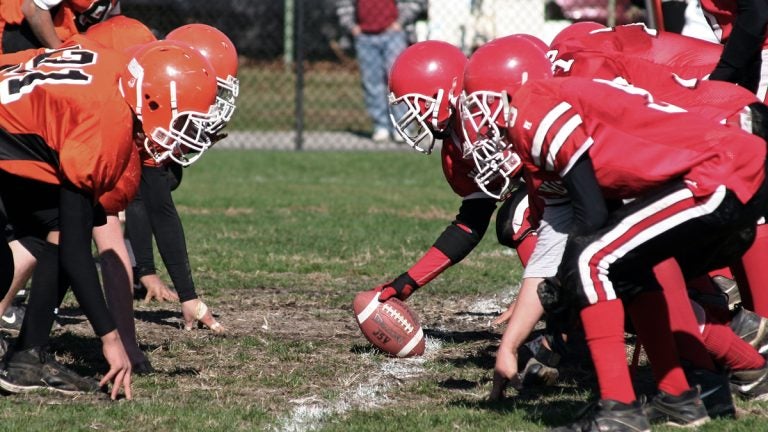 Given the dangers of brain trauma from helmet-to-helmet contact, would you want your child to play high school football? A new analysis from the Philadelphia Inquirer offers some insight. Reporter Rick O'Brien sat down with NewsWorks Tonight host Dave Heller to discuss what he and his colleagues found when they dug into data on the types of helmets used at local high schools.
To hear their interview, click the play button above.
In 2011, Virginia Tech University unveiled a five-star ranking system for football helmets; five-star rated helmets are the most likely to lower the wearer's risk of a concussion.
"There's no concussion-proof helmet, but we wanted to find out what was out there, what schools were employing what helmets," O'Brien said.
O'Brien and fellow reporters Phil Anastasia, Aaron Carter and Dylan Purcell looked at data from more than 30 schools in Philadelphia, South Jersey and the surrounding suburbs, and found the number of three-, four- and five-star helmets is on the rise, despite the higher cost. Top-rated helmets can cost more than $400.
But O'Brien said there's still a lot of room for improvement. For example, the Inquirer found six charter and traditional public schools in Philadelphia that had one-star rated helmets.
"We were told by the executive director of athletics that when schools closed in 2012, there was a shuffling of helmets, and they're not using those one-star helmets that are out there," O'Brien said. "But those six schools have no five-star helmets, so that's maybe an area where they could upgrade once they see our study."
But even a top-of-the-line helmet won't eliminate the risk of serious head injury.
Mark Maguire, a linebacker at Father Judge High School in Philadelphia, has gotten two concussions during play — the second one happened while he was wearing a five-star helmet.
"But he said if a third concussion happened, that would be it for him … and he would be done," O'Brien said. "It was just interesting to see a kid say that.
"'Football is in your blood,' most of the kids will say, 'and I'll still go out and just take a chance,' but he — maybe because of the recent things with the NFL and CTE [chronic traumatic encephalopathy] and just the long-range effects it can have down the line — he says he wouldn't play again."
To read the full story and to see how your high school's football helmets rate, visit Philly.com.
WHYY is your source for fact-based, in-depth journalism and information. As a nonprofit organization, we rely on financial support from readers like you. Please give today.