Shadows of four Michael Murphys killed in Vietnam weigh on Philly man
Listen
5:00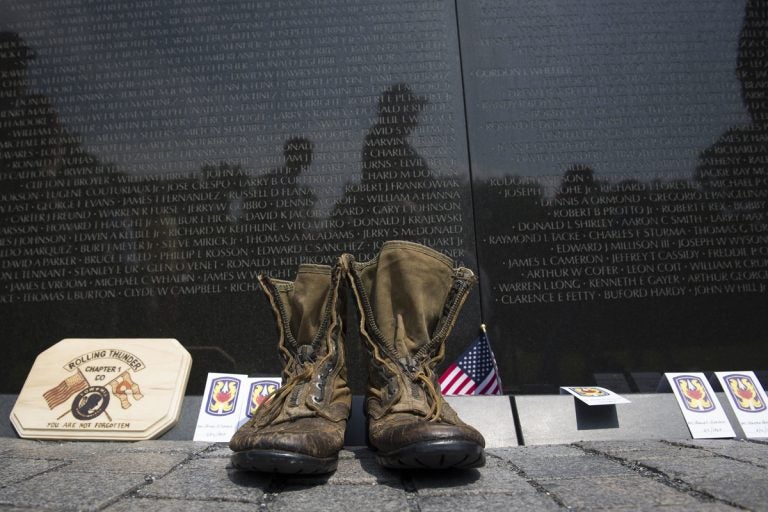 Veterans Day is a time for remembering and saluting those who served in the military — and often for visiting national monuments to pay respects to those who paid the ultimate sacrifice.
Fifteen years ago, one such visitor to the Vietnam Veterans Memorial in Washington, D.C., was Philadelphian Michael Murphy.
It was the summer of 2002, and he happened to arrive on Memorial Day, seven months after the U.S. invasion of Afghanistan.
"We ended up at the Vietnam Veterans Memorial, and as you know that is a wall. It's a wall of stone, and on that wall are engraved names," he said. "There's 58,000 names on that wall of service people and soldiers who died or were missing in action in the Vietnam conflict."
Not knowing anyone who had died or went missing in action in Vietnam, he and his friends looked up their own names. Finding four Michael Murphys was a sobering moment.
"They were all 19 or 20," he recalled. "None of them made it nine months in Vietnam … it showed when they were deployed and when they were killed. And I was pretty shaken up by that, because I was in my early 20s, and I realized I'd already had a couple more years than they'd had at that point."
They met a veteran on his annual visit to the wall, and the encounter still haunts Murphy.
"A veteran walks up to us. Older guy. Wearing clothes that area couple sizes too big, wearing a military uniform. Kind of sad. Kind of haunted," he recalled. "There were a lot of people there like that.
"Now that I'm a little older, and I understand people's experiences more, I really wish there were some things I would've said then," Murphy said. "And I wish there were things I could say to him now.
"I wish I could say, thank you for your service. And I'm sorry about your friends. And I'm glad you made it back. And thank you for telling me your story."
Earlier this year Murphy shared his story of that visit with WHYY's Commonspace, our storytelling collaboration with First Person Arts. Listen to the audio above.