50 years later, sustaining vivid memories of Fishtowners killed in Vietnam
Five decades later, its caretakers worry about how much longer they can keep Cpl. Charles J. Glenn 3rd U.S.M.C. Memorial going.
Listen
4:09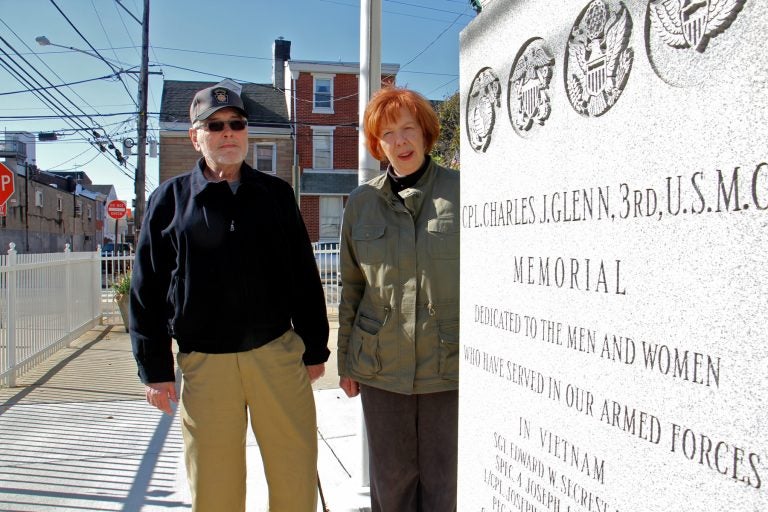 Saturday is Veterans Day, when people across America will honor those who served in the armed forces.
Philadelphia's Fishtown neighborhood has what might be the oldest memorial to those who served in Vietnam in the country. It was erected in 1967 while the war was raging.
Five decades later, its caretakers worry about how much longer they can keep it going.
The Cpl. Charles J. Glenn 3rd U.S.M.C. Memorial is at the corner of Marlborough and Widley streets. It's namesake, Charlie Glenn was 6-foot-3, skinny as a bean with a quick laugh, and a pretty good basketball player. He grew up two blocks away, on Day Street below Girard Avenue, in the Immaculate Conception parish.
"He was an Immaculate Conception guy, as was I," said John Lonergan, board chair of the memorial. "Holy Name guys were above Girard Avenue. St. Mike guys were above Girard Avenue."
The names of all those neighborhood guys — the ones who died in Vietnam — also are carved into this memorial. It's a neighborhood memorial that transcends neighborhood boundaries, commemorating all the fallen soldiers who grew up within a 15-minute walk of the site.
"There's a playground on Front Street called Tip Top. St. Michael's guys would come down to Tip Top, we'd play them down here. Then we'd go up to Hancock playground on Hancock Street and play them up there," said Lonergan. "So we intermingled, you know?"
The first to fall
Charlie Glenn was killed in Vietnam in July 1967, and, immediately, the neighbors set about creating a memorial.
First, they took over an abandoned wood frame rowhouse.
"They knocked it down, paved it. It was all done by neighborhood people," said Lonergan. "There were no government contractors — no contractors involved, except the people who laid this stone — they were professionals."
Once that piece of granite had Glenn's name carved into it, the neighborhood held its first memorial ceremony — on Veterans Day 1967 — just four months after he was killed.
Lonergan visited the memorial on Christmas 1967, just before he was deployed to Vietnam.
"Visiting in 1967 gave me a chill, perhaps my name would be on that stone," he recalled. "But you don't want to believe that. Everyone who went, thought it would be the other guy who gets hurt, not me."
Lonergan did get hurt in Vietnam — seriously, from a land mine — but he survived. Not everyone from the neighborhood was so lucky. Within a few years, 10 more names were carved into the memorial stone.
Another board member, Joyce Windfelder, said most of these guys — including Charlie Glenn  — are buried in the Beverly National Cemetery, a military cemetery in New Jersey, about 15 miles away. But Glenn's mother never owned a car and couldn't get to the cemetery easily.
"Mrs. Glenn would say to me, 'I don't have to go to Beverly whenever I miss Charlie, I just have to walk a couple blocks and I be here and I visit him,'" said Windfelder. "There was a time in Fishtown when not everybody had cars. You worked in the neighborhood, you used public transportation. The way to remember your family was to come here."
Now, Mrs. Glenn has passed on. Almost all of the soldiers memorialized died too young to have children.
Neighborhood steps in again
This weekend's ceremony will feature friends and family of each of those whose names are carved in the stone, to say something about their lives. But some don't have anyone left who remembers them.
Take William McCuen III who attended Northeast Catholic High and died in the Quang Ngai province of Vietnam. On Philadelphia's big Vietnam War Memorial on Columbus Boulevard, among the names of 648 soldiers from across the city, he is listed as William D. McCuen.
On the Fishtown memorial, he's called Butchie.
"I was an adult before I knew he was William III," said Tess Breen, who grew up next door to the McCuens. "He was always referred to as Butchie. That was important for his mom."
Breen still lives in the rowhome on Cedar Street, once sandwiched between the homes of  Butchie's mother, on the right, and, on the left, Butchie's sister Marianne who had seven kids. They are all gone now: Marianne died tragically young, Mrs. McCuen died in 2007, and all those nieces and nephews whom Butchie never met moved away or, in one case, died.
Breen was determined to make certain the memory of Butchie wouldn't fade. An amateur genealogist, she volunteered to do some digging, hunting down documents and talking to old timers in the neighborhood. "I don't think any veteran should be remembered from a newspaper article," she said.
Among the things she discovered was that Butchie was a real gearhead. He loved to work on cars.
"His childhood friend said — I'm checking my notes," said Breen, flipping through papers. "'Butchie owned a '54 Chevy, two-door, green body and white roof.' I think that's amazing — 50 years later you know the color of the car? Butchie took such pride in that car."
For many months in 1966, after Butchie was killed, that two-tone 1954 Chevy coupe stayed parked on Cedar Street in front of the McCuen house, his parents too distraught to figure out what to do with it.
Breen is hesitant to speak at this weekend's memorial ceremony. Uncomfortable speaking in public, she is also a couple times removed from Butchie McCuen, having never met him.
Fishtown rises to the occasion
Finding people to speak for the deceased has been difficult. A relative newcomer to Facebook, Windfelder has had good luck with social media.
"Six weeks ago, the memorial has 230 friends, we're now over 1,000," she said. "There is an interest. I'm impressed with Fishtown."
Windfelder hopes that interest builds, because — technically — the site of the memorial is still owned by the city of Philadelphia, which lists it as a vacant lot.
Fishtown is changing quickly. Standing at memorial site, Windfelder was surrounded on all sides by noisy construction crews. Old buildings are being demolished, condos are rising. It's not hard to imagine the memorial site could be next.
"I don't like the old- and new-Fishtown talk," she said. "We're all Fishtowners. Even if you moved in last week, you're a Fishtowner. This memorial is important. It's the history of the neighborhood.
This Veterans Day ceremony begins at 1 p.m. Saturday.
WHYY is your source for fact-based, in-depth journalism and information. As a nonprofit organization, we rely on financial support from readers like you. Please give today.