Only Joni: Choosing one child
Living in Houston with flaring smokestacks in the distance stoked Carrie Feibel's eco-anxieties. Still, she decided to have a kid... but just one.
Listen
5:31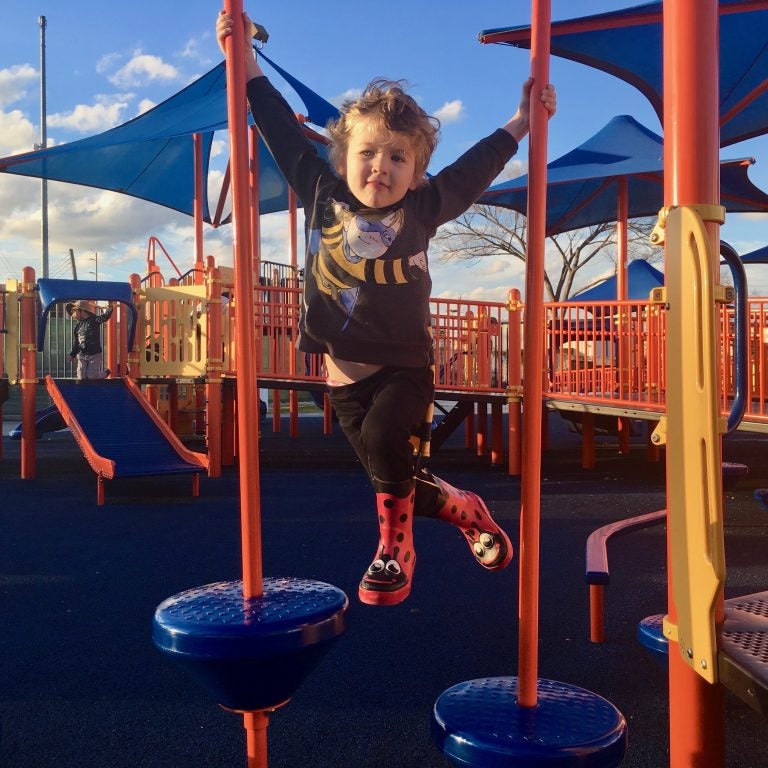 When I was 34-years old, I left New York City for a reporting job in Houston, Texas. A lot of my friends were incredulous. Houston? Don't expect a visit.
New York had media and finance. San Francisco had tech. L.A. was movies. But Houston was oil and gas and petrochemicals.
I was always reminded that Houston's economic heart runs on fossil fuels.
East of downtown, there are miles of refineries. Petrochemical plants bristling with pipes and flare stacks belching flames or black smoke. When I first got there, I would ask, 'Is that thing on fire?' and people would laugh — 'No, that's just a gas flare — they're burning off excess.'
It was beautifully apocalyptic. Like a scene from Blade Runner.
I had always been anxious about global warming change, but not just the planet heating up, all of it: the dying corals and the acid rain and the little animals that were going extinct before we even discovered or named them. But living in Houston really ratcheted that up; it was like a constant trigger for my eco-anxieties.
But, I also kind of liked that. The transparency of it.
Houstonians have no illusions. They know exactly where the gas in their car comes from, how the air conditioning works, and how much that costs them and the environment.
I sort of loved the weird contradictions of the place, and so did my husband, Eric. We met in Houston, got married, and in 2012, our daughter was born. It was mid-December, the last day of Hanukkah, and she was our healthy, 8-pound present.
Joni nursed a little, and then she cried a lot. She was the loudest baby on the maternity floor. What did I expect, really, naming my daughter after a singer.
My husband Eric still looks back on those first few months with a little bit of fatherly PTSD.
"I mean just to get Joni to sleep was a ton of work," he remembered. "I mean, I had to swaddle. You know, swaddle her super tight. I had to bounce her on a yoga ball for 45 minutes to an hour."
Eric knew pretty early on that he would be totally fine if we were one and done. I was more conflicted. I had always wanted kids, I thought. Kids, plural. But now that I had 'a' kid I had to decide right away whether I wanted another one. I was already 40, so I didn't have the luxury of time.
And yet, a second child also felt like a luxury we couldn't afford. Not just financially, but also in terms of our time and energy.
As my husband put it, "neither of us are in careers that make a whole lot of money and I just felt if we had as second, one of us would end up having to pick up the slack."
And then there was my Houston problem. The flare stacks. The hurricanes. The floods. I was starting to doubt whether a second child was something the planet could handle either.
When I was a little girl, back in the 70s, the first Joni Mitchell song I remember hearing was "Big Yellow Taxi". I didn't really understand it, but I knew it was sad.
Now I knew all too well. I read books about the environment and about family size that described the carbon footprint of Americans, of an American  kid. It's huge: the toys, the vacations, the birthday parties, the ice cream cones.  I wanted Joni to have those ice cream cones, because otherwise why have a Joni?
But did I need two Jonis?
Joni is five now, with enough sides to her personality to be her own sibling. And she thinks big, too. She contemplates evolution and extinction and the history of our planet.
"A long time ago – when dinosaurs were here, people would not come. But when people did come, the dinosaurs were extinct, because they lived a very long time ago, right mommy?"
The decision to stop with Joni wasn't strictly environmental, but it's done a lot to ease my eco-anxiety. A second child would be double the consumption, double the emissions. The studies show that no amount of recycling or conservation — not giving up meat, cars and airplanes for the rest of my life — would ever be able to make up for it.
It's not the only way to cut back, but limiting myself to one kid kind of allows me to do my part in one fell swoop.
Joni is my one fell swoop.
WHYY is your source for fact-based, in-depth journalism and information. As a nonprofit organization, we rely on financial support from readers like you. Please give today.