At a 'grit' gathering, talking to teachers about character development
At her fourth annual Educator Summit, Penn professor and "grit" expert Angela Duckworth brings teachers from all over the globe. WHYY spoke to some about the theory.
Listen
1:57
Teachers from around the world will be in Philadelphia today and tomorrow for a summit hosted by University of Pennsylvania professor Angela Duckworth.
Duckworth has become a superstar in education circles — and earned a MacArthur genius grant — for her work in the world of character education. She's most commonly associated with the buzziest of education buzzwords: grit.
Much of Duckworth's work centers on the idea that students who develop grit, a combination of passion and perseverance, are more likely to achieve their goals and lead happy lives. Just as important, Duckworth thinks educators can teach grit or help their students develop a sense of resilience.
In other words, schools can, and should, help students develop character.
Not everyone is a fan. Some think Duckworth's ideas are simply a well-marketed version of well-worn principles. Others think she overstates the power of grit. Still, others believe grit, while important, can't be properly taught or measured.
Regardless, Duckworth's ideas — and others like it, such as Stanford professor Carol Dweck's "growth mindset" — have caught fire in the education world.
For proof, one need look no further than Duckworth's annual Educator Summit, an annual event co-hosted by her Character Lab group and packed with eager teachers who want to bring her lessons into their classrooms.
WHYY News interviewed some of those teachers to hear their stories and get their take on this fast-growing ideology in the education world.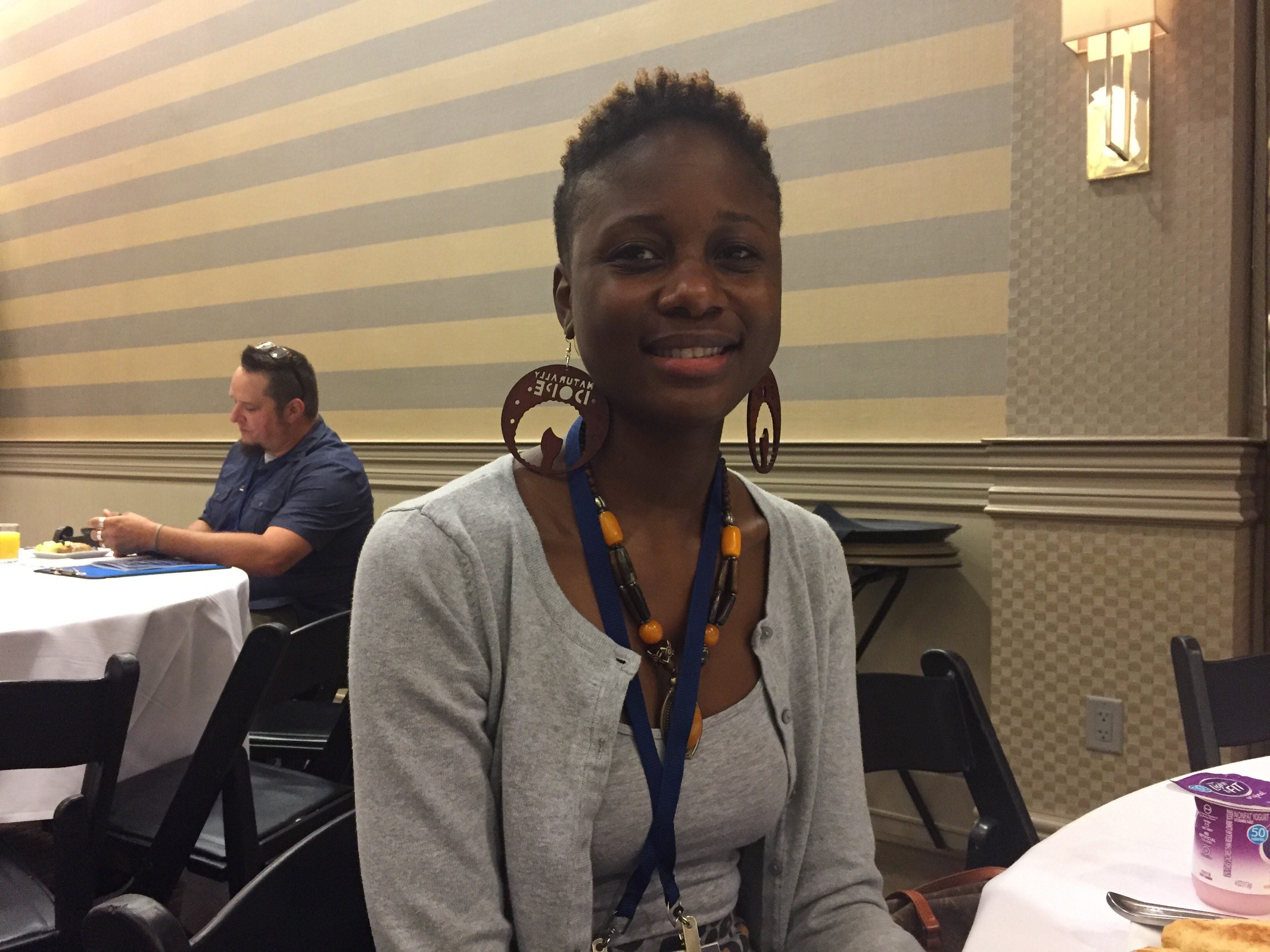 Name: Akeesha Washington
City: Philadelphia
Washington just completed her first year as a school counselor at Samuel Gompers, a K-8 public school in Overbrook.
She first encountered Duckworth's work in graduate school and used it with older learners during her past job at an organization that helps adults get their GED's. Many of her current students have tough, traumatic home lives, she said. And she thinks teaching them resilience is especially important.
"A lot of kids in the school district are going through current trauma. So they're going home and they're experiencing things they can not change. How do you help them, despite what they're going through, still have that grit, the ability to say, 'I'm going to ride this out because I know my education is gonna help lead me to a better, more sufficient life when I'm older?'"
Name: Matt Meyer
City: Springfield Township, Pa.
Meyer teachers computer science to elementary school students, but he was inspired to incorporate grit through the example of his adopted daughter.
His daughter has multiple learning and developmental disabilities and has exceeded all expectations because of her persistence, Meyer said.
"It was really trying to find a way I could bridge my experiences with her and helping her get through our current system and how I could translate that into something meaningful for our kids."
Name: Luiz Fernando Barros
City: Rio de Janeiro
Barros recently become co-head of pedagogy at SESC Barra Secondary School, a boarding school in Rio for low-income students. Tuition is free and students come from all over the country.
David Holmes (pictured on right) introduced him to Duckworth's work, but he doesn't know much about it yet. Holmes is a former boarding school headmaster who works at an organization that encourages colleges to evaluate applicants based on their character strengths rather than just test scores.
"I read a few things, but I say I'm totally new, fresh, into this."
Name: Cesar Volquez
City: Newark, New Jersey
Volquez teaches middle-school math at Hoboken Dual Language Charter School, a Spanish immersion school in Northern New Jersey. He's tried character education before. A couple years ago he focused on teaching students gratitude and said it paid dividends.
He thinks his students could benefit even more from mastering grit because math is the kind of subject where students tend to feel overwhelmed.
"Sometimes they're unmotivated because they think math is worthless. They don't wanna do it. They don't need to do it. So you have to motivate them to help them develop their grit, their curiosity. It's a long process."
Name: Jason Tavares
City: Montreal
Tavares met Duckworth during a podcast taping in New York City a couple years ago and has kept in touch ever since.
He teaches chemical engineering design at a university, Polytechnique Montreal, and typically works with students on the verge of graduation. Universities, he said, typically hire teachers for their research acumen and provide little pedagogical training. He's hoping to become a stronger classroom teacher and help his students develop the skills they'll need in the real world, once they leave his lab.
"I'm at the point where I'm trying to pull that safety net away and say, 'Hey guys, you're going out into the real world, you're going to have to fix objectives for yourself, and it won't be coming from an outside source all the time."
Name: Ashley Hobbs
City: East Windsor Township, New Jersey
Hobbs is a big fan of social-emotional learning. She thinks it's especially useful for the middle-school special education students in her science and language arts classroom.
Hobbs thinks special education students need to develop grit more than the average learner because they've been so beaten down by past failures. She also tries to dispel the notion that in science there's a right or wrong answer because in that dichotomy, students who reach the "wrong" conclusion too often lose faith.
"[We're] giving them that opportunity to be creative with their thinking and really not giving them the option of failing."
Name: Darcy Ruby
City: Orlando, Florida
Darcy, a testing and curriculum specialist at a low-income middle school, doesn't know much at all about Duckworth's work or character development.
Her district has been helping Duckworth's team conduct research. In exchange, she received a free trip to the conference.
She's hoping to learn more about the concepts, and perhaps even use them with her 13-year-old daughter.
"I help the teachers set up their classroom. So if there's curriculum that's suggested or a strategy that's suggested I can help them find ways to institute those into their classrooms. It also helps me with my own kids. I have a 13-year-old. She needs it."
WHYY is your source for fact-based, in-depth journalism and information. As a nonprofit organization, we rely on financial support from readers like you. Please give today.