Renee Tartaglione sentenced to nearly 7 years in prison for defrauding nonprofit
Listen
2:05
Renee Tartaglione, member of a longtime Philadelphia political dynasty, was sentenced Thursday to nearly seven years in federal prison for operating a fraudulent addiction and mental health nonprofit from which a jury found she skimmed more than $2 million to enrich herself.
The sentence was far less than a punishment at the statutory maximum of 15 years of imprisonment. Government lawyers sought a period of incarceration "on the high end" of that scale. Still, prosecutors said they hoped the prison term sends a message to other nonprofit executives that justice will be meted out if a position of authority is exploited and money intended for public use is embezzled.
Tartaglione must also pay more than $2 million in restitution and $263,000 to the Internal Revenue Service for dodging taxes. Prosecutors argued she should be immediately detained. Department of Justice lawyer Peter Halpern said with a stiff sentence on the horizon, a coldness has come over Tartaglione, "and birds migrate in the cold," he said.
But the judge did not buy the suggestion that Tartaglione was a flight risk. So instead, he ordered that she be fitted with an ankle bracelet and have restricted travel until she surrenders herself to the federal Bureau of Prisons in 45 days. Even though they were not granted all their wishes, prosecutors said they were satisfied.
"The defendant came from a relatively privileged background and took control of a nonprofit in one of the city's poorest neighborhoods and systemically ruined that nonprofit in order to maintain and enhance her lifestyle," Assistant U.S. Attorney Bea Witzleben told the court.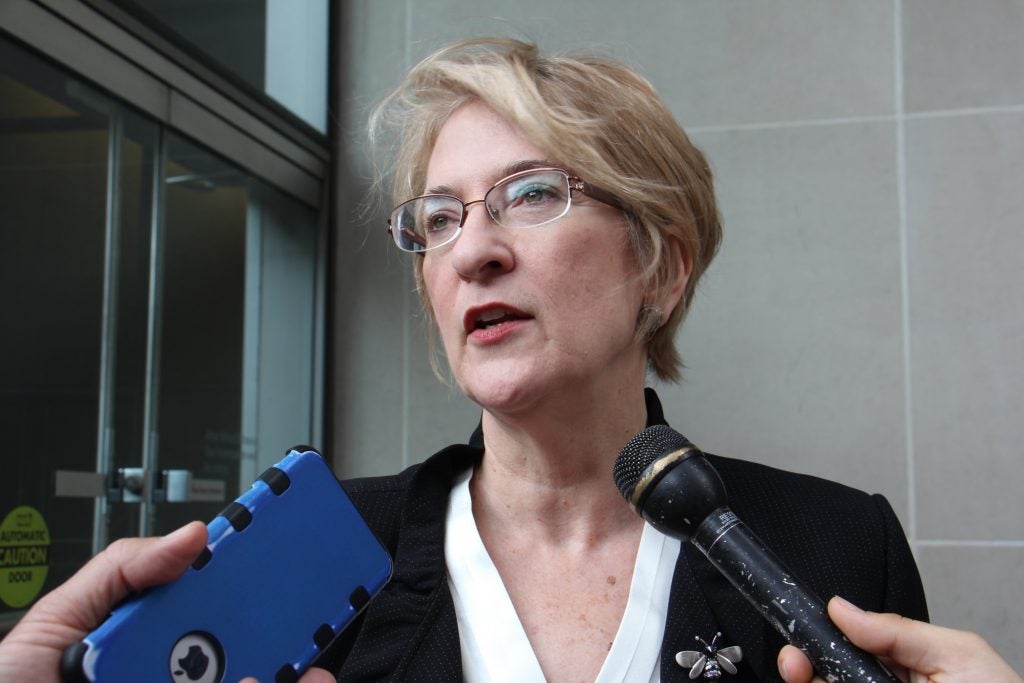 U.S. District Judge Joel Slomsky said the punishment was imposed not just to deter others from committing similar crimes, but also to establish respect for the law.
"Public funds were abused and stolen," Slomsky said. "Public funds are not a piggybank. These funds come from your taxes," he said. "I'm convinced that the way this money was treated was theft to a very large extent."
He went on: "You can't use your knowledge of politics and knowledge of the system for a bad purpose," Slomsky said.
Wearing a bright pink dress, Tartaglione walked up to a podium in the courtroom and plead with Slomsky for mercy. "I also would like to apologize to the people I have made suffer through this whole thing," Tartaglione said. "I am broken inside because of all of this, and I am deeply sorry."
Visibly frustrated, Tartaglione's husband, Carlos Matos, smoking a cigarette and leaning against the courthouse after the hearing, had an indelicate description of prosecutor Witzleben: "She's full of sh*t."
Even though Matos served prison time in an Atlantic City bribery case, and now his wife will be starting a nearly 7-year period of incarceration, he said his faith in justice has not been shaken.
"I truly still believe in the justice system," Matos said.  "And I believe that an appeal will get us out of this mess."
Before the judge delivered the punishment, defense lawyer Terri Pawelski begged the judge for leniency for Tartaglione, saying she does not have a criminal record and spent more than 25 years as a civil servant as deputy city commissioner. Additionally, Tartaglione's mother is struggling with cancer for whom she provides care, Pawelski said.
In making her case for a light punishment, Pawelski cited research that has shown that the severity of punishment does not effectively deter future crime, even citing writings by hit author Malcolm Gladwell in trying to persuade the judge to hand down a soft sentence.
"We are no longer in the days of locking people up for as long as possible. It just doesn't work. The jails are overcrowded," Pawelski said. "She has led a life of helping people. She has pulled money out of her own pocket and helped people when they needed it."
Last year, a jury convicted Tartaglione, who is 62, on more than 50 charges including theft, fraud and conspiracy for running a bogus treatment program aimed at low-income people struggling with substance abuse near Kensington, which is the epicenter of Philadelphia's opioid crisis. Tartaglione and her husband Matos, a Philadelphia ward leader, operated the federally-supported Juniata Community Mental Health Clinic in North Philadelphia
As the clinic's landlord and the president of its board of directors, prosecutors say Tartaglione jacked up the rent on buildings owned by the operation then approved the increases herself. Most of the patients the nonprofit served relied on Medicaid.
Tartaglione was charging monthly rent of $75,000 on one of the clinic's buildings, just as the market rate was around $23,000. Money from the excessive rent hikes, authorities say, was put to personal use, including renovating a home on the Jersey Shore. Government lawyers say Tartaglione and her associates created a false paper trail and lied on her tax returns in an attempt to cover up the fraud scheme. In all, investigators say she siphoned more than $2 million from the clinic between 2007 and 2013.
"She really lined her own pockets with the clinic's money," Witzleben said
Matos, who previously served prison time for bribing elected officials in Atlantic City in an unrelated case, was never charged in his wife's case. "My intentions with regard to Junianta were always sincere and genuine," Tartaglione told the judge on Thursday. "I am deeply sorry for any actions on my part that came to that facility closing."
During the first part of her sentencing two weeks ago Tina Tartaglione, her sister, who is also a Pennsylvania state senator, begged the court to show mercy. Incarceration would exacerbate their elderly mother's suffering, she said. "If Renee is not here, my mom will go quicker," Tina Tartaglione tearfully told the judge. "She depends on Renee for everything. So please, I'm asking that you show lenience.
Their mother, Marge Tartaglione, 85, was the longtime chair of the Philadelphia City Commissioners, which administers elections. Renee herself worked under her mother as a deputy city commissioner before resigning and agreeing to pay fines in 2010 after illegal political activity came to light.
Throughout the investigation, prosecutors dismissed accusations from supporters of Tartaglione that the family was targeted by the federal government because of its political connections. Witzleben doubled down on that point after the hearing.
"We do believe that her status may have had some role in allowing her to gain control of the organization, but our prosecution was based on her conduct once she gained control of the organization," Witzleben said. "The government did not in this case rely in any way on her last name; her husband's last name; or the nature of her family."
In their final pitch, Renee Tartaglione's defense team told the judge their client spent years serving the needy. About two-dozen supporters and former patients of the clinic filled the hearing on the 13th floor of the federal courthouse. Yet prosecutors said pilfering $2 million from the clinic deprived many others of dire services.
"Someone must speak for the real victims here. Her actions hurt real people in ways we may never be able to measure," Witzleben said in court. "They were uniquely vulnerable and sympathetic victims."