Art Museum summer program caters to young Modernists
The Philadelphia Museum of Art's summertime Art Splash program takes cues from urban Modernism.
Listen
1:53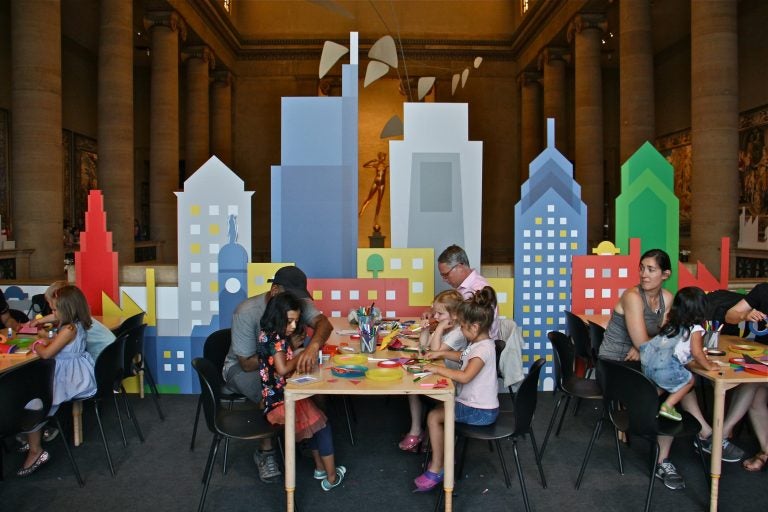 For the next 10 weeks, the second floor east balcony of the Philadelphia Museum of Art — which arguably has the best view of the Parkway in the city — will be a cardboard cityscape.
The cardboard skyline includes the new Comcast building, some of Philadelphia's iconic bridges and brick rowhomes.
The kid-sized urban backdrop is used daily for Art Splash, a 10-week drop-in children's art project site. The program started in 2013 to attract families with time on their hands during the summer and exceeded expectations.
"We thought maybe 10,000 would come over the 10-week season, and 27,000 came that first summer," said Emily Schreiner, curator of education, public programs at the Art Museum. "Last year 43,000 came in the 10 week season."
Every year the theme of Art Splash is aligned with an exhibition at the museum. On display in the main gallery this season is "Modern Times," tracing the rise of Modernist art in America from 1910 – 1950.
During that time, many artists were turning away from realism. They began re-thinking, in a more abstract way, the basic building blocks of image-making: getting down to brass tacks of line, color, and shape. On their canvases, cityscapes flattened into clashing planes of roof lines, windows, advertising, power lines, newspapers and street grids.
Their styles and techniques lend themselves well to kids' art projects. At Art Splash, young artists can layer colorful shapes, make crayon lines of pure color, or build cardstock paper sculptures. The projects, tailored to artists 3 to 10 years old, change every two weeks.
Just as the kids are responding to the exhibition, the exhibition is responding to the kids: quotes by young people are included in the wall texts next to certain piece in the Modern Times show.
Working with students at Friends Select and Masterman schools, they were asked to respond to select pieces.
Curator Jessica Todd Smith took notes.
"I like to think my labels are lively and fun, but it's a nice complement to have a new point of view that's youth-friendly," she said.
"One of my favorites is by a child that made the observation that everybody thinks they are modern," Smith said. "Who doesn't think they are modern, right? As an art historian, I'm used to historicizing things, putting them in historical context. This child had this idea that the modern moment is whatever moment you are in."
Some kids were blunt about their distaste for modern art. One responded to Marcel Duchamp's Cubist masterpiece "Nude Descending a Staircase," and wrote, "I don't know what it is, but I'm bad at solving Cubism."
WHYY is your source for fact-based, in-depth journalism and information. As a nonprofit organization, we rely on financial support from readers like you. Please give today.