We asked Philly to tell us what gentrification feels like. Here's what we heard.
Here is some of the talkback we got on social media about our gentrification series.
Listen
5:46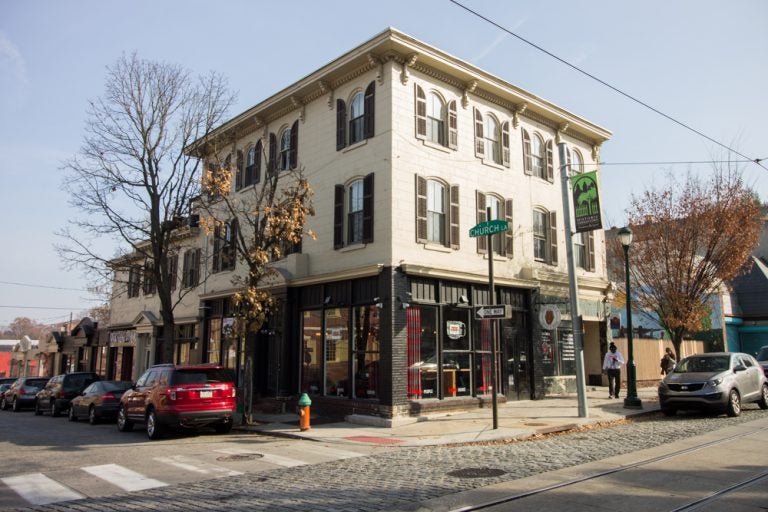 Over the past five days, we've explored gentrification in Philadelphia — talking to people about their experiences as new neighbors, higher rents, and different businesses move into the city.
As reporters Jake Blumgart and Jim Saksa wrote in the first article of the series, gentrification is a loaded term. It means something different to everyone and affects all of us differently, too. From neighborhoods across the city, and even across the river, people have shared with us, and each other, their reflections and questions about climbing incomes and other demographic shifts occurring in their communities. Here are some of the comments that made us stop and consider a new perspective.
In response to Annette John-Hall's article on gentrification 'for black people by black people' in East Germantown, Sandy Smith aka @MarketStEl shared that "gentrification on our terms" is only part of the narrative.
#WHYYGentrified @marclamonthill @DaUrbanNerd @eddeanTemple et al. may be in the forefront of #GentrificationOnOurTerms in G'town, but the interesting thing about this neighborhood is: Not all the whites left…

— Sandy Smith (@MarketStEl) March 16, 2018
And among those who stayed, some are taking an active role in ensuring that no one gets left behind as the neighborhood grows.
#WHYYGentrified …and those who stuck around are also pitching in on the effort to direct neighborhood change instead of having it directed for us from without.

— Sandy Smith (@MarketStEl) March 16, 2018
Bernie Lambert, aka @DaUrbanNerd chimed in earlier in the week. The Germantown-based "conscious block captain" talked about change and rebirth through preservation and rehab.
We're having community based #historic #preservation #rehabilitation type #gentrification up here in #germantown #northwestphilly #WHYYGentrified

— Bernie M. J. Lambert (@DaUrbanNerd) March 12, 2018
Other people called in to share their sometimes pained memories of neighbors and institutions lost. They asked honest questions about how to move forward in an uncharted landscape.
Newsworks Tonight featured a segment Friday evening that included listener feedback to help us wrap up our series, which you can listen to above in full — or in soundbites below.
Lisa, who was born and raised in the Mayfair section of Northeast Philadelphia, shared how her neighborhood has changed since she moved out. "Now it's not all white anymore. Which is fine. People work hard, that's what matters."
Leslie, who called from across the river over in Audubon, New Jersey, wasn't as optimistic. She couldn't shake the parallels between the changes in Philadelphia and what's happening in Sunset Park, Brooklyn, where she grew up in a predominantly black and Puerto Rican neighborhood. All of my memories are being erased by this," Leslie shared tearfully. "And all of the people that I knew were forced to move to who knows where…I saw it happen in my old neighborhood, and I cry."
Rebecca, who is currently looking to buy a home with her husband in South Philadelphia, wants to be mindful of their impact in a new neighborhood, especially one experiencing rapid demographic shifts. However, how to mitigate the legacy of gentrification, while finding an affordable home with their double-artist income, is unclear. "We're kind of puzzled as to how do we become part of the community, without hurting that community…without contributing to rising property taxes," Rebecca said. "How do we join a community like that as white allies as opposed to as predators?"
Harold Burnett didn't even need complete sentences to make his point. He shared a few signifiers that, to him, embody gentrification.
Waking up every morning to multiple construction projects.
Having multiple coffee shop options.
Dog Parks
Mixed Use buildings
Multiple Erin Express weekends #WHYYGENTRIFIED https://t.co/mHrjFKsSEv

— HaroldBurnett (@HaroldBurnett) March 9, 2018
For Jamir Wilson, aka @JimRW, the "surprising truth behind the racial dynamics" was not so surprising at all.
The surprising truth behind the racial dynamics of #gentrification in Philly #PointBreeze <that white ppl of a certain financial status are choosing [affluent, middle-class and poor] Black and poor white n'hoods is not surprising https://t.co/v23MSIQDOh

— Jimar Wilson (@JimarW) March 13, 2018
Over in Point Breeze, longtime resident @RufusDeck pointed out that not all of the folks snapping up high-end rowhomes in Point Breeze are newcomers. Why not challenge a "divisive" narrative and talk to more neighbors?
How about an article about longtime Point Breeze residents that graduate college and decide to stay and purchase one of those demonized new three story homes? They absolutely exist. But that doesn't fit the divisive narrative that keeps many local rags in business.

— RufusDeck (@RufusDeck) March 13, 2018
Meanwhile Lisa Nwanko, whose grandparents both hail from Point Breeze, shared yet another experience one generation prior. Her grandparents said that 70 years ago, only affluent Black people lived on Christian Street from river to river.
Both of my US American grandparents are from Point Breeze, #PHL and told me that ~70 years ago only affluent Black people lived on Christian St from river to river. It is very white now. Still, this argument about white attracting white in Kenz rings true https://t.co/ADrhhj6PM5

— Lisa Nwankwo (@lisanwankwo) March 14, 2018
Indeed, there is resilience in homeownership. @RufusDeck highlighted a resource that helps keep that possible, the city's Longtime Owner Occupants Program (LOOP), a real estate tax discount initiave for homeowners who have lived in their homes for 10 years or more, experienced a significant increase in their property assessment from one year to the next, and meet income eligibility requirements.
Unless I missed it, I don't see 1 mention of L.O.O.P. or any other program 2 assist longtime residents. Just another, in a never-ending series, of articles that politely demonize people who dare to move in 2 a low income community and DARE to have an opinion on their surroundings pic.twitter.com/P2SrmRskmu

— RufusDeck (@RufusDeck) March 13, 2018
Veteran lawyer Amy Laura Cahn, known for her decades of work promoting and defending urban farms, community gardens, and open spaces, suggested that we look at public or community gardens at risk as a metric for changing neighborhoods.
Just a few #PHL gardens at risk from or lost to #gentrification: Cohocksink Sloan St. Master's Work Olive St. Wiota Farm 51 St. Bernard University City Growing Home Mercy Emily Edible Holly St. @LaFinq @PhillyPeacePark @ilovensnp #WHYYGentrified

— Amy Laura Cahn (@amylauracahn) March 12, 2018
Cahn listed just a few gardens at risk or lost due to development, including St. Bernard Community Garden in Cedar Park, which narrowly evaded the hands of developers at sheriff's sale in 2016.
Cahn also recognizes the multiple roles urban gardens can play in communities, cautioning that urban agriculture could also be a force of gentrification.
Tip of the iceberg. Or ant hill? Y'all have heard me say this how many X? The spaces most at risk are ones we don't necessarily know about, but were created by Philly's Black, Puerto Rican, & immigrant gardeners in the face of #disinvestment. #rootedincommunity #WHYYGentrified

— Amy Laura Cahn (@amylauracahn) March 12, 2018
Clearly, there is a lot to consider. Keep giving us your thoughts on social media using  #WHYYGentrified.
WHYY is your source for fact-based, in-depth journalism and information. As a nonprofit organization, we rely on financial support from readers like you. Please give today.