Some area Democrats supporting Trump trade moves, while GOP lawmakers object
Listen
4:07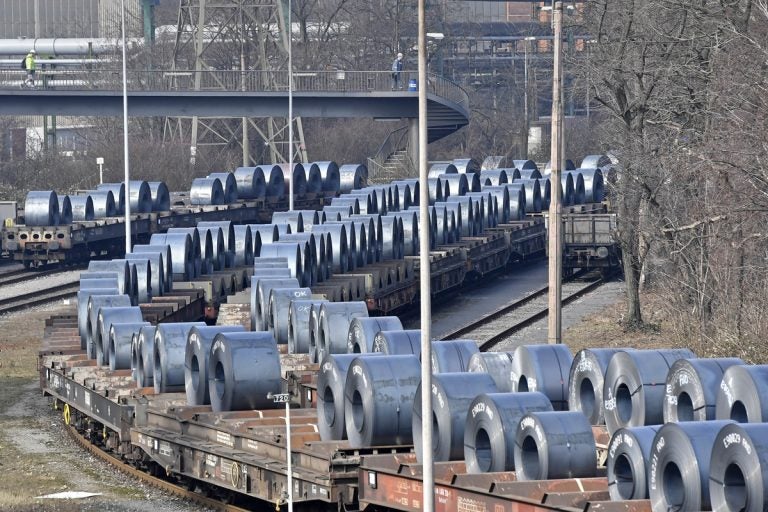 As Republicans in the Philadelphia region worry that President Donald Trump's proposal to hike tariffs on steel and aluminum imports may spark a trade war, some of his most strident Democratic critics seem to be embracing the move.
Republican U.S. Rep. Ryan Costello, who said he was caught off guard by the plan, added that presidents do that kind of thing.
"Well look, I could complain about how President Obama orchestrated the Iran deal. I mean, every president, every administration, is going to go about navigating their policy initiatives differently," said Costello who represents parts of four counties west of Philadelphia.
Costello speaks for many in his party when he says he wants free trade; at the same time, he doesn't want China and other countries dumping cheap steel on the international market. As Trump tries to renegotiate trade deals, Costello said the president's opening offer may give him more leverage.
"It's a big unpredictable gray area, and I don't think that that's the smart way to go about renegotiating," said Costello, who then noted North Korea's apparent willingness to negotiate.
Still, Costello said, Trump's more isolationist view of America is not winning over the GOP majority in Congress.
"Well, I think that the Trumpism is not entirely Republicanism, and I think probably the main area where there's differentiation is on the issue of trade," he said.
At the same time Republicans are worried, some Democrats are supporting the plan for 25 percent tariffs on foreign steel and 10 percent tariffs on foreign aluminum.
U.S. Sen. Bob Casey of Pennsylvania has been a constant critic of the president — even calling on Trump to resign. But the Democrat said he likes Trump's aggressive stance on international trade.
"We have had tremendous job loss in Pennsylvania when China cheats on trade, when they treat on trade related matters, when they cheat on currency, when they cheat on intellectual property," Casey said. "When they cheat, and other countries cheat on trade — and especially on steel and especially aluminum — we pay the price. We lose jobs."
Casey has company in Philadelphia's U.S. Rep. Brendan Boyle who said Trump didn't start this trade war.
"The fact is we're already involved in a trade war as it relates to steel. There has been massive Chinese dumping of steel," said the second-term Democrat.
Ten years ago, the steel plant Arcelor Mittal in Conshohocken was at operating at 100 percent capacity. Now it is down to just 20 percent, Boyle said by way of example. That decline has continued through several administrations, he said.
While Boyle waits for further details on Trump's tariff proposal, he said he's glad president is taking action.
"We'll bring action against China in the World Trade Organization, and we'll win those actions. Then China will simply get around it by exporting their steel to a third country like Vietnam … there will be one little change in the steel, and then they'll send it to the United States," he said. "Steel dumping is a real problem. I believe we do need action."
Opposition unites N.J. Dem, GOP congressmen
The hasty rollout of the tariff plan alarmed U.S. allies in Europe who have threatened retaliatory measures. Amid fears of a global trade war, the European Union has urged the U.S. to revive trade talks rather than escalate a dispute over tariffs. The 28-country bloc is also seeking one of the exemptions that Trump has indicated he may offer — though details on how such an appeals process might work are unknown.
In New Jersey, lawmakers from both parties are decrying Trump's maneuvers on trade.
U.S. Rep. Bill Pascrell, a North Jersey Democrat, said Trump should be focusing on China.
"For all of this talk on China, he's done nothing. Zero.  So, he's playing patty-cake with us," Pascrell said.
Republican U.S. Rep. Leonard Lance, who represents Central Jersey, said a tariff war could hurt everything from the shipping industry to farmers.
"I'm opposed to tariffs. I'm a free trader. It's very important in New Jersey," he said. "New Jersey's position in the world is based on world commerce, and I am a Republican free trader."
Some Republicans are exploring ways to rescind the president's trade authority, but others worry about setting a dangerous precedent for negotiating future deals.
Lance, however, said he's open to blocking the president's action.
"I would be willing to look at any avenue because I think the will of Congress is that we should be a free-trading nation," he said.
So far Republican leaders have opposed calls to vote on any tariff or trade bills, so it's unclear if these efforts will ever come up for a vote.
WHYY is your source for fact-based, in-depth journalism and information. As a nonprofit organization, we rely on financial support from readers like you. Please give today.