What's that buzz? Upper Dublin's Chainsaw Gang, still clearing tree debris Ida left behind
In Montgomery and Delaware counties, what do you wonder about the places, the people, and the culture that you want WHYY to explore?
A chorus of chainsaws sings out in Upper Dublin Township on a weekly basis, the sound of trees being cut and sliced.
Thursday morning, about 15 people gathered along an Ambler creek, outside the Warshawer family's house. Five were geared up with chainsaws; others carried the logs and branches to the curb. Dave Gross, known as "Tractor Dave," hauled three stumps at a time. Stuart Warshawer set up a table of food.
They cackled as they rolled the wood through the now-empty space, once a small forest.
"Whether it's a log at a time, a whole tree trunk at a time, or a stick at a time, everybody's out moving in the same direction," said Mark Clement, a local contractor.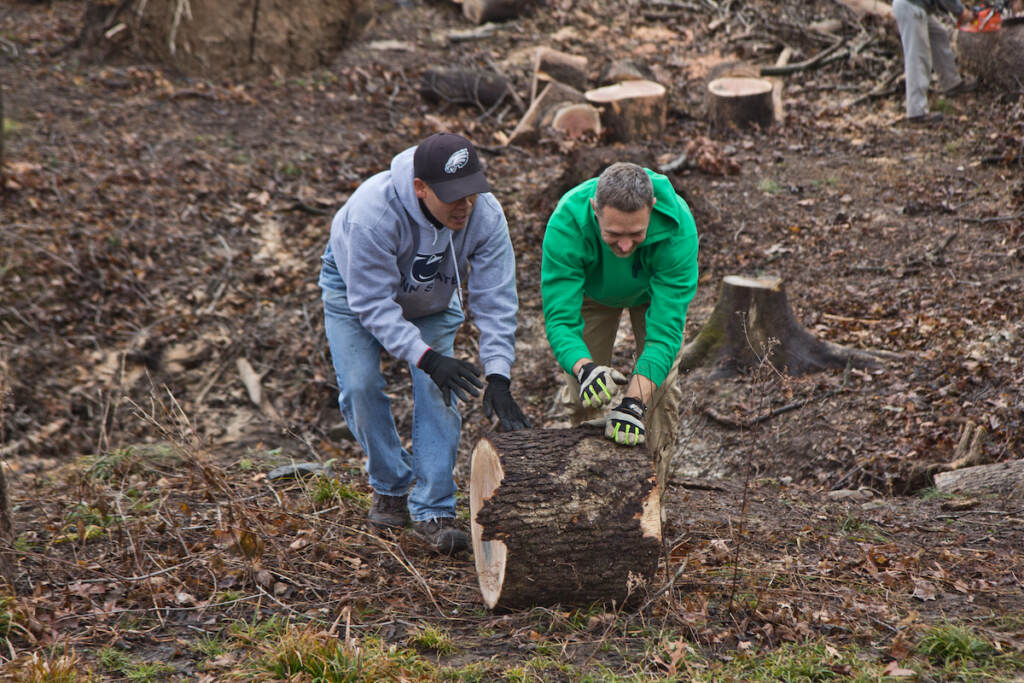 That's the "Chainsaw Gang:" neighbors, friends, kids, teachers, all helping one another clear out what the remnants of Hurricane Ida left behind. Over the past four months, the gang has chopped up and moved tons of trees out of at least 270 yards in the Upper Dublin area.
In September, Ida wreaked havoc in the community: Roofs were blown off; trees landed on houses and blocked entryways and streets; families were displaced. Many community members lost electrical power and were disconnected, for a moment.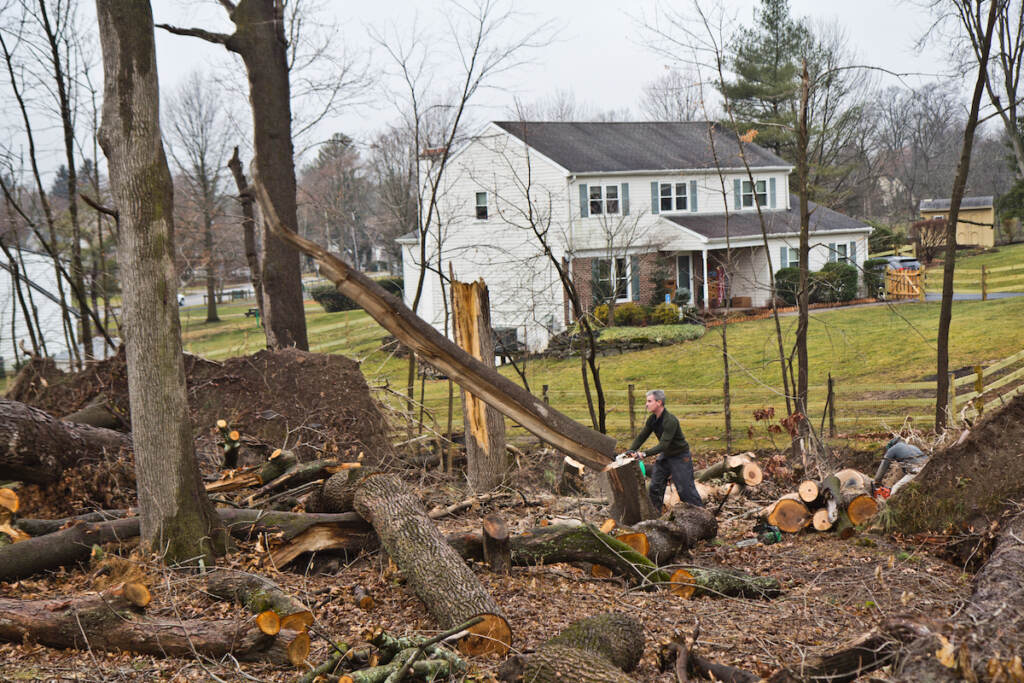 Then Barbara Mass' fellow teachers from Upper Dublin High School showed up at her house, cleared her yard, and the Chainsaw Gang was born. Mass, the organizing force behind the group, began knocking on her neighbors' doors, asking if they needed help.
Mass started posting on a Facebook page, UD Helping Hands, to find out who needed tree removals, and to notify the community where the Chainsaw Gang was headed for the day, so that anyone could join in.
"People are generally good. ..  but sometimes you don't know how to help someone," said Mass. "So all of a sudden, [when someone said], 'Hey, this yard needs some help. Can you come out?' People did."
At the gang's peak in September, around 300 people cleared debris from multiple houses at a time, with urgency. Young children would carry branches. "Chainsaw Nicki" would slice a tree. "Tractor Dave" would haul the logs away. Local restaurants, like Rich's Deli, would bring meals. Community members delivered treats and drinks.
Now, four months after the storm and with many trees still on the ground, the Chainsaw Gang is still working, spending free time helping neighbors. The need is often less urgent, and the gang is smaller, but the sense of selflessness is strong.
Most volunteers — like "Chainsaw Nicki" Besada, a special education teacher in the Upper Dublin School District — had never picked up a chainsaw before the storm.
"These guys taught me everything I needed to know … but I'm a teacher, not a chainsawer," said Besada, after she climbed atop a fallen tree Thursday and chopped it to pieces.
She said the gang is looking to help those who are less connected to the internet.
"There's still people that need help," said Besada. "We'll stop when it's done. Or when it snows. Whichever comes first. And then we'll be back in the spring, when the snow melts."
We have "the chainsaws and the tractor," said Gross, "It's the right thing to do. You just have to."
Peter Yoon said volunteers keep coming back because of the tight-knit relationships they've formed through picking up the pieces after devastation.
"[We're] just looking forward to seeing each other," said Yoon. "There's a special bond now. It's almost like family."
They have nicknames, like the "Fantastic Four" featuring Jack "Hulk" Jamison and Tim "Big Tim" Sherman, and the "Weekend Warriors" featuring Upper Dublin teacher Rachel "She-Hulk" Buchman. Thursday morning, each volunteer pointed to another volunteer's contributions as vital to the operation.
Every volunteer said the community has grown closer since the Chainsaw Gang started. Neighbors who never knew one another are now close friends.
"Through this calamity they've entered or reentered each other's lives," said Clement.
The kindness of the Chainsaw Gang created a ripple effect. Neighbors who don't pick up saws contribute with their own unique skills and access levels.
A local car dealership, Colonial Nissan, loaned a family a car for free. Local Realtors, like Matt Harnick, found temporary homes for displaced families. Barbara Mass said she receives envelopes of money to give to families in need — "I became like a postal worker."
Katie Greco organized a "meal train," a place for neighbors to sign up to provide meals for other families. She made a cookbook with the community's recipes.
Many volunteers said that they feel empowered together.
"With the skill set of the volunteers, we could pretty much do anything," said Gross.
Yoon will often check in on families the Chainsaw Gang has helped. He said that when the gang helps people, the families will "invite [them] into their lives."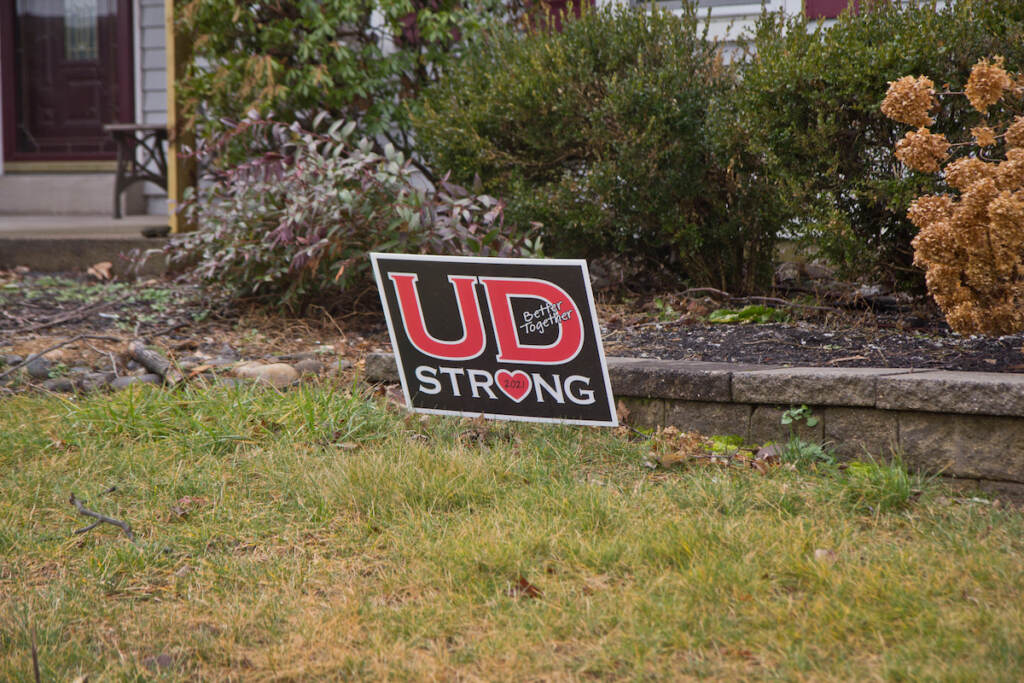 The Warshawers moved from Philadelphia's Mount Airy section to Ambler on Aug. 27, just days before the tornado hit. They didn't know anyone in the neighborhood.
A few weeks later, there was a knock at their door offering help. Now, they have 25 new friends.
"It's just really heartwarming to move into a community and have people show up and help and just give selflessly and joyfully," said Erica Warshawer. "That collective effervescence of coming together and being on the receiving end of that restores your faith in humanity."
With tears in her eyes, Warshawer said the experience has been "a bittersweet reminder that we're not really alone."
She also feels empowered, she said.
"Our structures are so big right now that it takes a long time to make things happen." But, she added, "we can actually take things into our own hands and do it ourselves."
The Warshawers were planning to build a tree fort next to their house. Now that all their trees are down, they have new plans.
"Community space," Erica Warshawer said. "We want to put a fire pit in there. And then in the spring, we are going to invite all the people back and the people who live around here to make a stone soup."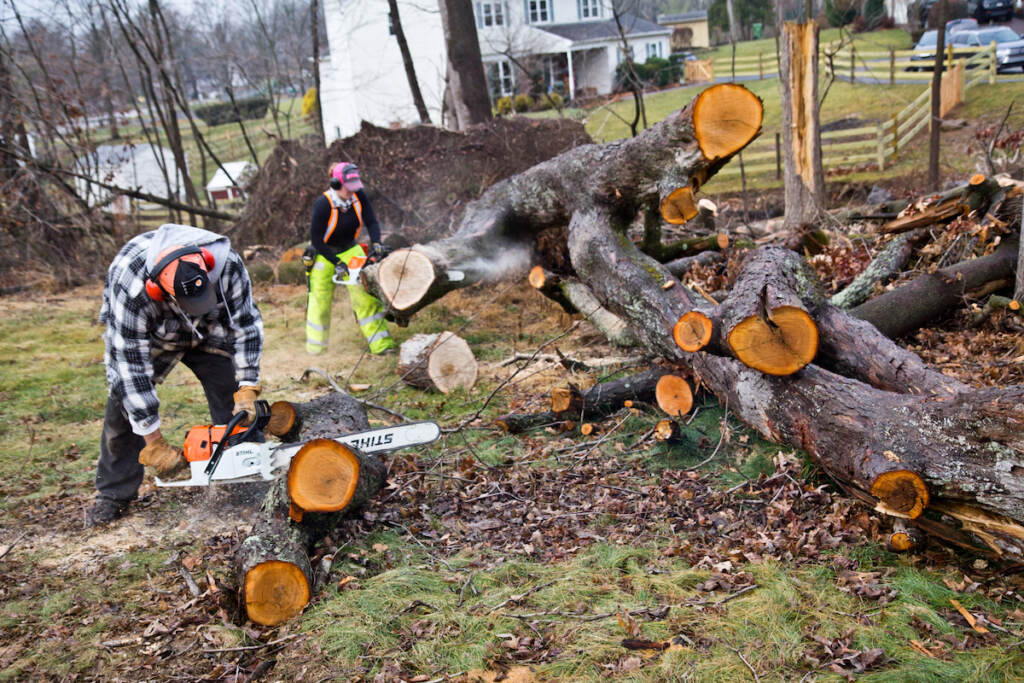 She sang a tune to explain stone soup — one that involves every community member bringing an ingredient.
"Bring what you got, put it in the pot, and that's how you make stone soup!"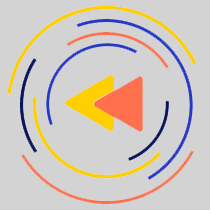 Saturdays just got more interesting.