A 12-foot Syrian refugee puppet is asking you to play with her in Philly
Little Amal, a 12-foot puppet of a Syrian refugee, is a global theater project to evoke empathy for people displaced by war.
Listen
1:26
From Philly and the Pa. suburbs to South Jersey and Delaware, what would you like WHYY News to cover? Let us know!
A 10-year-old Syrian refugee landed in Philadelphia on Wednesday, to continue a journey she started two years ago when she crossed the border from Aleppo into Turkey.
Walking through South Philadelphia around East Passyunk Avenue, one of her main concerns was finding other kids to play with.
Little Amal, a 12-foot puppet that has so far walked through 96 cities around the world, is the centerpiece of a global theater project called "The Walk," designed to raise consciousness about refugees and people displaced by war.
The puppet is a symbol, and also a girl. Her creators have infused Little Amal with personality. She was separated from her parents by the war. She's curious, a little frightened, and a bit bold.
"She has accumulated a lot of experience and knowledge," said David Lan, co-producer of "The Walk." "She's still only 10, and we try to remember that. What she's interested in is meeting new people, having a good time. The major question that she thinks very hard about is which is best: strawberry ice cream or vanilla ice cream. She's just a kid."
Little Amal is operated by three puppeteers: one inside her chest and two others manipulating her hands and arms. She is silent. While walking through South Philadelphia she stopped frequently, engrossed by what she saw. She watched dogs playing in Columbus Square dog park. She peered into an open door of a rowhome when its resident came outside to see what was going on. She played a little hide-and-seek around a parked dump truck.
Lan brings Little Amal into cities where local theater companies are able to devise a community event around her. In the case of South Philadelphia, Theatre Exile worked with students at Fanny Jackson Coppin and Christopher Columbus Charter schools to turn the puppet's hours-long walk into a short play.
"We say to our prospective partners, like Theater Exile: 'Here's the deal: a 10-year-old refugee child is going to arrive in your locality — South Philadelphia," he said. "She's gonna be tired. She'll be hungry. She'll have walked a long way. How would you make her feel welcome in your neighborhood?"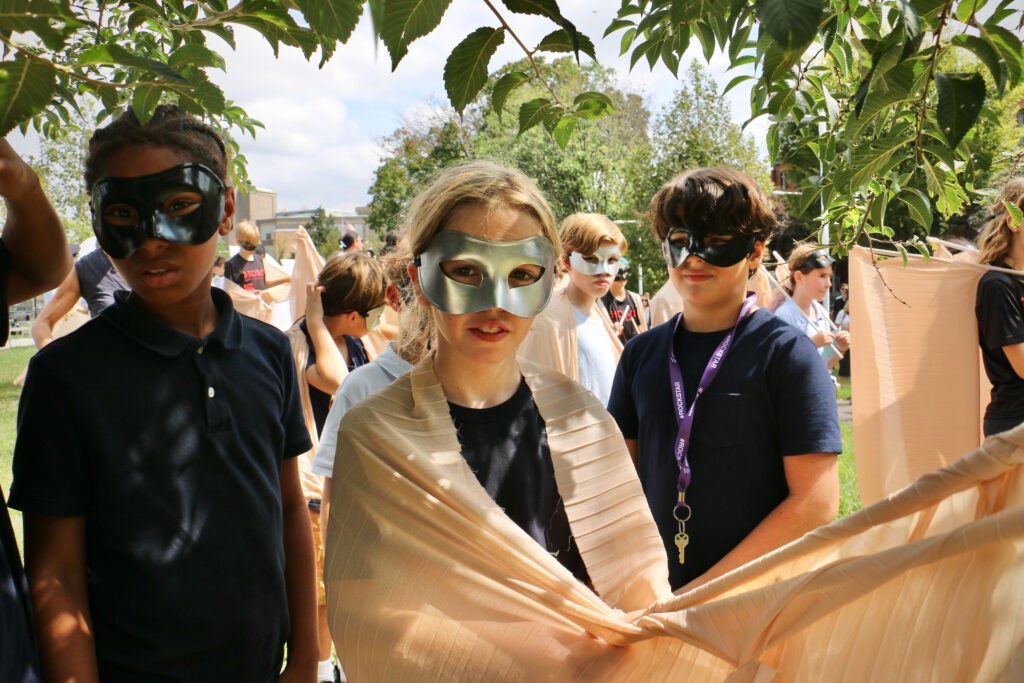 The producing artistic director of Theatre Exile, Deb Block, wanted to bring Little Amal to her neighborhood because of the wide diversity of its residents. The nearby Coppin school, for example, provides information to its students' parents in five languages: English, Spanish, Mandarin, Arabic, and Vietnamese.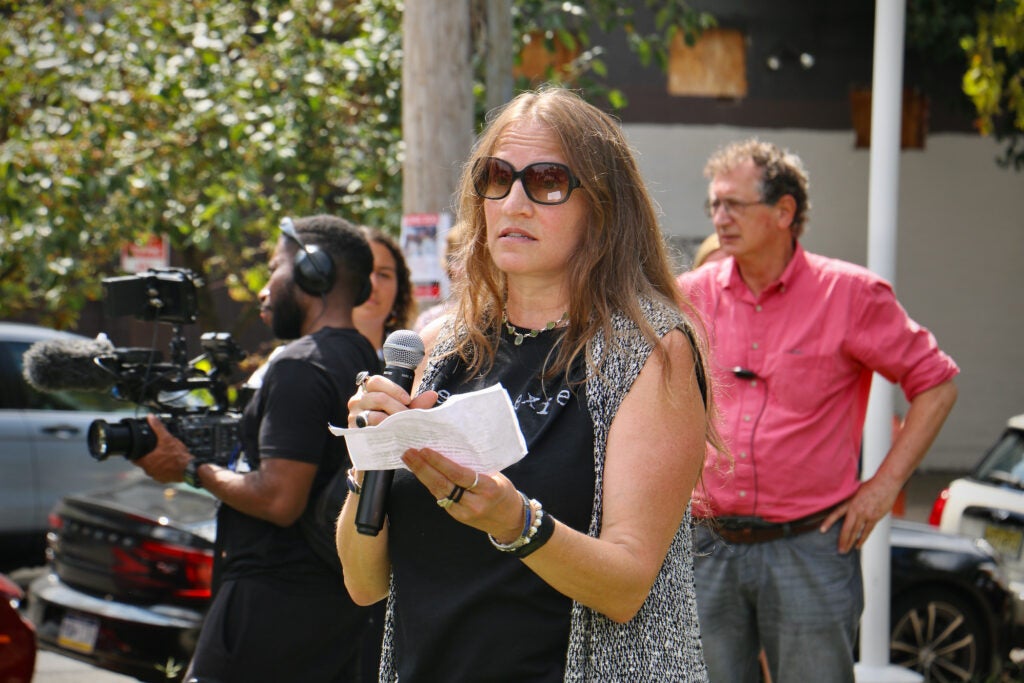 "Theater is the art form that evokes empathy, more than anything," she said. "Theater is the form that can tell the human journey in a real way that we can connect to. Little Amal is here not to spout partisan ideology, but to show us a little girl searching for home."
About a hundred people followed Little Amal along a winding route through South Philadelphia, pulled into the direction of music: A drum circle led her to Columbus Square. Later, she was pulled toward the Singing Fountain on Passyunk Avenue by the Coppin School student rock band performing "Different Drum."
The 12-foot, walking puppet with big brown eyes and innocent curiosity turned heads, shut down streets, and created a spectacle. The artistic director of "The Walk," Amir Nizar Zuabi, said it's critical that Little Amal be a puppet, instead of a live performer.
"There's a huge leap of faith when you're working with puppetry," he said. "She's a silent puppet. The audience starts trying to figure out what she's thinking about, and that is already a great act of empathy."
"I think we are fed a lot of fear. Fear is a very powerful political tool and Amal is a useful dosage of anti-fear in a way," said Nizar Zuabi. "It becomes very emotional sometimes. She has this mixture of vulnerability and fierceness, and people identified themselves in her."
Little Amal will lead four theatrical processions in Philadelphia during her two-day stay: in South Philadelphia, up South Broad Street to City Hall, in West Philadelphia at the One Art Community Center, and along the Parkway from the Rodin Museum to Love Park.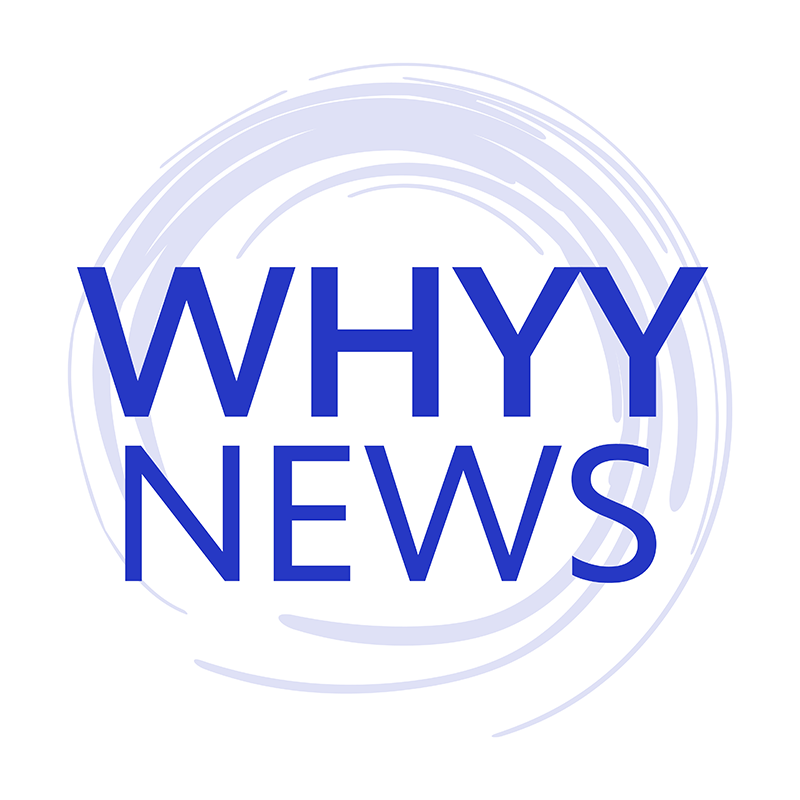 Get daily updates from WHYY News!
WHYY is your source for fact-based, in-depth journalism and information. As a nonprofit organization, we rely on financial support from readers like you. Please give today.