South Street businesses lend a hand to Fringe Festival's queer-friendly cabaret
Late Night Snacks, now in its sixth year, has popped up in a vacant storefront. The business district would like the property to be a performance space permanently.
Listen
1:14
From Philly and the Pa. suburbs to South Jersey and Delaware, what would you like WHYY News to cover? Let us know!
Since 2018, Late Night Snacks has been returning to the Philly Fringe Festival as various iterations of a pop-up cabaret series that changes daily with a rotating cast of performers. Curator John Jarboe has been bouncing Snacks around Philadelphia for six years, including putting it online as a virtual experience for two years during the pandemic.
The latest iteration has landed on South Street, taking over about a third of a 20,000-square-foot empty storefront at 2nd and South streets. Dozens of performers will arrive onstage by sliding down a spiral slide while used clothes form a rainbow banner across the windows, and an "in-house doctor" will provide lip sync performances as therapy sessions.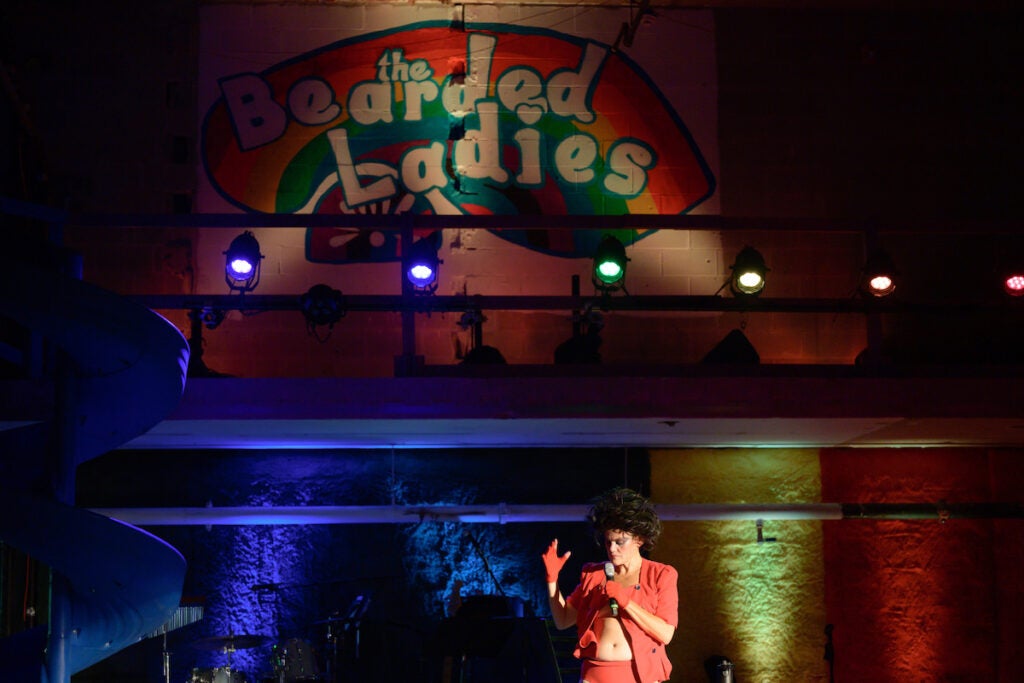 The space is designed for more than watching performance. Jarboe wanted areas in the building to be separate from the stage area, for hanging out, reading, or talking.
As LGBTQ+ and drag culture is being threatened by legislation, school boards, and even a bomb threat, Jarboe wanted Late Night Snacks to be a safe place, "soft and generous" for trans and queer people.
She dubbed it "The Closet."
"It's fun to say: 'Now, everyone, we're all coming out of the closet,'" she said. "Whether you came here thinking you were straight, or just an ally, by the end of the night we're all coming out of the closet."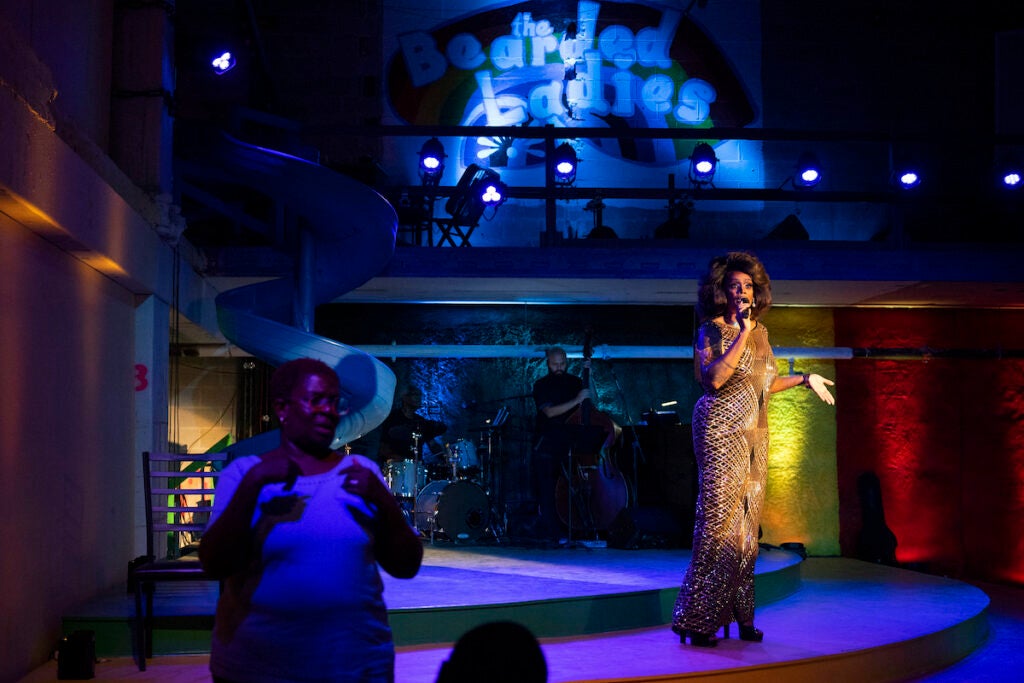 The neighbors on South Street have welcomed it with open arms.
"They're popping in, like: 'Thank god you're here,'" Jarboe said. "'This is the weird stuff that should happen on South Street.'"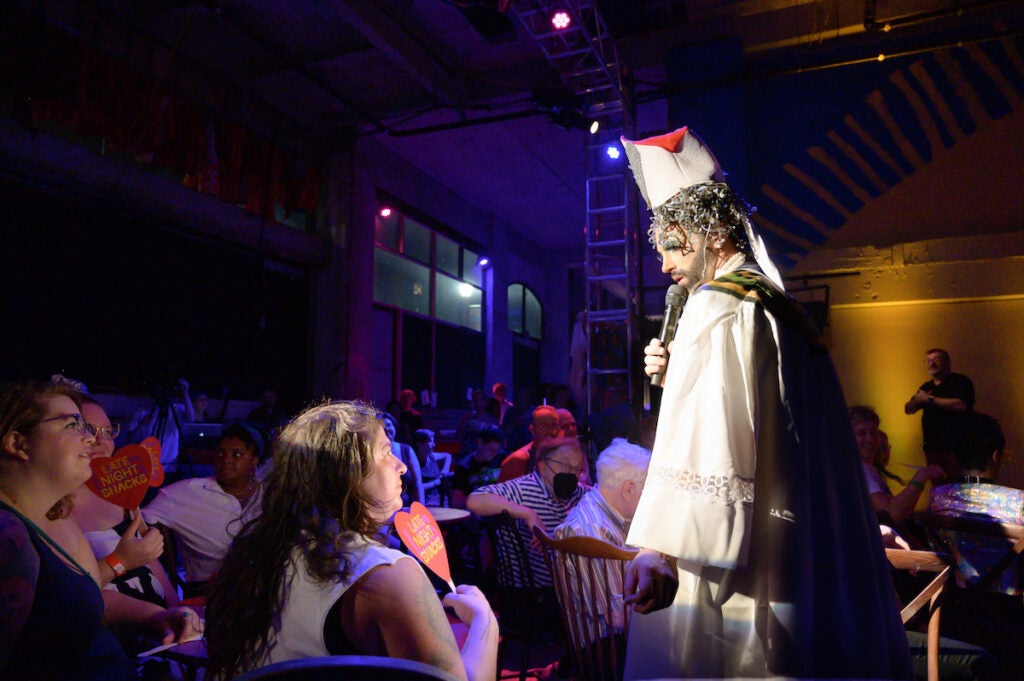 The location at 201 South Street has been many things in recent years, including a hat store, a caterer, and Abbott's ice cream. But it has been vacant for about five years.
A deal was moving forward to turn the spot into a supermarket: a Giant Heirloom market that would have been a major anchor tenant on the corridor. But South Street Headhouse District assistant director Katrina Johnston-Zimmerman said that fell through over the summer.
"Honestly, the last five years have been eagerly awaiting a new anchor on that side of South Street," she said. "We have other grocery stores down on the other end, on the west side, but this was really going to be a standout new edition on the east side."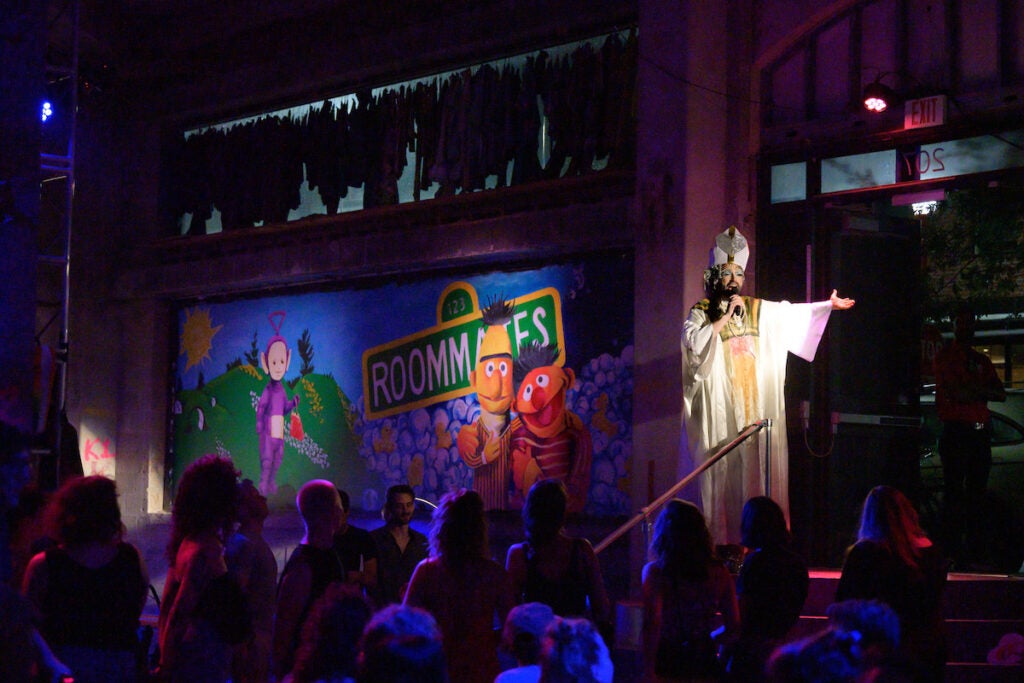 Rather than face a giant hole in South Street's retail space, Headhouse District asked the landlord to consider temporarily renting the storefront for a pop-up activity. Late Night Snacks fit the bill.
"It really fits with our mission. South Street has always been creative, edgy, and inclusive," Johnston-Zimmerman said. "Despite it being the least built-out of all options, because it's completely gutted on the inside. But everybody was up for the challenge, and that included the property owner."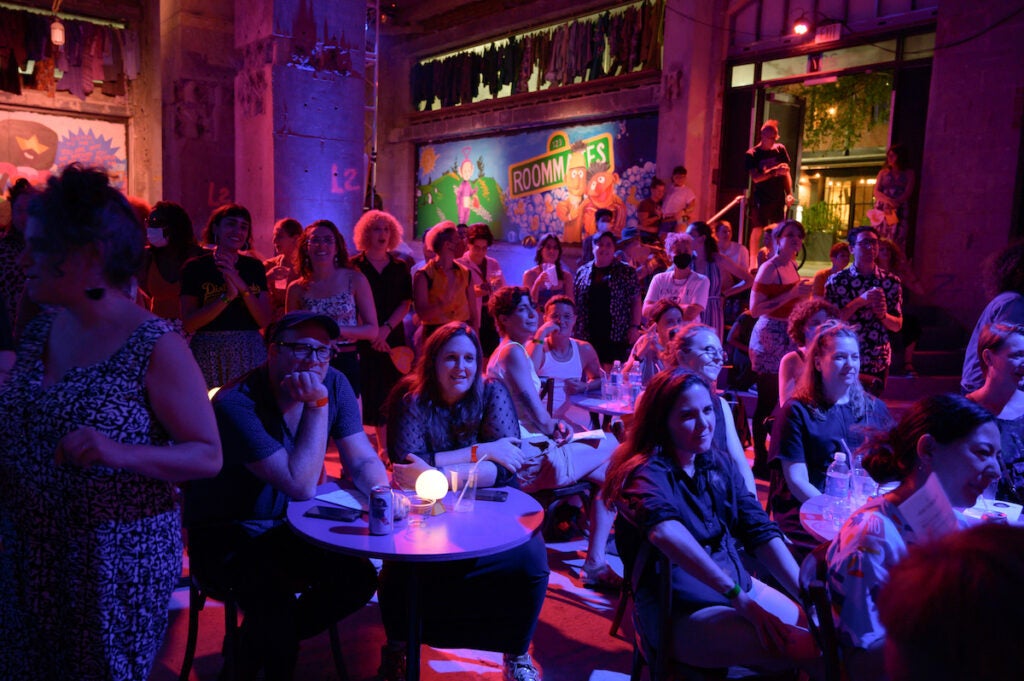 The neighboring businesses chipped in, too.
"We have over 35 community partners," Jarboe said. "Fleishman's Fabrics is giving us the fabric. AIDS Thrift provided all these clothes so we could hang them on the windows. Yowie, that hotel across the street, they're housing our artists."
Johnston-Zimmerman said many in the business community see the cabaret as a ray of hope on a corner of South Street that has been empty for so long.
"That's what I hear the most," she said. "I hear people saying, 'Finally, it feels like something is moving.' It feels like there's hope for the future of the street again."
The Headhouse District hopes that community momentum will keep building after Late Night Snacks pulls up stakes in October. Johnston-Zimmerman is using the cabaret as a test to see if 201 South Street could be more permanently used as a creative space. She said the district has submitted a letter of intention to acquire the property from the owner by the end of the year.
"We would like to make it a creative performance and vendor marketplace," she said. "It's not the same as doing a pop-up, but we have to prove that we can do it. So hopefully, fingers crossed, by the end of the year we'll be able to do that."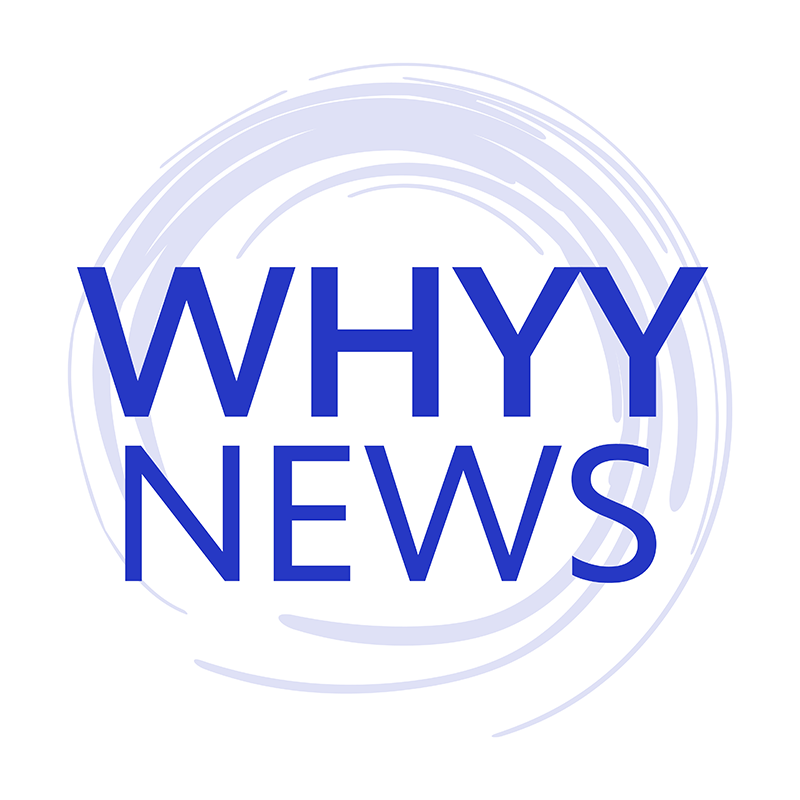 Get daily updates from WHYY News!
WHYY is your source for fact-based, in-depth journalism and information. As a nonprofit organization, we rely on financial support from readers like you. Please give today.