She's back: Funk freak Red 40 makes her hometown return in Fringe Fest
Funky, liberating, and a little gross, Martha Eies' alter ego disappeared from Philly almost five years ago. This weekend, she's back.
Listen
2:47
Red 40, formerly the frontwoman of the Philadelphia clown-funk band The Last Groovement, was created on a dare.
In 2013 Martha Eies, then known by her maiden name Martha Stuckey, was part of the inaugural class of Pig Iron School, an MFA program created by a Philadelphia-based theater company. One of Eies' final assignments was to create a performance based on a randomly selected prompt written down on a slip of paper.
"They were calling them dares," Eies recalled. "We each received a card with a few words on it, and that was meant to inspire anything we wanted. The phrase that I got was 'The tail wagging the dog.'"
A trained singer, Eies free-associated the phrase into thinking about how back-up singers might take the lead from a diva. She also thought about wagging her behind.
"Red 40 is very proud of her behind, so I'm sure there's some influence there," she said. "I put on a red wig that was there. It was a dreadful wig. But there was something about it that created a portal into this character that made me feel really free."
And so Red 40 was born — or, according to legend, dropped fully formed from outer space in a gigantic red wig and platform thigh-high boots. Eies said Red 40 was Superman to her Clark Kent: While in character Eies allowed herself to sing in ways she didn't sing before, and move and say things she wouldn't before. She worked up songs with the ensemble The Last Groovement, and the liberating spirit of Red 40 settled over all of them. The mission of Red 40 and The Last Groovement was to bring the audience into that sweaty, clownish, freeing embrace.
Eies did not realize it at the time, but she instinctively developed a drag character.
"When it started I don't think I would have called it drag because I wasn't yet in that world of drag. I didn't yet have the language for it," she said. "But now I fully embrace Red 40 as a drag queen. It's technically called a bio-queen, since I'm a woman dressing as a woman. I think other people who do drag also find a similar freedom to be outside of category, to transcend the binary."
In hindsight, Eies said Red 40 became a kind of revenge fantasy, a performative retaliation against men who had bullied, shunned, or disrespected her since Eies was a girl.
"Men who really didn't give me space to say what I needed to say, or let me feel powerful," she said. "So Red 40 has been this place where I can be, like, 'You have to listen to me because I'm miked.'"
To the surprise of Eies and the band, Red 40 and The Last Groovement became a hit. The phone kept ringing: They played parties, performed concerts. For two years they were the house band at FringeArts, the home of the Fringe Festival. They recorded an album, "She's Keen to Feed."
A musical was developed around Red 40, "The Best Songs in the World Show," workshopped in 2017 at the University of the Arts Polyphone festival. It explains her celestial origins. Red 40 was not born of a woman because Eies could not imagine what the mother of Red 40 would be. "I love donuts," she said. "So my mom is a giant pink donut with sprinkles."
The Kimmel Center invited Eies into an artist residency to develop the performance "Due to the Sensitive Nature." She remembers they asked her to develop a performance that would be more personally authentic.
"That really got under my skin. I was, like, 'Who are you to say that Red 40 isn't authentic?'" she said. "I love spectacle. I love decorating my body. The themes that came out were about what it means to become who you become in life: A woman being shaped by the relationships that you have, being shaped by the life that you have, the tragedy of that, the joy of that, the inevitability of that."
But after six years, the wig grew heavy. After unexpectedly launching an art school project into a regional phenomenon, Eies ran headlong into the sexism and misogyny that can appear in the music industry: Promoters called her "girlfriend" and sound engineers disregarded her. The reality of sustaining Red 40 and The Last Groovement had become at odds with the band's liberation ethos.
After running hot for six years, Eies burned out. She said Red 40, named after a food dye to which she is allergic, had become dangerous.
"Stomping in high heels for so many years on this concrete floor, my knees are still mad about that," she said. "But what was dangerous was the pace at which I was going, and the standards that I was holding myself to, and the amount of work I would take. I was boundary-less. I wasn't taking good care of myself. My nervous system was really affected by it."
Red 40 sang her last set with The Last Groovement on New Years Eve 2018 at FringeArts. The next morning, 2019, Eies hung up the wig. She produced some concert events featuring women and non-male identifying artists. Then, at the height of the pandemic shutdown, she fell in love with someone in Minneapolis, packed her car, and with hardly a word to anyone moved back to the Midwest, where she grew up.
"When I left, it was — I want to say — under cover of night," she said. "I just couldn't see anybody because it was June 2020. It was a quiet ending to a 10-year stay in Philly."
She got married, bought a house, started teaching, and adopted cats. But Eies still had a Philly-sized hole in her heart.
"I just didn't feel a lot of completion, but then made this whole life in Minneapolis," she said. "I felt like I was cheating on Philly."
Red 40 did not go gently into the night. Eies has kept the character going in Minneapolis, building a funny, uncomfortable, and politically barbed game-show performance around Red 40. With songs, of course.
"Most of what people said they wanted was more music. I was a little bit hurt because I was, like, 'I made this whole game show for you,'" she said. "I think she'll always sing, because I love to do it."
This week, Eies is bringing Red 40 back home, playing three concert events at FringeArts: on Thursday and Friday making two appearances with the Paul Green School of Rock band performing songs by David Bowie, and on Saturday singing duets with Johnny Showcase in "Johnny and Red Knock 'em Dead."
Eies doesn't want to give away too much of what audiences can expect in "Knock 'em Dead," but said there will be songs, games, and raucous banter with the Johnny Showcase, another over-the-top performance character created by David Sweeny.
"In Red 40 shows I felt this impulse to really make sure everybody's dancing all the time, hence the knee problems," she said. "This is going to be sweeter because there's songs about coming back home. There's songs about missing each other."
Eies expects her homecoming show to get emotional.
"'Never Can Say Goodbye' by the Jackson 5 is one of the songs that we're going to sing," she said. "It's sweet and a little bit sad for me. When I was rehearsing, I was crying. So we'll see what we can do."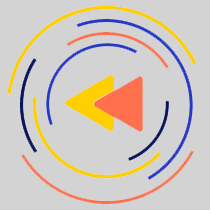 Saturdays just got more interesting.
WHYY is your source for fact-based, in-depth journalism and information. As a nonprofit organization, we rely on financial support from readers like you. Please give today.