Kenney initiates process to consider removal of Columbus statue as clash gets violent
The mayor urged a group of people who say they're "protecting" the Columbus statue in S. Philly to "stand down."
Updated Tuesday 2:14 p.m.
The Philadelphia region on Monday entered its third straight week of protests over police brutality and racial inequality, sparked by the killing of George Floyd by a Minneapolis officer now charged with his murder.
Philadelphia officials announced Monday that it will hire an independent consultant to conduct an "after-action investigation" into how the police department handled protests, including the use of force.
More demonstrations are planned over the coming week.
Kenney initiates process to consider 'possible removal' of Columbus statue
Philadelphia Mayor Jim Kenney has asked the city's Art Commission to begin a public process to "consider the future" of the Christopher Columbus statue in South Philadelphia, the administration announced Monday night.
"As more voices emerge, and new and different points of view come to light, we must reconsider how we honor individuals whose likeness has been enshrined in monuments," Kenney said in a letter to Public Art Director Margot Berg.
"With that understanding, I request you initiate as soon as possible the public process through the Art Commission for the possible removal of the statue of Christopher Columbus located at Marconi Plaza on South Broad Street."
Kenney said in a statement that a "boxing apparatus" will be placed around the statue on Tuesday while the process plays out, and urged a group of people who say they're "protecting" the Columbus statue to "stand down."
A WHYY photographer who was on the scene saw the group of five approach those congregated at the statue. The two sides quickly began yelling at each other, and the pro-statue group attempted to chase the counter-protesters out of the park. Soon they were exchanging punches.
Adam Al-Asad, 24, is a South Philadelphia native and was one of the counter-protesters in the mix. He said he tried to fight back when he saw a friend getting kicked in the face by one of the statue supporters.
Police officers, he said, ultimately intervened as well. He added that he got the impression they were on a first-name basis with the pro-Columbus group.
"What I witnessed firsthand today was a police officer talking to someone he knew, saying 'Georgie, Georgie stop' [during the fight]," Al-Asad said. "These police officers live in this neighborhood."
Officers eventually arrested one pro-statue demonstrator.
At least two of the counter-protesters were hurt. One, who declined to give his name, had an eye injury and broken teeth. Another, who identified himself as Tyler Cousins, had his nose bloodied and left with police to file a formal report. Neither was available for comment.
Monday was the third day in a row the pro-statue group — made up almost entirely of white men — convened in Marconi Plaza. But it wasn't the first day that things had gotten physical. Over the weekend, members of the group pushed around a reporter from the nonprofit outlet Unicorn Riot, then slashed his bike tires. Saturday and Sunday, many of the statue defenders were carrying bats, and at least one had a rifle.
On Monday, the group appeared to be unarmed.
Many of its members are locals. They've generally begun showing up early in the day and staying for hours, milling around the temporary fencing that rings the statue and mingling with police officers, who say they plan to monitor the situation as long as there's a risk of future clashes.
Members of the group say they're responding to city and countrywide protests over George Floyd's death at the hands of Minneapolis police, and to the concessions that city officials have made to those protesters.
John Florio has come out to guard the statue daily since Saturday. He said the city's recent removal of a statue of former Mayor and Police Commissioner Frank Rizzo made him particularly angry, and that a few bad police officers don't mean "every white person in the country is bad."
"I'm Italian," he said. "I been [discriminated] against for years with the law. Every time I get pulled over — but it's something I've got to deal with."
Florio, 44, was born and raised in South Philadelphia. He noted that he's not "like, a preacher boy" — he has done time in federal prison. But he added he and the rest of the protesters have had mainly good interactions with the police who have come to monitor Marconi Plaza because "we have their back."
"We're peaceful protesters," he said. "If you come to talk, we'll talk. If you come to fight, we'll defend ourselves."
Kenney said in a statement Monday night that he hoped tensions in Marconi Plaza would end after he initiated the public process to consider the statue's future, a process he said would be "committed to listening to all points of view."
"I urge all South Philadelphians attempting to protect the statue to stand down and have your voices heard through the public process," the mayor said.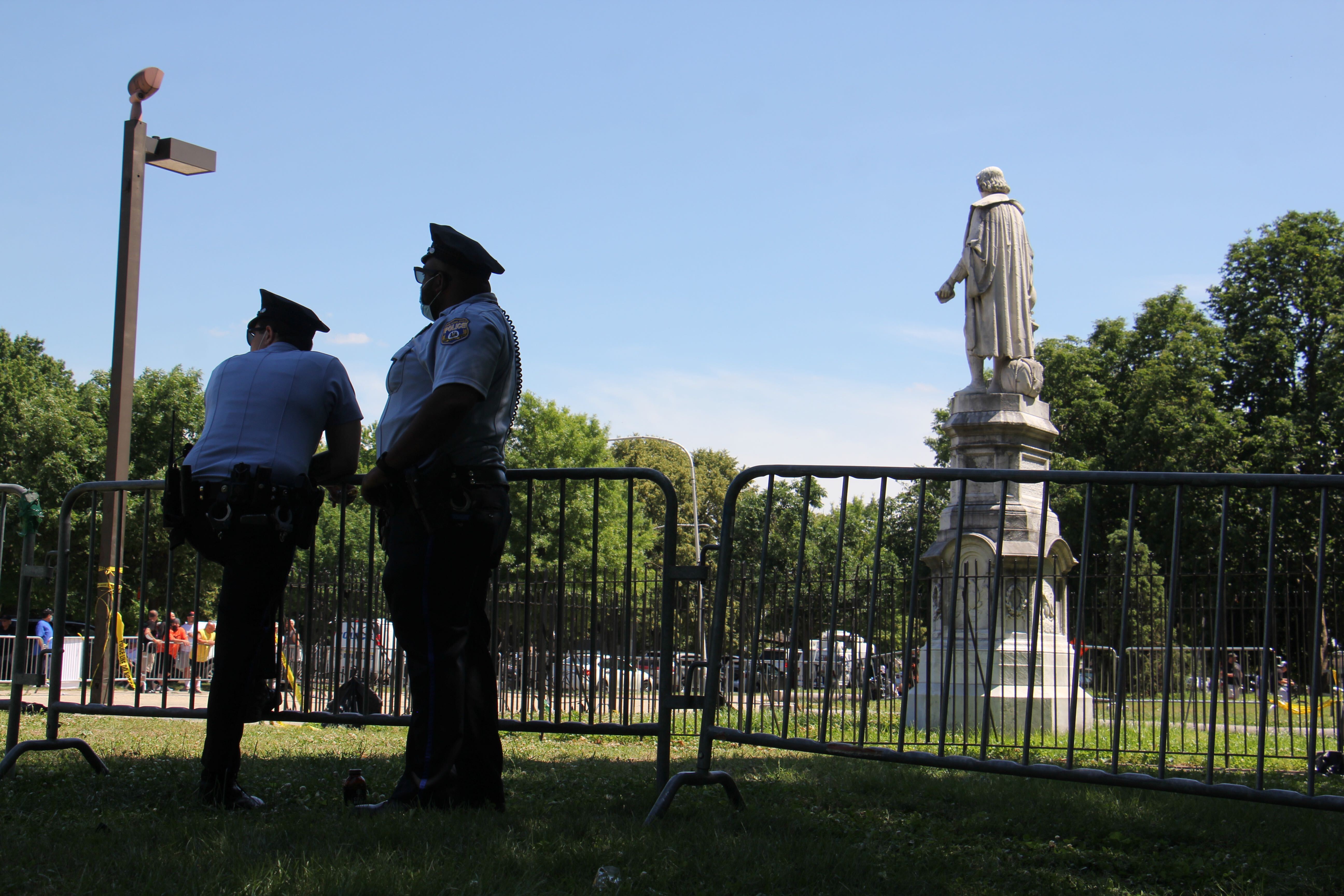 The Internal Affairs Division of Philadelphia's police department is currently investigating officers' response to the unrest over the statue — the office's second investigation into vigilantism by groups of armed white men.
The reasons that members of the group give for choosing to protect the Columbus statue are varied — at one point, members of the group got into an argument about whether Columbus was Italian, Irish or British. (He was from the Republic of Genoa, now part of Italy, but the Spanish monarchy sponsored his expeditions to America.)
But specifics aside, most agree that the statue is an important part of history, and means something especially important to Italian Americans.
Celeste Morello, a historian who said she decided to walk her dog past the statue to check out the scene, wasn't part of the group intent on defending it. But she agreed it shouldn't be torn down.
In fact, she said, a few years ago she nominated the statue to be historically certified by the city Historical Commission, and it was, with little dissent.
"Columbus has a long history here in Philadelphia," she said. "In the 1870s [when the statue was erected], many of the people of Italian ancestry were from Genoa, and that whole area around the Italian Riviera, so they felt a kinship to their ancestral homeland."
In the four voyages Columbus made to the Caribbean and South America, he and his allies enslaved and killed thousands of indigenous people. That history is the reason why people have protested the celebration of Columbus Day and the lionization of the man who "discovered" America — though indigenous people lived on the continent first — for many years.
Many of the people calling for the statue's removal Monday said they simply believe that history should be left to museums and history books, not public monuments.
Shane Olsen, who stopped by Marconi Plaza on his bike but didn't engage with the protesters, is in that camp. He chalks the furor over Columbus up to "tribalism."
"It symbolizes ignorance," he said. "We've been kind of taught that it represents something else. Everything else has been whitewashed over."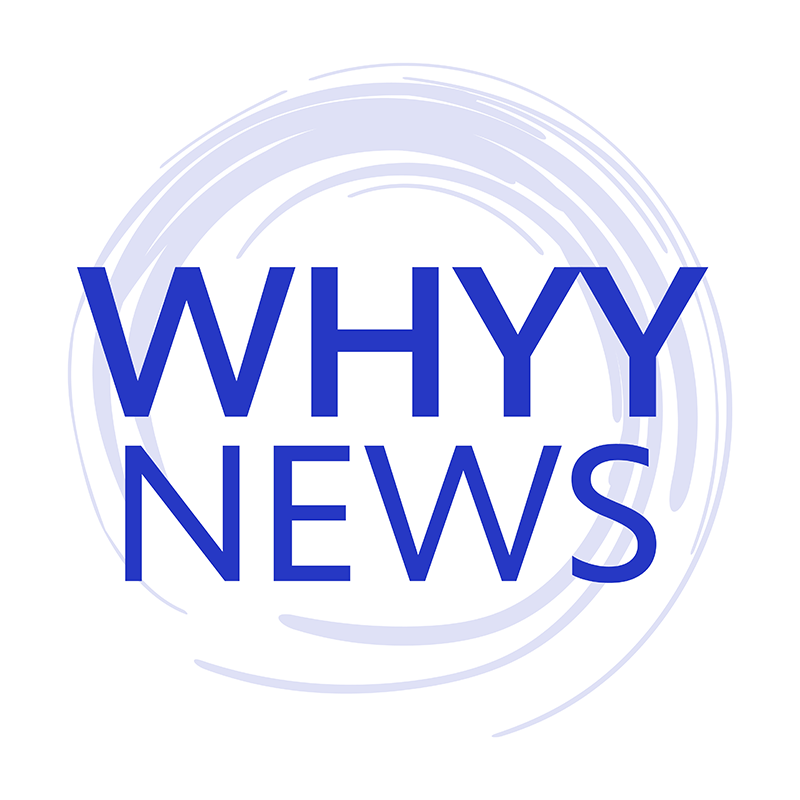 Get daily updates from WHYY News!
Protesters continue to demand Montco Commissioner's ouster
A group of women in Montgomery County has banded together to demand the resignation of Republican County Commissioner Joseph Gale, in response to a statement he released on official county letterhead calling Black Lives Matter a "radical left-wing hate group" and perpetrator of "urban domestic terror," following the vandalism and looting that occurred during the first weekend of unrest in Philadelphia.
PA Women Rise planned to rally at the Montgomery County Courthouse Monday evening to call for the removal of Gale from the County Commission for continually using "hateful and divisive rhetoric, making it evident that he does not represent the people's opinions in Montgomery County." It comes nearly two weeks after hundreds of people rallied outside the Montgomery County Courthouse in Norristown, demanding Gale's resignation.
Outgoing state Sen. Daylin Leach has issued a memo stating his intention to introduce a bill that would form a committee to investigate Gale and determine if he was in violation of the law or county policies.
Leach, having lost the recent primary election to challenger Amanda Cappelletti, has about six months left in his term as senator.
Gale responded: "Senator Leach's gross mischaracterization of my statement — which discussed the rioting and looting in Philadelphia, not the peaceful protests — is a desperate attempt for relevancy by a failed leader who was just rejected by his own party's voters in this year's Democrat Primary."
An online petition asking Gale to resign has been signed by over 86,000 people as of Monday afternoon, and last week several Montco mayors jointly condemned Gale's statement.
WHYY is your source for fact-based, in-depth journalism and information. As a nonprofit organization, we rely on financial support from readers like you. Please give today.