Philly area health networks are slowly bringing back elective surgeries, in-person visits
Listen
1:39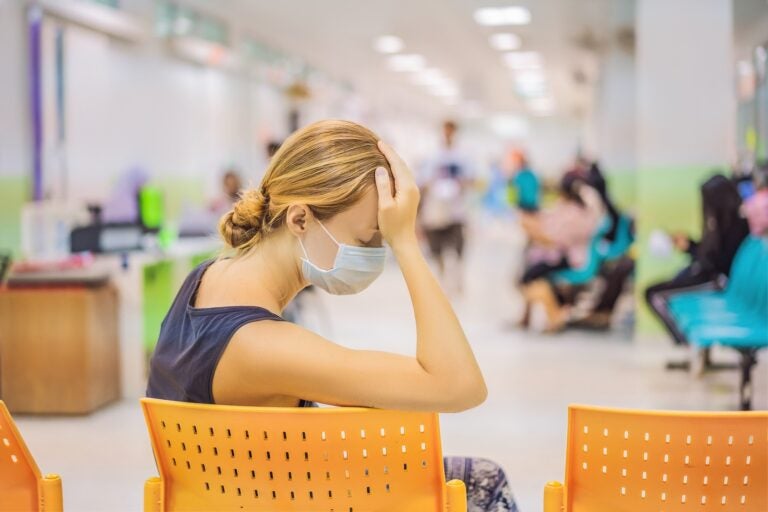 Some hospitals and health care providers in the Philadelphia region are slowly bringing patients back in for elective surgeries and in-person, routine visits — though in many cases, the waiting rooms and offices will look very different than what patients would have seen before the pandemic.
In March, the Pennsylvania Department of Health asked hospital and health care providers to put elective surgeries and procedures on hold. In late April, the department put out new guidance saying health systems and surgical facilities could start doing those procedures as long as they could do it without jeopardizing patient safety or their ability to respond to the virus.
"What we can say, based on all of the safety measures that we've put in place, that actually a patient coming in to have elective surgery would be safer than if they were actually making a trip to a grocery store," said Jeffrey Jahre, an infectious disease specialist and senior vice president for medical and academic affairs at St. Luke's University Health Network.
Jahre said the network, which started elective surgeries in Pennsylvania again on Monday, feels confident in its measures to keep patients and staff safe. Some elective surgeries, like cancer biopsies, are important to keeping patients alive or controlling their pain, he said.
Many hospitals and clinics are bringing patients back in with extra precautions, such as asking everyone to wear masks, testing medical workers for COVID-19 regularly, more frequent cleaning, and staggering visits to limit the number of people in the waiting room. They say they have adequate supplies of protective equipment like masks and gloves, though they still need to do things like reuse N95 respirator masks following decontamination instructions from the Centers for Disease Control and Prevention.
Several medical groups, including the American College of Surgeons, the American Hospital Association and the Children's Hospital Association of the United States have also put out guidelines for how to resume these surgeries and procedures safely.
Julia Sammons, medical director of infection prevention and control at the Children's Hospital of Philadelphia said they are resuming in-person visits and elective surgeries because the spread of COVID-19 is slowing in Philadelphia, and "many of the cases that were originally postponed as nonessential have now become more essential." She cited vaccinations, routine checkups for chronic conditions and delayed surgeries as examples.
But even if patients can come back, will they?
Sammons said she knows some patients and families are still concerned with going to a hospital, and that some people have delayed or even avoided emergency care. Her colleagues are focused on telling patients what CHOP is doing to keep patients and staff safe, like moving chairs in waiting rooms and cafeterias to follow social distancing guidelines and making sure everyone wears masks.
On the other hand, some health care networks have also heard from patients who are very eager to get surgeries that have been put on hold. Elizabeth Cherot, chief medical officer at Axia Women's Health, recalled a colleague telling her about a patient who was contacting her surgeon every week, upset that she has yet to have her gynecological surgery while her friend had knee surgery.
"There are patients who do have an appetite for getting their care, and are upset that they are being turned away or told to wait, and we're obviously trying to delay that so that we're not overwhelming our operating rooms," Cherot said.
Last week, Axia Women's Health started bringing patients back for routine care. Cherot said their preparations included building their own data dashboard, using information from the Centers for Disease Control and Prevention and Johns Hopkins University to monitor the pandemic to see how things are going. So if the situation is improving, Axia can consider bringing patients back; but if the numbers take a turn for the worse, they might have to once again consider which services are essential.
Health care networks resuming services say one reason they are coming back now is increased access to COVID-19 testing.
For instance, at the start of the pandemic, the University of Pittsburgh Medical Center could only do around 20 tests a day, and now they can do more than 1,600 tests a day with a combination of in-house tests, state tests, and outside labs, said Donald Yealy, senior medical director and chair of emergency medicine.
He said the network can test almost anyone who has COVID-19 symptoms in the region, and have expanded that to people who do not have symptoms, including those coming in for medical procedures. He said the plan is to offer a test to anyone who comes to UPMC for any type of care by the end of the month, which would take up to 5,000 tests a day.
"If you're enhancing your care capabilities without watching the community, you are almost playing with fire," Yealy said. "We thought it was important to have an expanded testing capability and then finally to make sure that you have plans to turn on a dime again, if either the clinical cases or those acquired cases begin to increase in number … In other words, not just revving up and hoping that things work out."
Cancelled surgeries and procedures have hit hospital revenue hard. The American Hospital Association recently estimated an average loss of $50 billion a month for hospitals and health systems in the U.S. from March to June this year, from problems like increased cost of buying protective equipment, the costs of treating COVID patients and cancelled services.
Now, some health networks are working with their regional counterparts when it comes to resuming these services.
Abhi Rastogi, Senior Vice President of Professional Services at Temple University Hospital, said Temple has a call with Main Line Health, CHOP, Penn Medicine and Jefferson Health every other week. Last week, Penn Medicine and Temple started bringing back some elective procedures that had been put off at the start of the pandemic, starting with whichever ones were most medically necessary and time-sensitive.
Some changes may stick around even after the pandemic is over.
Jennifer Stephens, chief medical officer of Lehigh Valley Physician Group, said one of their measures for resuming services is to stagger patients visits and have them check in in advance, so that no one has to wait. Patients can just register and go straight to an exam room.
"We love the concept of no waiting room," Stevens said. "So as an organization, that's what we are aiming toward moving forward as a permanent feature."