Philadelphia is full of 'violence interrupter' initiatives. Can a new faith-based coalition move the needle?
Violence interrupters try to stop shootings before they start by connecting people with jobs and other resources. A faith-based coalition is taking the model to the streets.
Listen
5:38
Working on a solution to gun violence and want to share it? Get in touch with gun violence prevention reporters Sammy Caiola and Sam Searles.
In the minutes before 9 p.m. on a recent Tuesday night, a dozen people trickled onto the corner of 15th and Dauphin in North Philly and exchanged hugs and fist bumps. They dressed casually on this summer weeknight — baseball caps, jeans, jerseys — ready to approach anyone in need of a job or a prayer.
This is Corners to Connections, a violence interruption initiative based out of North Philadelphia's Taylor Memorial Baptist Church. Rev. G. Lamar Stewart, senior pastor at the church and founder of the operation, huddled his volunteers and split them into two teams. He explained the perimeters of their planned walk, and asked someone to lead a prayer.
"The mission is to stop the violence. We walk in grace, we ask for protection right now," a team member said, eliciting murmurs of affirmation from Stewart and the rest of the circle.
With an "amen" they headed out.
The coalition of churchgoers sees faith as a gateway to preventing gun violence, and hopes approaching people with kindness will open up conversations about jobs, mental health help, and other resources that can steer them away from the path of harm.
This philosophy, and the sense of trust that faith-based groups bring, is what Stewart, a Germantown native, says sets this effort apart from other violence interrupter models that have been implemented across Philadelphia with varied success. The term is used to describe credible trusted messengers mediating conflicts and providing resources on their own streets.
Experts who study violence interruption say it requires a combination of trust and training, but that the inconsistency between initiatives makes the model difficult to define and track. In Philadelphia outreach is happening in nonprofit, academic, and government spaces, and gun violence advocates say there's a concerning lack of evidence showing whether any version of the strategy is making a dent in the city's climbing shooting rates.
Corners to Connections team members walked North Philadelphia from 9 to 11 every night in June, and spoke to over 4,000 people by Stewart's count.
"I believe whenever the world is at its worst, it's an opportunity for the church to be at its best," Stewart said. "And we're in a moment right now where people have lost faith in a lot of systems. But this is the moment for those of us who are part of the church community to step outside of our four walls, to let people know we're here, that we're willing to listen."
They're resuming their nightly patrols in August, as other violence interruption groups across Philadelphia look to expand their scope. As the city's gun homicide numbers break 300 for the year and nonfatal shootings topple over 1100, the need for these efforts remains constant.
What is violence interruption?
As Stewart's group walked toward an intersection, he asked them to be on alert. They quieted their conversations. On the opposite sidewalk, a group of young men sat outside a convenience store.
Stewart approached them with his hands visible, a move he said reduces the likelihood of provoking conflict. He started with a question: "Anybody need a job?"
One young man sprung up and confirmed that he was looking for work. Stewart talked to the group about if and where they went to school, trying to make a connection off the bat. Then he told them about an upcoming job fair. He gave out flyers, and several of the guys accepted. He also gave out his phone number, positioning himself as a future resource.
Many gun violence advocates believe putting young people to work will prevent them from perpetrating harm by giving them a means of income, a place to focus their energy and a sense of hope for the future. Some studies have shown job placement has reduced gun crime in other cities.
"The gun violence is so high and the streets are much busier in the summertime, it made it even more imperative," said Tirzah Cannad, a school counselor and Corners to Connections volunteer. "We found that in the areas that we're walking through, people usually do stop and take the time and appreciate that there's someone out here that cares for them."
The crew feels that even if they help one person out of a hundred find a safer future, it would be worth the time.
Someone the effort did reach is Imahad Morrow, a North Philly resident who met Stewart on the streets about two years ago.
He was struggling to find work because of his criminal record, he said, when the reverend approached him with information about a job fair.
"He never gave up on nobody, ever," Morrow said. "And he come through here regular, he come check up on me, he bring the district attorney people. He impacted me a lot, he gave me inspiration."
Morrow said Stewart walked him through the job application process for multiple positions, and motivated him to keep trying.
He eventually got a job with the city sanitation department, where he currently works. He said if not for that, he "probably would be still outside hangin on the corners and stuff, because I ain't got nothin to do."
Violence interruption takes many forms. Sometimes interrupters are former offenders, sometimes not. Sometimes they're part of large operations funded by governments or academic institutions. Or, as in the case of Stewart's program, they're small coalitions made up of concerned citizens willing to volunteer their time. Some violence interrupter groups work with law enforcement, others operate independently.
Their day-to-day can include connecting people to employment or legal services, planning funerals and finding grief support, or even helping with staples like acquiring food or diapers — anything that will make it easier for someone to not pick up a gun.
In Philadelphia there are at least three types of violence interruption on the ground:
Cure Violence is a street outreach group that was once funded by the city of Philadelphia and now operates out of Temple University's medical school. It's a chapter of Cure Violence Global, a well-known prevention initiative out of Chicago that's been implemented in cities across the world with varying success. Cure Violence workers often have a history of criminal involvement, and undergo specific training based on uniform Cure Violence standards. They currently work in North Philadelphia.
The Community Crisis Intervention Program is a city of Philadelphia initiative launched in July 2018. The city partners with law enforcement and with the Philadelphia Anti-Drug Anti-violence Network (PAAN), a decades-long street outreach group. A total of 64 PAAN workers are paid by the city to patrol the streets seven days a week, including some overnight shifts. They cover the entire city with a focus on city-designated hotspots called "pinpoint areas."
Nonprofit groups like Philly Truce and Frontline Dads do on-the-ground work that incorporates elements of violence interruption. This often entails residents patrolling their neighborhoods and handing out resources, similar to Corners to Connections. Community groups can receive safety training through the city of Philadelphia's Town Watch Integrated Services program, and some have partnered with PAAN.
The challenges of collaboration
While some outreach groups prefer to work alone in their specific geographic areas, others are seeking to collaborate and expand their reach. The city of Philadelphia recently put out a call for nonprofits that can act as credible messengers for CCIP, and Cure Violence is providing technical assistance to sites that want to develop a similar model.
But there's a rift between Philadelphia's disparate violence interrupter programs, rooted in their philosophies around policing. CCIP collaborates with law enforcement, while Cure Violence and Corners to Connections do not.
Building relationships between community members and law enforcement is a big part of CCIP's work, said Shondell Revell, executive director of the Office of Violence Prevention, which oversees the program.
He said it's important for outreach workers to be able to call the police captains if someone needs services or if there's a conflict brewing between groups. CCIP workers often refer people to the city's 211 gun violence prevention hotline, which launched in March.
"It could be something as simple as you want to get your kid to a summer camp or what type of mental health services are in my area," he said. "I think that having more knowledge is power."
But the city needs more credible messengers to help build trust, he said.
"They do the entire city, they're great," Revell said about PAAN, the group currently in contract with the city for violence interruption. "But you look at organizations now that are maybe indigenous to one area and might have a deeper connection to the issues in that area. So by contracting them we can maybe get a little more ingrained."
Philadelphia's Cure Violence team, on the other hand, believes their program is successful because they can promise clients nothing they say will get back to law enforcement.
"It has to be really clear to the participants," said Kathy Reeves, chair for the Department of Urban Health and Population Science at Temple University's medical school. "The whole credible messenger idea is a trusting idea."
Cure Violence is the most established violence interrupter model, and it's had some clear success. A 2017 study on Philadelphia's program found shooting rates dropped 30% over a two-year period in specific neighborhoods where it was implemented, and that the decrease in the Cure Violence areas was larger than the decrease in comparison areas during that time.
But in St. Louis, one analysis found that crime reduction in Cure Violence areas was no greater than the rest of the city.
Richard Rosenfeld, a professor emeritus of criminology and criminal justice at the University of Missouri-St. Louis and author on the analysis, said he believes violence interrupter models benefit from law enforcement involvement.
"What better than to have community members working alongside law enforcement, monitoring law enforcement activity, and law enforcement learning from community members?" he said.
Reeves believes the program could do even more to reduce gun violence if they had a greater presence in specific neighborhoods. She envisions providing funding and training to nonprofit groups so they can help execute the work.
"It's hard for me to have a group of Cure Violence workers that can take care of Kensington, APM, Swampoodle, and Nicetown," she said.
Khalif Mujahid-Ali, director of the nonprofit Beloved Care Project ,is a self-identified "old head" who used to be gang-affiliated. Now he's ready to walk the streets with other trusted messengers to talk to "young bouls" on the corners and get them out of the game. They started their work in August.
They're not calling themselves violence interrupters, and Mujahid-Ali said for now they're funding themselves and operating independently.
"We gotta police ourselves and take care of our own communities," he said.
Grassroots coalitions doing this kind of outreach say when they encounter people who need services, they can lean on their own resources.
"Everything we need, it's right here," Rev. Stewart said of his Corners to Connections team. "Whether that's therapists, we have that Christian therapist within this network. Educators, we have that within this network."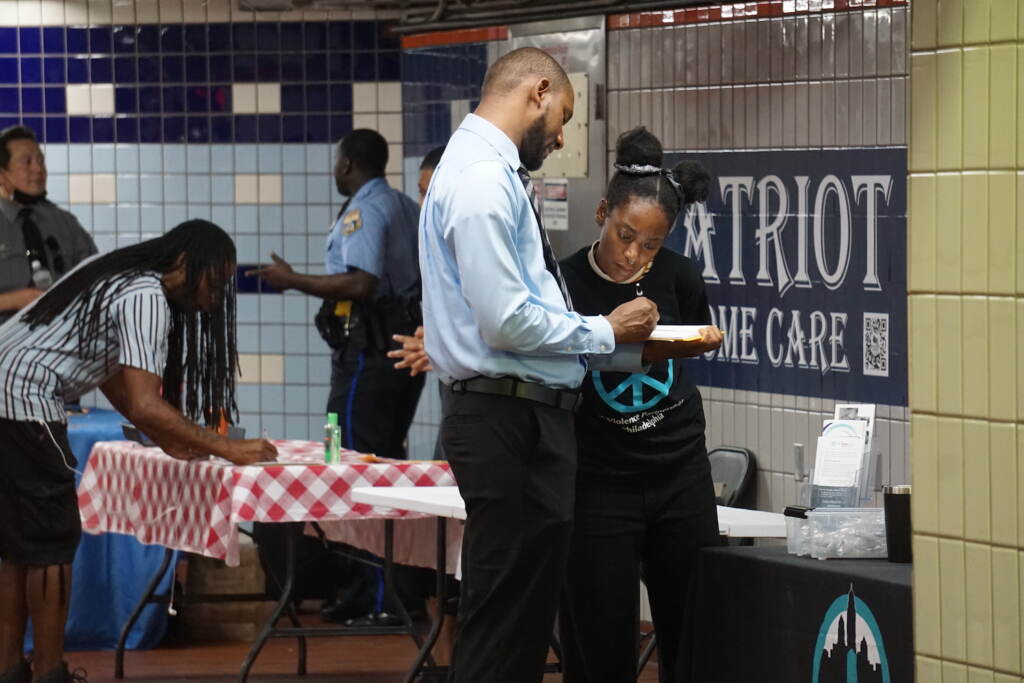 Stewart, who has served the Philadelphia Police Department and currently works in the District Attorney's office, said he's open to conversations with individuals and organizations outside their group who wish to support their work. The Corners to Connections project is part of his nonprofit, Taylor MADE Opportunities.
Evaluating outreach
The city of Philadelphia's 2023 budget allocates roughly $6.1 million for the Community Crisis Intervention Program, a $1 million increase from the prior year. The city is also investing in a pilot of the READI program out of Chicago which involves a combination of employment support, mental health help, and street outreach.
But there's been criticism against the city for funding these programs without presenting proof that they work to reduce violence.
"We need to be doing programs that are focused very specifically on those most likely to shoot or be shot and pulling them out of that life of violence," said City Controller Rebecca Rhynhart, who is considering a run for mayor. "In terms of the city's programs, CCIP is a version of that. It is a version of that without performance metrics or evaluation. It is hard to see how that is working."
Dr. Ruth Abaya, a physician at Children's Hospital of Philadelphia and program manager for the injury prevention program at the Philadelphia Department of Public Health, said it's fair to prioritize evidence-based solutions — but due to longstanding restrictions on gun violence research, there is much we still have to learn about reducing community violence
She said one thing the city can do is try to evaluate the effectiveness of current programs on the ground over time. About a year ago she helped form a coalition of Cure Violence-type programs in Philadelphia, both those that strictly follow the model and those that have used it as a template, for the purpose of ensuring there is integration between programs.
"Take people doing similar models, so the right hand knows what the left hand is doing, and learn something about the citywide impact of that model," Abaya said. "That would shed light on the need for investment in upstream intervention.
The Philadelphia Police Department said its Operation Pinpoint program, which dispatches officers to certain geographic locations at high risk of gun crime and works in partnership with CCIP, is making a difference in crime rates in individual police districts, if not citywide. In 2021 there were reductions in shooting victims in seven police districts containing pinpoint areas, according to an emailed statement.
However, the department was not able to provide specific numbers showing Operation Pinpoint's effect. Part of that, a PPD spokesperson said, is because the program has changed over time.
The number of "pinpoint grids" has grown from 22 to 45, and each grid changes shape and size "as crime incidents decrease," per the department.
The city did hire a firm to conduct research on CCIP, but it has not yet published its findings. The firm, American Institutes for Research, has been working on its evaluation since July 2021, according to researcher Patricia Campie.
Across the board, those in the violence interruption space agree that the model needs more sustainable funding and support. An analysis out of Rhynhart's office found the city spends just $6 thousand per shooting victim on violence interrupter programs — compared to $24 thousand per victim in Los Angeles and $26 thousand per victim in New York. Some Philadelphia gun violence activists have specifically called for more funding for the Cure Violence model.
Rev. Stewart says he's continuing to fund Corners to Connections through donations, but sees a need for many different violence interruption models across the city.
When it comes to evaluation, he argues that the kinds of impacts he's trying to make are hard to capture with numbers.
"I've never been one to measure quantity of success as much as the quality of success," he said. "And so I'm not as concerned about how many peoples' lives we change, but I want to make sure that we are intentional."
For him and his team, that means showing care and respect for every single person they come across, by affirming them and using language that is familiar and personal.
"A person may be a little younger, I'm not going to refer to him as nephew or young kid," Stewart said. "If they're my age I might say 'What's up OG, what's up king?" just to kind of show a level of respect and endearment at the same time."
For violence interrupters, that one-on-one connection is the key to success. They hope that with a combination of TLC and sustainable funding, they can make a meaningful dent in Philly's ongoing gun violence crisis.
Beatrice Forman of WHYY's Billy Penn contributed reporting.
If you or someone you know has been affected by gun violence in Philadelphia, you can find grief support and resources here.

WHYY is one of over 20 news organizations producing Broke in Philly, a collaborative reporting project on solutions to poverty and the city's push towards economic justice. Follow us at @BrokeInPhilly.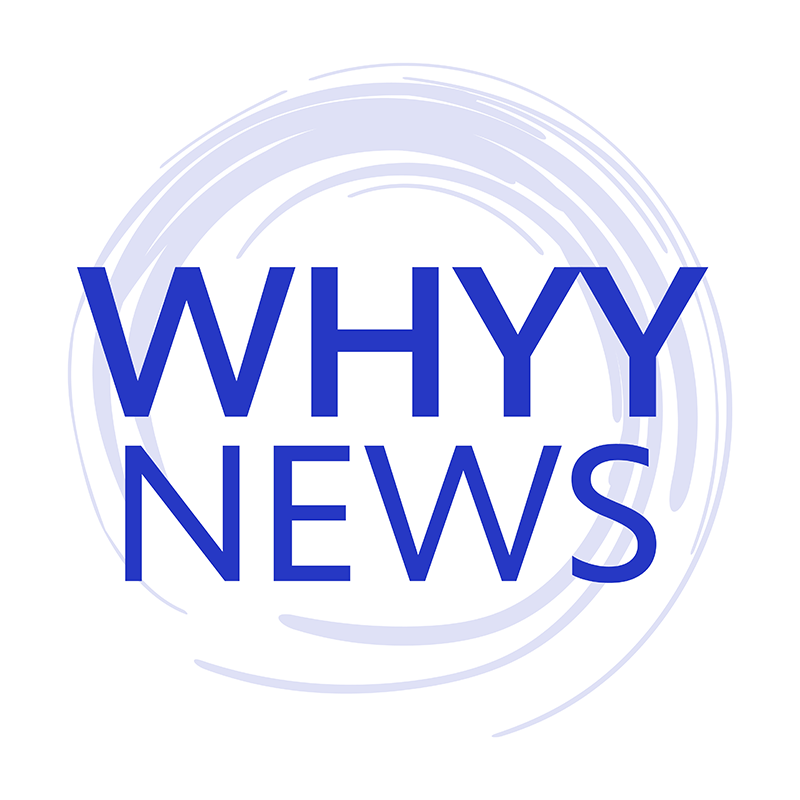 Get daily updates from WHYY News!
WHYY is your source for fact-based, in-depth journalism and information. As a nonprofit organization, we rely on financial support from readers like you. Please give today.