Shondell Revell has a long scar running down the side of his face, a souvenir of a tough upbringing in Brooklyn. He says he didn't get it by smiling at people.
"I know how it is to go to sleep hungry. I know how it is to be faced with bad situations and make bad decisions," Revell said. "That's why I understand these people so much, man."
That empathy for those who have drifted into lives of crime became the fire that ignited his drive to help people in desperate situations.
For two decades, he has been in Philadelphia, working first as a corrections officer before moving into his current job as executive director of the city's office of violence prevention. Revell, who is also finishing up a PhD program focused on community leadership, oversees dozens of crisis-intervention teams who work overnight shifts. Some know them as "violence interrupters," and the concept is about to become more widespread through the city.
In September, Philadelphia Mayor Jim Kenney gave his Cabinet 100 days to devise new ways of preventing violence. That deadline wound down this week with gained urgency as the year-end homicide rate becomes clearer: more than 350 people were killed in Philadelphia this year, marking the city's highest murder rate in a decade.
As part of their plan, Kenney administration officials working on violence prevention are expected to ask City Council to invest millions into the crisis intervention model that Revell's teams are using, according to sources with direct knowledge of the closed-door talks. Right now, a test run of the model is being funded through a $500,000 state grant. New York City, by contrast, has invested $22.5 million in the strategy.
For two decades, dozens of cities nationwide have been training and employing former drug dealers and gang members to help broker peace in troubled neighborhoods. It has shown promising results in cities like Los Angeles and New York (One study that examined the model in parts of Brooklyn found that it reduced gun injuries up to 50 percent in some neighborhoods.)
These "violence interrupters" promote jobs and help cool down strife between rival groups and work to prevent retaliatory shootings by embedding in "hot spots," where gun violence is commonplace. This type of street diplomacy was the subject of a 2011 documentary and one of its first proponents was epidemiologist Gary Slutkin, who says gun violence should be treated like a public health epidemic. "Violent activity predicts the next violent activity like H.I.V. predicts the next H.I.V. and TB predicts the next TB," Slutkin says.
To get a sense of how the limited version of this model is playing out in Philadelphia, WHYY followed Revell and some of his team members on an overnight shift.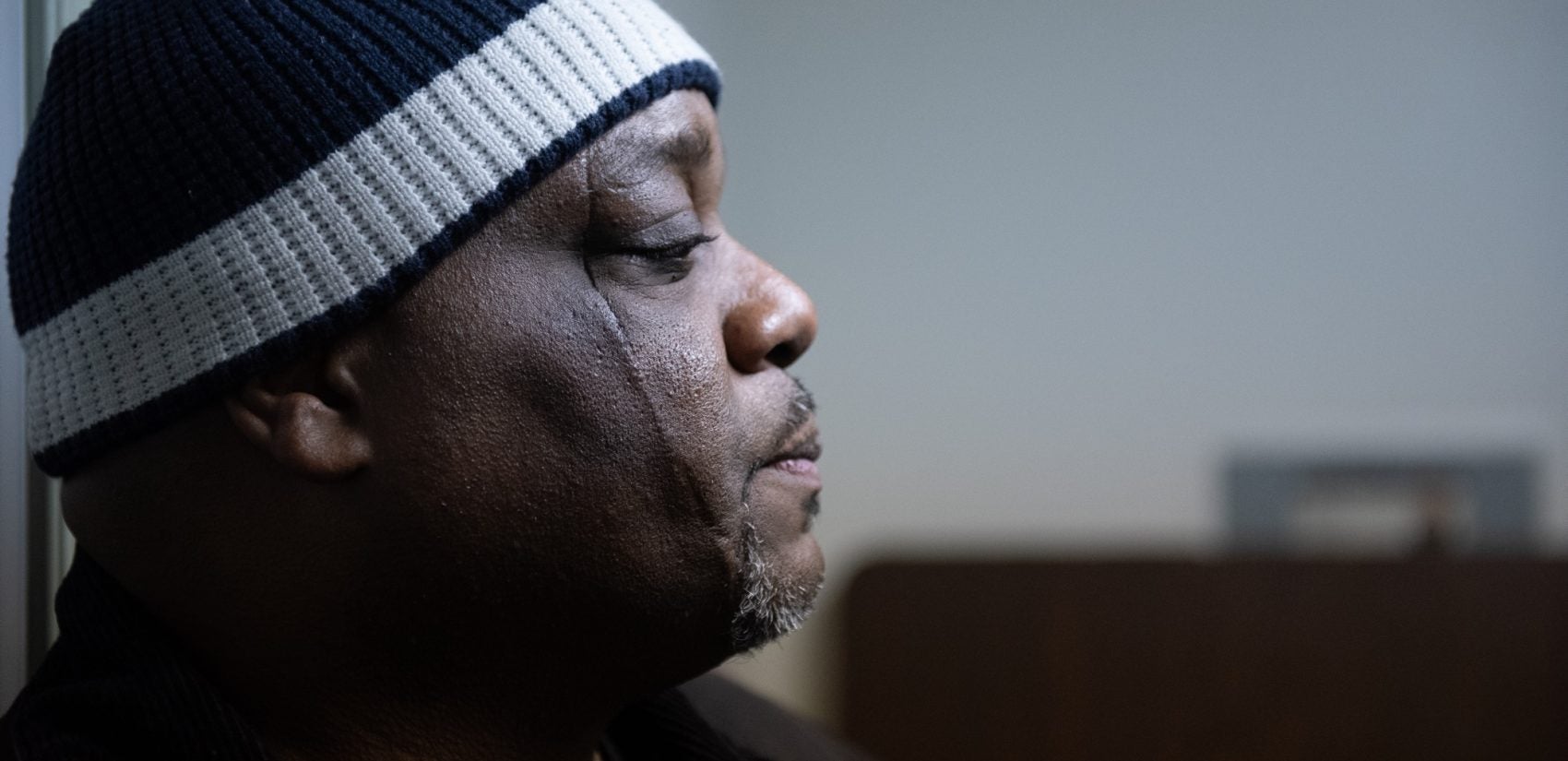 'We come in as guests'
"We're gonna hit the streets," said Revell at the group's headquarters, the Philadelphia Anti-Drug/Anti-Violence Network in North Philadelphia. "You guys ready to roll?"
Before leaving, we check in with a group of staff members monitoring social media for threats and percolating tensions, each assigned to a different neighborhood, usually places whey they grew up. This allows them to tap into their former networks and feed tips to the groups fanning out across the city. Angelic Bradley is part of this team and monitors activity coming from West Philadelphia. She says it is not unusual to see clashes first flaring up on social media.
"The small things, the Instagram beef, the Facebook beef. The you-live-on-south-side-you're-on-north-side, so you can't cross that line," Bradley said. "But then when you get in the homes of these children you see that they're in poverty. The homes are not how they need to be. They don't have gas. Sometimes they're struggling with paying the electric bill. They have a parent in the home who has to work two jobs in order to take care of the bills," she said. "Many of them are only thinking of survival. It's a struggle."
Revell said the program strives to address some of those underlining issues by turning some of the very people who were once participating in violence into city messengers. They walk neighborhood streets and spread the word that the city can help turn their lives around — if the city indeed can and whether the recipients of this pitch will really follow up is another matter, but Revell says all he can do is try.
"We can't go into communities and not give them something, right? You can't say get off the corner and not give them a job or give them some resources," he said.
On a recent night, Revell and other team members spill into minivans marked with city decals. Sam White, sitting in the back seat, describes their approach.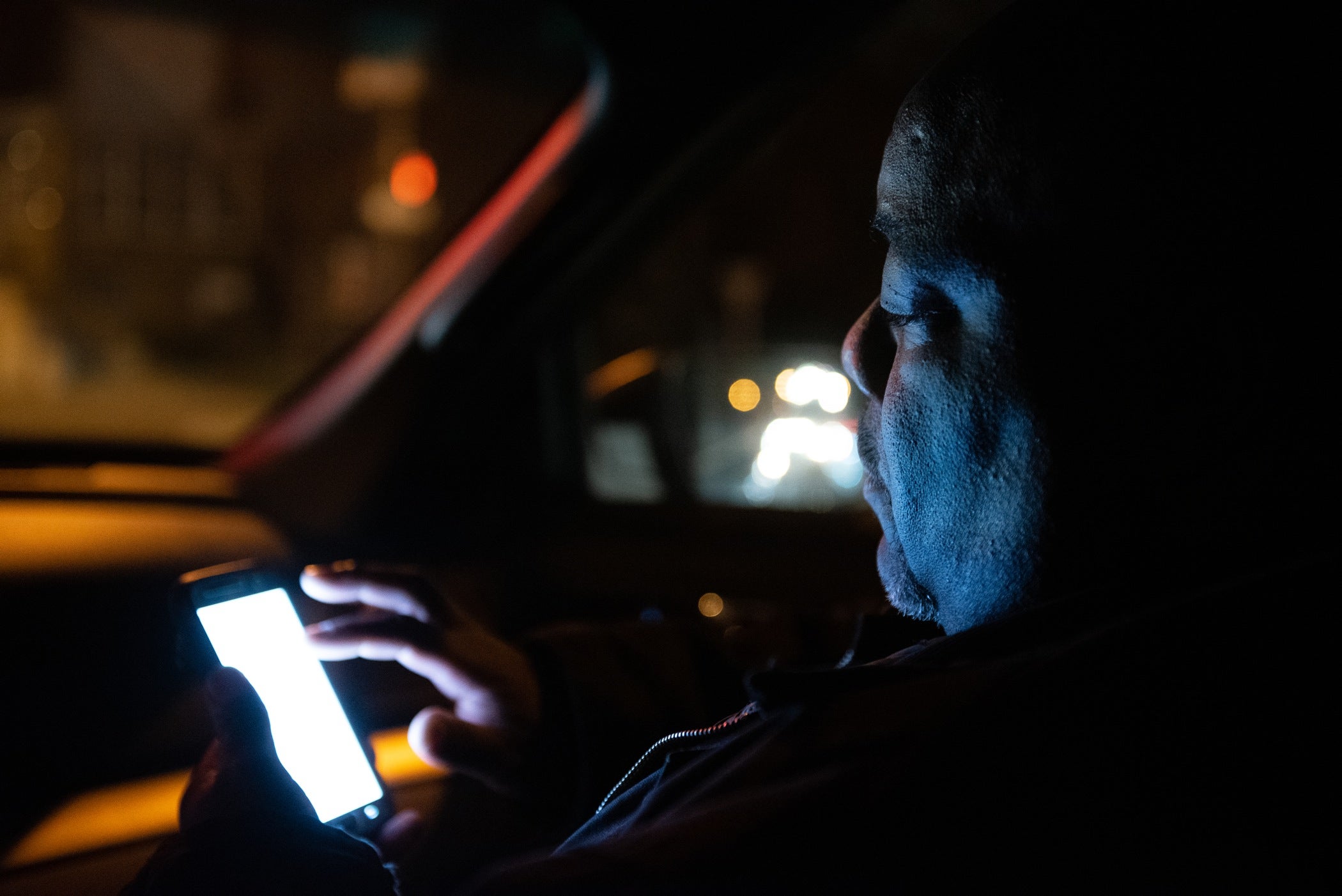 "We don't come into the neighborhoods like we're carrying guns and badges. We come in as guests," White said. "We come in as their partners and ask their permission. 'Hey, fellas, how you doing? What's going on?' If they're able to engage, you engage. If not, you don't."
Like many in this program, driver James Shuler used to "work the streets," as he put it. That experience makes him seem credible in the eyes of the people the team encounters on its rounds. Almost every one of the interrupters had a scrap with the law, or spent time trying to evade the authorities because of illicit behavior. The thinking is they can connect with people still part of that lifestyle better than an average city bureaucrat.
The first stop is a police precinct, where the groups drop in and let the desk officers know that they will be out until 4 in the morning. Shuler also inquires about any "hits" – fights, shootings or other disruptions – they should keep on their radar.
The group leaves the police post and drives to a commercial strip in the Logan section of the city. Shuler walks into a deli and approaches the clerk with pamphlets about city services. At first, the clerk shoots Shuler a skeptical glance. But Shuler asks for just a minute or two.
"We're trying basically to get the violence down within the city dealing with shootings and stabbings and all kind of different crimes," he says.
"Yeah, uh huh," says the clerk.
"So we're trying to help different kids in the community get jobs. Can I leave a few of these with you?"
"You definitely can," the clerk replies.
Shuler then turns around and chats with a group of guys drinking from beer bottles in brown paper bags. At least two of them have guns that are visible in their waistbands. Unfazed, Shuler walked up to them and makes his pitch.
"If ya'll got any guys that ya'll know that need jobs or anything, we got different programs to put them in GED programs. The whole twist is to try to get the violence down," Shuler tells them "We ain't trying to figure out no crime or nothing like that. We're just trying to get the young boys out of the way."
The guys nod their heads, take the pamphlets, and the crisis team moves on.
We leave the deli and find Omar Smith hanging outside a nearby corner store. He went to Roxborough High School and, at 24, he has a 3-year-old daughter. He says he was shot six times in the leg last year.
"The person that shot me was a friend, since 2011, so that's the crazy part," Smith said. "Like, after that, I realized I ain't got no friends or nothing. Just family."
Smith said he used to sell drugs, but that's in his past. He recently landed a job as a cleaner at Lincoln Financial Field.
"I'm staying out the way, doing good," Smith said before his cell phone started ringing.
He looks at his phone.
"My mom's calling me right now," he says.
White, with the crisis team, walks over and grabs the phone from Smith, who lets this happen, looking on with a wry smirk.
"He's on his way home now. You say you pay the bills though, huh? That's right. Mom pay the cost to be the boss. Absolutely," White tells her.
Smith's mom wanted to know where he was and how he was getting home. A crisis team member in another van volunteers to give him a lift back, and he takes the offer.
Much of their work is not as dramatic as the the term "violence interrupter" conjures. It isn't about jumping into swinging matches to break up fights or chasing gunmen. Instead, it's invested in small gestures like making a connection with someone like Smith, seeing what kind of services the city can try to provide him. And also using him as another ear-to-the-ground on neighborhood squabbles that he may be hearing about.
Back in the van, Revell reflects on the interaction.
"Sam's talking to the mother who's concerned with the son. What issues does she have? How can we help her life? Because if you don't help the home life, young man's gonna go home, or young woman's going to go home. back to a bad situation," Revell said.
Smith told Revell that he's been having trouble getting into a training program for welding, and Revell promised to personally look into it for him. "I'm going to make sure you get into that program," Revell tells him, taking down his cell phone number.
The team members serve almost like public relations experts for the city. Except the people they are talking to see them as peers – and they're often making their pitch early in the morning, sometimes hours before the sun comes up.
"I'm going to follow up," said Rodney Davis, a 20-something man with two kids who lives in Logan. The crisis team engaged him as he was hanging out in front of a Chinese restaurant. His criminal record, he said, has provided a roadblock to landing a full-time job.
"At the end of the day, I need work. So if they're gonna help me, I gotta consider it," Davis said. "I could work the streets, but the streets, they don't love you. And I have a family."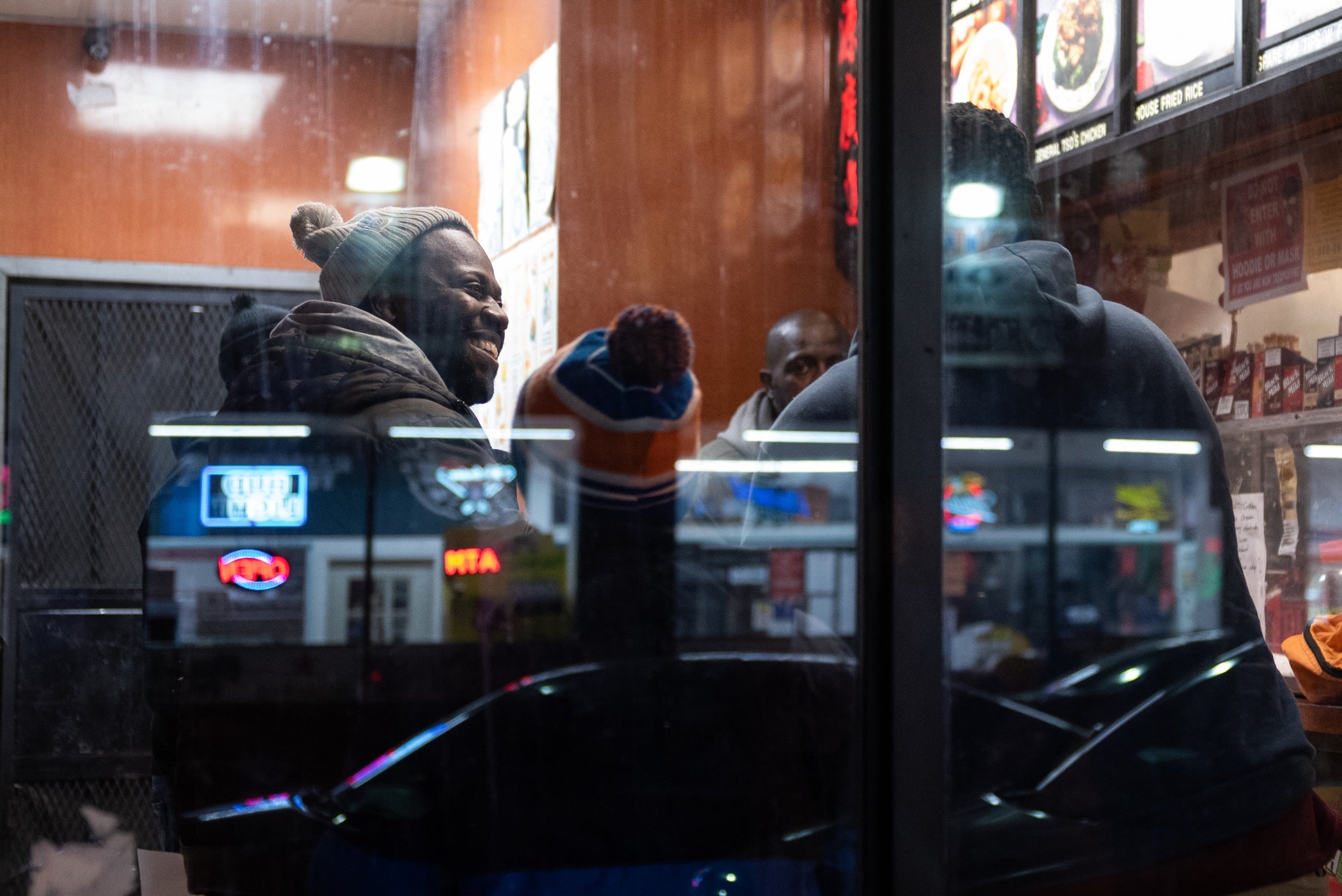 James Hopkins, one of the crisis-intervention team members, connected with Davis. Hopkins is tall and skinny, bald with a beard and wearing a black puffy jacket. He grew up in Germantown and says he led a life of crime. His nickname was Yella. And as he walked around North Philly, some waved and shouted his nickname as they drove by. What does he think about being noticed by some of the people who were part of his past life?
"Everybody out here knows me as Yella," he said. "I'm blessed to be in this position of giving back, because I know at the end of the day, they can look at someone who used to run these streets and think, 'If he can change, I can change.'"
Building up trust, building on services
On the to-do list for the night is to check out a street where there was recent violence, a shooting last week. The crew climbs back into the vans and heads over to the site. It is well after midnight.
"This is the scene of a double shooting. It happened on this block," White says. "So we're not really clear on what was going on. In instances like this, just because of the time, we're not going to knock on people's doors because it's so late at night.
"But what we're going to do is canvass this block and leave literature for the neighbors."
Shuler approaches the house where the shooting happened. A woman answered the door holding a baby. The group watches his interaction a couple blocks away. I'm told not to approach her, since she's a potential witness in an ongoing criminal investigation. Shuler walks back to us.
"Naja was the person who answered the door," Shuler said. "So I gave her the literature, gave her the whole spill. Gave her the card. And she said she'll get back to us."
White said they are building trust in ways police might not be able to. Once that is locked in, the aim is to determine whether there is still neighborhood friction in the wake of a shooting. Brokering a resolution before additional shots are fired, White said, is the mission.
"We might not be able to figure out who shot who, but we're able to at least help the person who was there who may be the next person to shoot or be shot," he says.
City officials say they'd like to see the interrupters help cut gun violence by 5 percent in the first year – with much more ambitious goals once the program fully ramps up. Officials also expect the use of services to jump at least 20 percent.
Demand for job counseling, education and mentoring services has already gone up since the crisis intervention teams first started hitting the streets this summer, a city spokesman confirms. The hope is that, with more jobs and opportunity, more people will put down their guns.
Revell admits this tactic is not going to be an easy sell to everybody.
"Some people just like the game. They like the violence. It's going to be what it's going to be for them. It's the people out there who need that second chance, who need that third chance," Revell said. "Those are the people we aim for."
WHYY is your source for fact-based, in-depth journalism and information. As a nonprofit organization, we rely on financial support from readers like you. Please give today.