Hundreds of off-road vehicles hit Philly streets this Memorial Day weekend, despite ban
About 500 people riding illegal vehicles hit North Philly Sunday, again showing that police enforcement hasn't discouraged motorists.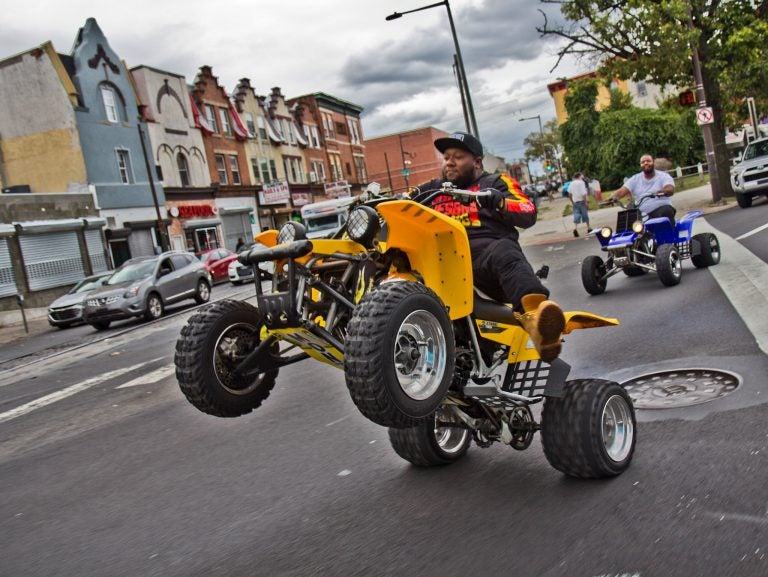 The Philadelphia Police Department's enforcement against large groups of motorists has ramped up in recent years, but hasn't discouraged motorists from hitting the streets.
About 500 people illegally riding dirtbikes, ATVs, and motorcycles zipped around North Philly Sunday evening before crossing into Montgomery County, according to 6ABC.
Off-road vehicles — like ATVs, dirtbikes, and dune buggies — are banned from city streets, allowed only when registered and on designated off-road trails.
The issue of off-road vehicles navigating without regard for the rules of the road has prompted protests from residents, even as it's become an undoubted aspect of the city's culture — one that hasn't found a sanctioned home.
Despite the persistence of off-road groups, which tend to gather in North Philly before heading around the city, enforcement of these incidents has changed in recent years — even if a total crackdown, as some have suggested, isn't in the offing.
Police have confiscated 1,132 off-road vehicles and destroyed 977 since 2020, according to Deputy Commissioner of Special Operations Joel Dales, speaking at a state House hearing in April.
In 2021, the city's traffic code was amended to explicitly ban these vehicles in most settings and add new penalties for bikers. That was the  same year the police department issued a new directive on enforcement.
At the behest of members of City Council, the department now has a detail assigned to addressing these gatherings, primarily through tracking them via helicopter and moving to confiscate vehicles once groups stop to regather and refuel.
That's the primary means of enforcement because Philly police have a policy not to chase people taking these group rides — standard practice for most local police departments in the country — as pursuing motorists could create a more dangerous situation on the streets.
Most recently, former Governor Tom Wolf signed a bill which designates the vehicles as "​​prima facie contraband subject to forfeiture" in 2022.
The standard penalty for riding an off-road vehicle in the wrong place is confiscation and a $2,000 fine. The owner of a registered vehicle can pay the fine to get it back, while unregistered riders can forfeit the vehicle to avoid paying the fine.
Once forfeited, the vehicle is disposed of as the police department sees fit, usually through destruction.
If someone believes their vehicle has been wrongly confiscated, they can demand a hearing with a Parking Hearing Examiner, the same process open to people who believe their car was wrongly impounded.
Earlier this year, WHYY hosted a community forum in West Philly that brought out those who ride off-road vehicles and those who don't.
There, motorists raised a question that has been asked since former Mayor Michael Nutter banned the vehicles in 2012: How can we find (or build) a recreational space to ride that won't cause such an uproar?
Councilmembers Curtis Jones, Kenyatta Johnson, and Mark Squilla have expressed some reserved interest in the idea, but Council hasn't moved on the issue since the 2021 policy change.
WHYY is your source for fact-based, in-depth journalism and information. As a nonprofit organization, we rely on financial support from readers like you. Please give today.