Death toll from COVID-19 rises as N.J. imposes statewide restrictions, closes schools
The extraordinary new restrictions will impact business operations and discourage individual travel. School closures are set to begin Wednesday.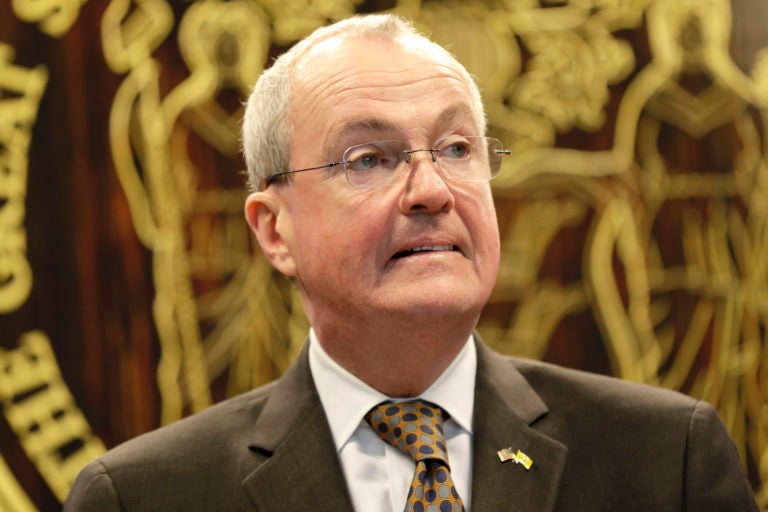 Updated: 8:40 p.m.
—
Gov. Murphy announces third COVID-19 related death in New Jersey
A third individual has died of coronavirus in New Jersey. Governor Phil Murphy described him "as a male in his 90s" who was being treated at Hackensack University Medical Center in Bergen County.
Sad to announce our third death of an individual with #COVID19 – a male in his 90s who was being treated at @HackensackUMC in Bergen County. Our prayers are with his family during this difficult time.

— Governor Phil Murphy (@GovMurphy) March 17, 2020
New Jersey Gov. Phil Murphy has announced statewide restrictions beginning 8 p.m. Monday that will severely limit business operations and discourage individual travel in an extraordinary effort to slow the spread of the novel coronavirus.
The Democrat also announced that all schools in the state would close indefinitely starting Wednesday, including public, private and parochial schools from grades pre-K to 12, as well as all colleges and universities.
"We can't allow the business-as-usual culture to continue," Murphy said at an afternoon news briefing. "Clearly this does not come without a price. It will come with a big economic price, we understand that. If we do not act, the price will only be larger, both in humanity as well as economically."
To slow the spread of #COVID19, I'm ordering:
•Closure of ALL pre-K, K-12 schools, higher ed insts. beginning 3/18
•Closure of ALL casinos, racetracks, theaters, gyms
•Closure of ALL non-essential retail, recreational, & entertainment bizs after 8pm
•Banning gatherings of 50+ pic.twitter.com/mmZe0bZWgb

— Governor Phil Murphy (@GovMurphy) March 16, 2020
The dramatic actions to enforce social distancing came the same day that confirmed cases of COVID-19 in New Jersey surged by 80 for a total of 178 with two deaths. It was the largest one-day increase since the first confirmed case in the state on March 4.
The patients range in age from 5 to 93, according to state officials.
Murphy also mobilized the state's National Guard "to assist in our efforts in any way necessary," which he said could include anything from distributing food to kids during school closings to helping with testing.
Under restrictions that will also take effect in New York and Connecticut, all non-essential travel is "strongly discouraged" from 8 p.m. to 5 a.m. each evening and "all non-essential businesses must close" during the same period, Murphy said.
Some businesses face even more severe restrictions. Gyms, movie theaters, performance arts centers, casinos and racetracks will all close at 8 p.m. Monday and remain shuttered indefinitely.
Bars and restaurants will also close indefinitely at 8 p.m., but only for dine-in service. They can continue to provide take-out and delivery meals.
Violators can be slapped with disorderly persons offenses by local law enforcement.
"This will remain in effect for the foreseeable future," Murphy said on a Monday morning conference call with New York Gov. Andrew Cuomo and Connecticut Gov. Ned Lamont, who announced similar restrictions in their states.
"For those who do not need to be out, please, please, please just stay home," he added later in the day. "This is not a time for selfishness. This is a time to think of those around you."
Pennsylvania and Delaware announced their own restrictions later Monday.
Only a "very limited list" of critical businesses in New Jersey — such as grocery stores, pharmacies, gas stations and medical offices — will be allowed to stay open past 8 p.m., Murphy said.
The coordinated action across three states was unveiled a day after the Centers for Disease Control and Prevention advised against gatherings of 50 people or more for the next eight weeks.
On Monday afternoon, President Trump updated that guidance to say Americans should not gather in groups of more than 10 people.
Consistent with the guidelines in place Monday morning, Murphy banned all gatherings above 50 people and said that during the day, non-essential businesses will be allowed to remain open only if they limit occupancy to 50 people or fewer.
Motor Vehicle Commission offices are closed for at least the next two weeks, and the state granted an automatic two-month extension for all drivers licenses, vehicle registrations and car inspections that are due for renewal by May 31.
On Sunday, Murphy gave some insight into his thinking behind the new restrictions.
"I saw too many videos last night of packed bars, people passing bottles drinking from the same bottle, literally globbed on top of each other," Murphy said. "Short of shutting the entire state down, clipping establishments by a number of hours each night in particular, we believe will have a meaningful, positive outcome in terms of social distancing."
Cuomo said Monday that coming up with the same rules for closings across several states is "imperative" to prevent people simply driving from one locale to another to evade coronavirus-related closures.
"So don't even think about going to a neighboring state because there's going to be a different set of conditions," Cuomo said, adding that the three states are "the only region in the country" to have taken such coordinated action.
Murphy emphasized that people who feel healthy have as important a role to play in this moment as people who are feeling ill.
"Just because you don't feel sick  — and this is a particular shout-out to our young people — it doesn't mean you aren't carrying the virus," he said. "The last thing anyone should be thinking about is going out and potentially spreading the disease."
Schools prep for meal distribution, home instruction
As officials in Pennsylvania, Delaware and several other states ordered their schools to close last week, Murphy said he held off to give districts more time to figure out how to teach children remotely and distribute the free and reduced-price school meals that many students rely on.
Many districts started announcing those plans over the weekend, and each plan has its own wrinkles.
In Camden, where 16,000 children attend a mixture of traditional public, charter and Renaissance schools, all students regardless of family income can pick up free breakfast and lunch at any one of 11 sites across the city.
Camden students are to report to school Tuesday to pick up "remote learning packets," which will guide their instruction for at least the next two weeks. Teachers are planning to use web-based apps or the phone to communicate with students based on whether they have internet access at home.
In Atlantic City, which is beginning remote instruction Tuesday for its roughly 7,000 students, breakfast and lunch will be provided only for those students who qualify for free or reduced-price meals. Elementary schools will serve as the pick-up points.
The district is also handing out Chromebooks to all students in grades 3 through 12 while giving paper packets to younger children.
Murphy said schools will remain closed for at least two weeks and stay that way "until such time as deemed by health officials to be safe."
FEMA testing sites coming to N.J.
Officials also said Monday that New Jersey was identified as one of 12 "priority states" that will have coronavirus testing set up and supplied by the Federal Emergency Management Agency, or FEMA.
State Police Superintendent Col. Patrick Callahan said the facilities would be operational "very soon" at Bergen County Community College and PNC Bank Arts Center in Monmouth County, allowing the state to step up the number of people it can screen for the virus.
Bergen and Monmouth counties have seen among the highest number of COVID-19 cases statewide, at 61 and 14 respectively.
WHYY is your source for fact-based, in-depth journalism and information. As a nonprofit organization, we rely on financial support from readers like you. Please give today.