Coronavirus update: Philly, Pa., and Del introduce new restrictions to slow spread of coronavirus
With the total in Philadelphia rising to nine people, city officials announced sweeping restrictions on commercial and city government activity.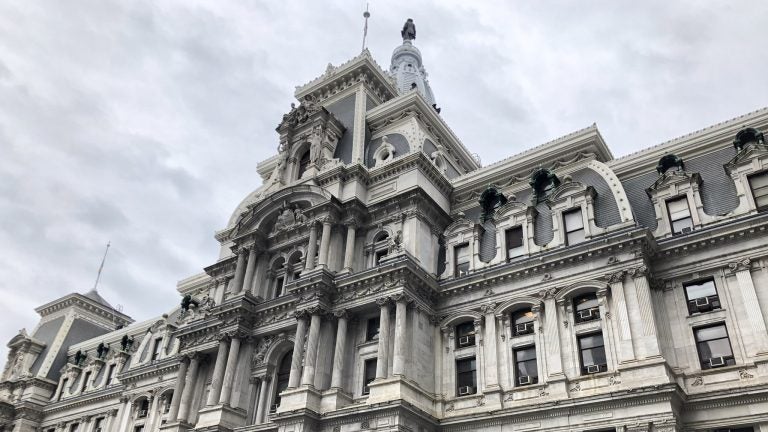 Updated: 4:45 p.m.
Delaware courts affected
Fear of spreading coronavirus has led Delaware courts to scale back dramatically, with officials putting a one-month hold on jury trials and many other proceedings.
That action converted the cavernous courthouse in Wilmington into mostly an empty shell on Monday.
Bail bondsman John Donahue says it's surreal not to see the long line of defendants, lawyers and prospective jurors snaking around the courthouse.
"You can see it's kind of deserted here,'' Donahue told WHYY. "Mondays and Tuesdays are pretty busy."
Donahue said people who post cash bail will have to wait longer to get their money back. But those held in prison will still have case reviews and bail hearings "so they don't stay an extended time in jail."
He also quipped that business hasn't suffered because police are still arresting people.
Inside the courthouse that serves all of New Castle County, courtrooms and hallways were empty. So were seats in the juror assembly room. No one paid fines. Attorneys weren't huddling with defendants.
A few hearings were also being held in Family Court, where one woman with her young son and daughter came to file a protection from abuse petition and was waiting to see a judge.
Video bail hearings were still going on for people who were recently arrested because there was a warrant out for them.
Bailiff Seth Plymyer waited in Courtroom 4D for proceedings to begin.
"I think they are doing what's right to try and protect people and keep safe while still looking out for everyone's rights,'' Plymyers said.
Lloyd Schmid was there to represent defendants. He supports the decision to scale back.
"I think it's the most prudent thing to do,'' Schmid said. "We really have no choice given the circumstances, so I'm happy that they are doing that. I know I'm filled with just a little concern here. There's not enough room in the courthouse for social distancing."
Philadelphia announces sweeping restrictions
Pennsylvania officials confirmed 13 new cases of the coronavirus on Monday, bringing the statewide total up to 76.
The new cases include two in Allegheny County, one in Bucks County, six in Montgomery County, two in Monroe County, and two in Philadelphia County, according to the Pennsylvania Department of Health. Montgomery County continues to lead the commonwealth with about a third of all cases. Those who tested positive are all isolating at home or are being treated in the hospital.
With the total in Philadelphia rising to nine people, city officials announced sweeping restrictions on commercial and city government activity. The city is also following the CDC's advice and advising against gatherings of more than 50 people.
Today we announced new restrictions on commercial activity and a halt to non-essential City operations.

Closed:
– Non-essential businesses
– Dine-in food establishments (delivery and pick-up only)
– City buildings

Read more in the press release. https://t.co/THxMCdgD2a

— Jim Kenney (@PhillyMayor) March 16, 2020
"These changes are not made lightly and we are well aware of the potentially devastating effects they will have on businesses and workers of Philadelphia," said Mayor Jim Kenney. "
Government buildings will close starting on Tuesday, March 17.
Commercial activity in the city will also be restricted to only those deemed "essential" by local officials, starting at 5 p.m Monday. That list includes grocery stores, big box stores, pharmacies, discount stores, corner stores, daycare centers, banks, post offices, gas stations, veterinary clinics and laundromats. In addition, businesses that sell a variety of telecommunications equipment, medical supplies and food items will be allowed to remain open.
The city's dining scene will also be under new limitations, intended to restrict the spread of COVID-19. Restaurants will halt all dining room services and will only be able to serve food for delivery or takeout.
To support businesses hurting due to the loss of sales and customers, City and Philadelphia Industrial Development Corporation are launching new grants and zero-interest loans for businesses that do less than $5 million in business annually.
"This thing has no playbook. It changes hour by hour," he said.
The restrictions are in place at least through March 27.
Trash collection to continue as usual; street cleaning halted
According to Brian Abernathy, the city's managing director, trash and recycling will continue to be picked up on a regular schedule.
"Sanitation is considered an essential service," he said.
Press representatives from the city said the city's Streets Department is advising workers to wear "all issued safety equipment including gloves to keep themselves safe."
Omar Salaam, a business agent with AFSCME District Council 33, which represents more than 1,100 Streets Department workers said the union is not commenting or giving any statements related to safety measures for workers yet.
City sanitation convenience centers will remain open from 6 a.m. to 8 p.m. for residents to drop off materials.
But according to press representatives "street cleaning is not an essential service," therefore street sweeping will be halted until March 27th. Illegal dumping crews will continue operations as they are considered essential, according to the city.
Public parks and playground remain open
Public parks and playgrounds will remain open, but the Health Department recommends residents to stay 6 feet away from other people and to wash their hands regularly or use hand sanitizer. People feeling sick should stay home.
Fifty recreation centers and six older adult centers will remain open from Monday through Friday to provide meals to young people ages 18 and under, and seniors. Starting today rec centers will be open from 2 p.m. to 6 p.m. for meal distribution only. Meals will be distributed at or around 3 p.m.
Statewide shutdowns
Pennsylvania Governor Tom Wolf announced he would extend the shutdown of nonessential businesses like those already in place in Bucks, Chester, Montgomery and Delaware Counties to the entire commonwealth, starting at midnight Monday.
"Medical experts believe it is the only way we can prevent our hospitals from being overwhelmed by patients," said Wolf. "We need to eliminate as many physical contacts as we can."
All non-essential stores, bars and restaurants must close, except for serving takeout. Senior centers will also close, for what is expected to be the next two weeks.
While not imposing a curfew, like neighboring New Jersey, Wolf said he hoped people would stay home "24 hours a day."
State health officials also said testing capabilities are growing. Testing will be available through commercial laboratories and at the request of physicians, according to Department of Health Secretary Rachel Levine.
Those results are relayed to the state on the same day, said Levine.
In response to the concern that some report being unable to get tested, the state laid out the following steps. Those with no symptoms do not need to be tested. Those with mild symptoms are advised to stay home and call their healthcare providers from home, said Levine. Those with severe symptoms or who know someone who has been exposed should call 911, and alert the operator to your concerns. People experiencing severe symptoms associated with COVID-19, such as a fever of over 100 degrees, should reach out to their doctors. Providers may request a test through companies such as Quest Diagnostics.
Gov. Carney limits eateries, bars to take-out, delivery as Del.'s 8th coronavirus is confirmed
Gov. John Carney banned gatherings of at least 50 people and limited restaurants, taverns and bars to take-out and delivery service starting at 8 p.m. tonight. The restaurant and bar limit will last until "at least May 15". The ban of gatherings over 50 is for at least two months.
Carney issued the order, an update to his emergency declaration issued on Thursday, as the state reported its eighth confirmed case of coronavirus and the first not connected to the University of Delaware.
The latest patient is a New Castle County woman over the age of 50 who is not severely ill and is self isolating at home, health officials said.
"These restrictions will hit Delaware's restaurants and bars especially hard," Carney said in a news release. "Delawareans should continue to support these businesses, and their workers, by ordering take-out or delivery. Restaurants also remain a critical source of food for vulnerable populations. But this is a very serious situation, with a significant amount of uncertainty. If you gather with 50 people or more, you are only increasing the risk that more Delawareans will come in contact with this virus. Let's not make a challenging situation worse."
Because the first seven coronavirus cases in Delaware are all connected to the University of Delaware, school officials are taking extra steps to empty the campus. Classes have already been cancelled and students remaining on campus during spring break were told to pack up their things and leave.
Last week, students away from campus on break were told to return to campus to remove their belongings from dorms by Sunday, March 22.
In a letter sent to the university community on Sunday, UD president Dennis Assanis extended that deadline to the end of the semester. "Returning to campus to retrieve belongings may increase risk for our students, their families, and our community. Therefore, we are asking students to not return until the University determines it is safer for you to do so," he wrote.
Assanis also ordered research personnel at all campuses to prepare for their labs to only be accessible to "essential activities."
The only research work that is exempt from these restrictions is that involving maintaining animals, critical cell cultures, or unique substances or mixtures used in chemical analysis. "Researchers should anticipate very limited access for two weeks and potentially longer," Assanis wrote.
"I know these new steps, restrictions and precautions are extremely difficult adjustments for us all, but they are necessary to successfully complete the academic year."
Governor Carney also ordered Delaware's three racetrack casinos to cease gaming operations at 8 p.m. Monday.
Philadelphia courts affected
Philadelphia officials announced Monday that all city courts will temporarily close starting Tuesday to mitigate the spread of the coronavirus.
The First Judicial District said in a news release that the order will be in effect until April 1 or "until further notice from the court" with a few exceptions.
Preliminary arraignments, bail acceptance and emergency Protection from Abuse services will continue on a 24/7 basis.
Juvenile detention hearings, shelter care hearings, video bench warrant hearings for those incarcerated in the Philadelphia prison system are also unaffected by the temporary closure.
The city's Traffic Division will remain open to retrieve impounded vehicles three days per week.
"FJD leadership will continue to re-evaluate all closures moving forward and will alert the public to any changes to what is outlined above, as appropriate," according to the release.
The announcement means all jury trials in Philadelphia will be postponed until further notice.
That includes the retrial of Msgr. William Lynn, the first U.S. Catholic Church official to be convicted of clergy sex abuse.
A motions hearing is scheduled for May 28.
Between 125-150 people showed up for jury duty on Monday, according to a spokesman with the First Judicial District. They were dismissed around 9 a.m.
The decision comes less than 24 hours after the First Judicial District announced it would start limiting to 200 the number of people it would subpoena each day for jury duty.
Over the weekend, the number of positive cases of COVID-19 in the city doubled to eight. City health officials said it appears the newest incidents stemmed from people who were asymptomatic, and that they expected the number of cases to surge in the coming days.
The announcement is the latest to affect court operations in Philadelphia and the region.
Starting Monday, Municipal Court in Philadelphia will not execute any evictions for the next two weeks due to the spreading coronavirus pandemic.
A group of 133 public defenders had earlier cosigned a letter from the newly formed Defenders Union, asking for a shutdown of the city's court system. Several prosecutors at the Philadelphia District Attorney's office drafted a similar letter on March 15 asking DA Larry Krasner to pull ADAs out of the city's criminal courts, citing concerns about the spread of the COVID-19 virus.
The letter, which also calls for a general shutdown, says "packed courtrooms," a high number of "at-risk individuals," and the need for close personal contact to maintain attorney-client privilege were all recipes for more infections.
"A motto of progressive prosecution has been to treat crime like a public health issue," the letter reads. "Treat this public health issue like you would crime: Pressure the court into closing."
A spokesperson for Krasner declined to say if the DA had ever reviewed the letter, dated March 15, but said the office had issued new charging and bail guidelines "in order to ensure only people who present a danger to the public are held in detention."
Federal immigration court, located at 9th and Market Streets in Philadelphia, also began limiting hearings.
"Effective March 16, 2020, and through April 10, all non-detained master calendar hearings are postponed," according to a release of the Department of Justice. New hearing dates will be sent out in the mail to anyone whose hearing has been pushed back due to these closures.
Wolf orders restaurants, bars to end dine-in service in 5 counties
Restaurants and bars in Bucks, Chester, Delaware, Montgomery and Allegheny counties have been ordered end dine-in services as of midnight Sunday for the next 14 days.
Pennsylvania Gov. Tom Wolf had previously urged all nonessential businesses to close in those counties — excluding Allegheny — but made it mandatory Sunday night under the state's disaster declaration powers.
Businesses can still offer take-out and drive-through services, but failure to end dine-in meals and drinks for the next two weeks could lead to "enforcement actions," Wolf said in a statement, though the consequences were not laid out in the announcement.
"I understand that this is disruptive to businesses as well as patrons who just want to enjoy themselves, but in the best interest of individuals and families in the mitigation counties, we must take this step," the governor said.
Businesses facing hardship during the forced or recommended closures can apply for financial assistance.
Unemployment compensation
Pennsylvanians losing work due to the coronavirus or the efforts to slow its spread may be eligible for unemployment or worker's compensation, the state announced Monday.
In an effort to stem the economic effects of the pandemic, the Department of Labor and Industry released a wide-ranging set of circumstances that could trigger benefits to workers losing money. They include being quarantined, losing hours, or having a business shut down due to mandatory distancing measures in some counties.
Those categories could grow with the level of social disruption increases.
"It's evolving constantly, due to the fact that the Governor announced that schools are shutting down. After that certain areas in certain counties were impacted," said Jahmai Sharp, with the Department of Labor and Industry Press office. "Literally it's changing by the minute."
The state and federal emergency declarations triggered the release of funds to people out of work during this unique situation, said Sharp.
The Department is urging anyone who can to fill out the forms online.
Some businesses in Philadelphia are reporting a downturn, even though they are not covered in Governor Wolf's shutdown of eateries and bars in the surrounding counties.
"On Friday it was 70 degrees and sunny, it should have been insane, but it was definitely a lot quieter,"  said Alicia Levantini, assistant manager of Jack's Firehouse in the Fairmount neighborhood. The business has been taking extra precautions and doing more cleaning, but with the steep decline in customers has decided to lay off all but a couple of staff members for the foreseeable future.
At the owner's urging, Levantini applied for unemployment on Sunday evening, and said the process took three hours.
"The system kept crashing," she said. "I had to restart the form a bunch of times, it was definitely stressful."
Coronavirus patient is staffer in Del. U.S. Sen. Carper's office
A staffer in U.S. Sen. Tom Carper's Delaware office has tested positive for COVID-19. The woman who is under the age of 30 is the seventh case in the state of Delaware.
The Carper staffer is in self-quarantine and is not severely ill.
"This individual has not traveled to Washington, D.C. recently and has had no contact with Sen. Carper or other members of Congress since exhibiting symptoms," a Carper spokeswoman said. "Other members of Sen. Carper's staff who came in contact with the individual while the individual was exhibiting symptoms will be self-isolating at home for the next 14 days."
Health officials are currently in the process of contacting anyone the patient may have come in contact with.
All seven cases are connected to the University of Delaware including a professor, two graduate students and a postdoctoral researcher.
Starting Monday, Carper's staff in D.C. and Delaware will be working remotely and those offices will be closed to the public.
WHYY's Laura Benshoff, Catalina Jaramillo, Cris Barrish, Mark Eichmann, Ryan Briggs and Aaron Moselle contributed reporting.
WHYY is your source for fact-based, in-depth journalism and information. As a nonprofit organization, we rely on financial support from readers like you. Please give today.