Jefferson Frankford nurses want to unionize, call attention to staffing issues
To announce their intention to organize as a local of PASNAP, nurses gathered in front of the hospital. They say their employer is union busting.
Nurses at Jefferson Frankford Hospital want to unionize, to address staffing concerns, retention issues, and the loss of retirement benefits.
To call attention to those concerns — and alleged union busting from their employer — nurses gathered Friday with dozens of supporters outside the hospital in Philadelphia's Lower Northeast.
"We've been understaffed for a number of years. We're unable to retain nurses, for various reasons, including lower pay. We want a seat at the table. We want to help facilitate better care and treatment of our patients — and for ourselves," Kevin Diamond, a Jefferson Frankford nurse who served as emcee for the event, said in an interview with WHYY News.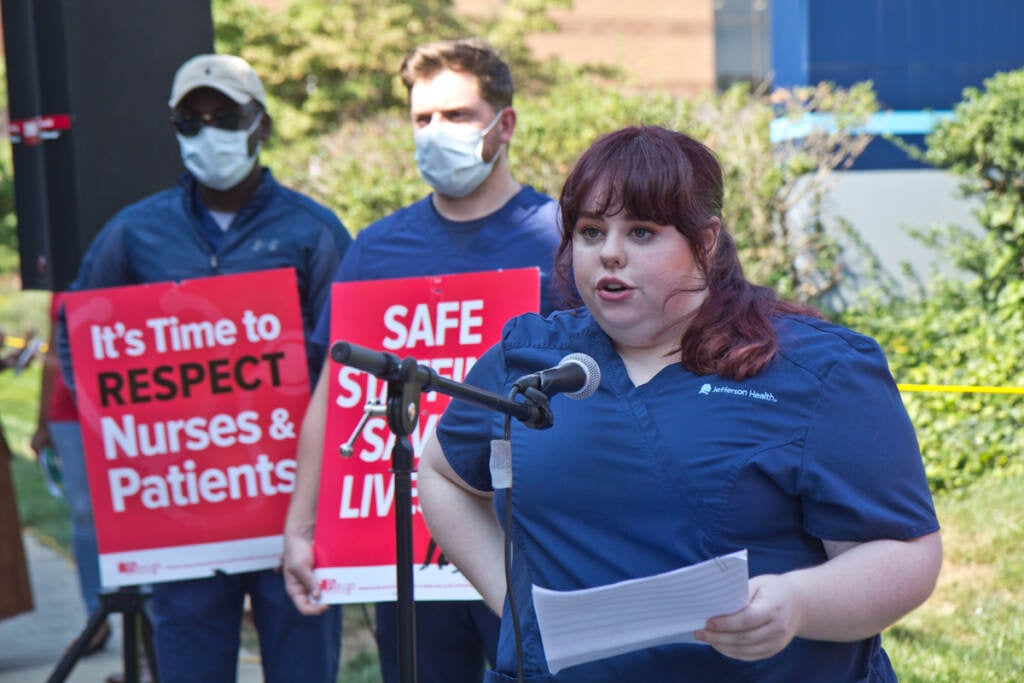 Like frontline health care professionals across the country, the nurses at Jefferson Frankford have encountered the harsh realities of the COVID-19 pandemic head-on. High staff turnover and low staffing levels resulted, they say.
They were showered with praise, but the respect ended there, according to the nurses.
"We were called heroes. They had to spell it out on the lawn. They had it spelled out in the lobby: 'Heroes work here.' Yet we weren't treated like heroes," Diamond told the crowd. "Jefferson decided to freeze any pay increases. They decided to hold our retirement contributions for a year."
The Jefferson Frankford nurses decided to unionize and have begun an organizing campaign. They accuse the hospital of engaging in "a pattern of illegal behavior" and retaliation to stop the effort. The nurses say that union posters have been torn down by Jefferson-hired union busters who are allegedly giving misleading information to the staff.
"And it's hard to get the message out to our co-workers when they're being bombarded with the false, misleading information provided by the union busters that the hospital has hired. It interrupts our day. We're being forced to go to meetings to talk to these people, and it's taking away from patient care time, using patient care dollars to do this. And that's not fair," said Tracy Pack, a medical-surgical nurse.
On top of that, the nurses say, co-workers are being disciplined for supporting the union — like longtime nurse Nickisher Lewis. She had asked to be transitioned from full-time to per-diem status, and her request was granted. But her former co-workers say Jefferson Frankford pulled the offer the day before her full-time position expired, leaving Lewis without a job. The nurses, who seek to organize under the umbrella of the Pennsylvania Association of Staff Nurses and  Allied Professionals (PASNAP), subsequently filed charges with the National Labor Relations Board.
WHYY News reached out to Jefferson Health Friday for a comment about the nurses' effort to start a union and their allegations, but did not receive a response.
Jefferson Health currently has 14 hospitals in Pennsylvania and New Jersey. There are about 215 nurses at Jefferson Frankford, and, if they are successful, they would be the first nurses to unionize in the Jefferson system. (A merger with Einstein Health, where some nurses are unionized, is pending.)
Lola Morgan, an intensive care unit nurse, told the crowd gathered Friday that the decision to unionize comes from an "unchanging lack of support" from Jefferson as it grows larger as a health care network.
"I remember a conversation with a co-worker before we began this journey. Morale was so low, and she simply stated it best: The bigger Jefferson becomes, the smaller our voices become — and the harder it becomes for us to be heard," Morgan said.
So the Jefferson Frankford nurses sought some PASNAP muscle. Since 2015, PASNAP has doubled its membership, from 4,500 to more than 9,000. In the last six years, its nursing locals have won 23 union elections.
Since the start of the pandemic, PASNAP has been behind many of the groups of nurses and health care professionals raising the alarm on staffing issues and patient safety. All of the locals either got contracts or are currently in bargaining.
Angela Cleghorn, local president of the Jeanes Nurses Association, was in attendance to express her support. Her local went through its unionization effort at Temple University Health System's Jeanes Campus in 2007, and she wanted to remind the crowd why the nurses were gathered outside Frankford Hospital Friday.
"We experienced some of the things that you guys are experiencing today. You just have to stay strong. The ultimate goal here is patient safety. How can we take care of patients safely and effectively if hospital administrators think that it's OK to overburden and overstress your workload? We all know it's not safe. That's why you're here," Cleghorn said.
Veronica Harding has been a registered nurse only since graduating in May 2020. She was hired by Jefferson Frankford in July. It only took six months to feel the burnout from her "dream job," an experience other new nurses have felt as well.
"As I work throughout the past year, one of the worst years to become a nurse, I realize I cannot provide those things for my patients with the resources I am given currently," Harding said.
The nurses were front and center Friday, but also present were several local and state officials, such as Philadelphia City Councilmember Helen Gym. Her remarks drew several bursts of applause from the crowd.
"I'm here because we have seen labor organizing rise up all across the city of Philadelphia, from small health care, nonprofits, to the Museum of Art, to media outlets, and right here on this corner. The future of the city lies in your hands. I know the fight feels overwhelming," Gym said.
Alluding to the gun violence and opioid epidemics along with the ongoing fight against the coronavirus, Gym said that the nurses have been working hard.
"We're all out here because we have been relentless about supporting you. And to hell with anybody who tries to bust a union. Not only is it a disgrace, it is illegal, it is unconstitutional, and every single person at the city, state, and federal level will fight it with every ounce that you got," Gym said.
Councilmember Kendra Brooks used her time at the microphone to acknowledge the city as home to many labor actions and collectives.
"Philly is a union town. And we have the right — you have the right to have union representation in this fight. And I'll stand with PASNAP wherever you go," Brooks said.
State lawmakers Jason Dawkins, Danilo Burgos, Sharif Street, Nikil Saval, and Joseph Hohenstein, as well as Councilmember Maria Quiñones Sánchez also took turns at the podium voicing their support for the nurses.

WHYY is one of over 20 news organizations producing Broke in Philly, a collaborative reporting project on solutions to poverty and the city's push towards economic justice. Follow us at @BrokeInPhilly.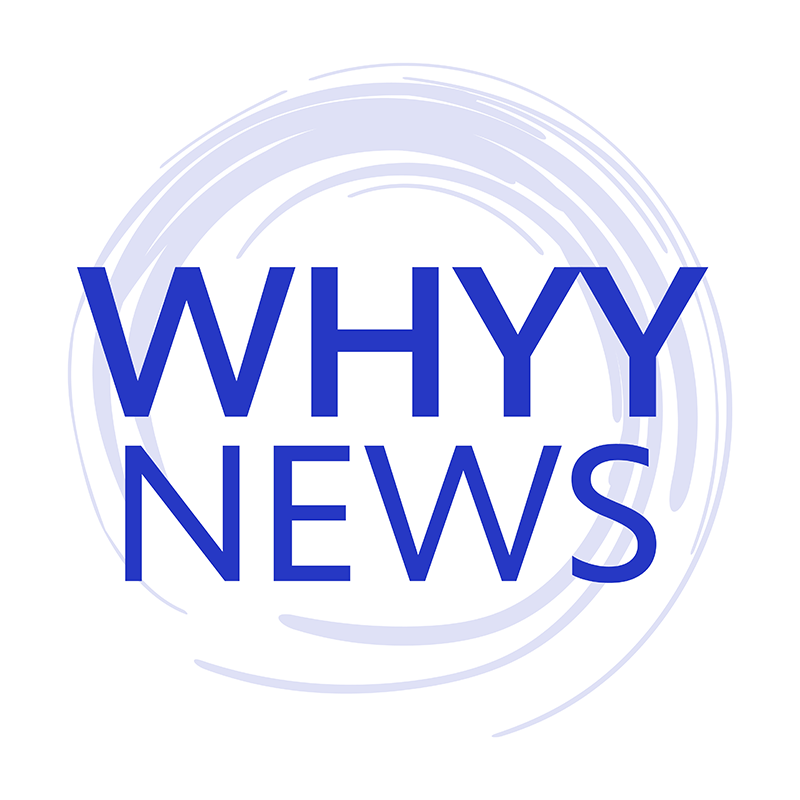 Get daily updates from WHYY News!
WHYY is your source for fact-based, in-depth journalism and information. As a nonprofit organization, we rely on financial support from readers like you. Please give today.