COVID expanded outdoor dining — and Philly officials say some changes may stay
Dining on the streets could become a permanent way of life in Philadelphia.
City Council will hold hearings on the outdoor dining regulations that transformed parking spaces, sidewalks, and even sections of some streets, into al fresco eateries over the past year.  The goal: to determine how to make expanded outdoor dining a permanent fixture.
"We think it has really helped a lot of restaurants, but more importantly [it's] one of the reasons why the city will come back stronger than it was before," said City Councilmember Alan Domb, who recently introduced a resolution to hold the hearings.
The discussion will center on legislation signed into law last summer that allowed owners of city eateries to expand their footprint so they could host diners in a COVID-safe manner. Soon, tables and elaborate structures popped up on city sidewalks and streets, especially in Center City, offering residents some semblance of pre-COVID normality and businesses a way to stay alive.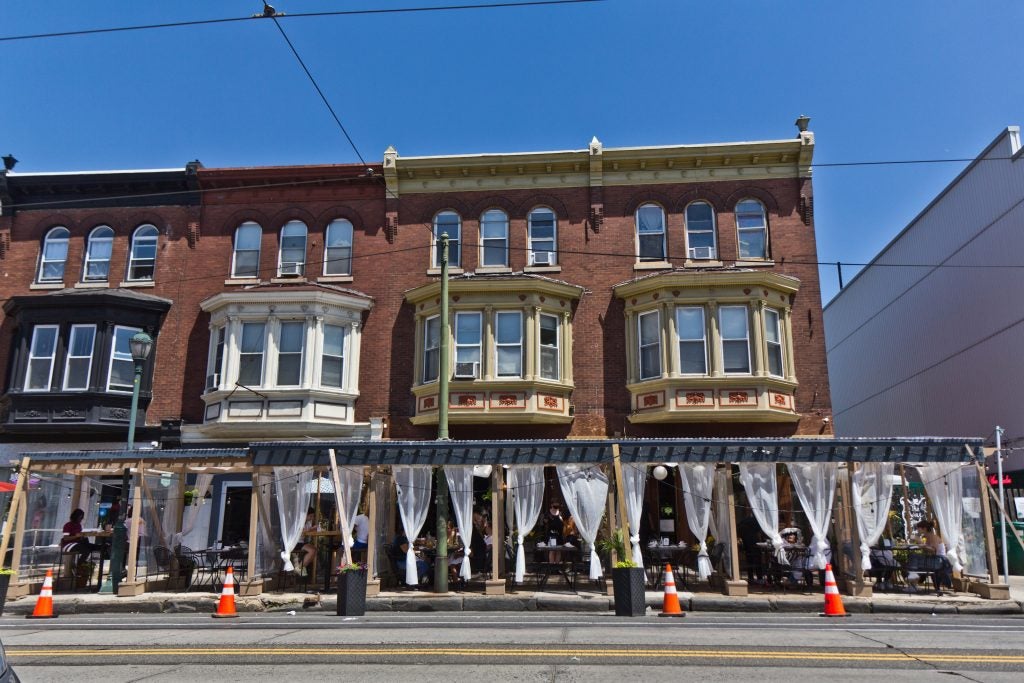 The al fresco eating even continued during the winter months as business owners found ways to keep diners toasty in the cold. That legislation was set to expire December 2020 before Council voted to extend it through 2021. Now, city lawmakers will consider the post-pandemic future of outdoor dining with a focus on how to adapt the legislation so it could work as a permanent regulation.
The city plans to hear from people like Saba Tedla, who owns Booker's Restaurant and Bar on Baltimore Avenue in West Philadelphia. There, a decorated, wooden outdoor structure runs along the front facade of the restaurant and covers the width of the sidewalk, sheltering diners from the elements. Tedla hopes to keep it.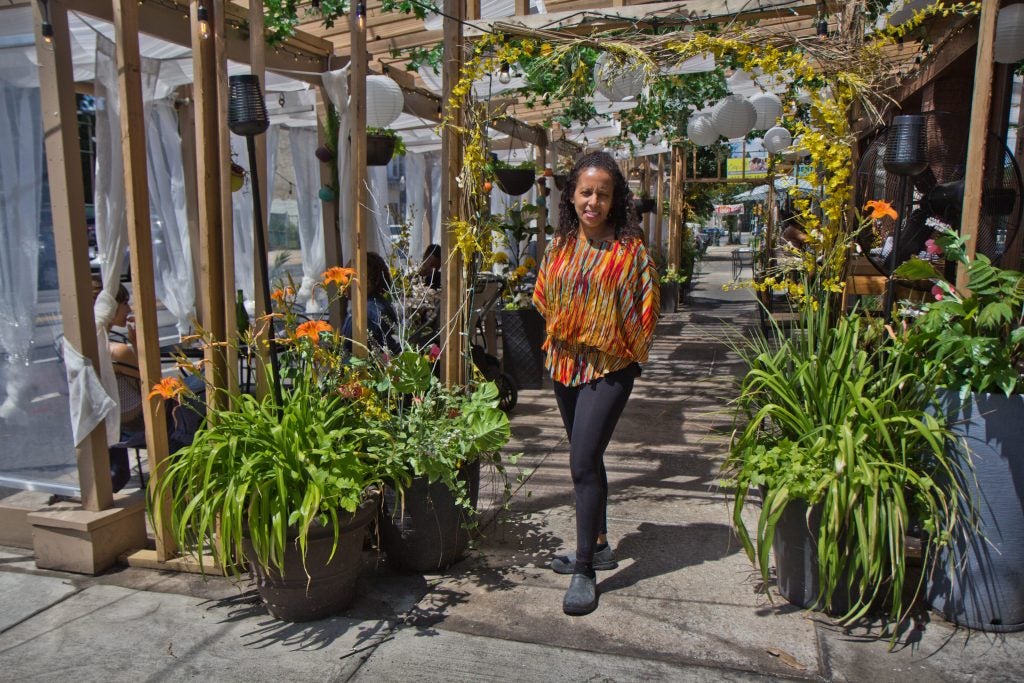 The roughly $14,000 outdoor investment has allowed her to expand her capacity by 40 seats — a jump from 80 to 120 seats. The owner said she had some outdoor seating prior to the pandemic, but using them depended on the weather.
Tedla said she used a local architect and contractor to build the structure and she purchases propane for heating from a local business. The extra seats are a win for the community, she explained.
"Having [more outdoor space] means more employment, more revenue," she said. "So people need to translate the economic improvement it can create in terms of a benefit to the city."
In her view, outdoor seating can increase safety, as more people are outside occupying the public space and bringing eyes to the street.
"It's not just people sitting here," Tedla said. "It increases awareness."
Ben Fileccia, a director of operations and strategy for the Pennsylvania Restaurant and Lodging Association, said the extra revenue generated by expanded outdoor dining could help restaurants recover from the pandemic. But he agrees that the benefits run deeper than money.
"We saw people sitting outside even on the coldest of nights,"  he said. "Even with indoor dining being open again, I think a lot of folks are still going to prefer to sit outside comfortably year-round."
A permanent program designed for safety and equity
Unlike many pandemic policies, expanded outdoor dining hasn't proven controversial. The seating has "contributed to a vibrancy on the street that has been welcome by many residents and visitors," Mayor Jim Kenney said through a spokesperson. "The administration looks forward to working with City Council, local business owners, and residents to work through the details regarding a potential permanent program that can be implemented in a safe, responsible, and equitable way."
Outdoor seating is not without its issues, however. The streeteries have raised concerns about accessibility and right-of-way. City records show Tedla herself received a right-of-way complaint, which has been resolved, and just last month a car crashed into an outdoor dining structure at Cafe La Maude in Northern Liberties. Onlooker Frederick Tookes said the possibility of such incidents deter him from eating outdoors.
"That's too close to call for me," Tookes told WHYY. "I mean tables out in the street!? When you gotta put your life in the hands of someone else driving by. That's what's going to happen from time to time."
Latoya Maddox of Disabled In Action Pennsylvania said she plans to participate in the hearings.  She uses a power wheelchair to get around and said very few of the outdoor dining setups she has seen have been accessible for her and other people with disabilities.
The setups can be a hassle to get through as tables, chairs, and swift-moving servers impede the right-of-way in the face of oncoming pedestrian traffic. Or if they want to enjoy a meal or drinks with some friends, Maddox said, the setups either don't have enough room for people with disabilities to dine or are set up in the street where there is no ADA curb cut.
"They really need to make sure that they reach out to the disability community for their input," Maddox said.
A spokesperson for the Kenney administration said that when the hearings do commence, city officials will be listening for those concerns and others.
"We are looking at the complicated issues around what elements of the current temporary program will need to be scaled back and what elements of the program may make sense to continue in the longer term," the spokesperson said.