Council President Clarke counters Domb's outdoor dining bill with his own
Philadelphia City Council's President introduces a dining out extension and says the current regulations are fine for outdoor dining.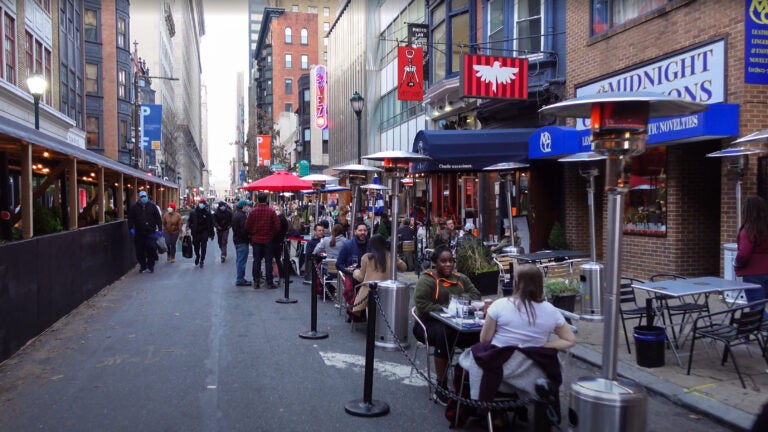 Councilmember Allan Domb's proposal to make outdoor dining more of a permanent fixture in Philadelphia is facing a challenge from Council President Darrell Clarke.
Clarke introduced his own bill today that would extend the temporary outdoor dining that began during the COVID-19 pandemic, but only until June 30. Domb's would allow outdoor dining to continue indefinitely.
Clarke said he wants to help the restaurant industry survive the pandemic, but believes that after June 30, restaurants should return to the city's pre-pandemic procedure for a variance.
"We [already] have the authority given to us by code to authorize the encroachment [of restaurants] on streets, on sidewalks," he said.
Clarke said, "I have, along with Councilman Squilla, approved more sidewalk encroachments than anyone in the city of Philadelphia. Right now, the process for sidewalk encroachments is: They make an application to the City of Philadelphia Streets Department, they vet it, there are certain requirements that allow passageway."
Clarke said he wants to preserve sidewalks for people who need them, including those with special needs that require additional space.
The pre-pandemic policy required a public hearing for people to weigh in about whether or not expanding the restaurant outdoors is good for the neighborhood.
The council president said his question is "what is that we can't currently do under the existing code that is being proposed?" He would not speak about councilmanic prerogative, which allows district members the ability to hold up bills that directly impact their district boundaries.
Clarke said there is a need for a public process, and if someone thinks they should be able to circumvent the process, they should explain why that should be done.
Councilman Allan Domb issued a statement about the Clarke bill saying "While this will provide a greater transition period to continue our work with restaurants, residents with disabilities, and the city to allow outdoor dining options to reach their full potential, we must also use this extra time to remain focused on the much larger vision for the city's future that includes al fresco dining as a permanent fixture for residents and visitors to enjoy across every neighborhood."
Both Clarke's and Domb's bills are expected to have a committee hearing sometime in the near future.
WHYY is your source for fact-based, in-depth journalism and information. As a nonprofit organization, we rely on financial support from readers like you. Please give today.