How climate activists are working to shift trillions of dollars away from fossil fuels and into renewables
They are increasingly targeting corporations, asset managers, and retirement funds with both moral suasion and financial muscle.
Listen
7:40
This story is part of the WHYY News Climate Desk, bringing you news and solutions for our changing region.
From the Poconos to the Jersey Shore to the mouth of the Delaware Bay, what do you want to know about climate change? What would you like us to cover? Get in touch.
---
In May, shareholders at two major oil and gas companies, Chevron and ExxonMobil, voted overwhelmingly against climate resolutions at their annual meetings. It's a setback to a burgeoning movement aimed at shifting trillions of investment dollars away from fossil fuels and toward renewables.
"It's incomprehensible that most investors still accept the U.S. super majors' refusal to cut emissions this decade," said Mark van Baal of the activist shareholder group Follow This, in a statement. "They all know the science: to avoid climate disaster, global emissions must almost halve by 2030. We have made it easy for investors to use the power of their votes, but most investors have yet to decouple short-term profits from long-term risks for the company and their portfolios."
For large investors, spring is what's known as "proxy season." It's the time when major shareholders at publicly traded companies and retirement fund managers vote on how corporations are run – everything from executive pay to new board members. Over the past few years, climate has been increasingly on the ballot.
The goal for climate activists is to force corporations to cut their carbon emissions and reduce fossil fuel investments. And they say it's a "time test," racing to stem emissions enough to keep average warming below 2.7° F  and prevent a"positive feedback loop." A recent U.N. climate report warns, "There is a rapidly closing window of opportunity to secure a livable and sustainable future for all."
While some climate activists try to organize investors from the inside, others target corporations and asset managers using tactics employed during the anti-apartheid movement of the 1980's. And some use traditional non-violent civil disobedience.
Securing the future
For more than two years, climate activists have picketed, protested, and blocked traffic at the sprawling suburban Philadelphia corporate headquarters of Vanguard – the second largest asset fund manager in the world.
Vanguard, which lies just down the road from a Target and a Chipotle Mexican Grill, doesn't get much foot traffic.  The audience for these protests is typically a few cops, and company employees driving by in their cars.
George Lakey, an 85-year-old Quaker activist, recently sat in a chair helping to block a main entrance while holding a banner that read, "Vanguard invests in climate destruction."
"I've got six great-grandchildren who are facing a world of adulthood that is just full of disasters, ecological disasters, because of the work that Vanguard is doing, [and] the choices Vanguard is making,"  Lakey said.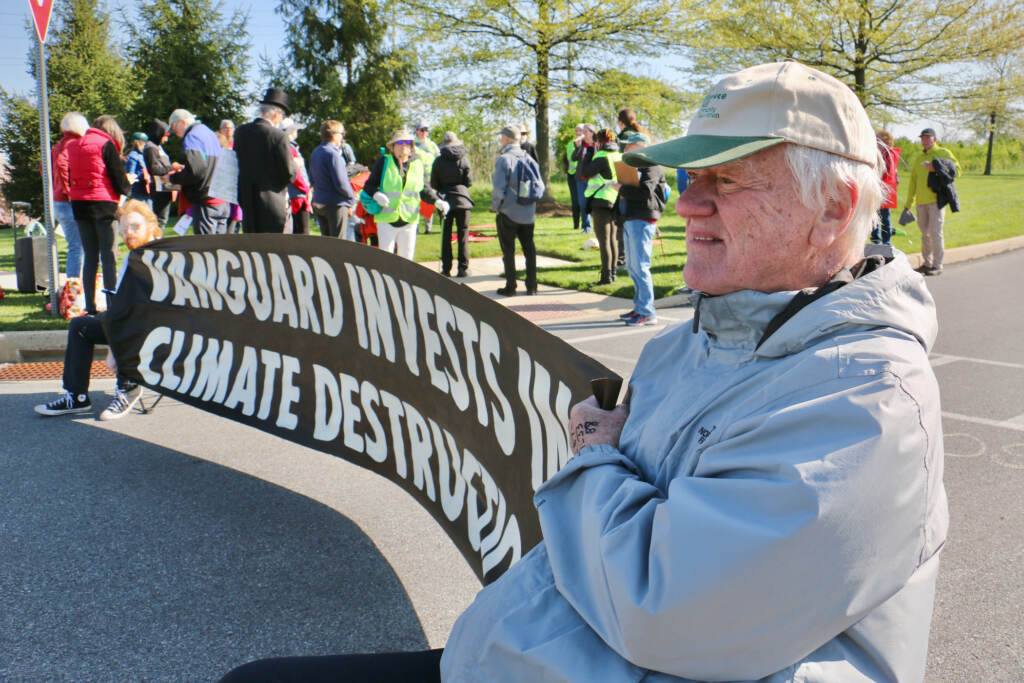 While Lakey is a member of the Earth Quaker Action Team, the group is part of the umbrella Vanguard S.O.S campaign, which targets the asset manager worldwide. The group wants a sit down with Vanguard CEO Tim Buckley and they've even taken their protest outside his house. Several protesters have been arrested by blocking the entrance.  They want Buckley to use the economic muscle of such a large company to move the needle on climate change and withdraw its funds from fossil fuels.
Vanguard manages $8 trillion dollars in investments for about 30 million individual or "retail customers" – that means people like teachers, nurses, bus drivers, and journalists like me.
Of all the asset managers in the world, Vanguard has the largest investment in fossil fuels, including $300 billion in coal, according to Vanguard S.O.S.
Lakey says regardless of any short-term financial gains, investing in fossil fuels is actually a losing bet.
"It says it's concerned with the future, and most people who invest in Vanguard are hoping their future will be secure while Vanguard is investing in insecurity," he said.
But so far, Vanguard hasn't budged. The climate activists haven't gotten a meeting with Buckley. And Vanguard has voted against pro-climate proxy resolutions for the past several years, according to analysts. It's unclear how they voted this year.
Turning attention to the company's employees, the Vanguard S.O.S campaign has spent tens of thousands of dollars running ads online, and on cable TV in Chester County. The ads include the tagline, "If it's bad for the environment, it's bad for your retirement."
They're hoping to convince workers to put internal pressure on Vanguard.
But organizing Vanguard employees has not been so easy.
"We are learning that the fear in the U.S. of losing their job if they were to engage with our campaign is very, very real," said Roberta Giordano, finance campaigner with the Sunrise Project, one of the many groups working under the Vanguard S.O.S campaign banner. "And so that's a very real barrier. That's been really eye opening for us."
Giordano says the ads and the protests do grab attention and help to educate Vanguard's customers, but the group is still testing what kind of tactics will work.
While Vanguard declined an interview, it states it's committed to limiting climate risk for its investors.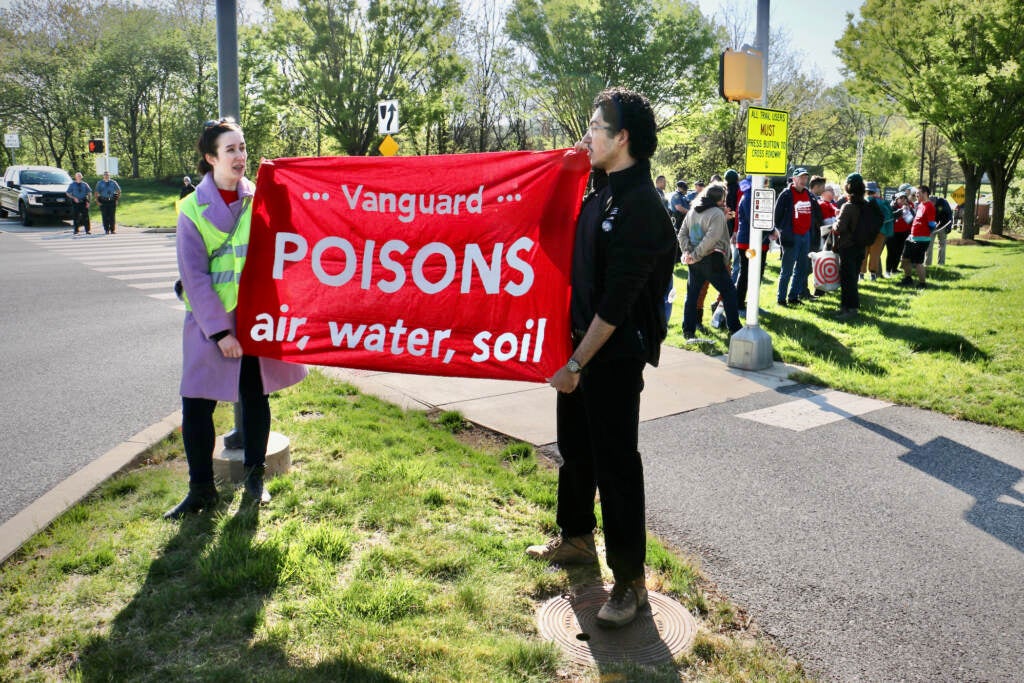 Corporations and asset managers also face attacks from the right wing, who say any asset manager or investor that uses climate costs to calculate investment risk are too "woke." While climate activists also campaign to convince BlackRock to divest from fossil fuels, the CEO of BlackRock, Larry Fink, continues to fend off attacks from the right wing.
"You have people on the right claiming that Larry Fink at BlackRock are representing woke, ideological, green interests," said Witold Henisz, vice dean and faculty director of the Environmental, Social and Governance program at The Wharton School of the University of Pennsylvania. "And then you have people on the left, like the people behind the Vanguard S.O.S. campaign, saying that [asset managers] are not doing enough and they're destroying the planet."
Last year, Vanguard angered climate activists for pulling out of an international initiative aimed at cutting carbon emissions. The company says it made the decision to withdraw from the Net Zero Asset Managers (NZAM) initiative to preserve independence and prevent confusion. 
"This change in NZAM membership status will not affect our commitment to helping our investors navigate the risks that climate change can pose to their long-term returns," Vanguard wrote in a statement. "We will continue to provide investors the information and products they need to make sound investment choices, including products designed to meet net zero objectives. We will continue to interact with companies held by Vanguard funds to understand how they address material risks, including climate risk, in the interests of long-term investors. "
Flowers and flyers
Vanguard is not the only retirement fund climate activists are targeting.
On a recent spring day on the University of Pennsylvania's campus, hundreds of Wharton school graduates filed into the Palestra for commencement.
Greeting them were a handful of climate activists with a black and red banner and signs that read "TIAA Divest!  – Divest from Climate Destruction."
Some graduates cheered, while others gave the thumbs up or put their fists to their hearts. Some were surprised that their commencement speaker Thasunda Brown Duckett, CEO of the retirement services firm TIAA, had not divested from fossil fuels.
As family and friends streamed into commencement the climate activists handed out flowers, along with information about TIAA's fossil fuel investments.
"Most people that we talk to are shocked when they find out that TIAA is not even on par with their peers when it comes to fossil fuel exposure," said Iris Bloom, an organizer with TIAA Divest!
TIAA is a $1.2 trillion dollar nonprofit company that began serving teachers a century ago, and provides retirement accounts to nonprofit workers. It bills itself as socially conscious but climate activists point to a report by the Institute for Energy Economics and Financial Analysis, which calculated that TIAA has $78 billion dollars of fossil fuel investments, including the multi-national coal mining giant Adani.
Bloom says a large part of their strategy is getting that type of information into the hands of powerful people.
"Wharton MBAs, a lot of them are oriented to climate solutions," Bloom said. "These are not the people that are gonna be leading us further into disaster. So we want people to pressure TIAA with a big unified voice, pass resolutions, talk about it, talk to their financial advisor, push for divestment."
Bloom's strategy is friendly and fun. She and her colleagues got about 400 informational sheets into the hands of some of the wealthiest and most influential people in the world.
But will this strategy work?
Bloom says the same tactics worked in the 1980s when pressure was put on universities and companies to pull their money out of South Africa to end apartheid.
"So, we won!" Bloom said. "The anti-apartheid struggle won. And that is very motivating to make sure we win with this divestment work as well."
She says the focus of TIAA Divest! is also on faculty resolutions — very different from shareholder resolutions — in that they seek to put pressure on the asset managers from the outside.
"It's a very calm tool," Bloom said. "It helps educate people."
This tactic helped build momentum for universities and corporations to divest from South Africa's apartheid regime. But still Bloom says the pressure needs to come from multiple groups.
She points to the successful campaign at Harvard University, which made the decision to divest after 10 years of pressure from students.
"By pulling out they give a signal that we're not investing in climate destruction anymore," she said. "That's what we need in the financial markets."
Last year, the group collaborated with the Center for International Environmental Law to file a formal complaint with the Principles for Responsible Investing, of which TIAA is a participant, accusing the asset manager of greenwashing. Hundreds of university professors signed on to the complaint.
TIAA says it would rather engage with the companies it invests in to reach climate goals, not divest.
"Our clients have a range of views regarding how to invest in energy assets and we offer asset choices that reflect those views," said TIAA spokesperson John McCool in an email. "But first and foremost, we act as fiduciaries to our clients and their assets, and our clients' best interests drive how we make climate change decisions, and all other investment decisions, for our portfolios."
When it comes to retirement funds, climate activists say fiduciary responsibility includes the well being of clients. After all, the impacts of a warming climate, including fires, floods, and deadly heat waves puts everyone at risk.
Money may move the needle
Wharton professor Witold Henisz says while some people want a win-win – make money and fix climate change, most really just want to make money. For asset managers making decisions about how to invest individual retirement accounts, they're hedging bets.
"This is why it's so hard if you're an asset manager, because you could be exposing your investors to risk by holding ExxonMobil. You could be exposing investors to risk by not holding ExxonMobil," Henisz said. "And it really depends on what happens between now and 2050. And so it's not an easy call to divest. These aren't easy choices. It's hard to make money in the financial markets."
Henisz says to make change in the financial sector there needs to be more information that puts a dollar amount on things like health impacts from burning coal, or costs of sea level rise from melting glaciers. And have a system where the corporations pay those costs.
Henisz says even if the activist strategies are successful, who's to say another investor won't take their place?
"There's very limited evidence that coordinated divestment can work," Henisz said. "If you think about what would happen if Vanguard sold all of its coal stocks or all of its oil stocks – if Vanguard sells them, someone's going to buy them. And the person who's going to buy them might not care as much about the climate transition as Vanguard."
But Iris Bloom, from TIAA Divest! says eventually there will be fewer and fewer willing to invest in fossil fuels.
"The more successful we are, the fewer players there are that could snap up those investments," she said. "And it becomes untenable because you have this developing momentum towards the renewable energy economy and it becomes irresistible and unstoppable at a certain point."
Working from the inside
A number of groups are working within the system to change investment strategy using proxy voting. They offer up climate resolutions – seeking to have the corporation cut their ties with fossil fuels, or invest more in renewable energy.
"What investors tell me is, 'We don't do this because we are thinking about something altruistic,'" said Kirsten Snow Spalding, vice president of the investor network at Ceres. "[They say], 'We are doing this because it's critical to the bottom line in the long term.' And we really do have to take a long term perspective."
In other words, investing in fossil fuel will be bad for business. Climate disasters are costly.
Ceres has 220 institutional investors that together manage $60 trillion in assets. Snow Spalding says they agree that climate is a risk that should be included in investment calculations.
"We're seeing more action from the companies in terms of addressing climate change," Snow Spalding said. "So they want to produce the best returns for their clients or if it's a pension fund for their beneficiaries. That's the reason they're acting on climate."
As far as success, Snow Spalding says the conversations between the major shareholders and large companies around climate risk are becoming more "robust."
She says there has been a shift this year with investors trying to hold companies accountable for "greenwashing."
"Investors are asking the companies in their portfolio how they're lobbying," she said. "And in some cases, we see companies who've made a strong commitment to reduce their own emissions, but then they're part of industry associations that say they don't believe in climate change. And so there's a complete misalignment between a business plan and the advocacy work."
Snow Spalding says the other trend with climate resolutions includes taking a hard look at capital expenditures.
"So they want to make sure that these companies are investing in climate solutions," she said. "They should instead be investing in alternatives that are going to change the energy mix over time."
About $40 trillion dollars have moved out of fossil fuels so far, according to the Global Divestment database – the bulk from faith-based and educational institutions.
Back at the Wharton graduation, Iris Bloom says she's optimistic, in part because dollars are at stake.
"I care about life and health. But even in terms of finances, the climate crisis is unaffordable. And everybody knows it."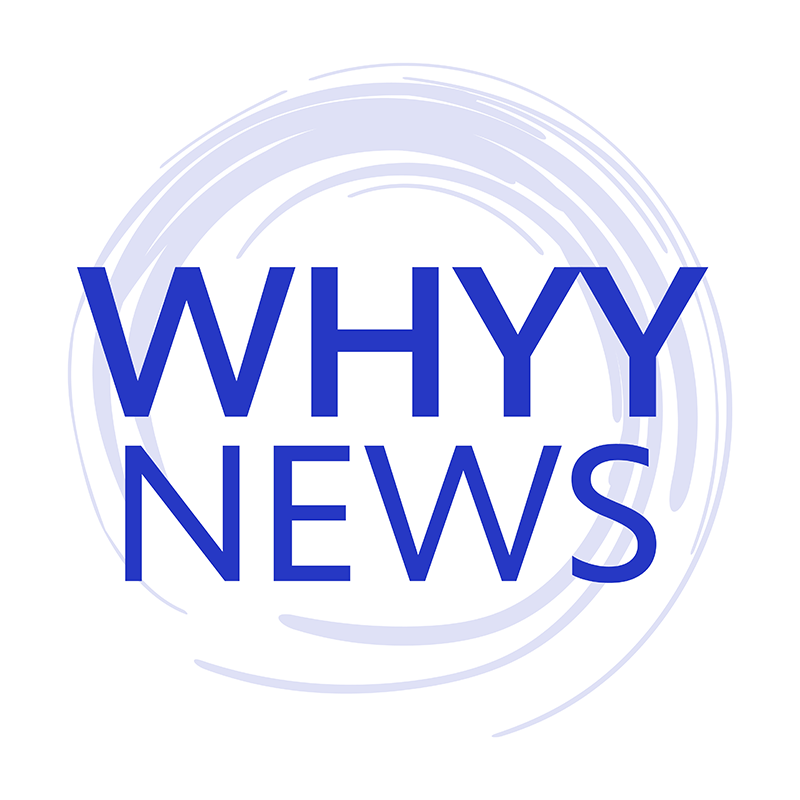 Get daily updates from WHYY News!
WHYY is your source for fact-based, in-depth journalism and information. As a nonprofit organization, we rely on financial support from readers like you. Please give today.