A tale of two red counties: How vaccine efforts are playing out across Pa.
Although political extremes affect attitudes toward the pandemic, they don't cleanly predict the willingness to get shots. Consider these two red counties.
Listen
3:58
Ask us about COVID-19: What questions do you have about the coronavirus and vaccines?
On a sunny afternoon this week, Jason Kramer, a pharmacist in Danville, Pennsylvania, went to an amusement park, but not for fun.
He was there to give out COVID-19 shots.
Kramer works at Danville Pharmacy, a local business in a town of about 5,000 in largely rural Montour County, where support for former President Donald Trump is robust and skepticism about the pandemic can be common. But Kramer said that, in his experience, it's been fairly easy for his pharmacy, which works closely with the county on vaccine distribution, to get shots in arms.
He thinks a lot of it comes down to trust.
"We're very hands-on," he said. "We're a small-town pharmacy. So, you know, we had a significantly good rapport with the community … I think our name, within the town of Danville, certainly carries some weight and probably helped us with credibility."
Vaccination rates vary wildly in different parts of Pennsylvania.
The state is home to one of the bluest congressional districts in the country, as well as 47 counties — out of 67 total — where more than 60% of voters went for Trump.
But although those political extremes affect attitudes toward the pandemic, they don't cleanly predict the willingness to get shots. Recent data from the Centers for Disease Control and Prevention shows that the rates of people who consider themselves at least somewhat hesitant to get the vaccine range between 12% and 19% in Pennsylvania's counties. Philadelphia, the bluest place in the state, is on the high end with 17% hesitancy — a statistic that public officials have theorized is due, at least in part, to historic health care inequities in communities of color.
And while many of the state's reddest counties are at the bottom of the list in terms of total vaccination rates, other deep-red counties have seen more people get the jab per capita than reliably blue areas. In the Philadelphia suburbs, local leaders attributed lags early in the vaccine rollout to not getting enough doses from the state to cover their populous areas.
Particularly in some of the state's most rural counties, factors that seem to matter most when it comes to getting vaccines in arms are logistical: namely, population density and existing health care infrastructure.
Consider two counties, both far outside major metro areas, with similar populations: Montour, in central Pennsylvania, where Kramer works, and Potter, along the commonwealth's northern tier.
In the 2020 presidential election, about 60% of Montour County voters cast ballots for President Trump. The number was even higher in Potter — 80%. Montour has a population of around 18,000. Potter has about 16,500 people.
But when it comes to vaccination rates, the two are extremely different.
Montour has one of the highest levels of vaccinated people in the commonwealth. Out of its entire population, more than half the residents had gotten at least one dose as of May 12. Among people 65 and older, the rate is the highest in the state: almost 90%.
Potter has the lowest overall rate in Pennsylvania: a little over 18% on May 12. About 41% of people 65 and older had been vaccinated. And the county has the highest rate of infections per 100,000 people in the state.
A significant part of the difference has to do with geography.
Montour is one of Pennsylvania's smallest counties by geographic size. Though its population isn't big, it's much denser than Potter, which is heavily forested and renowned for its distinct lack of people — it has some of the darkest skies and most popular stargazing sites in the region.
Montour County also has a huge advantage when it comes to medical infrastructure. Geisinger Health Network, which serves a big portion of north and central Pennsylvania, has its headquarters in Danville, the county seat.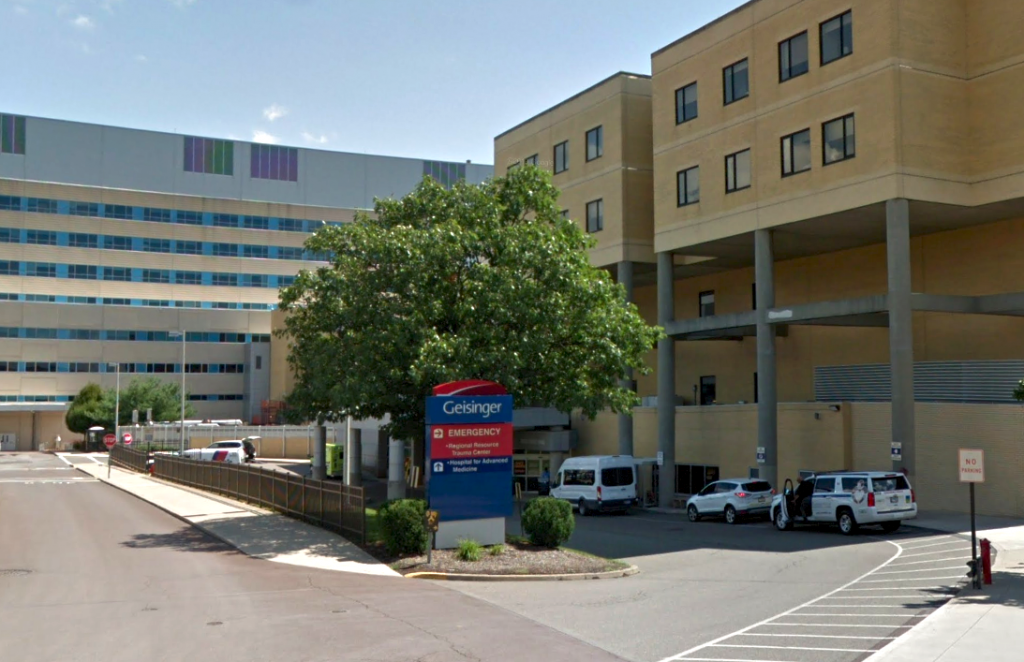 Kramer described it as "a health system that you would expect to see in any large city, but we happen to have in middle-of-nowhere Pennsylvania."
Montour County Commissioners Chair Ken Holdren said a side effect of that arrangement is that a big portion of the county's residents works in health care.
"I would suggest that we didn't get the pushback [against vaccines] experienced in a lot of the rural areas of the state because of the medical population and the medical workforce," said Holdren, a Republican. "If you think about our county, almost every home will have someone who is somehow related to Geisinger. The education they get through Geisinger … probably offset some of the conservative Republican things that you saw out there in other rural parts of the state."
Allison Hess, vice president at Geisinger, said she also noticed that Montour seems to have had a head start getting people on board with the highly politicized vaccine.
It "certainly helps" vaccination rates, she said. "We have a large number of community members that are also employees and are our ambassadors."
Holdren said creating the infrastructure has also been fairly easy. Geisinger has set up a number of vaccine clinics in the area, including one in Danville, in office space that wasn't being used because of people working from home during the pandemic. And local providers like the Danville Pharmacy — which primarily serves nursing homes but has branched out in its vaccine distribution efforts — have worked closely with the county to make vaccination convenient.
"They basically do, you know, mass production of shots," Holdren said. "They did it very efficiently, people would be scheduled at 10-minute intervals, and they were able to run a lot of people through those clinics."
Paul Heimel, a Potter County commissioner who has been heavily involved with vaccine distribution efforts there, said that where he lives, by contrast, there are a lot of natural challenges. For starters, his county only has 16 people per square mile, on average. That has led to it being a somewhat lower priority compared with denser areas, where the virus can spread faster and it's easier to administer more vaccines quickly.
"The biggest problem in the remote mountains of northern Pennsylvania was a delay in supplies," Heimel said. "In a rural county without a Department of Health, we were somewhat limited in our effectiveness to lobby and push and advocate to get the supplies here."
When vaccines did finally start flowing into Potter, he said, there was a backlog. And there were also considerable challenges with finding ways to distribute the doses among Potter's sparse population.
The amount of print media in Potter — as in many rural communities — has declined, Heimel noted. That has made it hard to put information in any kind of central location, a limiting factor combined with the fact that there is inconsistent access to reliable internet service.
That has led to what Heimel, who used to work in radio, calls a "shotgun approach." The commissioners push out a lot of information on social media, and Heimel has also been single-handedly running what is essentially his own news service, Potter County Today. It keeps track of case counts and vaccination rates, along with other countywide news.
One thing it doesn't really do is wade into politics. Although Potter is a conservative county, and Heimel considers himself to be conservative too, he thinks political arguments about the pandemic are distinctly unhelpful. He acknowledged, though, that partisanship about the pandemic has led to differences of opinion among local officials.
He and his fellow commissioners declined to "jump on the bandwagon of open up Pennsylvania, where some of our colleagues decided to lobby the state government to loosen the restrictions and allow businesses to open before the medical advice called for that." But that stance means that, unlike some counties, Potter commissioners haven't worked particularly closely with their local state representatives, Republicans Martin Causer and Clint Owlett, or with their state senator, Republican Cris Dush.
"They certainly have been eager to join the open up Pennsylvania movement," Heimel said.
In the past few weeks, Heimel said, he's seen more movement on vaccines. The supply in Potter is finally increasing, and he thinks as vaccine availability has gone up, he has seen hesitancy among residents go down a bit. And with more populous counties well on their way to getting vaccines to vulnerable populations and people who want them, the state Department of Health has turned its attention more fully to places like Potter.
Just in the past week, he and the other county commissioners began working with the Health Department to set up mobile clinics to reach "outlying areas," collaborating with EMTs, food banks, and housing authorities to get doses to people who need them.
"We're making a lot of progress," he said.
Get more Pennsylvania stories that matter
WHYY is your source for fact-based, in-depth journalism and information. As a nonprofit organization, we rely on financial support from readers like you. Please give today.