Each new year is full of unwritten promise. What kind of year will we collectively author for Philly? Here's my annual civic wish list, six hopes for change in 2015. Share your wishes in the comments below.
Protected Bike Lane on JFK/Market
May 2015 be the year that our politicians find the will to build a protected bike lane in Center City – starting with one already designed and tested.
Dreams of protected bike lanes on JFK and Market Street, from roughly City Hall to the Schuylkill River, have been floated since at least 2009. For Park(ing) Day 2011 Center City District (CCD) and the Mayor's Office of Transportation and Utilities (MOTU) showcased the project and installed a mockup of what the planted buffer might look like, separating car and bike traffic. For two weeks in fall 2011 CCD and MOTU also tested the impact of lane closures that would accommodate a cycle track, confirming that three traffic lanes could handle traffic flow well. Deputy Mayor for Transportation and Utilities Rina Cutler confirmed last year that while designs are done, the project is waiting on political will.
But it's high time to reclaim JFK and Market from their auto-centric urban renewal beginnings and offer a 21st century alternative. Work could begin on JFK/Market with protections installed on the cheap, using flexible bollards or Jersey barriers, and make the eventual upgrade to a planted median or large planters. Last year Pittsburgh installed a one-mile protected bike lane for under $75,000.
Protected lanes on JFK/Market would provide key bike infrastructure between Center City and University City, create a stronger connection to Schuylkill Banks, and help future bike share users (who may be unsure city cyclists) feel safer on two wheels. More broadly, protected bike lanes would make JFK and Market better for all users. Pedestrians would have shorter crossings on the wide streets. Bikes and cars would no longer be jockeying for common space, which could reduce conflict and crashes. The buffer's medians or planters are a beautification opportunity that would make these business corridors more attractive and send a business-oriented message about Philadelphia's growing green values.
This summer a rat was run over on my block. Its squished remains stayed on the street, shape-shifting daily by more cars running it over, until it was reduced to a splotch on the pavement. Final removal of its remains came in the form of a torrential rain storm. What was the alternative? It's time to bring back citywide street cleaning.
A clean city is one of the strongest signs of civic pride and of functional government I can think of. But it's been years since Philly had a regular street-cleaning program.
The Streets Department told City Paper last year that bi-weekly mechanical street cleaning would cost $3 million annually, after an initial equipment investment of $18 million. But parking, not cost, is seen as the reason Philly isn't doing this work already. But that's a false choice.
Yes, it's our collective responsibility to put litter in its place, but it would also be nice if the city could step up with the heavy cleaning artillery on a regular basis. How about the day after trash day? I'd be happy if the city could start with monthly cleaning April through November. Our streets, our neighborhoods, our waterways all deserve better. I'd like fewer rat splotches. Also fewer clogged storm drains, and trash tumbleweeds while we're at it.
Street washing near Independence Hall, 2014

Rare street sweepers on Lombard, 2014
Preservation Survey
Last year Councilman Jim Kenney introduced legislation to boost the resources of the Philadelphia Historical Commission in an effort to ensure more buildings listed on the National Register of Historic Places are also given local protection. That's nice, but Philly should be funding and fundraising for a citywide historic resource survey.
I sound like a broken record here, but Philadelphia is overdue for a comprehensive look at its historic resources. The Philadelphia Register of Historic Places is woefully incomplete, which is unfair to both designated property owners and all those left out historic corners of the city totally worthy of designation but with nothing in place to help manage change. It's time to be strategic, holistic, and smart in our thinking about preserving Philly's undeniable history while making room for the city to evolve. The time is right for a survey as district plans are finished and the new zoning code is implemented, to ensure that community landmarks and intact historic neighborhoods are protected aren't saddled with incompatible zoning.
Neither the Historical Commission nor the Preservation Alliance seems to have the courage or capital to take on a survey alone. Foundation support and political clout would go a long way here.
It's time for Philly to stop seeing its past as an inconvenience or an impediment to development. Instead, our built heritage is an asset that makes us unique and provides layered benefits – preservation can be a neighborhood revitalization tool, an environmental responsibility, an affordable housing source, and community and economic development driver. To capitalize on any of these values it's time to go back to basics: Put survey teams on the street this year.
Land Bank Deposits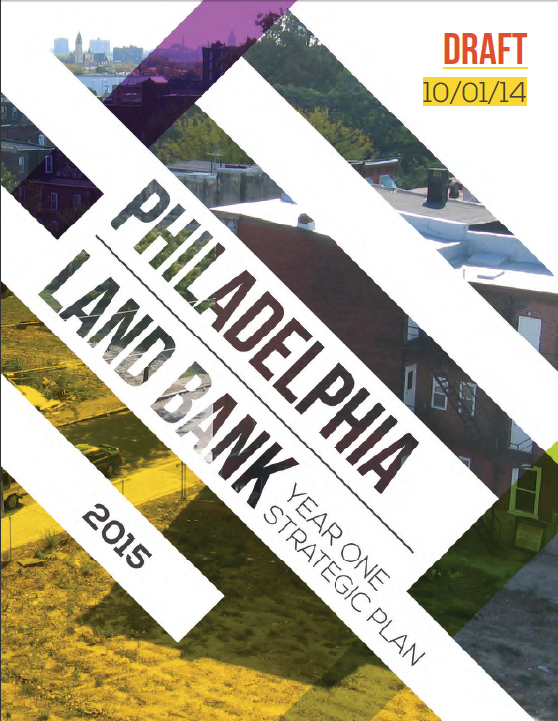 The Philadelphia Land Bank is our city's best hope for combating the city's pernicious blight and vacancy. It's a robust tool to put dead sites or deadbeat-owned lots into responsible hands for new uses. But City Council actually has to use the land bank for it to work.
To kick off the year, Councilwoman Maria Quiñones-Sánchez will offer the first 17 properties for sale through the land bank.* The councilwoman, who was instrumental in the land bank's development and passage, is leading by example and her colleagues would be wise to follow. It will soon be up to each and every district councilmember to help kickstart the land bank by putting their portion of the estimated 8,000 publicly owned eligible properties into the bank. So far, Council's interest is tepid. To understand City Council's trepidation is to understand the land bank's powerful potential.
The vacant city-owned properties that drain neighborhoods are also a source of power for district council members, who act as gatekeepers for their redevelopment. Many to relish the control this affords them over land use in their districts. Some in council seem to prefer presiding over municipally owned blight and vacancy than push for strategic reuse opportunities through the land bank. But remember, district council members must approve the transfer of municipally owned property in their district into the land bank and any subsequent sale or disposition of that same property. Council's role is hardly diminished. They just need to get comfortable with a new process and help the communities they represent understand how it works.
If you're tired of blighted city-owned properties in your neighborhood, tell your councilperson you want to see them all put into the land bank. The land bank shouldn't just be a convenient pass through for individual properties at the whim of a district councilmember for the benefit of a particular project. That's too transactional. It should be what the name implies: a repository where properties are deposited, held, maintained, and ultimately transferred to new owners. No deposit, no withdrawals. No withdrawals, no change. The time to invest in a city with less blight in its future is now.
Adjust the Zoning Board
One of Mayor Michael Nutter's early campaign promises was to reform the Zoning Board of Adjustment. The implementation of the new zoning code is a signature achievement of the Nutter administration, but it's time to finish the job. Carry zoning reform the last mile and shake up the Zoning Board of Adjustment.
To do a better job the Zoning Board of Adjustment (ZBA) needs staffing, prep, more technical training, and high-capacity board members who actually care enough about zoning need to sit there. (I see only two: Current chair Julia Chapman is infinitely more patient and respectful than her predecessor Lynette Brown-Sow. Board member Greg Pastore is often the lone dissenting voice, less inclined to give developers handouts simply because they ask.) The ZBA needs fewer board members who see any development as good development and more board members willing to uphold the city's new zoning code – making developers prove a hardship in order to obtain zoning relief. Otherwise ZBA is just a weak link that can undermine years of planning and zoning reform.
The ZBA would be more transparent if its records more searchable online and more accountable if it produced an annual report summarizing its decisions.
Vote
We're in a woefully long period of low voter turnout. Turn that narrative on its head, Philly. Vote. This year, we'll elect a new mayor and members of City Council. The races are still shaping up and we at PlanPhilly will help keep you informed about where candidates stand on our core issues, including planning, community and economic development, sustainability, transportation, and preservation. Primary Day – often the lone election of consequence here – is May 19. Mark your calendars, make a plan. No excuses. Philadelphia forced me, a long unaffiliated though faithful voter, to register as a Democrat just to vote in primaries. Whatever your personal calculations are, may I at least urge you to vote? If that's a given for you, make sure others in your life vote. The last day to register before the primary is April 20th.
* UPDATE: An earlier version of this column stated that Councilwoman Maria Quiñones-Sánchez transferred 17 properties into the Land Bank – instead they are being offered for sale via a Request for Proposals through the Land Bank.
WHYY is your source for fact-based, in-depth journalism and information. As a nonprofit organization, we rely on financial support from readers like you. Please give today.