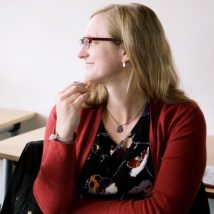 Ashley Hahn launched Eyes on the Street for PlanPhilly in 2011, and served as PlanPhilly's managing editor from September 2015 until July 2017. She holds masters degrees in city planning and historic preservation from PennDesign. Ashley's career has included time as an alt-weekly reporter and staffing a revolving loan fund supporting restoration construction projects in New York City. She has lived in 12 zip codes that she can think of, including neighborhoods in Los Angeles, Chicago, Boston, New York and Philadelphia. She is proud to call 19147 home.
More from the Contributor
PlanPhilly
The Discovery Center, a new kind of environmental and leadership education center opening this month, is unlike anything else in Fairmount Park.
2 months ago
PlanPhilly
What if the library could mend public life?
Ashley Hahn checks out the Free Library's Center for Public Life, a new unit that's aiming to connect Philadelphians of every stripe through cultural and civic programs.
4 months ago
First up in a series about Philly's changing public spaces, Ashley Hahn heads to LOVE Park looking for love and finds plenty.
7 months ago