At rejuvenated Logan Library, room for the noisy joy of teenage kicks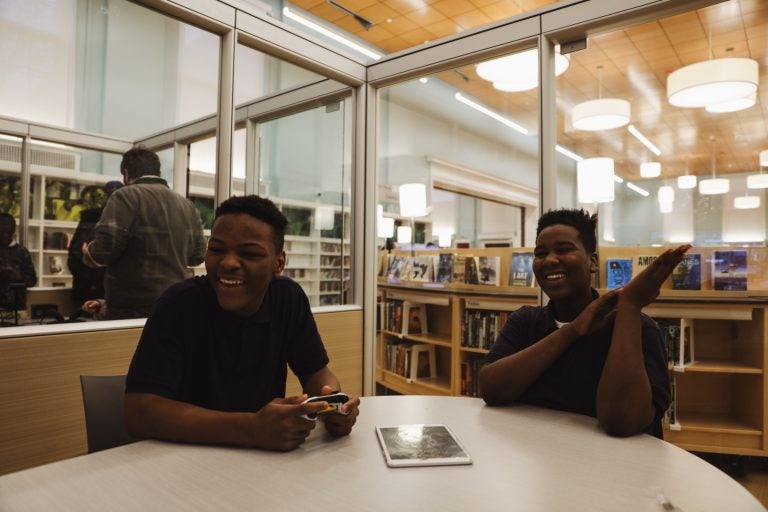 Midafternoon on a cold Thursday, the after-school crowd arrived like clockwork. Teen regulars pushed through Logan Library's heavy wood doors, some with younger siblings in tow, greeted friends and staff, and dropped their bags to spend the rest of the day in the warm space.
"At three o'clock it becomes a young people's library," explained Fred Ginyard, North Central Community Organizer for the Free Library of Philadelphia, as we surveyed the space.
Waki Perry is among those young people. The 14-year-old is one of several Perry siblings who are welcomed at the library nearly every day it's open.
"Say we're having a bad day, they want you to talk to them," he said of the library's staff. "If I feel sad or mad, they ask what's wrong."
"Miss Lynne is the best," Perry adds, referring to Lynne Haase, Logan's head librarian. "She treats everyone right, no matter who you are."
That's the profound promise of public libraries, to welcome anyone and everyone. But consider how revolutionary a proposition that is for teenagers, who need healthy doses of freedom in a world otherwise constantly telling them where to be and what to do. It is a space that models tolerance, patience, and sharing among strangers — all helpful in negotiating city life. For young people, libraries are also the rare social space where spending power isn't a requirement for spending time.
Since Logan Library reopened last year after a $7.2 million overhaul, it quickly gained popularity with teens who say they appreciate a supportive neighborhood space to be themselves.
Logan Library is a familiar Carnegie library, a proud neoclassical brick building that has stood for 100 years at the intersection of Wagner Avenue and Old York Road. It currently serves a neighborhood where the overwhelming majority of children are black, and more than 30 percent of the population lives in poverty, which is slightly higher than the city's already high average.
On November 10, the newly renovated and reopened library celebrated its centennial with a boisterous birthday bash featuring cake, balloon animals, dancing, music, and poetry.
"I personally love a loud library," Siobhan Reardon, president of the Free Library, told me over the happy din of Logan's birthday party. Quiet space is still important, she stressed, but so is room for those who learn better through conversation and communication. "The beauty of these 21st Century Libraries is that they're awfully flexible. Once we took down the formality around being in a public library, 'make it yours' became the operating mantra."
Logan was one of four neighborhood branches to be upgraded through the Free Library's Building Inspiration: 21st Century Libraries Initiative, funded by a $25 million William Penn Foundation* grant. The mission: to create more flexible, accessible spaces, recalibrated to prioritize uses beyond books.
Libraries everywhere are evolving. Reaching beyond their traditional roles, they are answering the diverse demands of young readers, bilingual families, job seekers, seniors, and yes, teens. Renovations like the one at Logan present a chance for the Free Library to seize these opportunities.
Lynne Haase, Logan Library's manager (Neal Santos for PlanPhilly)

Logan Library is a Carnegie Library that opened in 1918. It reopened after a major renovation in 2017 (Neal Santos for PlanPhilly)

Logan Library buzzes with young people after school (Neal Santos for PlanPhilly)

Logan Library now has more public computers (Neal Santos for PlanPhilly)

Logan Library's renovation opened up the double-height main room and now has casual, movable furniture (Neal Santos for PlanPhilly)
Physically, Logan Library's renovation plays to the building's historic strengths, like an open plan and natural light that washes in from tall windows. The new interior design is casual, with walls painted in a pale aqua, drum-shaped lamps suspended from the high ceilings, and blonde wood. All the furniture is movable, making infinite reconfigurations possible. It has several more computers now, though there never seem to be enough, and two enclosed glass study rooms that can be reserved.
It also has one of the Free Library's few official "teen zones," now equipped with a larger stock of young adult books and a snug circular booth, with curved upholstered benches surrounding a table and flat-screen television. Unlike teen spaces found in other libraries across the country, it doesn't try to telegraph a slouchy teenage informality through its furnishings. Rather it's about being a useful, welcoming, and adaptable space.
Since the renovation, Fred Ginyard has worked with Logan Library to do community outreach, making sure the neighborhood's needs are being reflected there. For teens, that means space for self-determination, supported by a staff confident enough to be flexible and open.
Logan Library reopened with teen programs about poetry, film, and gender identity. There's also a teen book club that's slowly gathering steam. One afternoon when I visited, teens were visiting cities around world through virtual reality demonstrations with library staff. But Haase sees the library as a gateway to other experiences of this city, too.
After realizing that many of the teens she works with had never been to a professional sports game or any of the city's museums, Haase secured funding through the library to create an "Urban Explorers" program. The program, which will begin in 2019, will take teens on cultural outings in the city.
"It frustrates me because Philly shouldn't just be for some people," she said. The teens might not like everything they do, but Haase wants them to try. First up is a Mural Arts tour and trip to Reading Terminal Market.
"We want to ensure that we're supporting young people not only to be here and have a safe space, but also to have broader horizons," Ginyard said. That means setting high expectations, holding young people to them, and supporting them along the way.
Sometimes that means getting personal. Staff might text to check in on someone they're concerned about. At one point Ginyard even led group conversations to talk personal cleanliness with the young men, coming with armloads of supplies, like shampoo and deodorant, for them to take home.
Exploring virtual reality at Logan Library (Neal Santos for PlanPhilly)

Some of Logan Library's teen regulars with Fred Ginyard (center in hat) and Lynne Haase (at right) during the library's 100th birthday bash (Ashley Hahn for PlanPhilly)
On my first visit, a cluster of teenage boys sprawled around the basement community room, taking turns playing Madden or Fortnite on the big screen, clowning, and relaxing. Teens are encouraged to start their own programs at Logan Library, and their first was a "gaming society." Young people have played computer games in the library for years, and when it reopened, a few proposed a more official structure for that activity. The program keeps shapeshifting, but Haase secured an Xbox for their shared use. An Xbox might seem out of place in a library, but consider it a gateway drug.
Rashaun Goss, 22, was one of the young people who brought gaming to the library. He started coming to Logan Library for homework help when he was 12 and never stopped. Now when he walks into the library after a shift at ShopRite, Goss is greeted like an elder statesman. "This library gave me a lot of freedom to relax, make friends, read whenever I want to, or get on a computer," he said. "It's another home for me."
The freedoms extend to noise — a downright revolutionary attitude for any old school librarians. Everyone I talked with in the library used their normal speaking voice, while I fought the reflexive urge to use a library whisper. Logan isn't a place for that; it's a full-throated, live-out-loud community space.
"We try to set a more relaxed tone instead of that old draconian style," says security officer Mike White. (Neal Santos for PlanPhilly)

Ivan Perry, 15, is one of the teenagers offering homework help at Logan Library (Neal Santos for PlanPhilly)

Librarian Rich Torrance likes to play soft music in the library, using it as a conversation starter and a way to set the tone. (Neal Santos for PlanPhilly)
In one joyfully subversive move, library assistant Rich Torrance plays music, especially jazz, from his computer next to the teen zone. It starts conversations and sets a tone, he said.
And rather than shooing people out at closing, he plays the doo-wop song "Goodnight Sweetheart" when it's time to go.
Mike White, a security guard who has worked for the Free Library for more than 20 years, has also learned that sometimes old rules need to bend. When he went to work at the reopened Logan Library he stopped wearing his full uniform. It was his way of reconsidering what a library ought to feel like.
"We try to set a more relaxed tone instead of that old draconian style," White said.
The library's rules are about more maintaining everyone's comfort and sharing resources, which the teens mostly respect. White says he makes a point to get to know the young people, so if he needs to intervene in a situation, "they see the man first, not the uniform." He's here if they need help.
That's possible because Logan Library runs on a pretty radical openness. So the Xbox, the Sonny Rollins tunes in the background, the homework help, or the evening theater program, each present chances to build trust and a sense of community.
Late one Tuesday afternoon, Ajee Martin, 18, sat in the children's section ready to help with homework. "I see a lot more teens coming in than before," she said. "The staff treats the kids like their own kids, and all of us equally. This library's like a pretty big family."
Zakeem Lindsay-Moor, 18, echoes that sense. He says the library staff gives "just enough leniency and freedom" to teenagers. He was proud to tell me that his first summer job was working with Fred Ginyard to do community outreach for Logan Library, learning communication skills and that "you best show up on time."
Feelings of family, home, or freedom are not things teens find easily in public places. When asked where they would go if the library wasn't available to them, the many young people I interviewed were at a loss.
Free Library branches have long run teen programs but the system has been slower than other peer cities to specifically serve young adults. It does not have specialized librarians in teen services and few branches have spaces designed for and by teen library users. But the Free Library is changing.
When the Parkway Central Library renovations are complete next year, it will have an expansive teen center. And as Mayor Jim Kenney's Rebuild initiative brings new investments to libraries, the city has a chance to design processes for teens to help shape library spaces in their image. Fortunately, this is familiar turf for the Free Library. In 2012, it hired young people to document how teens use neighborhood branches, and research what they'd want as these spaces change. A similar participatory design experiment today could help forge even stronger bonds to and through these essential community catalysts.
---
Disclosure: William Penn Foundation has also provided grant funding to PlanPhilly and WHYY.
WHYY is your source for fact-based, in-depth journalism and information. As a nonprofit organization, we rely on financial support from readers like you. Please give today.