Our series about Philly's changing public spaces continues with a trip on the Benjamin Franklin Parkway. Ashley Hahn checks in on The Oval, a summertime experience geared at making the Parkway better for people. This year, the project reaches beyond Eakins Oval into the Parkway's northernmost outer lanes, replacing cars with a playful pedestrian environment from July 20 to Aug. 19.
—
Benjamin Franklin Parkway is a green vein bringing Fairmount Park into the heart of the city. A civic gateway lined with international flags and allées of London plane trees, the Parkway is the stately home of celebrated cultural institutions like The Barnes and the Philadelphia Museum of Art. It's Philly's grand public stage, where the city steps out for parades and popes. It is also a wide state highway that carries speeding commuters and can feel like a death wish to cross on foot.
Popular as it is for gatherings, the Parkway has never been a successful public space. It can seem dauntingly long to walk, dominated by the civic scale of large residential and institutional buildings, with few pedestrian amenities. It's a landscape better seen from above than experienced on the ground.
But what if the Parkway became a more human-scale environment? What if, by stealing some space from cars, it became a better place to walk or bike? What if it were a place where neighbors and visitors could find room to relax or play along the mile-long walk between City Hall and the Art Museum? And what if losing lanes of traffic meant gaining more space for public life?
Questions of how to "fix" the Parkway have bedeviled the city for decades, and its design has been adapted and adjusted over time. Now, as the Parkway marks its centennial year, it feels like a good time to think more expansively about its future as a place for people, particularly given Center City's ongoing public-space renaissance.
Each summer, that idea is tested at The Oval, a project that transforms Eakins Oval, where the Parkway terminates at the Art Museum's Eastern Terrace, into a seasonally programmed public space. For 10 months of the year, Eakins Oval might best be described as an impressive traffic island with a parking lot at its heart –  a seven-acre expanse with fountains and a grand sculpture of George Washington on horseback, ringed by a moat of high-speed, multi-lane traffic. Come summertime, however, The Oval is where the staid Parkway unbuttons its collar.
Since 2013, Fairmount Park Conservancy and Philadelphia Parks and Recreation have painted Eakins Oval's parking lot in splashy colors, strung the tall trees with lights, and programmed the space for a fleeting few weeks of fun between the Welcome America festival on Fourth of July and preparations for Made in America at Labor Day.
If The Oval spent its first five years showing what gains come from making Eakins Oval a place for people instead of cars, this year "The Oval+" stretches that idea out onto the Parkway.
For five weeks, The Oval+ will close off three blocks of the Parkway's outer, northernmost lanes, from North 20th Street to Art Museum Drive. Though the through-streets will remain open, traffic patterns will shift. The closed-off blocks directly in front of The Barnes, the Rodin Museum, and Von Colln field will be dressed up to match The Oval in a playful theme.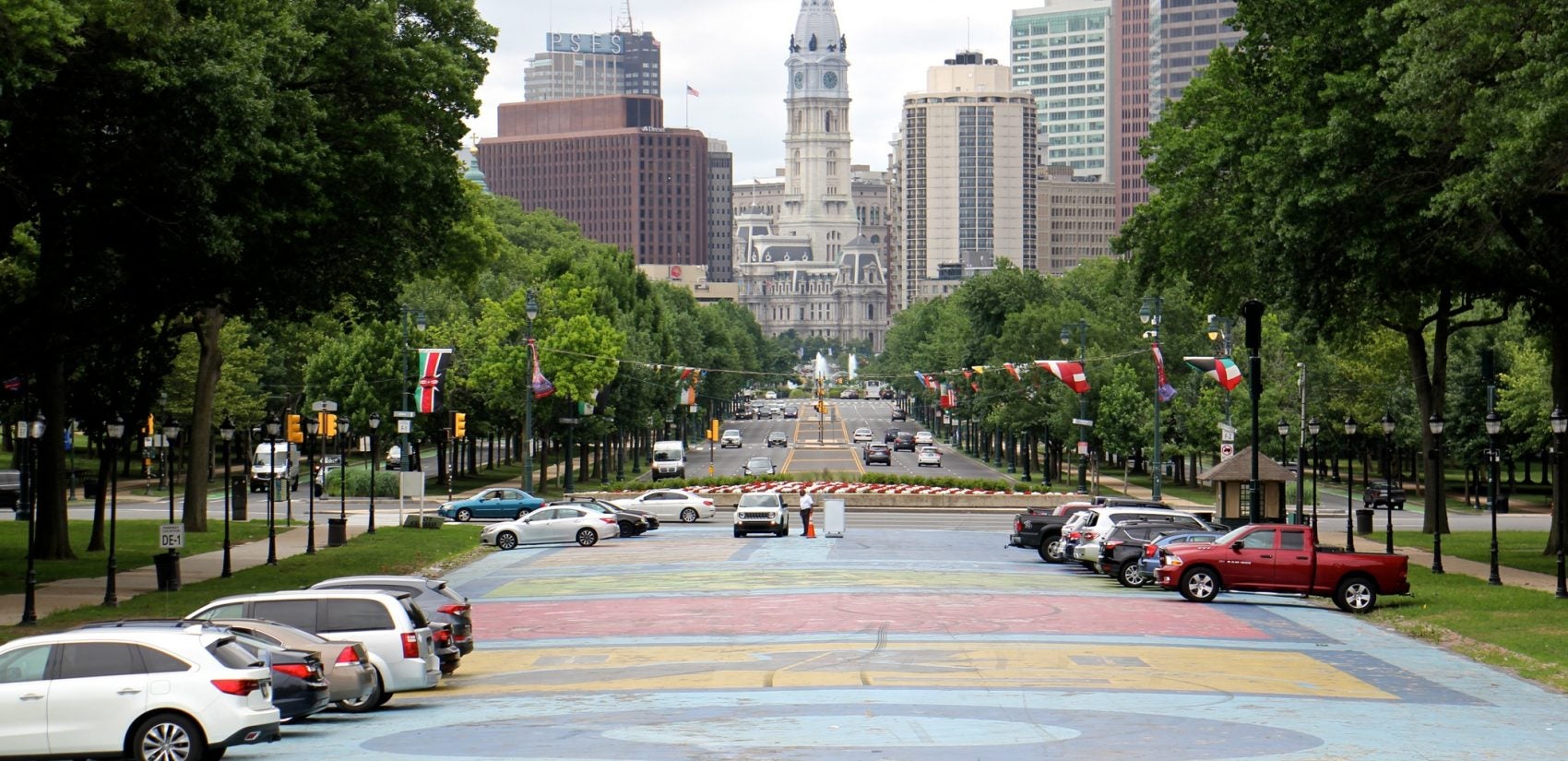 Putting the Park in the Parkway
West of Logan Circle, the Benjamin Franklin Parkway is 216 feet wide, across 10 lanes of traffic and two planted medians. That's more than twice the width of the Vine Street Expressway, though the Parkway carries about one-seventh the traffic. Still, it is an important conduit west, connecting Center City to the Schuylkill Expressway and Kelly Drive. The Parkway carries some 30,000 cars per weekday and has more than 70,000 residents living within a 10-minute walk. According to a 2013 plan, 60 percent of those residents do not drive to work.
The city and PennDOT have invested millions of dollars in recent years to fix the Parkway's sidewalks and curbs, adjust intersections, and cap a small portion of the Vine Street Expressway at Logan Circle. The redesigned Sister Cities Park is a runaway success at the edge of Logan Circle. And Shakespeare Park was recently redesigned as a more gracious approach to the Free Library.
All of which begs the question: Isn't there room for more than cars? And if so, what would Philadelphians gain through a more robust public environment on the Parkway?
Fairmount Park Conservancy director Jamie Gauthier sees The Oval+ as a real-time study exploring a new balance on the Parkway.
"The Parkway right now is mostly auto-oriented. That's what people are used to, and we're asking them to look at it in a different way," she said. Imagine if the Parkway were a place "where people can connect with one another, not just be alone in their cars, but come out and experience the city, experience the institutions, and have fun in a public space. What value are we placing on that?"
The Oval+ should encourage us to think differently about what the Parkway can become, said Chris Marcinkoski, principal of PORT Urbanism, the firm engaged to design and study the Oval in 2017 and 2018.
"This is an occasion to not just accept the status quo of the Parkway as a vehicularly dominated, only-for-major-events sort of public space. It has a scale that's much more neighborhood, much more quotidian. It has something that you could imagine using on a Thursday as much as you can imagine using it in February after the Eagles win the Super Bowl or something like that. It's got to work at both levels."
Some residents along the Parkway say special events – from the Philadelphia Marathon to Welcome America – put too much pressure on the neighborhood, from trash to traffic. The 2017 NFL Draft was, some said, a next-level nightmare, its disruption dragging on for a rough month. That led to a recent study about ways to better manage Parkway events.
But The Oval is different, said Ellen Ryan, the conservancy's senior director of strategy and planning. "It's like the event that's done for them, not to them."
Drew Murray, president of the neighborhood association in Logan Square, which the Parkway diagonally bisects, said the Oval is appreciated as a neighborhood amenity, however brief its presence may be.
"The worst part about the Oval is how hard it is to get there. You have to sprint across traffic," said Murray, whose family lives at 22nd Street below the Parkway. He's excited that this year's Oval experience will extend down to 20th Street –  that, he said, will make it feel closer to home.
The neighborhood association voted overwhelmingly in "nonopposition" (the group does not "support" projects) in response to this year's concept for The Oval, he said. For those with reservations, traffic concerns were top of mind. But Murray said most people like the Oval well enough to see what happens.
"It's five weeks, so if it does cause major issues, I'm sure we'll rethink it next year," he said. "I personally think it will be great, and I don't think it's going to cause too much more traffic. If it does take a couple more minutes for me to get to Conshohocken, I'm fine with that."
From "More Park, Less Way" to "More Park, More Play"
"More Park, Less Way" was the rallying cry of the last Parkway plan, produced by PennPraxis in 2013, aiming "to increase urban vibrancy on the Benjamin Franklin Parkway." (PlanPhilly was a project of PennPraxis at that time.) Among the plan's early-action recommendations was temporary programming, an idea Parks and Rec piloted at The Oval that summer in partnership with Fairmount Park Conservancy. When The Oval launched, it was like a summer pop-up on steroids, cheery with a painted parking lot, mobile food, a beer garden, movable furniture, and games.
Over the first couple years, it became clear that Eakins Oval could function as a real public space, supporting varied programming and designs each year. And it turns out that all kinds of people will spend time in Eakins Oval throughout the day if you give them a reason to be there. Nowadays, The Oval feels less like an experiment than an expectation for summer in the city. That has led Parks and Rec and the Fairmount Park Conservancy to rightly question what's next, for Eakins Oval and the Parkway too.
For The Oval's fifth season last summer, PORT put that question to the public, in search of fixes for the Parkway's perpetual people problem. It designed The Oval around the theme "What's Your Parkway, Philly?" Through a variety of survey tools – from beer coasters to intercept surveys – it learned what people want from their Parkway experiences, how people use the Oval, and who visits the space and when.
They found that The Oval's crowd is roughly one-third Philadelphian, one-third regional, and one-third national. During the day, kids and families tend to use the Oval most, while evenings and weekends tend to draw more adults. Tourists are more likely to stumble upon The Oval than locals, but most users said they basically want the same things: comfortable places to relax, somewhere to grab refreshments, and playful features that are fun for all ages.
"I think the real promise of any kind of longer-term transformation of The Oval is that it can serve all of those populations," said Marcinkoski.
Parks and Recreation Commissioner Kathryn Ott Lovell said it's time to carry forward more ideas from "More Park, Less Way" that prioritize people, like putting the Parkway on a "road diet," which The Oval+ will do this summer.
"We'll close some lanes for just a few weeks, put all of the precautions in place that we need to make sure people stay safe, working with the traffic police to make sure that this is as little of a headache as possible for drivers at rush hour," she said. In addition to shifting the traffic pattern a bit, SEPTA and PHLASH buses will now be rerouted to stops in the center lanes. "Let's not forget, there's so much room for cars there, even from an emergency management standpoint."
From July 5 to Aug. 26, the Parkway's northernmost outer lanes will be closed to vehicles between North 20th Street and Art Museum Drive, though the bike lane will remain open on those blocks. The through-streets – 20th, 21st, and 22nd – will remain open. Vine Street traffic will be directed to the Parkway's inner lanes or to make right turns onto 20th Street. The Oval itself will run from July 20 through Aug. 19.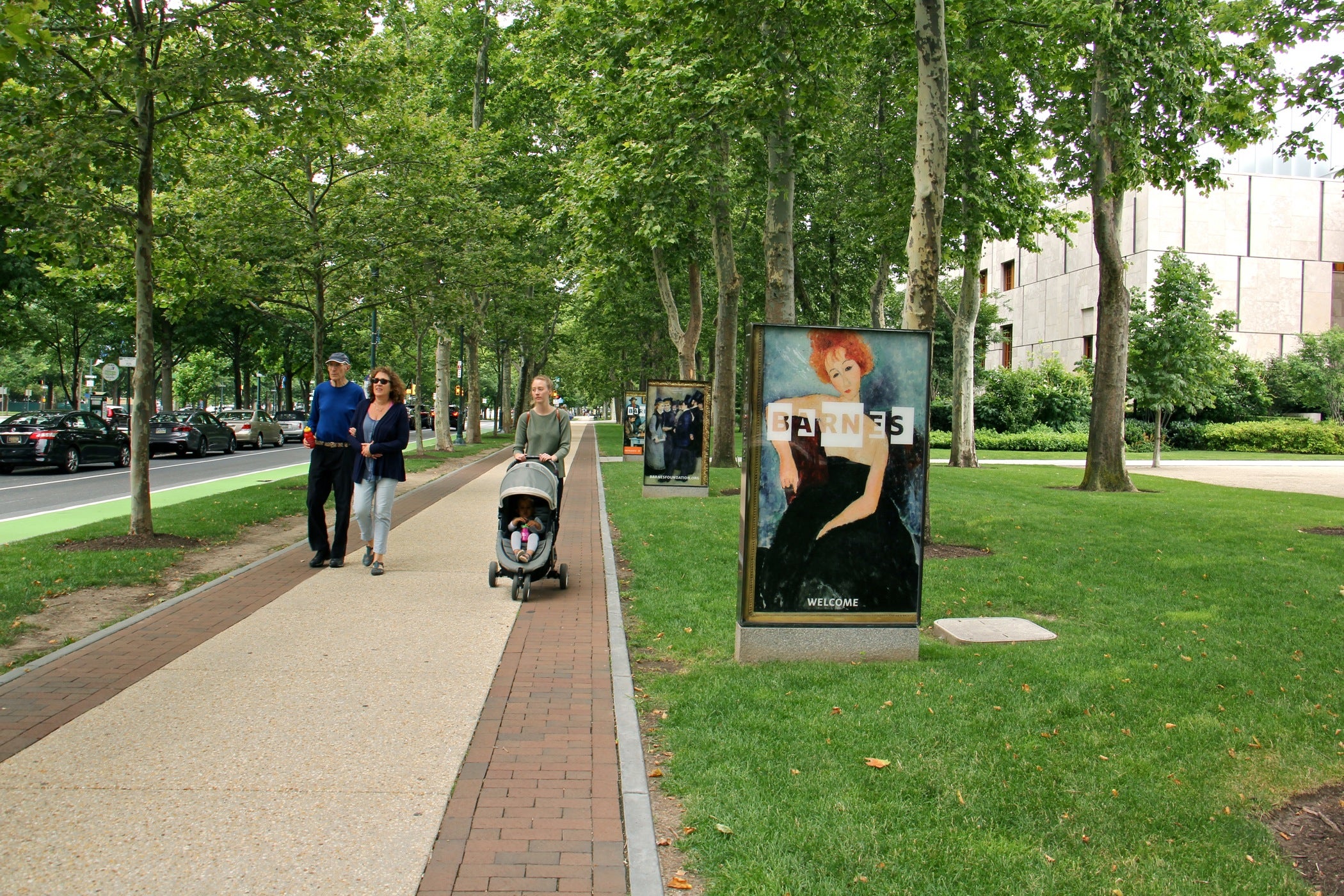 The Parkway's northerly outbound lanes were chosen for The Oval+ because its center lanes have no shade and the southernmost lanes have no crosswalks connecting to Eakins Oval. Speeding and long crossings diminish the Parkway as a pedestrian environment, but what the Parkway does have in its favor is space.
"The ambition this year was to capture some of that surplus space and reorient it for pedestrians and bikes, really prioritizing those users of the Parkway without significantly, adversely impacting the regular vehicular traffic," Marcinkoski said.
To Ott Lovell, The Oval+ is aligned with the city's goals for making streets safer for all users, "but ultimately, this is about making public space more meaningful." She noted that it's also about embracing the Parkway as a tourist destination – millions flock there each year to see the Rocky statue alone.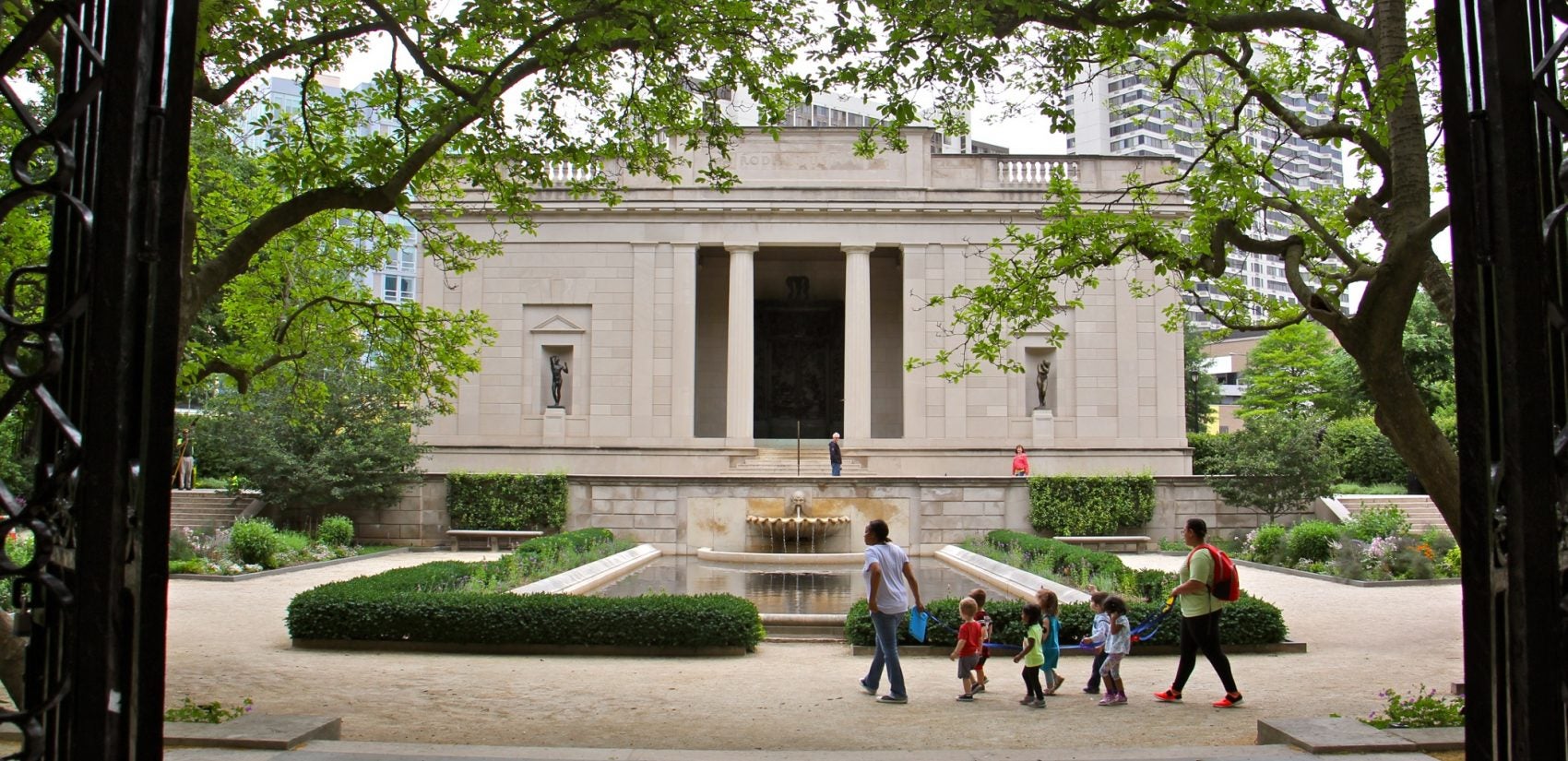 If The Oval has an identity, it's that it is a flexible space, capable of supporting lots of different functions. One of the big themes gleaned through last year's public feedback was that people really want a playful environment at The Oval. "I think that sort of said something about the seriousness of the Parkway, the kind of buttoned-up-ness," Marcinkoski said. So this year's theme is "More PARK, More PLAY."
Programming will stay concentrated at The Oval, its core designed like a fair's midway, where activity zones alternate with seating areas shaded by white umbrellas, framed with pink painted planters. This year, The Oval will feature its biggest sandbox yet, a spray zone amusingly dubbed "Mr. Mister," a shade pavilion with a canopy of pink and red ribbons, and the return of the beer garden, food trucks, and games.
The Parkway's closed blocks will be more like a pedestrianized transition zone, meant to draw people in by encouraging strolling, play, and relaxation. Its corners will be punctuated with signage and tall lanterns made of scaffolding with punchy graphic wraps. What programming does occur on the blocks, like art or food events, is intended to stoke people's imaginations about the Parkway's potential as a public space.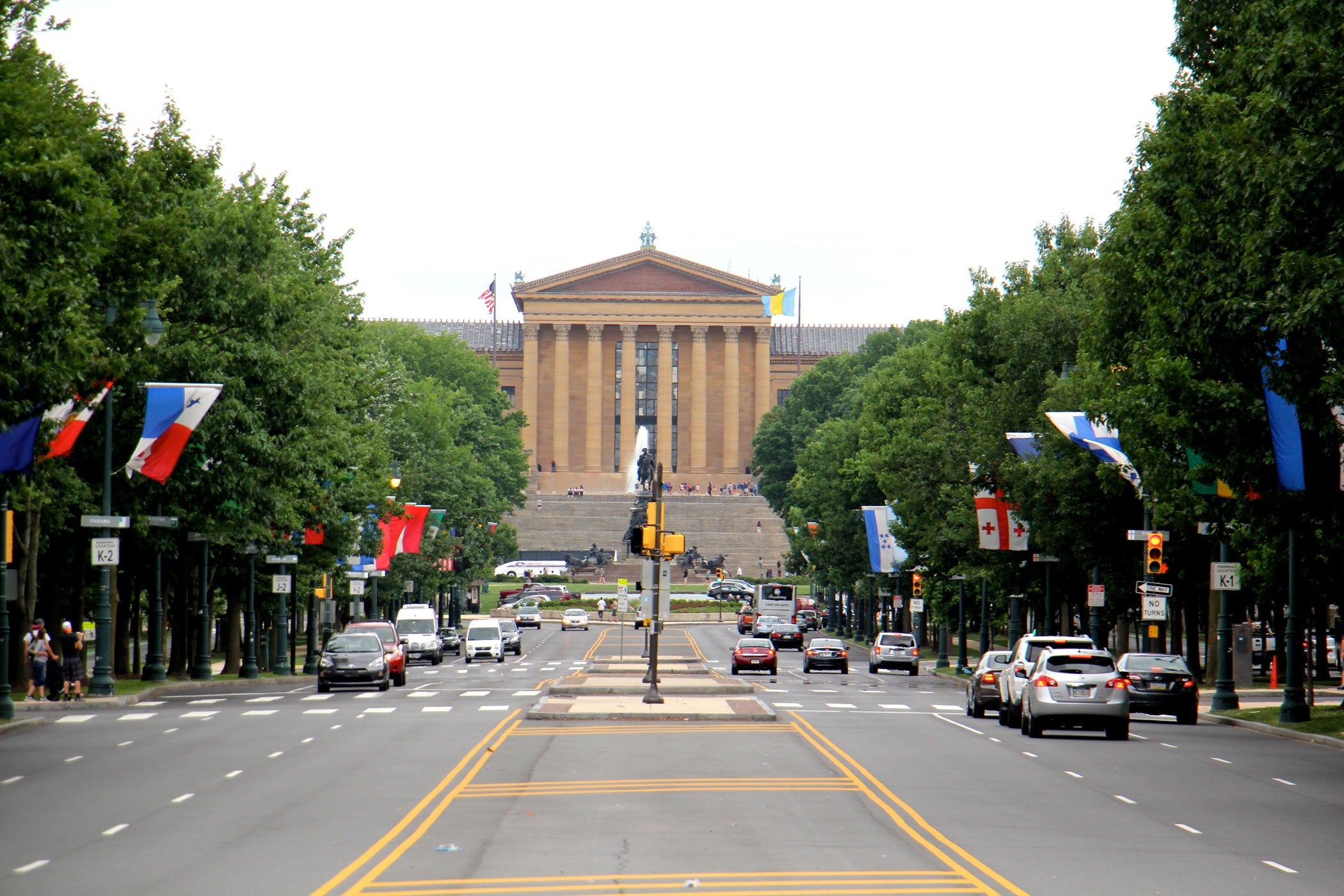 Based on last year's feedback, there are no shortage of suggestions for the Parkway and The Oval – and people wanted activities to go on throughout the year.
"You could see how many possibilities there are. Once you start to think about it, it's either driving or this whole universe of amazing activities. And so many of them could happen," the Fairmount Park Conservancy's Ryan said.
Though the mid-block spaces won't be heavily programmed, the Rodin Museum and The Barnes both plan to play along with The Oval+ in new ways. For the duration of The Oval, the Rodin will extend its hours, staying open until 8 p.m., and offer a garden bar. The Barnes plans an installation on its Parkway-facing lawn that it intends to have open for the duration of The Oval.
"We've been interested in activating our front lawn for a long time, and we're very excited about thinking about the possibilities," said Peg Zminda, CFO and COO of The Barnes. Closing the outer lanes to vehicular traffic, she said, is a "great experiment and will tell us a lot about pedestrian movement along the Parkway."
Zminda said The Barnes is still refining its design, but said its installation is intended to help anchor the eastern end of The Oval+. She added that it could also help orient people to The Barnes' entrance, which is not on the Parkway.
A ribbon pavilion will create a shady spot in tones of hot pink and red. | Rendering by PORT Urbanism

Rendering of the "Mr. Mister" spray pavilion in The Oval+ 2018 | PORT Urbanism

The Oval+ 2018 will be open July 20-August 19. | Rendering by PORT Urbansim

Plan of 22nd and Benjamin Franklin Parkway intersection mural for The Oval+ (PORT Urbanism)

Plan of 22nd and Benjamin Franklin Parkway intersection mural for The Oval+ (PORT Urbanism)
Art is always a part of The Oval, and this year Mural Arts and the illustration and design firm The Heads of State have created murals for the street and the Eakins Oval parking lot showing an abstracted take on the Parkway's blend of urban and natural landscape features. Each intersection will boast dramatic pops of color interpreting the transitions between city and park with leaf shapes and a layered cityscape stretching along the street.
Because the Parkway is a state road, PennDOT has had to approve The Oval's street installations, down to the paint hues and the location, height, and materials of the barricades used to block traffic. City agencies – from the Streets Department to the Office of Emergency Management – have also had to sign off on a traffic plan and safety measures related to the closures. It's been an intensive process, taking the better part of a year to account for a diverse set of considerations, from the needs of fire trucks and buses to requirements for how crosswalks are painted, all of which have influenced the design.
One compromise the design team has tried to make the best of is a requirement to use Jersey barriers with signage to barricade each block from vehicular traffic. Initially, the designers wanted to use 10,000 pounds of logs at each intersection, but that was an untested concept. Instead, designers have tried to embrace an aesthetic for the barricades we might cheekily call "traffic cone chic" – painting Jersey barriers in safety orange with the words "More PARK" and "More PLAY" in blocky white letters. There will also be orange and white striped signs, playful in the way a construction-crazed child might appreciate.
This year, the Oval+ has doubled in footprint on a budget similar to last year's, about $400,000. As in the past, this year's presenting sponsor is PNC, and further support has been requested from the John S. and James L. Knight Foundation. [Disclosure: WHYY receives grant support from the Knight Foundation. This series also is supported by a grant from the Knight Foundation.]
If last year's documentation was about what people want in public amenities on the Parkway, this year is about considering the impact of street closures on Parkway mobility.
"If you turn this sort of geography over to the public, how does it get activated? How does it get occupied? What do people start to ask for and look for in those spaces?" Marcinkoski said. PORT Urbanism will once again study how The Oval+ works as an expanded public space. The project's traffic impact will be studied separately. The conservancy hopes that with real data it will be able to build a stronger case for more permanent adaptations that make the Parkway more people-oriented, beyond the aspirational appeal it's already making.
"Having this year as a testing ground, and hopefully being able to show success even after just this five-week period, sets us up for that longer and broader conversation about a bigger future," for The Oval and the Parkway too, Gauthier said.
As Philadelphia actively reconsiders how many of its parks and plazas function, it's important to remember that streets and sidewalks are critical shared spaces, too. We have much to gain by continuing to reimagine how the Parkway can be more than the city's green gateway and civic stage by supporting a strong public life every day. Fortunately, at 100 years young, it's still got plenty of room to grow.
—
In Common is made possible through support from the John S. and James L. Knight Foundation.
WHYY is your source for fact-based, in-depth journalism and information. As a nonprofit organization, we rely on financial support from readers like you. Please give today.